Inner Mongolia and Heilongjiang, 2015: Introduction
"Birding the Amur River Basin in China's Great Northeast"
By Craig Brelsford and Elaine Du
Latest update: 2018-12-15
© 2015-2019 by Craig Brelsford
"Inner Mongolia & Heilongjiang, 2015" contains an introduction and five parts. This is the introduction.
Introduction: Birding the Amur River Basin in China's Great Northeast
Part 1: Introduction to Hulunbeier & First Trip to Elaine's Hometown
Part 2: Hulunbeier, July 2015
Part 3: Eastern Heilongjiang
Part 4: Second Trip to Elaine's Hometown
Part 5: Facts & Figures
Instead of going to the familiar places in China to clock up new additions to life lists, why not get to some remote areas where you have a good chance of finding something new?
— John MacKinnon, A Field Guide to the Birds of China, p. 16
MacKinnon's pioneering spirit influenced this report. Elaine and I noted 229 species while fulfilling our goal of going into underbirded areas of northeastern China.
This report covers a short trip to the region in January 2015 and a longer trip from July to September 2015. Except for brief entries from Hohhot in south-central Inner Mongolia, the entire report covers eastern Heilongjiang and the Hulunbeier region of northeastern Inner Mongolia–both areas part of the great Amur River Basin in northeast China.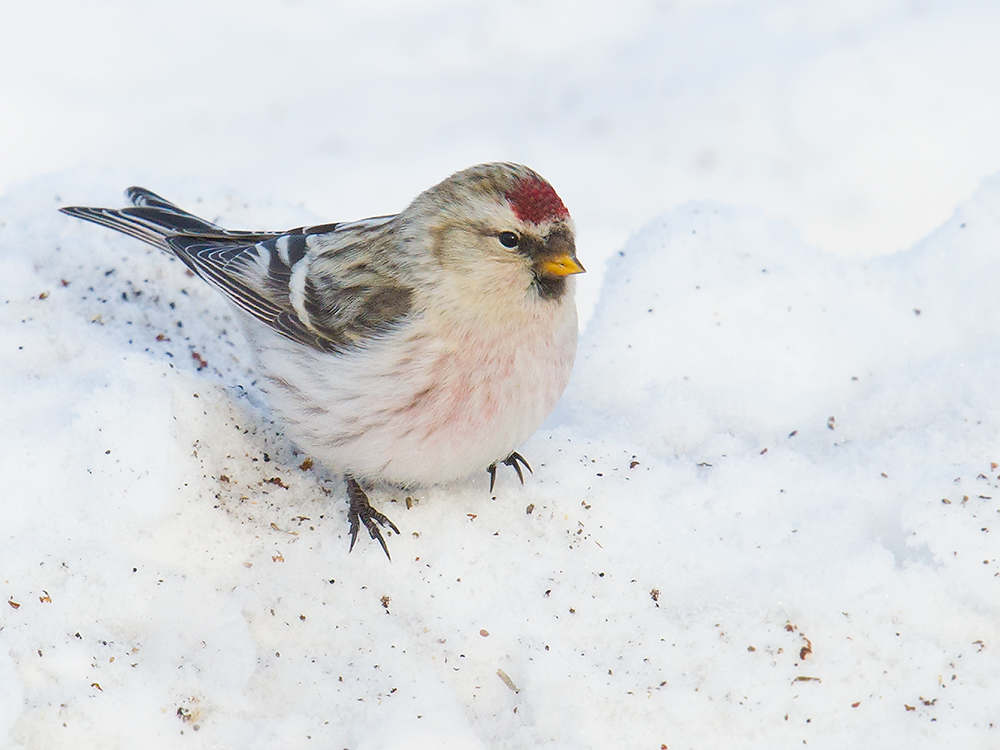 The January trip was our introduction to the region. Elaine and I birded with Brian Ivon Jones and experienced cold such as I had never felt before. The lowest temperature we had was -36°C (-33°F). Among our highlights were Northern Hawk-Owl, White-backed Woodpecker, Eurasian Three-toed Woodpecker, Great Tit, and Arctic Redpoll.
Elaine and I then traveled to Dawucun, her home village in southeastern Heilongjiang. There, on 21 January 2015, Elaine and I were married in the simple farmhouse where she grew up. I was pleasantly surprised by the good birding around Dawucun. Never walking more than 2 km from Elaine's house, we noted Rough-legged Buzzard, Lesser Spotted Woodpecker, Long-tailed Tit, Siberian Accentor, and Eurasian Bullfinch.
In the summer, Elaine and I returned to the region. With Swedish birder Jan-Erik Nilsén at our side, we spent 11-24 July exploring Hulunbeier. The three of us drove our rented Honda CR-V 2533 km, covering the main habitats of Hulunbeier, among them the northern-temperate and taiga forests of the Greater Khingan Range and the arid grasslands around Hulun Lake.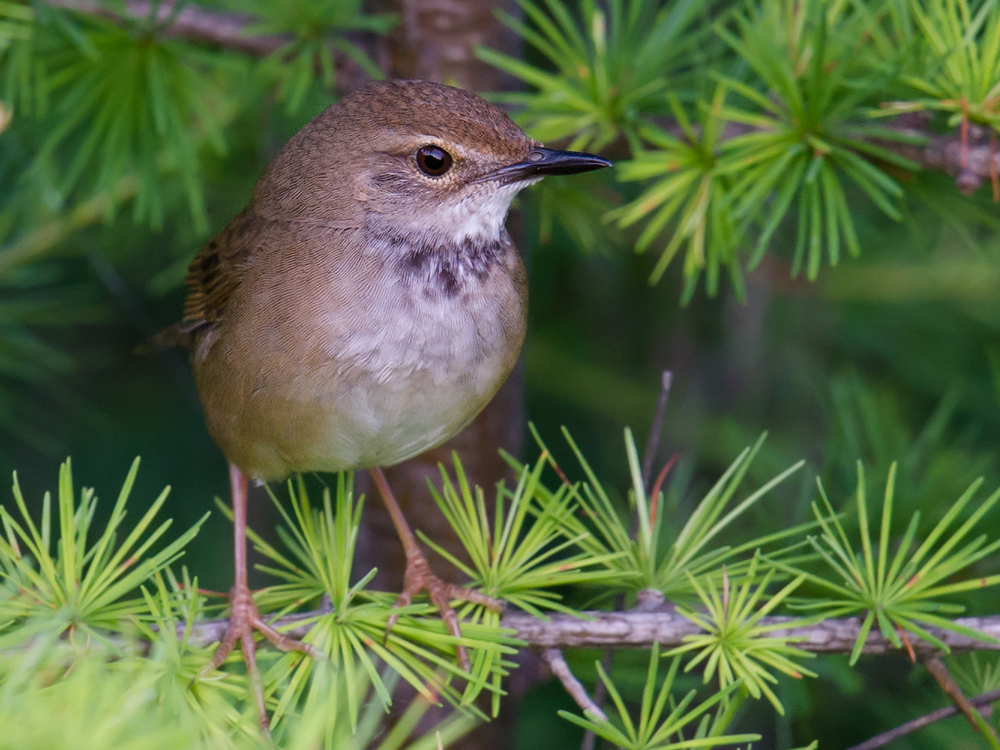 Among the 170 species we noted were breeding Scaly-sided Merganser at Yikesama Forest and Swan Goose at the excellent Modamuji wetland. Other highlights: Great Grey Owl and Gray's Grasshopper Warbler at Wuerqihan; Demoiselle Crane, Oriental Plover, and Isabellline Shrike around Hulun Lake; breeding Arctic Warbler near Genhe and at Yikesama; Baikal Bush Warbler near Genhe and at Hanma Reserve; House Sparrow and Blyth's Pipit at various locations; Hazel Grouse at various locations and Black Grouse at Hanma; nesting Common House Martin in Galaya; Pacific Swift and Common Swift in the towns; banded Red-necked Stint near Modamuji; 5000 Sand Martin and Bearded Reedling at Modamuji; and Pallas's Reed Bunting ssp. lydiae and Common Starling at Wulannuo'er. We saw no deer except Siberian Roe at Hanma. Among our other mammals were Grey Red-backed Vole, Northern Pika, and Sable at Yikesama; Pallid Ground Squirrel near Labudalin; and Mongolian Gerbil at Modamuji.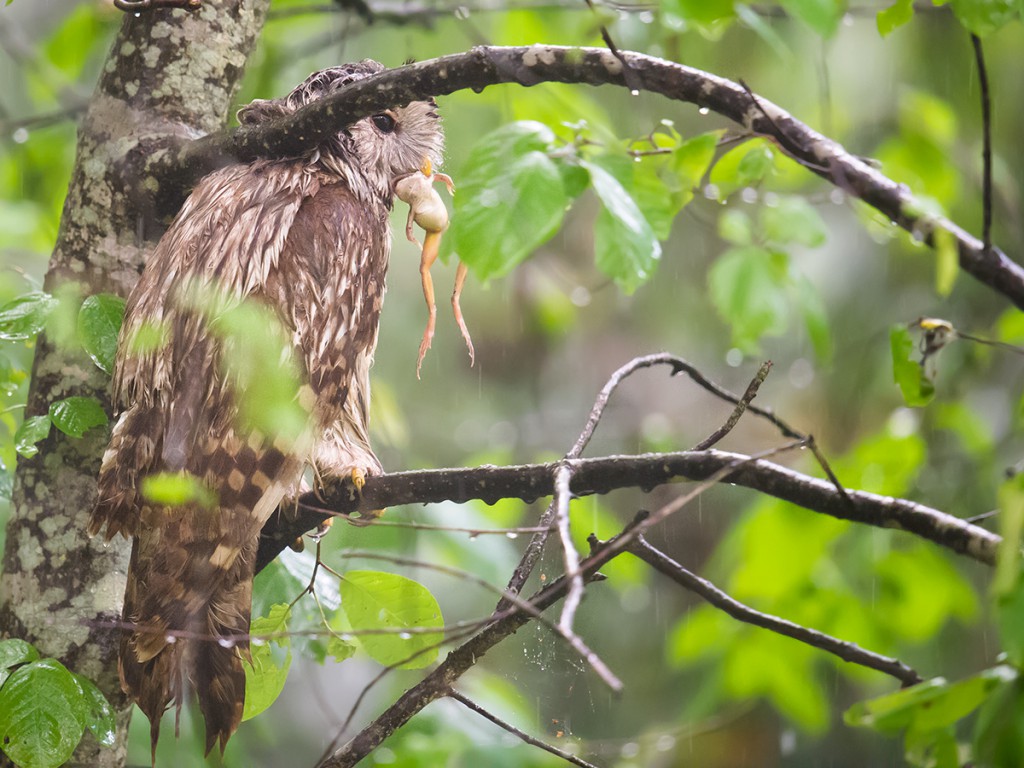 Next came two weeks (26 July-8 Aug.) in eastern Heilongjiang, again with Brian Ivon Jones. The trip began and ended in Jiamusi and took us on a loop through areas along the border with Russia, principally along the Ussuri and Amur rivers. We drove our rented Toyota Highlander 2918 km. This part of the trip was somewhat of a disappointment, mainly because seas of maize have eaten up hundreds of square kilometers of bird habitat. Still, we managed to find Oriental Stork in unexpected places such as Tongjiang; at Qixing River we found breeding Red-necked Grebe and noted Red-crowned Crane, White-naped Crane, and Reed Parrotbill (ssp. polivanovi, "Northern Parrotbill"); and at Qindeli Farms we saw Black Woodpecker and Mountain Hare.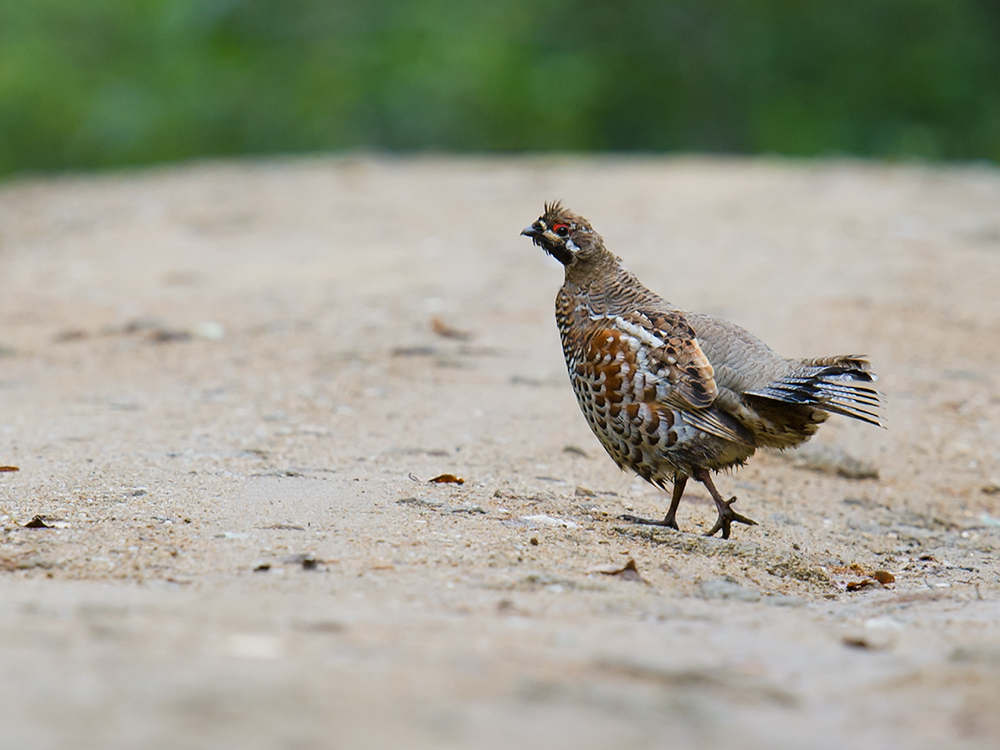 Elaine and I spent 9 Aug. to 8 Sept. at Dawucun. The month at Elaine's parents' house was a high point in my birding career and one of the most satisfying moments in my eight years in China. The birding was excellent, and even better was combining birding with family. Elaine and I would bird in the morning and afternoon and in the evening have dinner with her parents, sisters, and nieces. We basked in the love of her parents, who were happy that their youngest daughter was home.
Elaine and I rediscovered the quiet hills 1.5 km south of her village, and we made a major discovery: Xidaquan National Forest, 9400 hectares of old-growth secondary woodland just 21 km from Dawucun. Xidaquan had never been properly birded before, and the park managers welcomed our research, giving us free admission in return for a list of the species we noted. We made 12 visits.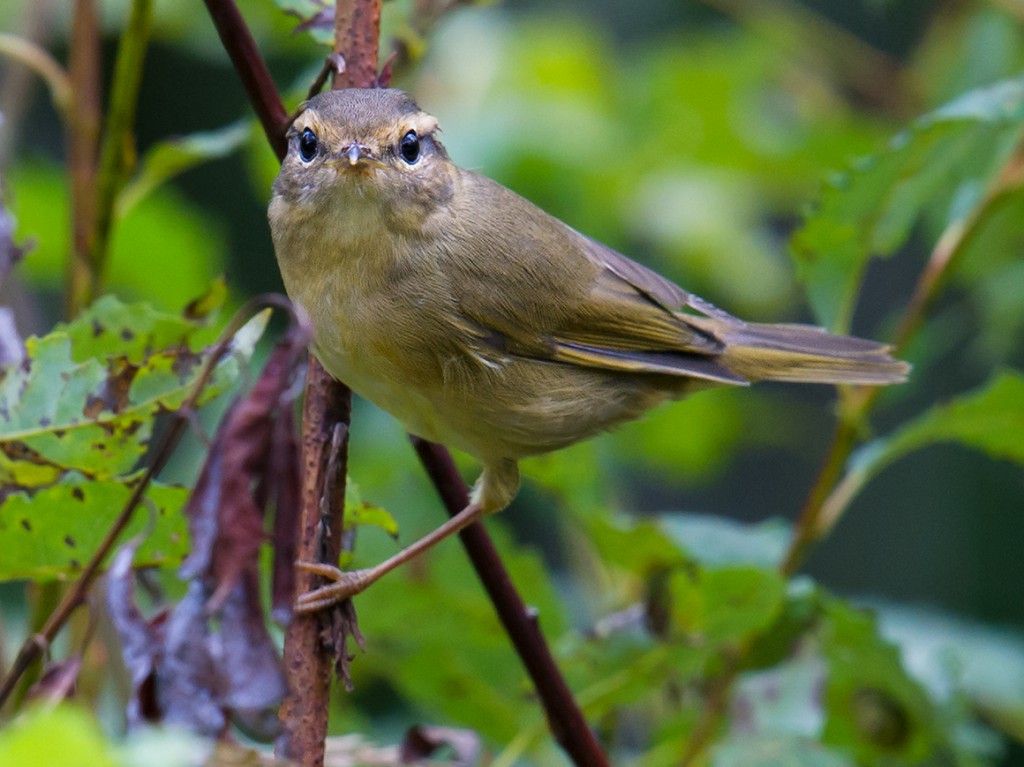 We noted 91 species around Dawucun and Xidaquan. Among the highlights were discovering a pair of Eurasian Eagle-Owl while birding with Elaine's young nieces at the quarry near Dawucun. We found Eurasian Eagle-Owl at two other locations, one of them in Xidaquan, where we also noted Ural Owl and Long-eared Owl. Eastern Crowned Warbler were singing loudly and defending territory deep into August, and Radde's Warbler were behaving likewise into September. We regularly noted classic northeast China taxa such as Coal Tit ssp. ater, Eurasian Nuthatch ssp. amurensis, Eurasian Jay ssp. brandtii, Willow Tit ssp. baicalensis, and Marsh Tit ssp. brevirostris. At Xidaquan we saw Mandarin Duck, Asian Stubtail, Thick-billed Warbler, Eurasian Treecreeper, Siberian Thrush, Pale Thrush, Siberian Rubythroat, and Long-tailed Rosefinch; in the hills behind Dawucun we had breeding White-throated Rock Thrush, Asian Brown Flycatcher, and Yellow-rumped Flycatcher as well as Northern Goshawk, Chinese Grey Shrike, Grey-backed Thrush, Blue-and-white Flycatcher, and Eurasian Red Squirrel; and in Elaine's parents' back garden we had Daurian Starling as well as regular nighttime visits by the eagle-owls.
Simple List of the Species of Bird Noted in Inner Mongolia & Heilongjiang, 2015 (229 species)
Swan Goose
Greylag Goose
Common Shelduck
Ruddy Shelduck
Mandarin Duck
Gadwall
Falcated Duck
Eurasian Wigeon
Mallard
Eastern Spot-billed Duck
Northern Shoveler
Northern Pintail
Garganey
Baikal Teal
Eurasian Teal
Common Pochard
Tufted Duck
Common Goldeneye
Scaly-sided Merganser
Hazel Grouse
Black Grouse
Japanese Quail
Common Pheasant
Little Grebe
Red-necked Grebe
Great Crested Grebe
Black-necked Grebe
Oriental Stork
Eurasian Spoonbill
Eurasian Bittern
Von Schrenck's Bittern
Striated Heron
Grey Heron
Purple Heron
Great Egret
Great Cormorant
Crested Honey Buzzard
Steppe Eagle
Japanese Sparrowhawk
Eurasian Sparrowhawk
Northern Goshawk
Eastern Marsh Harrier
Hen Harrier
Pied Harrier
Black Kite
Rough-legged Buzzard
Upland Buzzard
Eastern Buzzard
Ruddy-breasted Crake
Common Moorhen
Eurasian Coot
White-naped Crane
Demoiselle Crane
Red-crowned Crane
Black-winged Stilt
Pied Avocet
Northern Lapwing
Pacific Golden Plover
Little Ringed Plover
Kentish Plover
Oriental Plover
Eurasian Woodcock
Pin-tailed/Swinhoe's Snipe
Common Snipe
Black-tailed Godwit
Little Curlew
Eurasian Curlew
Spotted Redshank
Common Redshank
Marsh Sandpiper
Common Greenshank
Green Sandpiper
Wood Sandpiper
Terek Sandpiper
Common Sandpiper
Red-necked Stint
Temminck's Stint
Long-toed Stint
Sharp-tailed Sandpiper
Curlew Sandpiper
Broad-billed Sandpiper
Black-headed Gull
Mew Gull
Vega Gull
Caspian Tern
Little Tern
Common Tern
Whiskered Tern
White-winged Tern
Feral Pigeon (Rock Dove)
Hill Pigeon
Oriental Turtle Dove
Eurasian Collared Dove
Spotted Dove
Oriental Cuckoo
Common Cuckoo
Oriental Scops Owl
Eurasian Eagle-Owl
Ural Owl
Short-eared Owl
Great Grey Owl
Northern Hawk-Owl
Little Owl
Long-eared Owl
Grey Nightjar
White-throated Needletail
Common Swift
Pacific Swift
Oriental Dollarbird
Common Kingfisher
Eurasian Hoopoe
Eurasian Wryneck
Grey-capped Pygmy Woodpecker
Lesser Spotted Woodpecker
White-backed Woodpecker
Great Spotted Woodpecker
Eurasian Three-toed Woodpecker
Black Woodpecker
Grey-headed Woodpecker
Common Kestrel
Merlin
Amur Falcon
Eurasian Hobby
Ashy Minivet
Brown Shrike
Isabelline Shrike
Chinese Grey Shrike
Black-naped Oriole
Eurasian Jay
Azure-winged Magpie
Eurasian Magpie
Spotted Nutcracker
Daurian Jackdaw
Rook
Carrion Crow
Northern Raven
Coal Tit
Marsh Tit
Willow Tit
Great Tit
Japanese Tit
Bearded Reedling
Eurasian Skylark
Horned Lark
Mongolian Lark
Asian Short-toed Lark
Light-vented Bulbul
Sand Martin
Barn Swallow
Common House Martin
Asian House Martin
Red-rumped Swallow
Asian Stubtail
Long-tailed Tit
Dusky Warbler
Radde's Warbler
Pallas's Leaf Warbler
Yellow-browed Warbler
Arctic Warbler
Two-barred Warbler
Pale-legged Leaf Warbler
Eastern Crowned Warbler
Oriental Reed Warbler
Black-browed Reed Warbler
Thick-billed Warbler
Baikal Bush Warbler
Lanceolated Warbler
Pallas's Grasshopper Warbler
Gray's Grasshopper Warbler
Zitting Cisticola
Reed Parrotbill
Chestnut-flanked White-eye
Eurasian Wren
Goldcrest
Eurasian Nuthatch
Eurasian Treecreeper
White-cheeked Starling
Daurian Starling
Common Starling
Siberian Thrush
White's Thrush
Grey-backed Thrush
Pale Thrush
Red-throated Thrush
Naumann's Thrush
Grey-streaked Flycatcher
Dark-sided Flycatcher
Asian Brown Flycatcher
Blue-and-white Flycatcher
Siberian Blue Robin
Rufous-tailed Robin
Siberian Rubythroat
Red-flanked Bluetail
Yellow-rumped Flycatcher
Mugimaki Flycatcher
Taiga Flycatcher
Daurian Redstart
White-throated Rock Thrush
Stejneger's Stonechat
Northern Wheatear
House Sparrow
Eurasian Tree Sparrow
Siberian Accentor
Eastern Yellow Wagtail
Citrine Wagtail
Grey Wagtail
White Wagtail
Richard's Pipit
Blyth's Pipit
Olive-backed Pipit
Red-throated Pipit
Brambling
Hawfinch
Eurasian Bullfinch
Common Rosefinch
Long-tailed Rosefinch
Pallas's Rosefinch
Grey-capped Greenfinch
Common Redpoll
Arctic Redpoll
Eurasian Siskin
Pine Bunting
Meadow Bunting
Tristram's Bunting
Chestnut-eared Bunting
Yellow-throated Bunting
Black-faced Bunting
Pallas's Reed Bunting
Common Reed Bunting
Itinerary (all dates 2015)
For more information on places visited, see "List of Place Names" in Part 5.
Part 1a: Hohhot and Introduction to Hulunbeier
11 Jan.: Hohhot
12 Jan.: Hohhot
13 Jan.: Wuerqihan
14 Jan.: Wuerqihan
15 Jan.: Wuerqihan
16 Jan.: Wuerqihan
17 Jan.: Wuerqihan & Kuduo'er
Part 1b: First Trip to Elaine's Hometown
19 Jan.: Dawucun
20 Jan.: Dawucun
21 Jan.: Dawucun
22 Jan.: Dawucun
23 Jan.: Dawucun
02 April: Hohhot
Part 2b: Hulunbeier, July 2015
11 July: Wuerqihan
12 July: Wuerqihan to Genhe
13 July: Genhe to Hanma
14 July: Hanma to Mangui
15 July: Yikesama
16 July: Yikesama
17 July: Yikesama
18 July: Yikesama
19 July: Mangui to Labudalin
20 July: Labudalin to Manzhouli
21 July: Manzhouli & Hulun Lake
22 July: Hulun Lake & New Barag Right Banner
23 July: Wulannuo'er
24 July: New Barag Left Banner & Modamuji
26 July: Mudanfeng
27 July: Hulin
28 July: Yueyahu & Dongfanghong
29 July: Naoli River
30 July: Naoli River & Honghe
31 July: San Jiang
01 Aug.: Fuyuan
02 Aug.: Fuyuan
03 Aug.: Qindeli Farms
04 Aug.: Qindeli Farms
05 Aug.: Qindeli Farms & Tongjiang
06 Aug.: Tongjiang & Qixing River
07 Aug.: Qixing River
Part 4: Second Trip to Elaine's Hometown
11 Aug.: Dawucun
12 Aug.: Dawucun
13 Aug.: Dawucun
14 Aug.: Dawucun
15 Aug.: Dawucun
16 Aug.: Dawucun
17 Aug.: Xidaquan
18 Aug.: Dawucun
19 Aug.: Xidaquan
21 Aug.: Xidaquan
23 Aug.: Hengmei Gardens
24 Aug.: Xidaquan
25 Aug.: Xidaquan
26 Aug.: Dawucun
27 Aug.: Dawucun
28 Aug.: Dawucun
29 Aug.: Xidaquan
30 Aug.: Dawucun
31 Aug.: Xidaquan
01 Sept.: Xidaquan
02 Sept.: Xidaquan
03 Sept.: Dawucun
04 Sept.: Dawucun
05 Sept.: Xidaquan
06 Sept.: Xidaquan
07 Sept.: Dawucun
08 Sept.: Xidaquan
Featured image: Eurasian Eagle-Owl is the biggest owl in the world. A pair lives in a quarry near Elaine Du's home village of Dawucun, Boli, Heilongjiang. 13 Aug. 2015, Nikon D3S, 600 mm, F/5, 1/250, ISO 2000.
Next: Part 1: Introduction to Hulunbeier & First Trip to Elaine's Hometown
Return to Explorations page


Be notified every time we post. Send an
email with "Subscribe" as the subject to
info@shanghaibirding.com
Donate to Shanghai Birding!