by Craig Brelsford
Founder, shanghaibirding.com
​Century Park, Pudong, Thurs. 5 Oct., Komatsu Yasuhiko and Craig Brelsford, 39 species. Hiko and I blew past our target of 35 species and added three species to the shanghaibirding.com Century Park all-time bird list.
The new entries on the shanghaibirding.com list are Sakhalin Leaf Warbler, Dusky Warbler, and White-throated Rock Thrush. The new entries on the eBird list are those three plus Japanese Paradise Flycatcher and Taiga Flycatcher.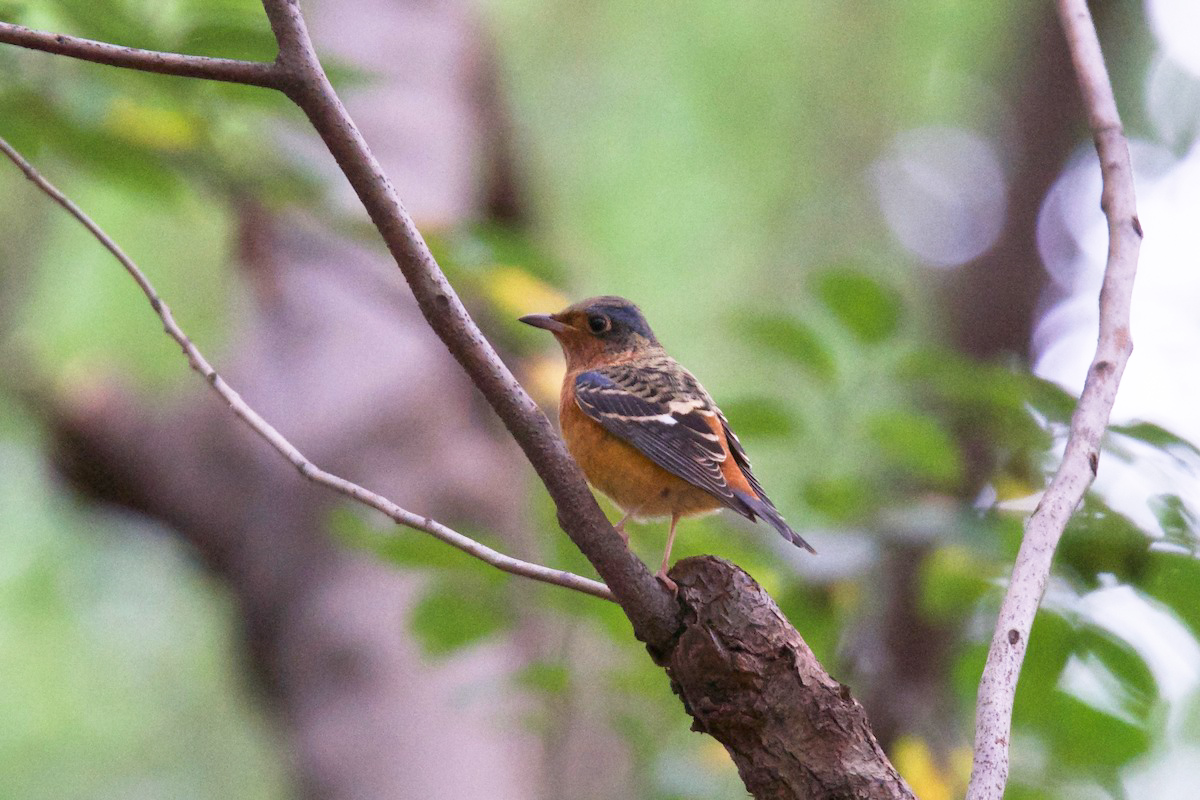 See our day list here: https://ebird.org/ebird/view/checklist/S39560484
"Century Park is getting better," Hiko said. My young friend is right. Century Park is an island of stability amid the sea of change (mainly degradation) that is the natural environment of Shanghai. Ten years ago this month, when Hiko was a tyke of 6, I made my first visit to urban Shanghai's best birding area. Little has changed. The biggest difference between October 2007 and October 2017 is, the trees are taller. The wooded areas at Century have an ever-stronger woodsy feel.
Notes:
• Century yielded yet another regional record of Sakhalin Leaf Warbler. Evidence is growing that in the Shanghai area this passage migrant has been neglected and is more common than previously thought. I recently wrote a series of posts, the latest being this one, on distinguishing Sakhalin Leaf Warbler from its sister species Pale-legged Leaf Warbler.
Here is the recording I made of the calling Sakhalin on Thurs. 5 Oct. Apart from a DNA assay, call as well as song is the only reliable way to separate Sakhalin Leaf Warbler from Pale-legged Leaf Warbler. At 4.9 kHz, the tink recorded below is a full kilohertz deeper than the call of Pale-legged Leaf Warbler.
Sakhalin Leaf Warbler Phylloscopus borealoides, Century Park (31.215410, 121.547819), Shanghai, 5 Oct., by Craig Brelsford (0:20; 3.9 MB)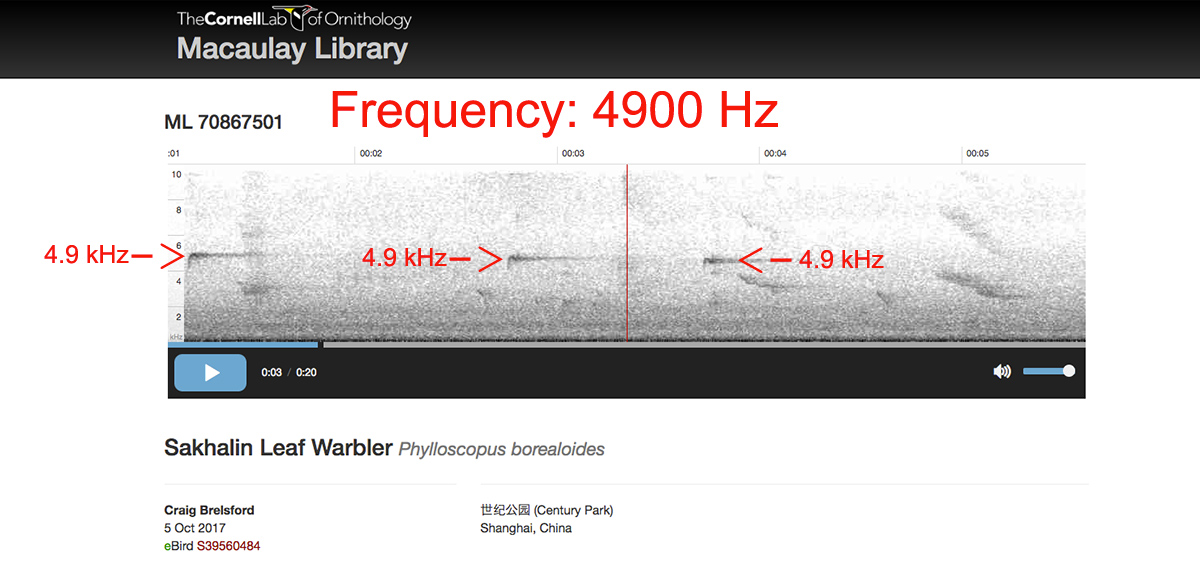 • Eurasian Woodcock whizzed overhead on its way to Bird Island (31.219660, 121.550575). The woodcock was going to the one best place for it in the urban park. Bird Island, Century's sanctuary-within-a-sanctuary, is a bird-friendly, cat-free parcel of woodland cut off from the rest of the park by a moat.
• Great Spotted Woodpecker used to be found mainly on Bird Island. On Thursday we found 2 in other sectors of the park. With the steadily improving woodland in the park, expect Great Spotted Woodpecker to be seen in more and more areas. Century Park is one of the few areas in urban Shanghai where woodpeckers are commonly found.
• Arctic Warbler 9 calling. No evidence Thursday of Kamchatka Leaf Warbler.
• Rufous-tailed Robin in undergrowth, ID'd quickly and accurately by Hiko.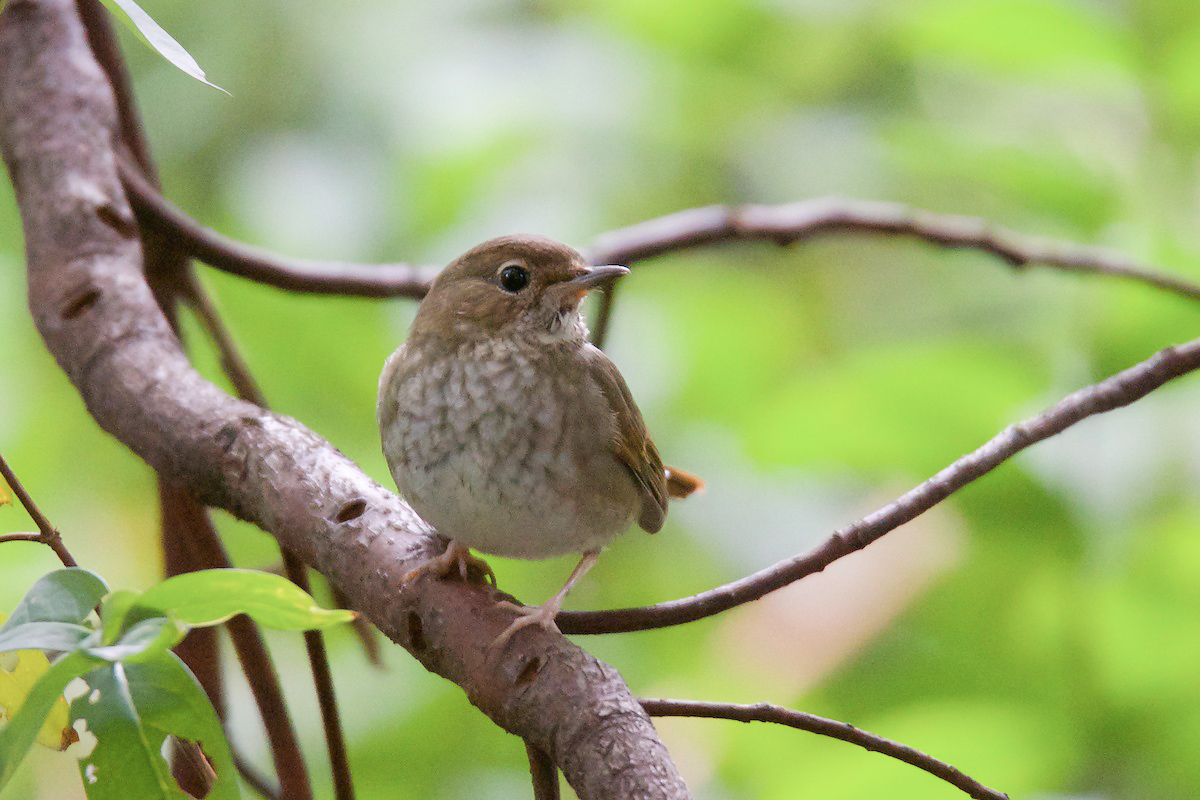 • Red-flanked Bluetail, Grey-backed Thrush: common winter visitors to Shanghai and seasonal firsts for Hiko and me.
• White's Thrush: a healthy 11 taking advantage of the high-quality woodland in the park.
The shanghaibirding.com Century Park all-time list was started in 2006 by former Shanghai resident and shanghaibirding.com contributor Daniel Bengtsson. I have managed the list since 2015. The list is searchable in English, Latin, and Chinese. As an index of the birds of urban Shanghai, the list is unmatched. Again, the link: https://www.shanghaibirding.com/sites/urban-shanghai/century-bird-records/
Featured image: Komatsu Yasuhiko shows off his image of adult-male Mugimaki Flycatcher at Century Park, Shanghai, 5 Oct. (Craig Brelsford)


Be notified every time we post. Send an
email with "Subscribe" as the subject to
info@shanghaibirding.com
Donate to Shanghai Birding!