by Craig Brelsford
Founder, shanghaibirding.com
During my initial visit to Northern Xinjiang in May 2012, I found birds that I missed in July 2017. The image above shows four of them. Clockwise from top left: Black Woodpecker, Rosy Starling, Demoiselle Crane, and Rock Bunting. In this fourth post in my five-post series, I offer you an illustrated list of the notable passerines of Northern Xinjiang. — Craig Brelsford
Red-backed Shrike Lanius collurio
Red-tailed Shrike L. phoenicuroides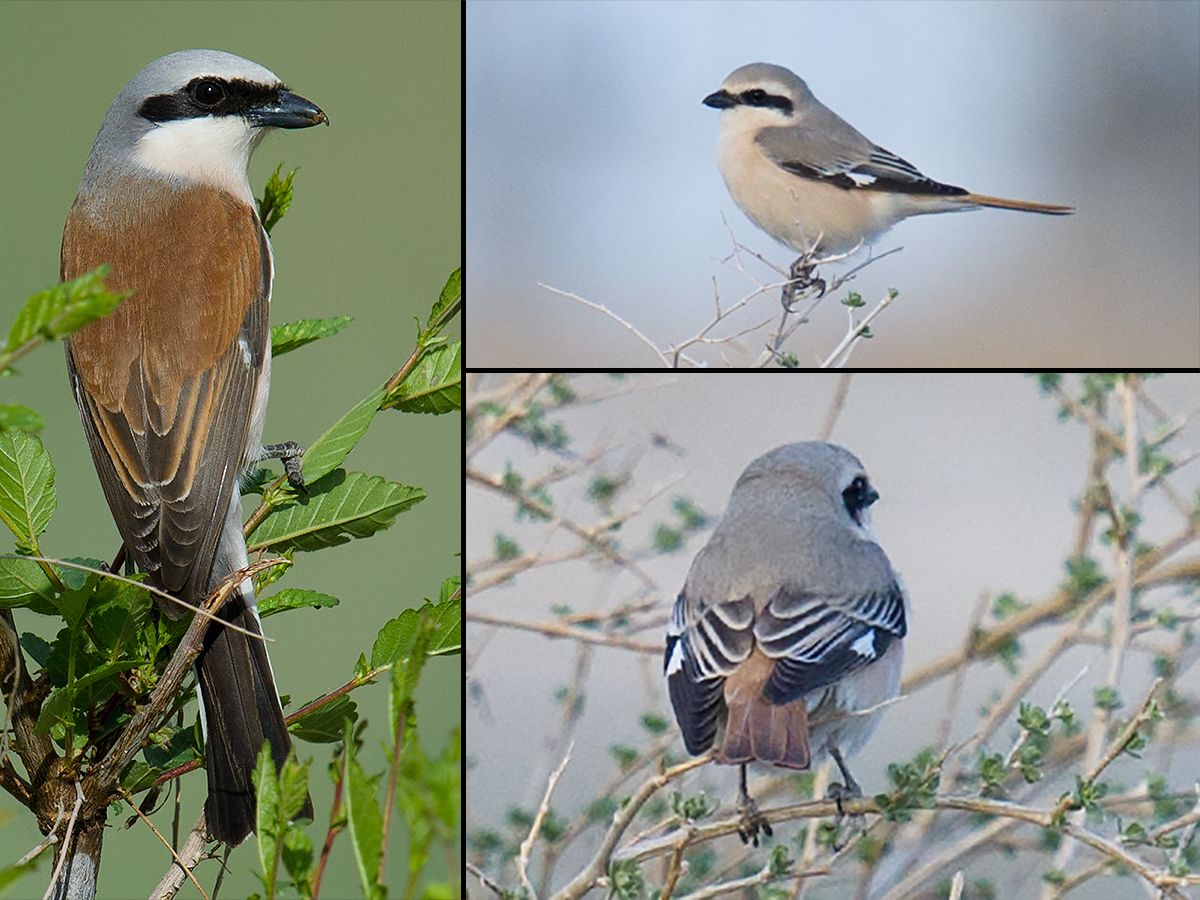 Eurasian Golden Oriole Oriolus oriolus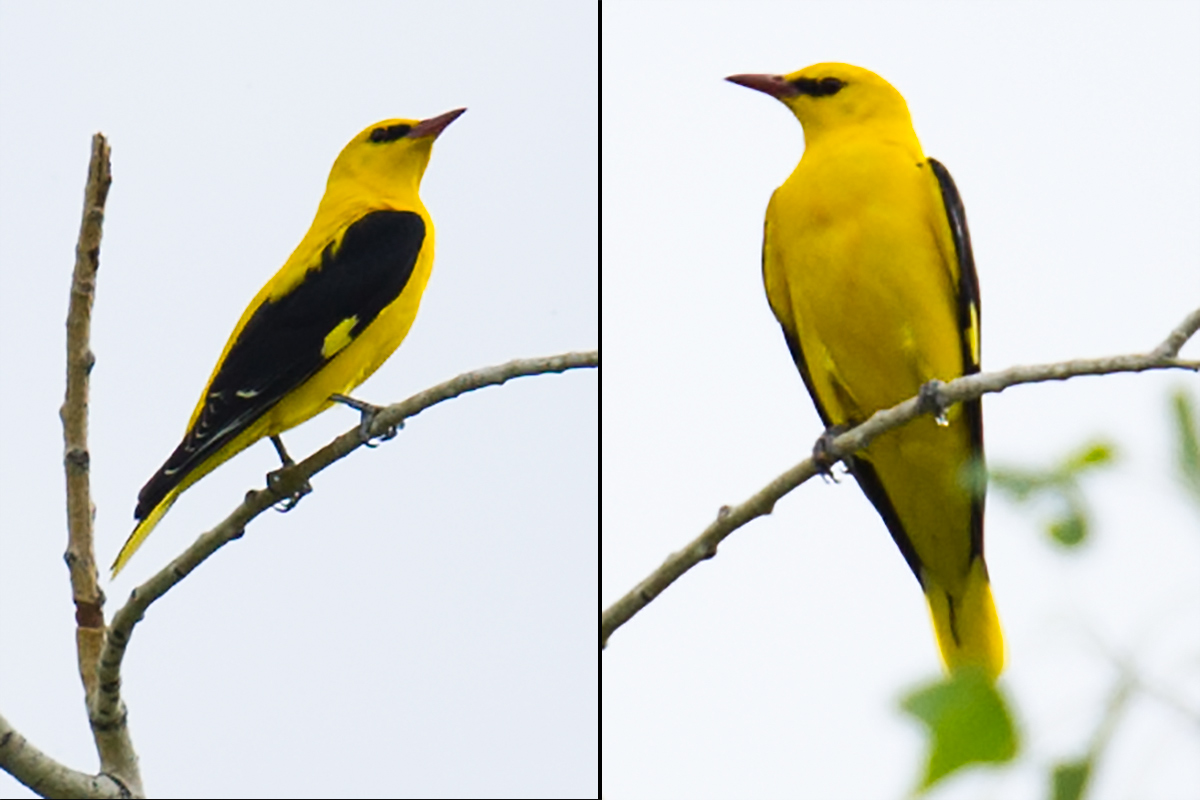 Henderson's Ground Jay Podoces hendersoni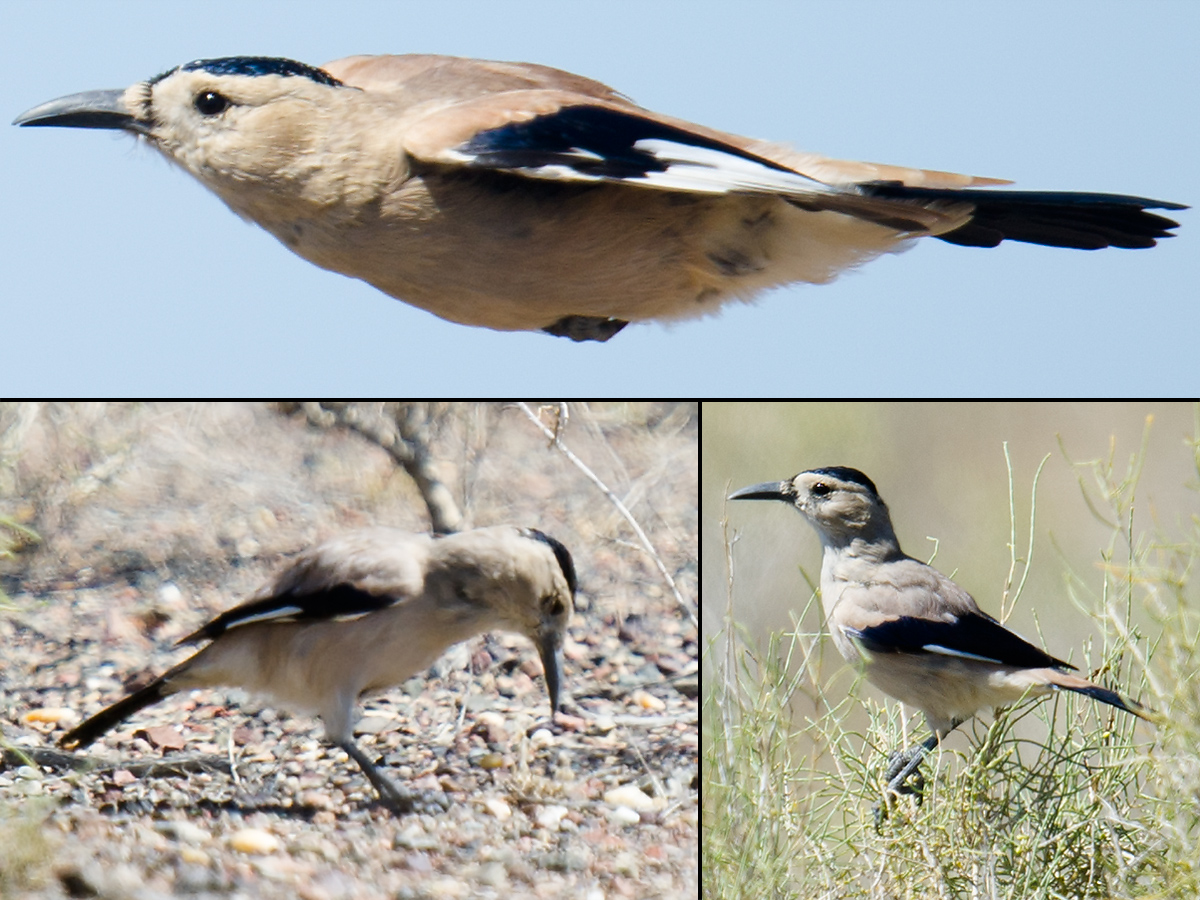 Coal Tit Periparus ater ater
In Xinjiang, the non-crested, trans-Eurasian nominate race is found in the Altai Mountains. In 2017 we had two records, both at Jiadengyu. This race also occurs in Northeast China.
Coal Tit Periparus ater rufipectus
In the Tianshan, the race of Coal Tit is the crested rufipectus. We recorded it at Baiyanggou.
Coal Tit, Baiyanggou (43.474525, 87.191575), 20 July 2017 (01:39; 19.1 MB; Craig Brelsford)
Willow Tit Poecile montanus baicalensis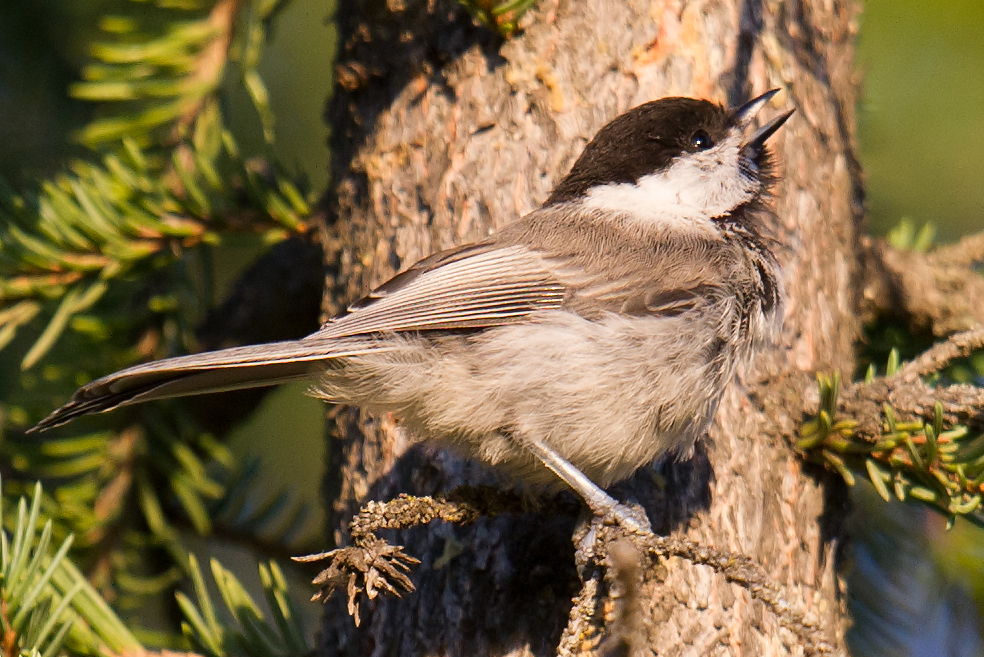 Azure Tit Cyanistes cyanus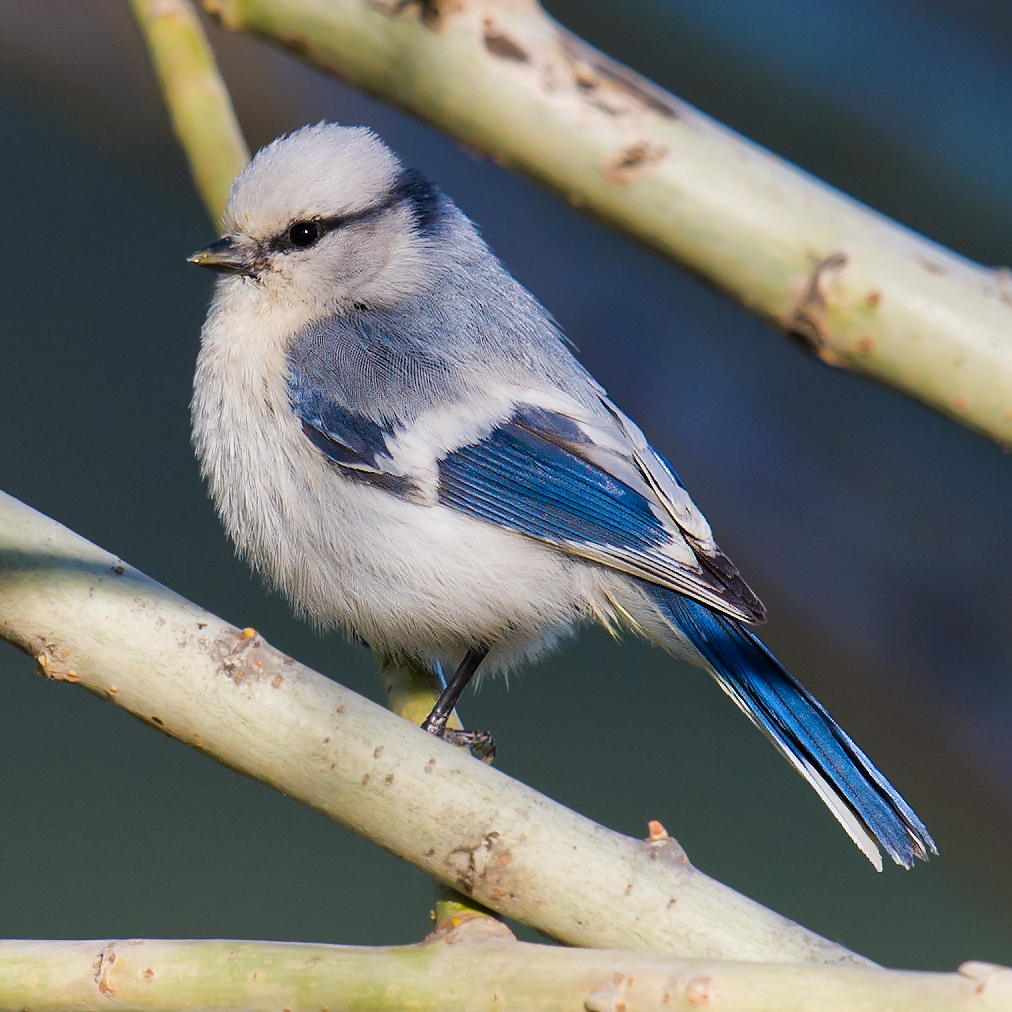 Great Tit Parus major kapustini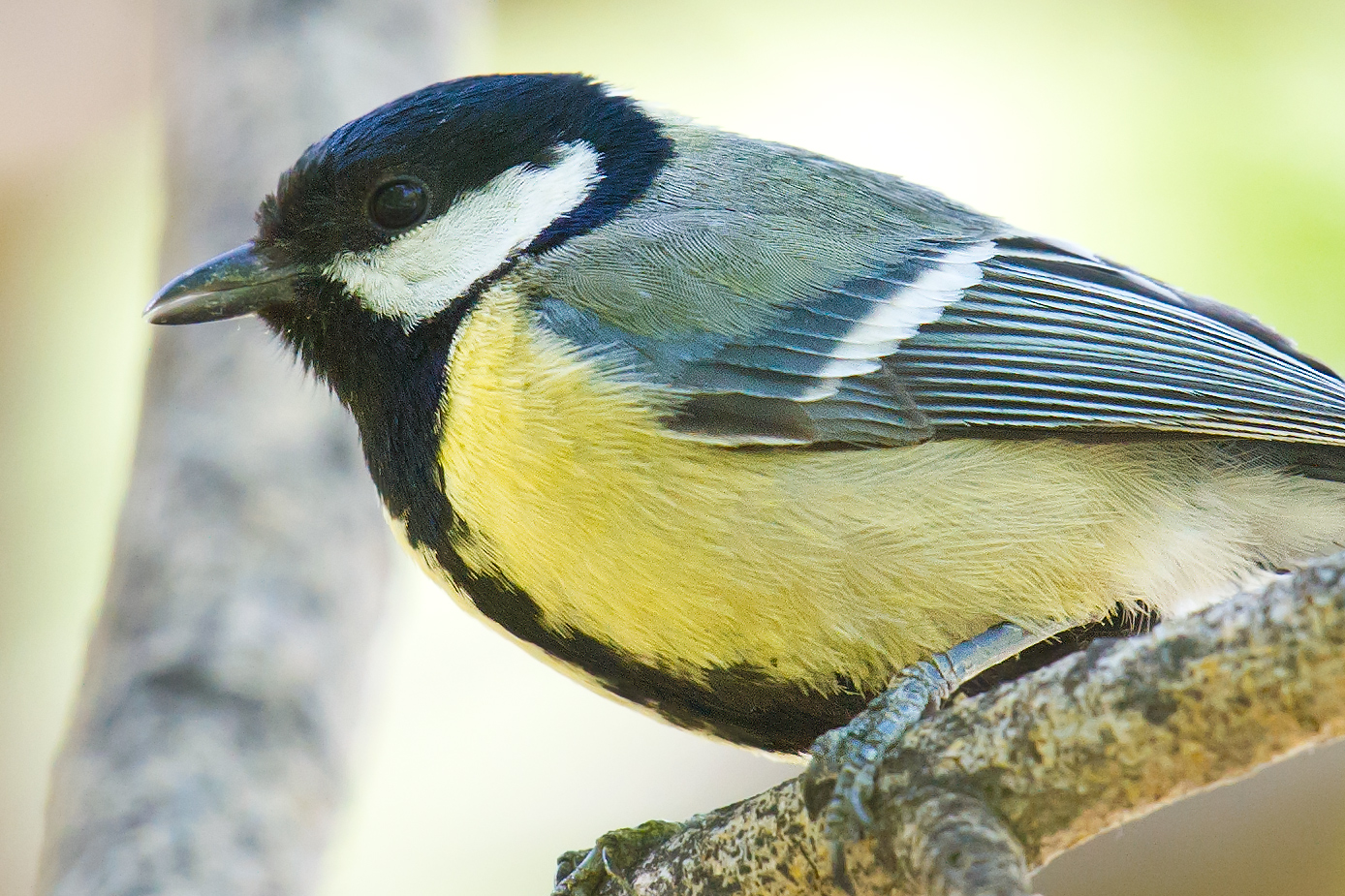 Turkestan Tit Parus major turkestanicus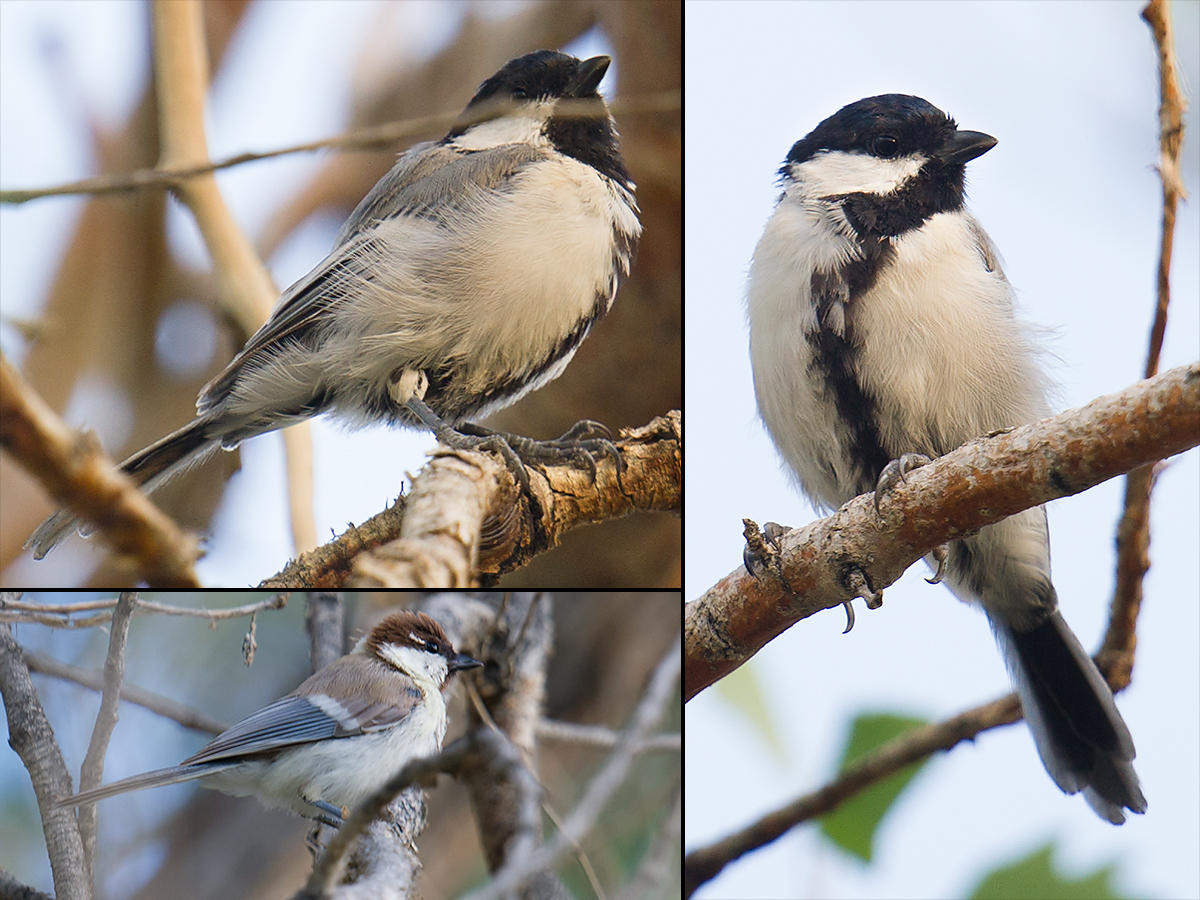 Asian Short-toed Lark Alaudala cheleensis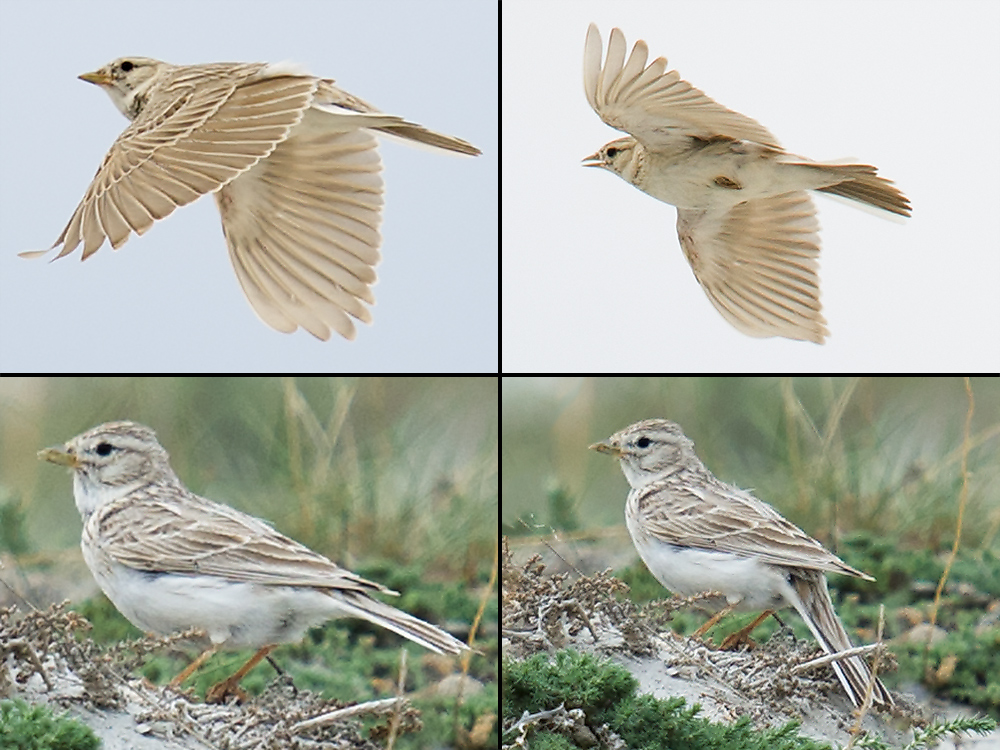 White-crowned Penduline Tit Remiz coronatus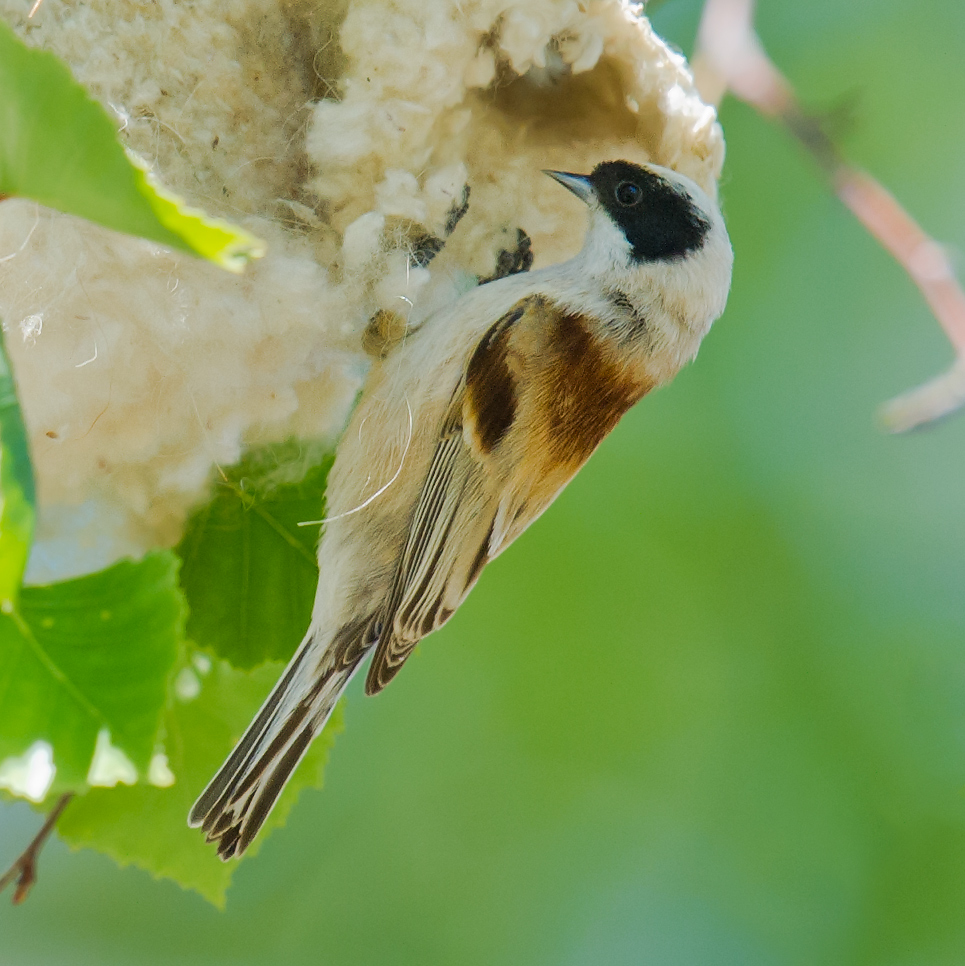 Long-tailed Tit Aegithalos caudatus caudatus
On 26 July 2017 at White Birch Forest Scenic Area, Jan-Erik and I glimpsed 2 members of the snowball-headed nominate race. The nominate ssp. ranges across most of Eurasia, from northern Europe to Japan, and in China is found in the northern tip of Xinjiang and in the extreme northeast.
Hume's Leaf Warbler Phylloscopus humei humei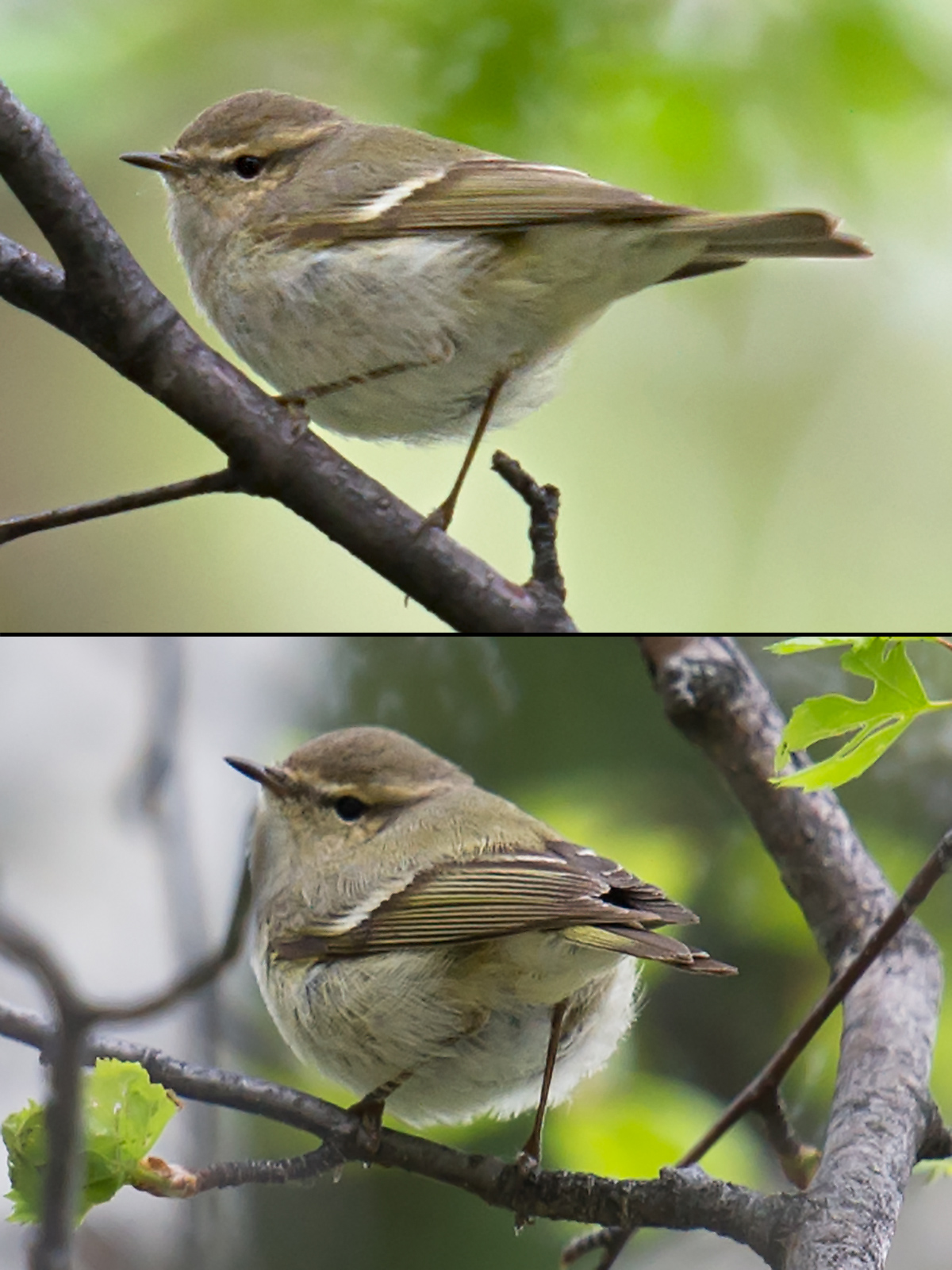 Hume's Leaf Warbler, Baiyanggou (43.424997, 87.165514), 20 July 2017 (00:44; 8.4 MB; Craig Brelsford)
Siberian Chiffchaff Phylloscopus collybita tristis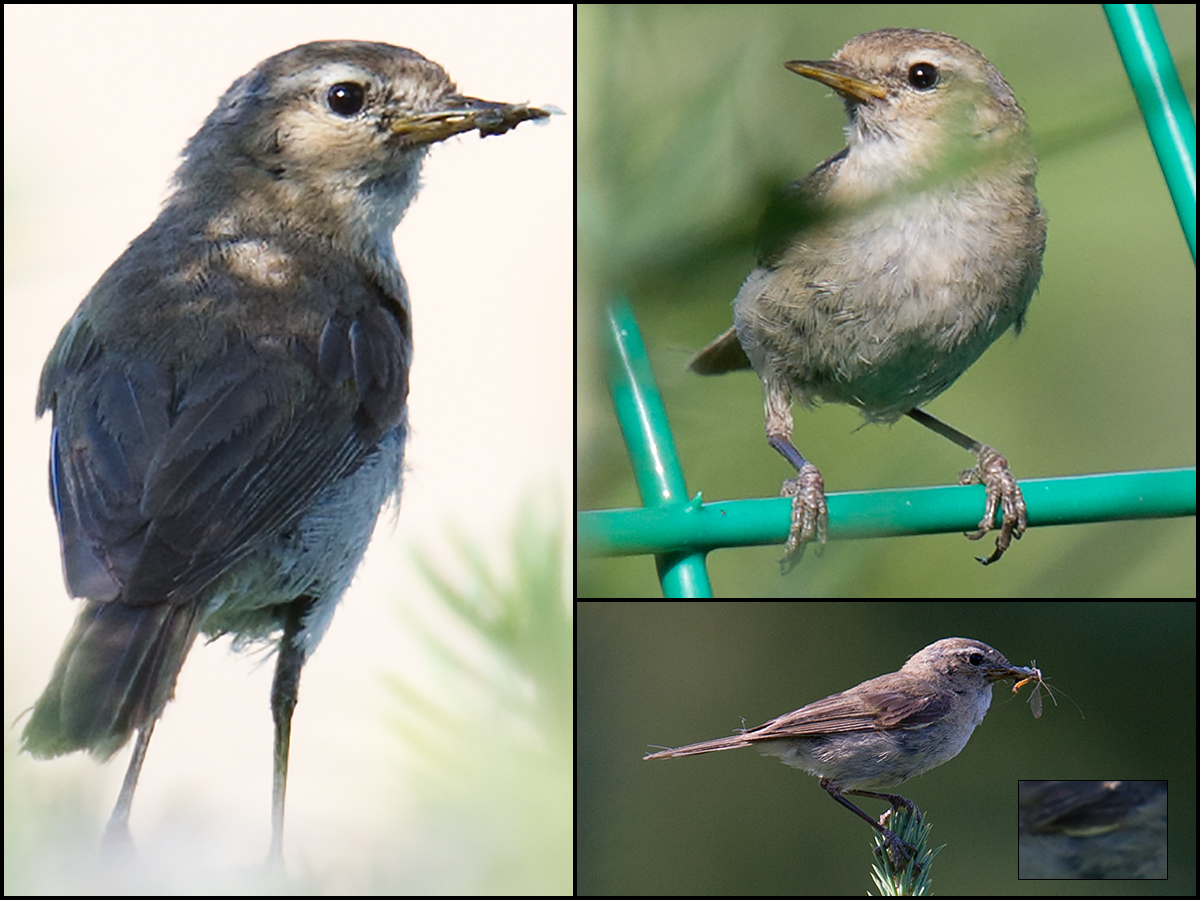 Siberian Chiffchaff, "heep" call, Jiadengyu (48.504120, 87.125695), 27 July 2017 (00:29; 5.5 MB; Craig Brelsford)
Sulphur-bellied Warbler Phylloscopus griseolus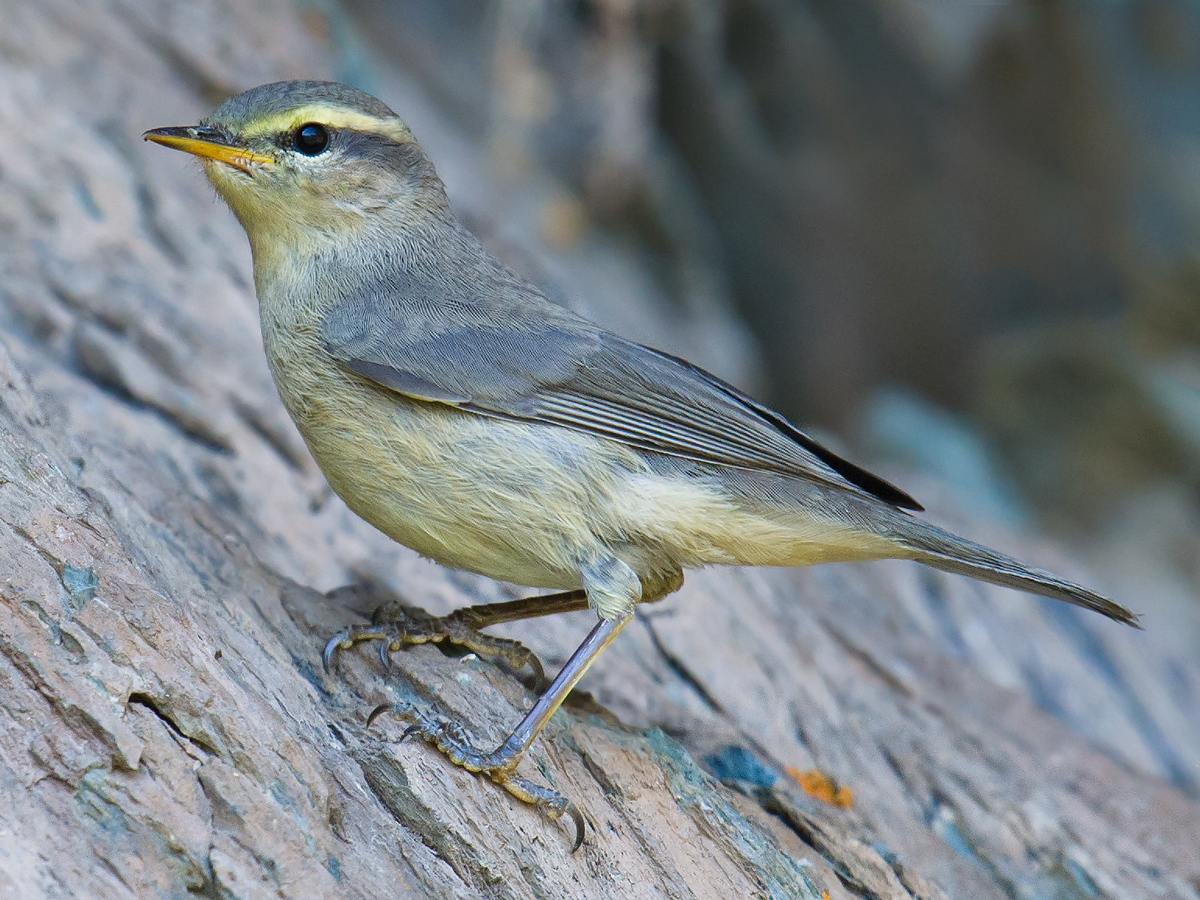 Sykes's Warbler Iduna rama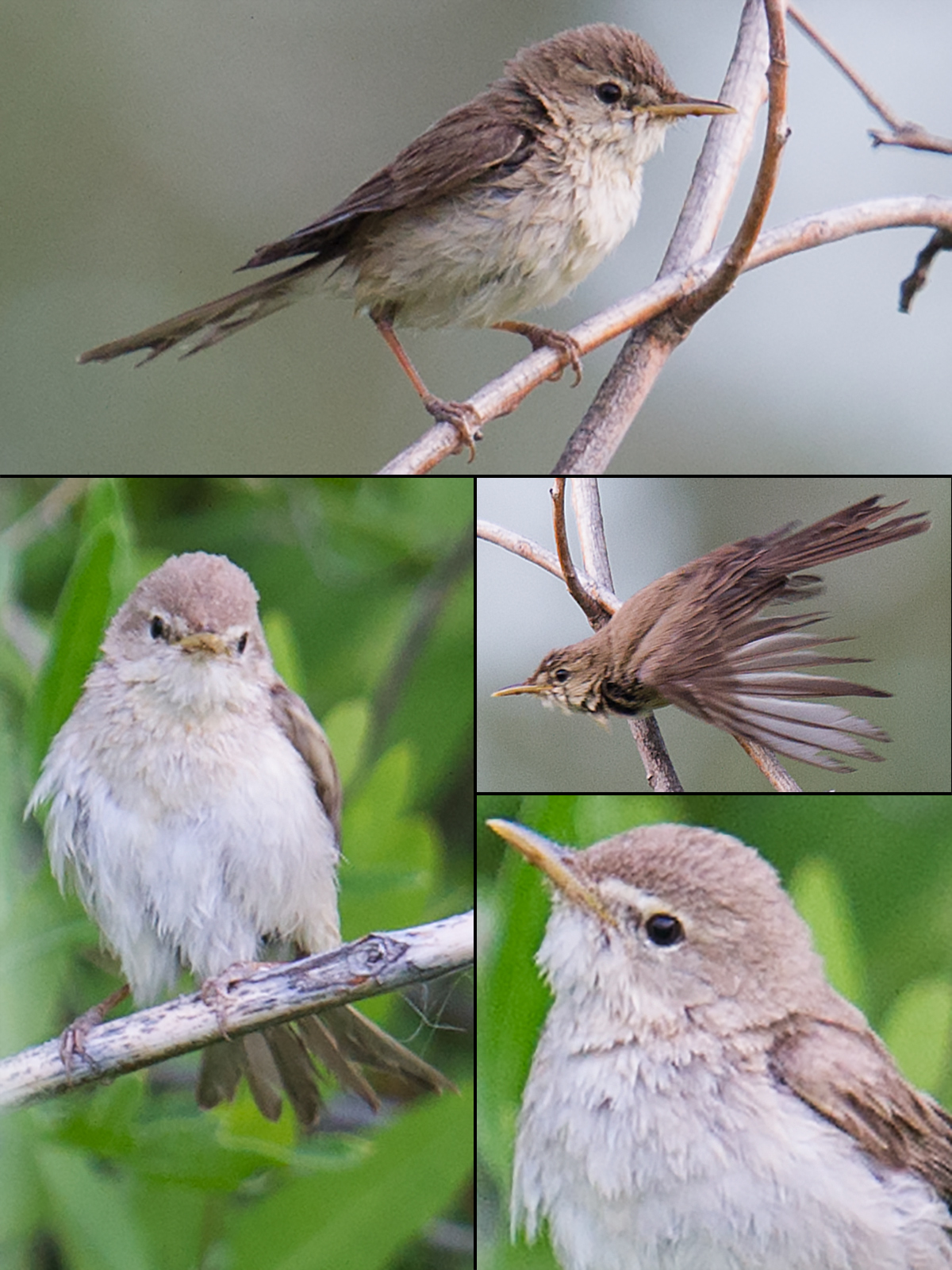 Sykes's Warbler, hard "tek" call, Hongyanglin, 24 July 2017 (00:24; 4.6 MB; Craig Brelsford)
Sedge Warbler Acrocephalus schoenobaenus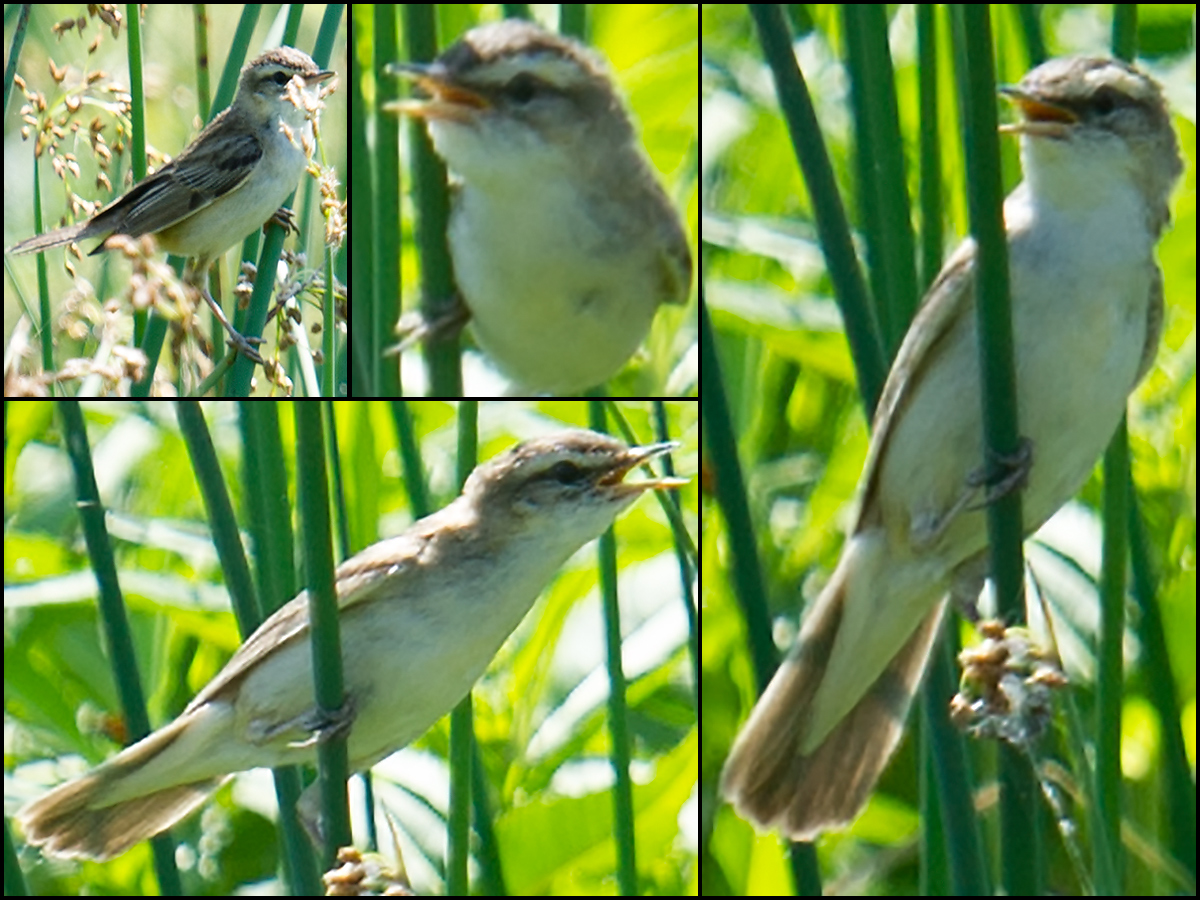 Paddyfield Warbler Acrocephalus agricola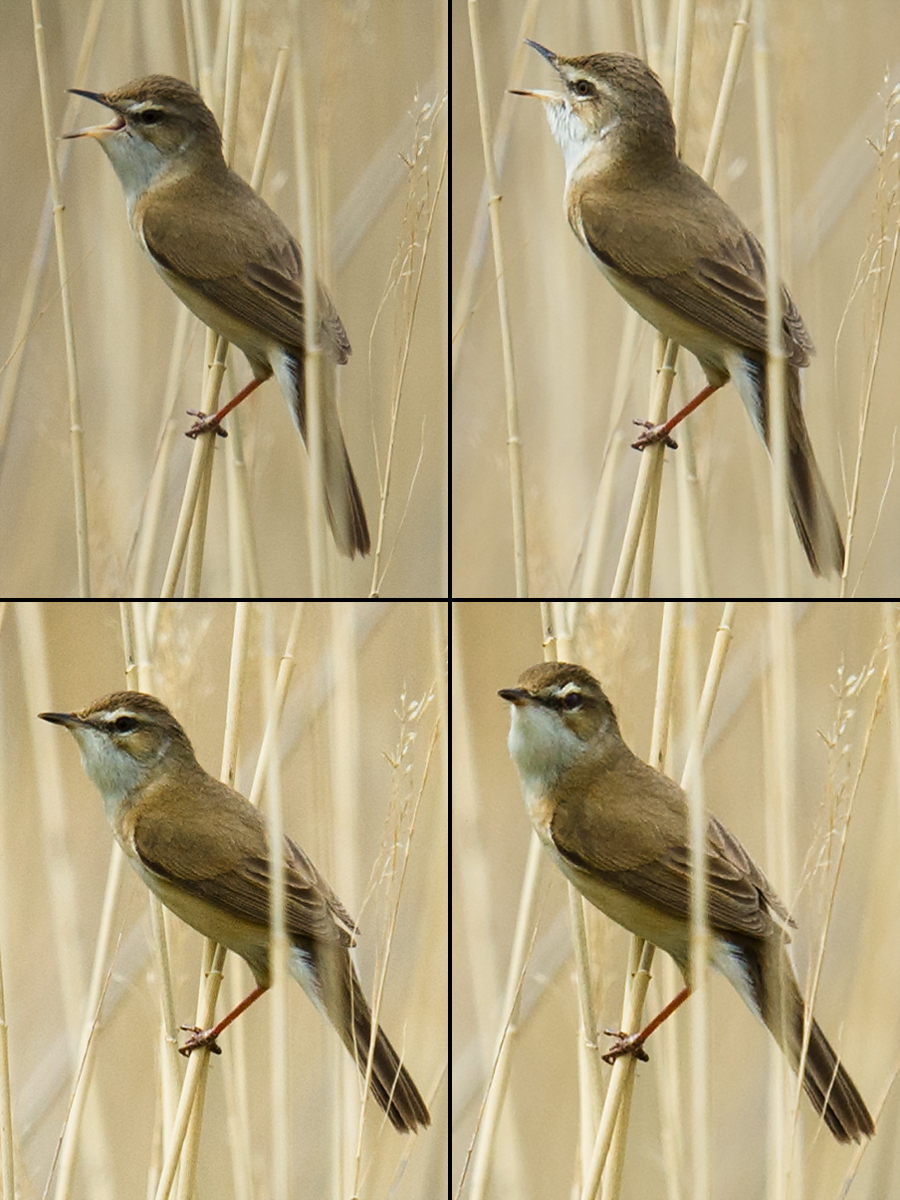 Paddyfield Warbler, song, Kuitun Reservoir, north side (44.779020, 84.586502), 23 July 2017 (00:11; 2.1 MB; Craig Brelsford)
Paddyfield Warbler, song, wetlands west of Kaba (48.060168, 86.395527), 26 July 2017 (00:07; 1.4 MB; Craig Brelsford)
Blyth's Reed Warbler Acrocephalus dumetorum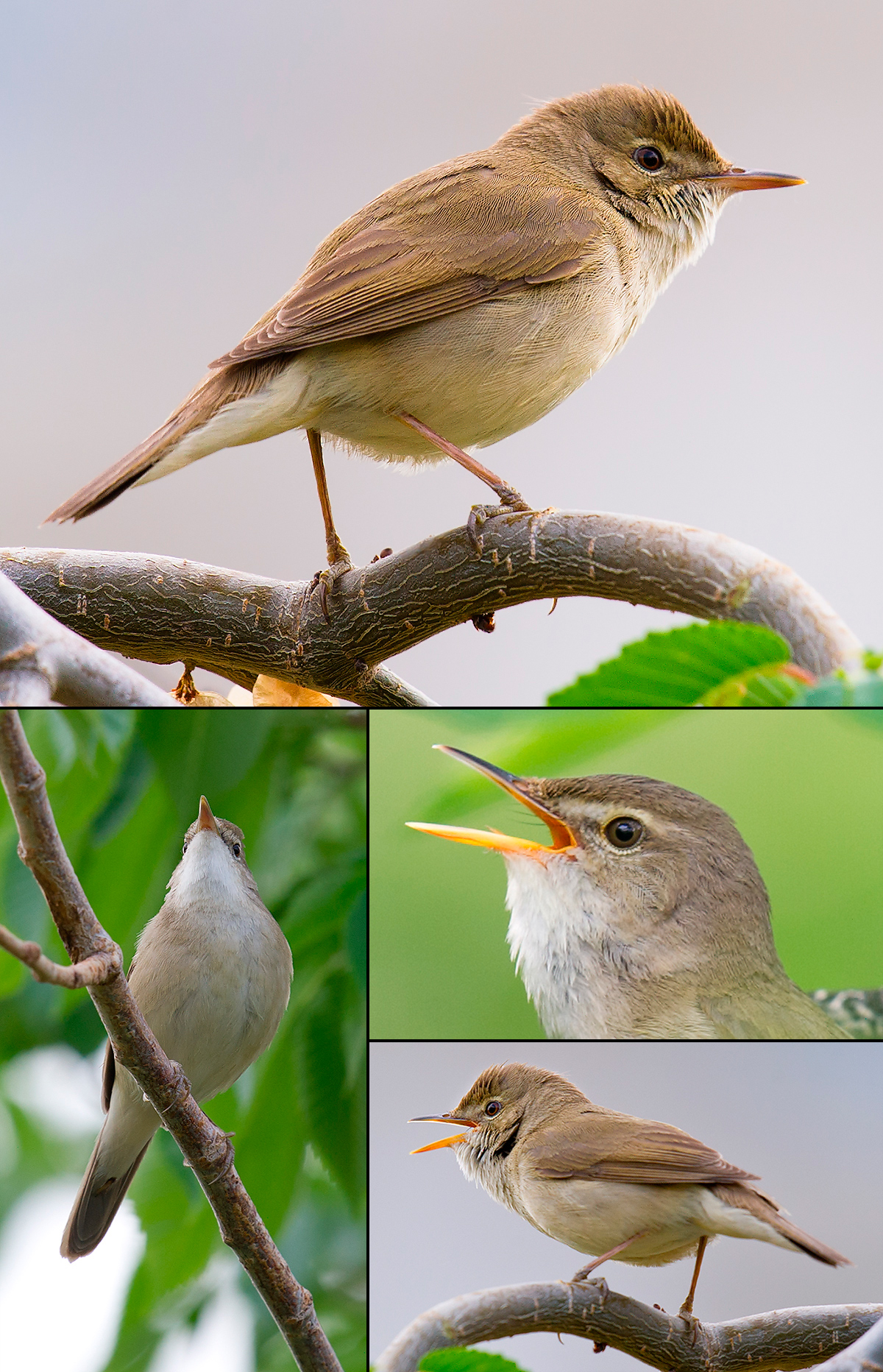 Great Reed Warbler Acrocephalus arundinaceus zarudnyi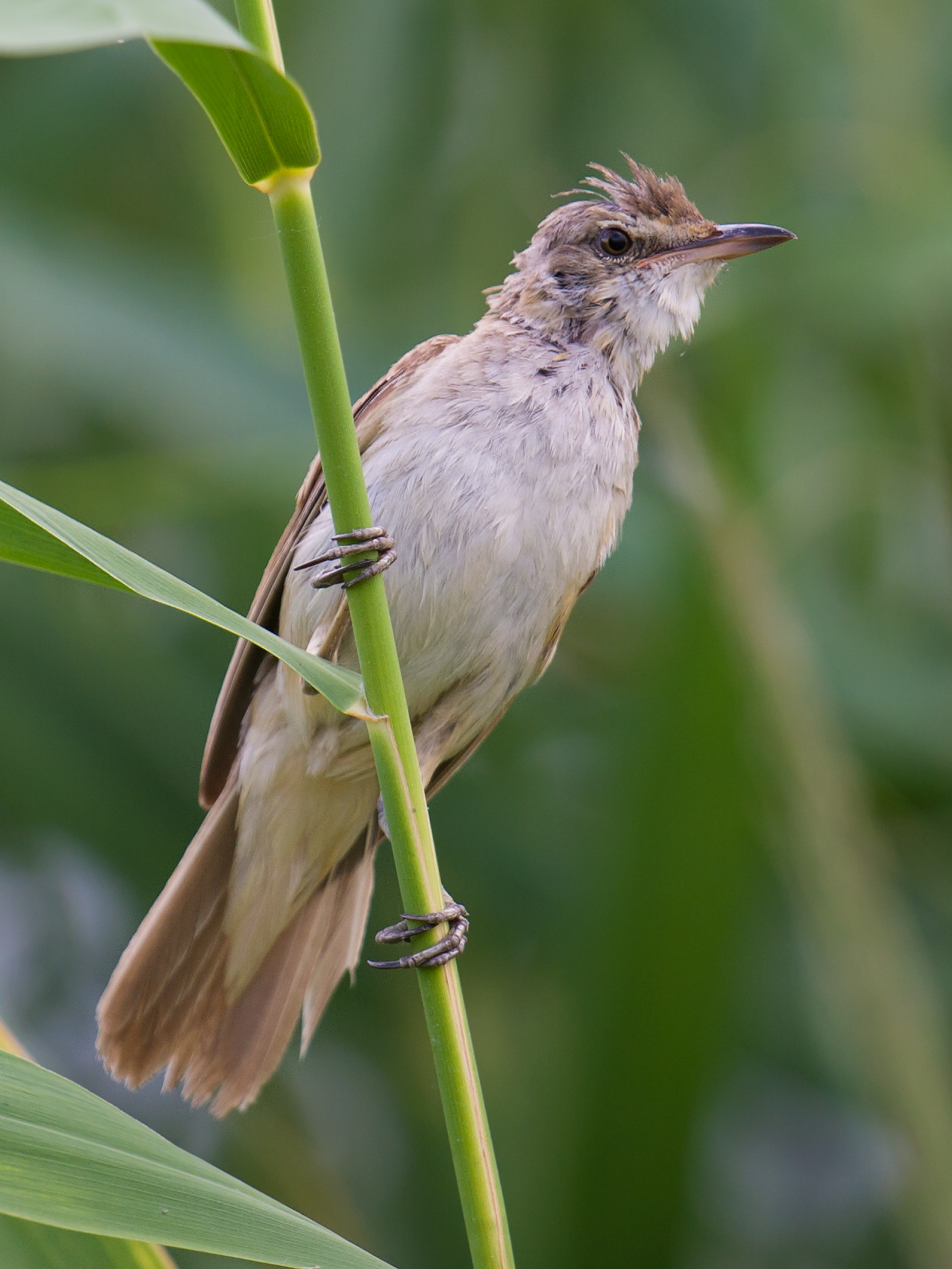 Great Reed Warbler, territorial song, Daquangou Reservoir, 22 July 2017 (00:34; 6.6 MB; Craig Brelsford)
Asian Desert Warbler Curruca nana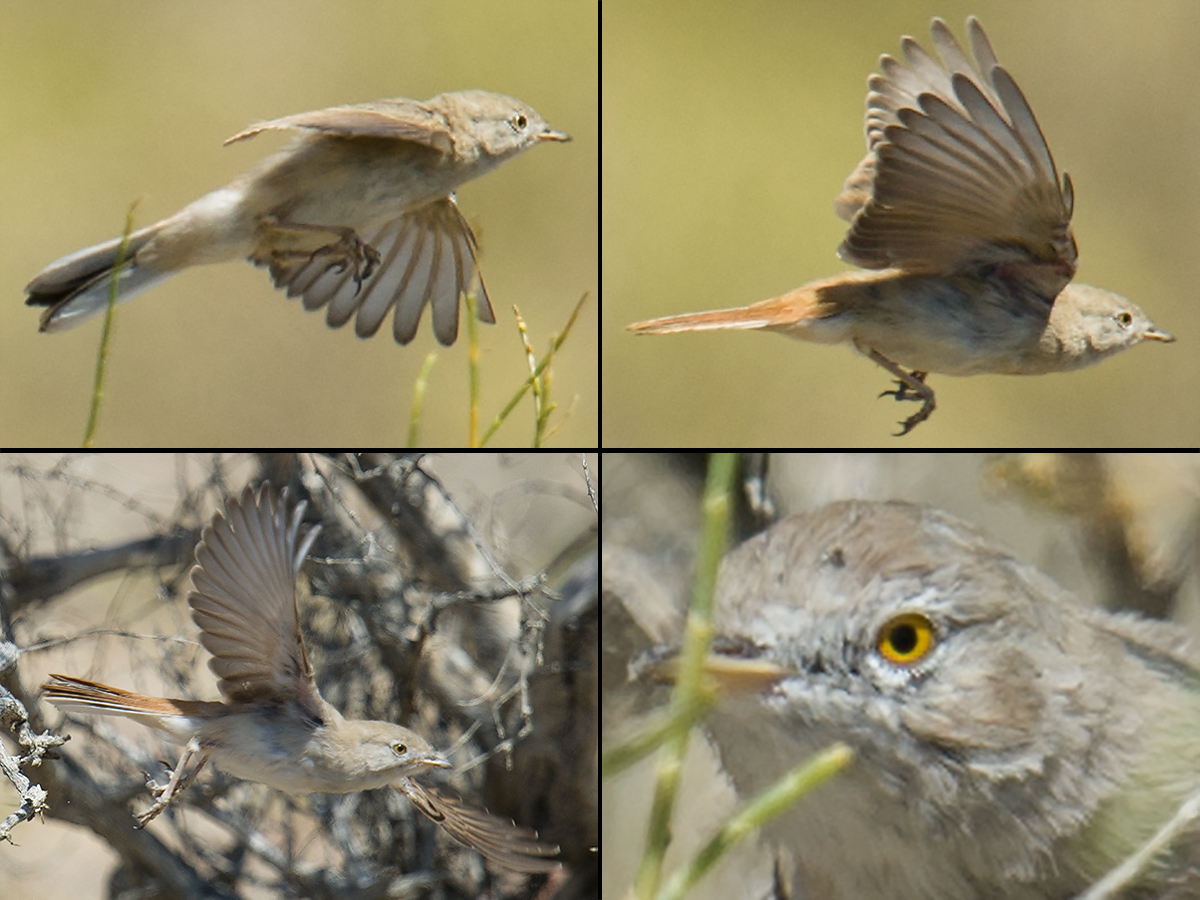 Barred Warbler Curruca nisoria
At the semi-desert site Beishawo on 22 July 2017, we achieved our only trip record of this robust, distinctively barred, yellow-eyed warbler. The bird was skulking in tall bushes, not particularly close to water. Race merzbacheri is described by MacKinnon as an uncommon breeder in Xinjiang, but I have noted the race as well in western Gansu.
Desert Whitethroat Curruca minula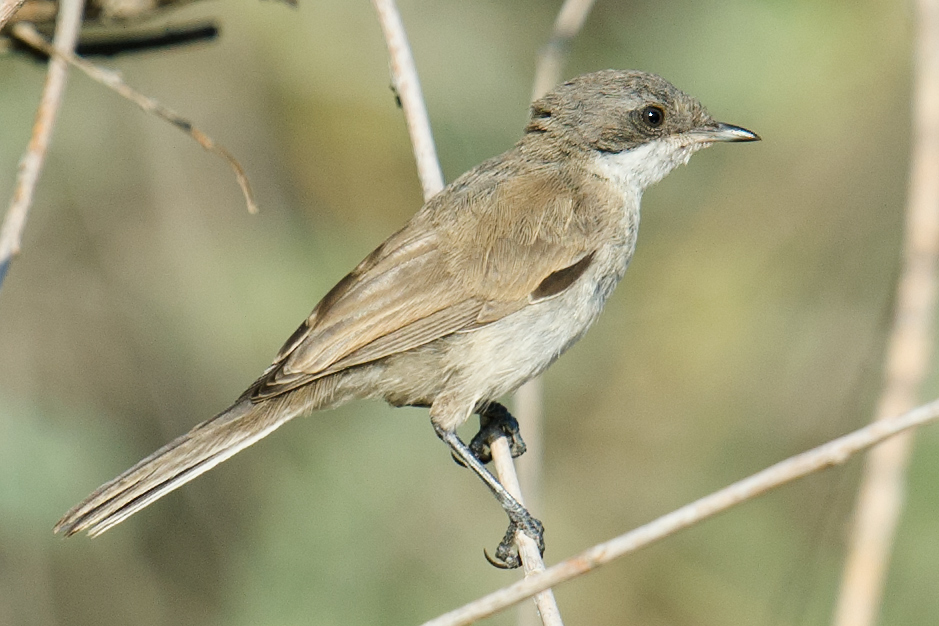 Lesser Whitethroat Curruca curruca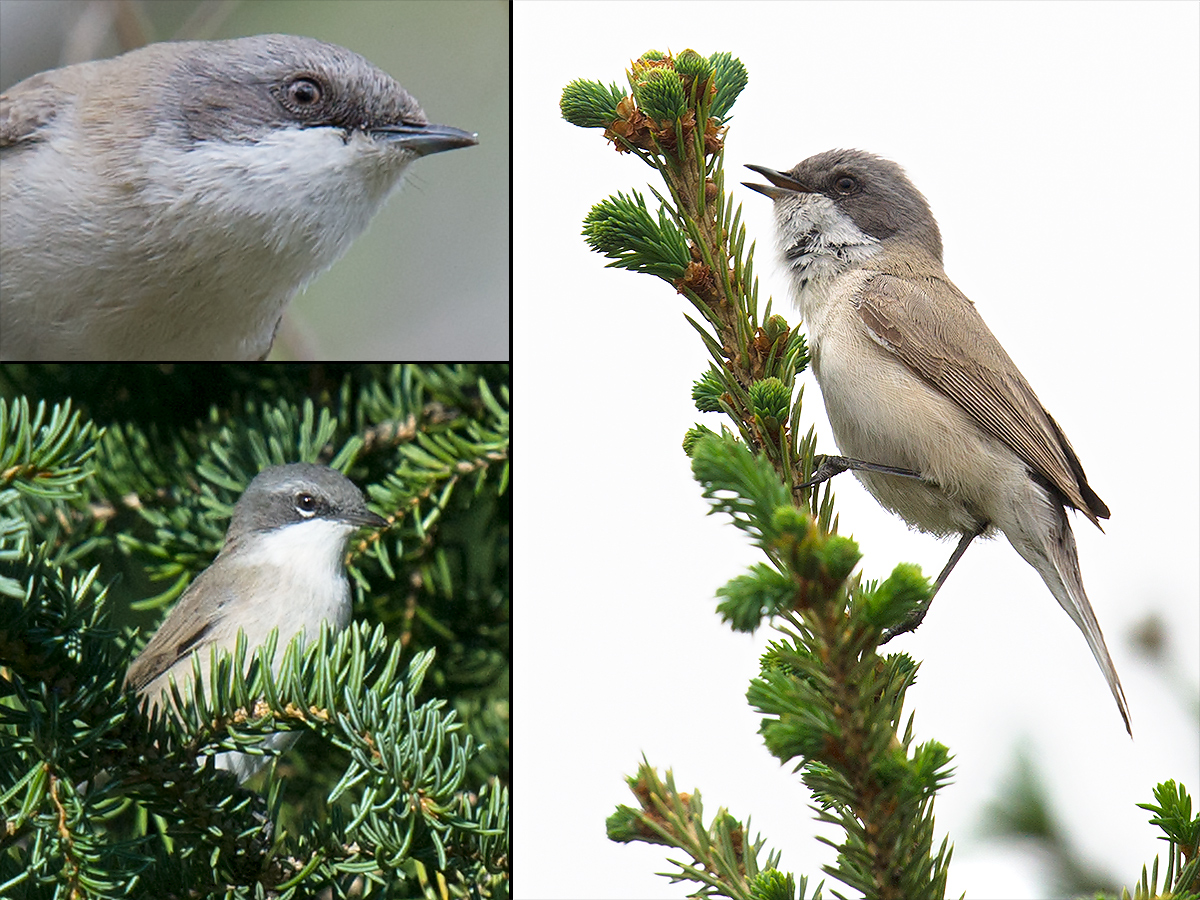 Common Whitethroat Curruca communis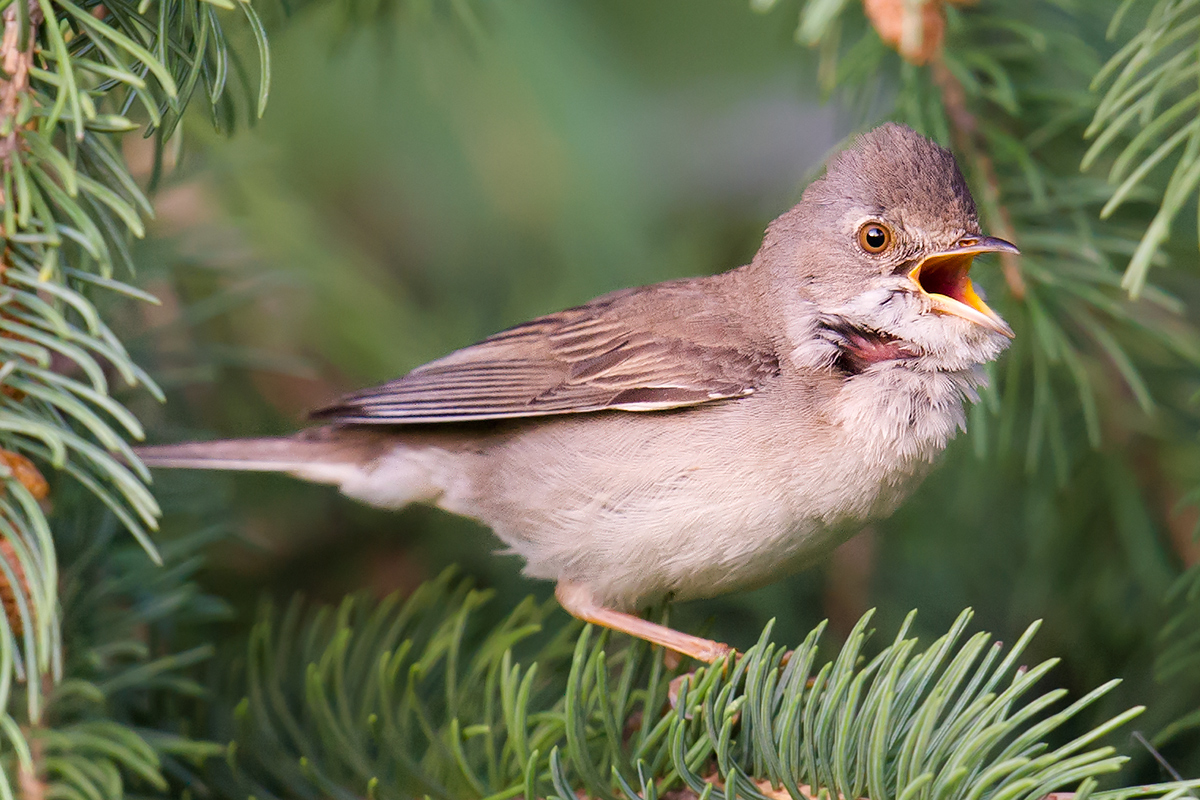 Common Whitethroat, Baiyanggou (43.424997, 87.165514), 20 July 2017 (00:51; 9.9 MB; Craig Brelsford)
Common Starling Sturnus vulgaris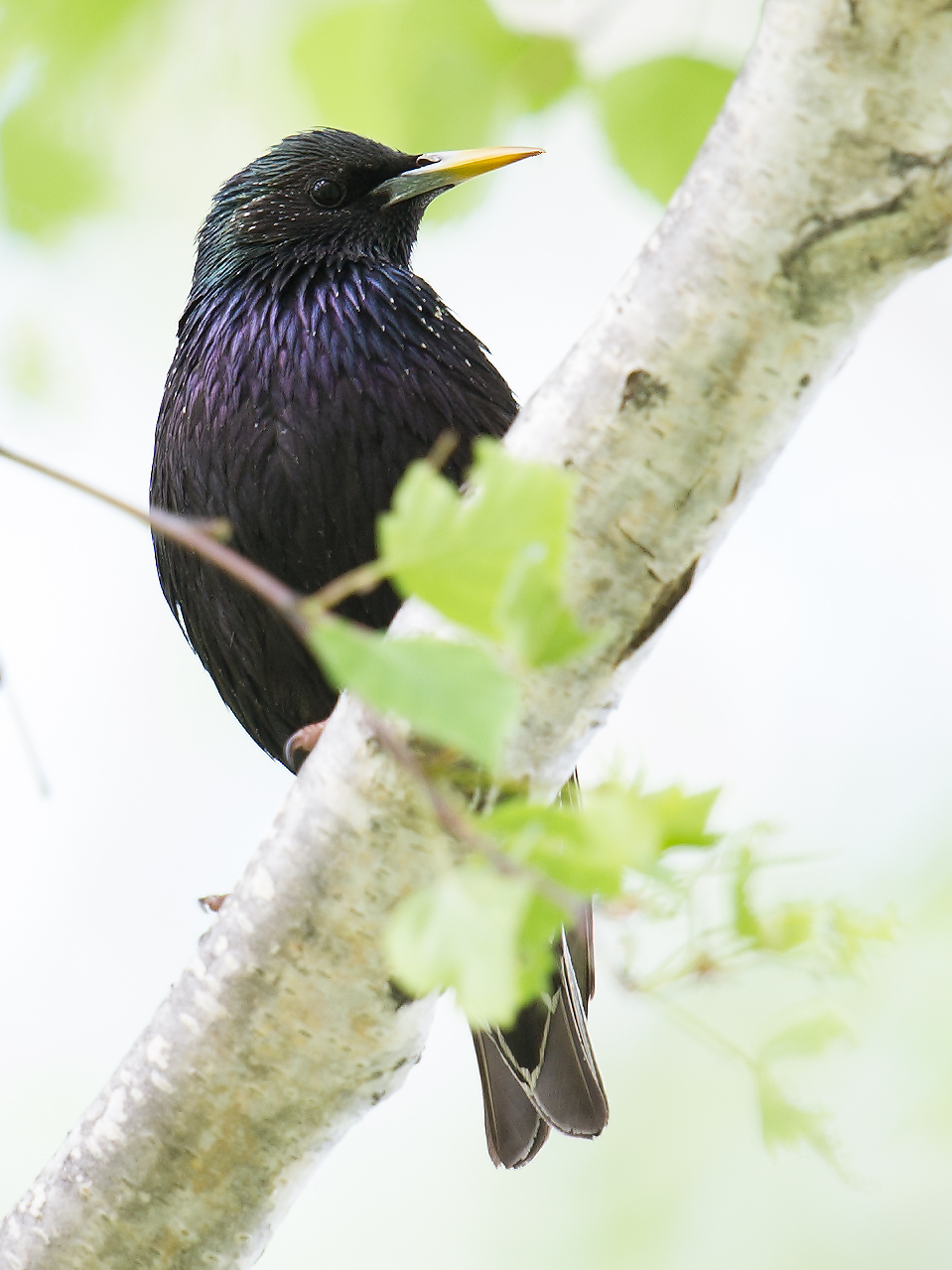 Rosy Starling Pastor roseus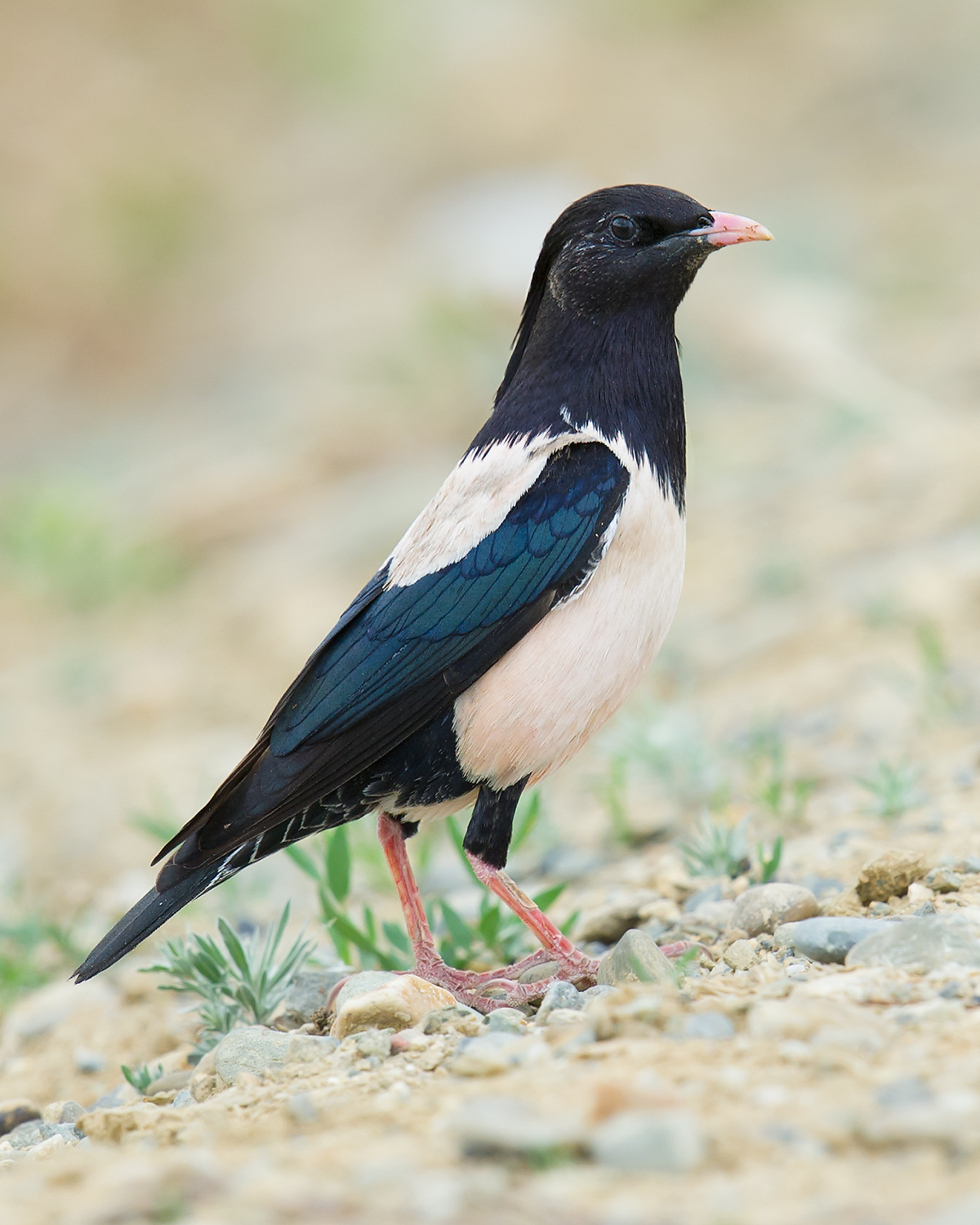 Common Blackbird Turdus merula intermedius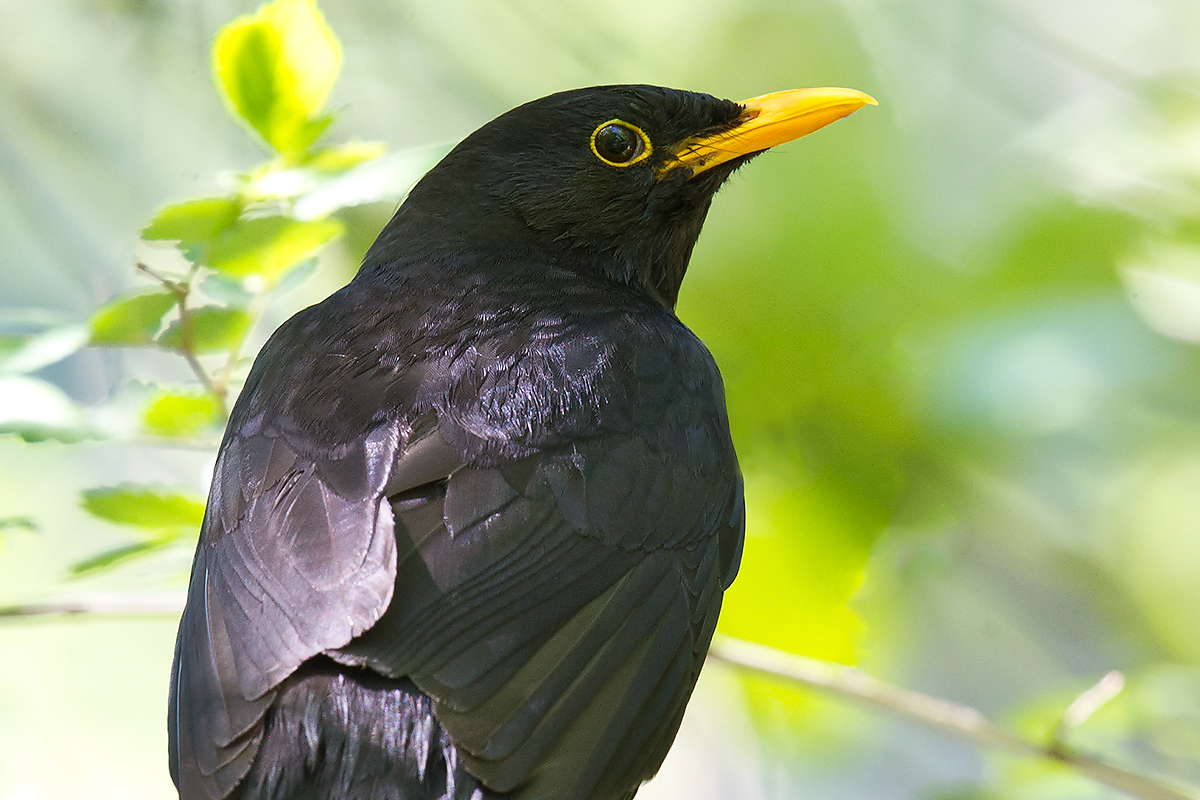 Black-throated Thrush Turdus atrogularis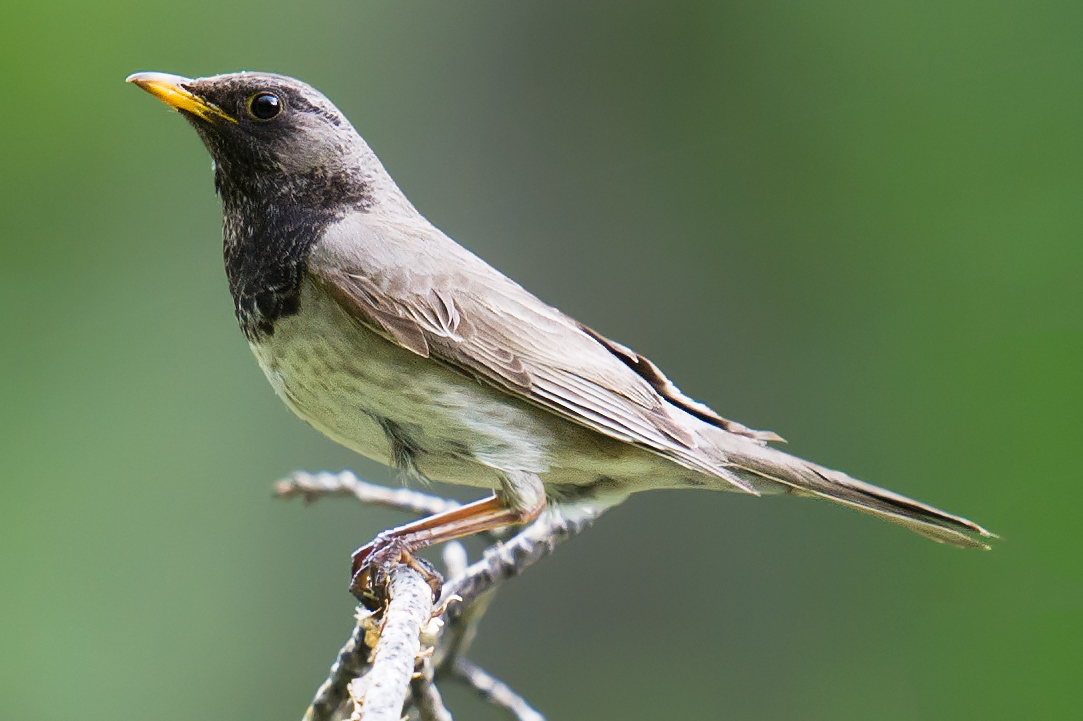 Fieldfare Turdus pilaris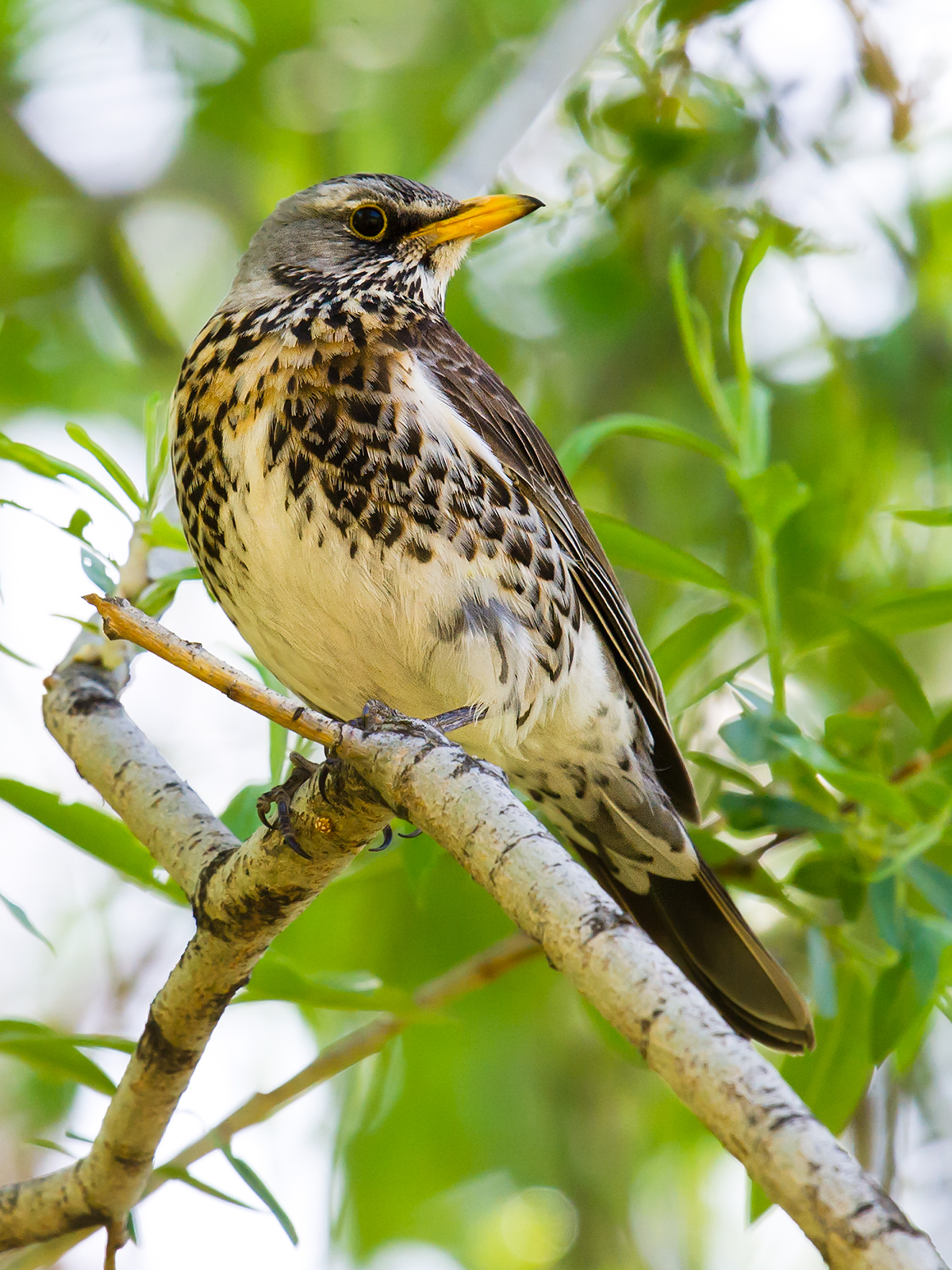 Mistle Thrush Turdus viscivorus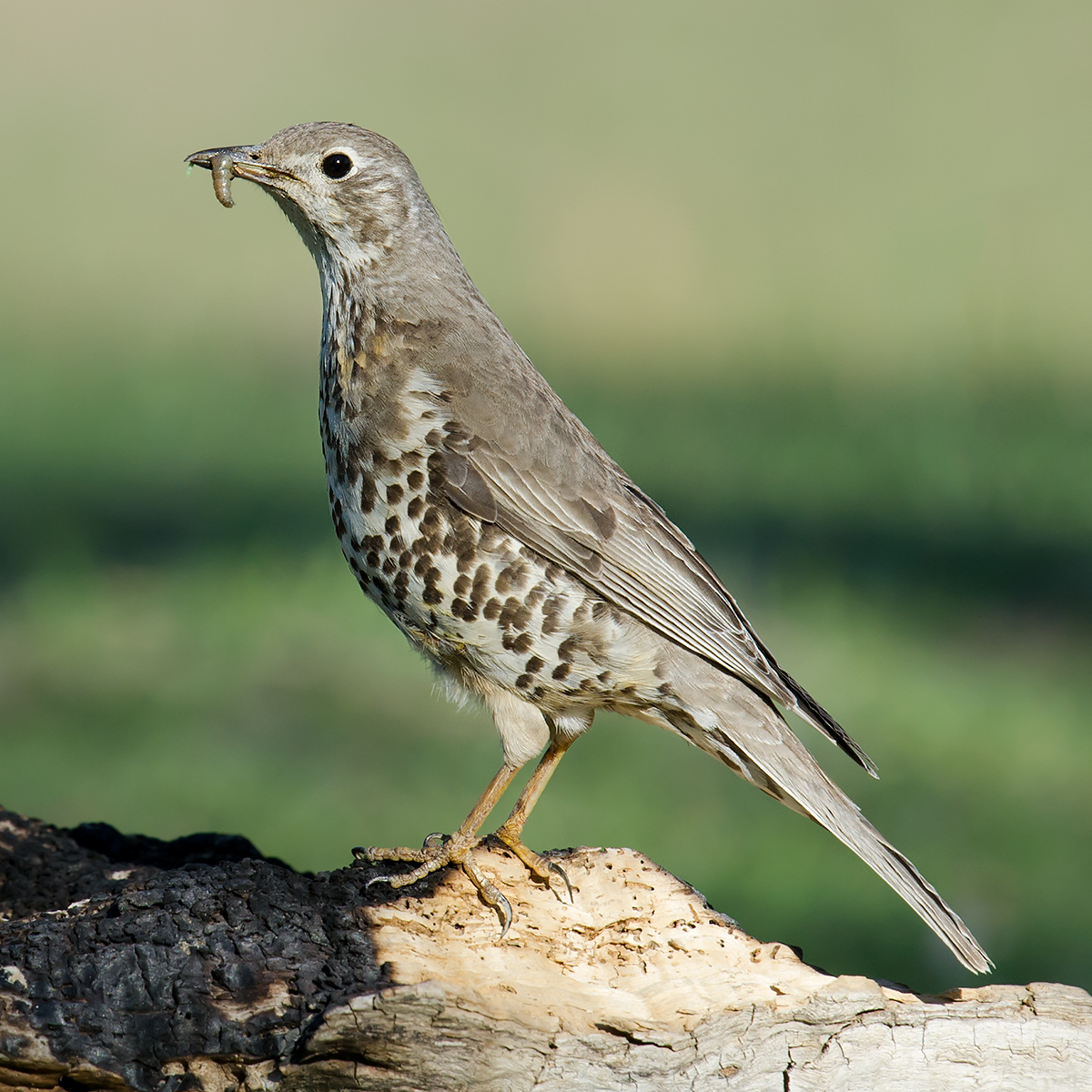 Spotted Flycatcher Muscicapa striata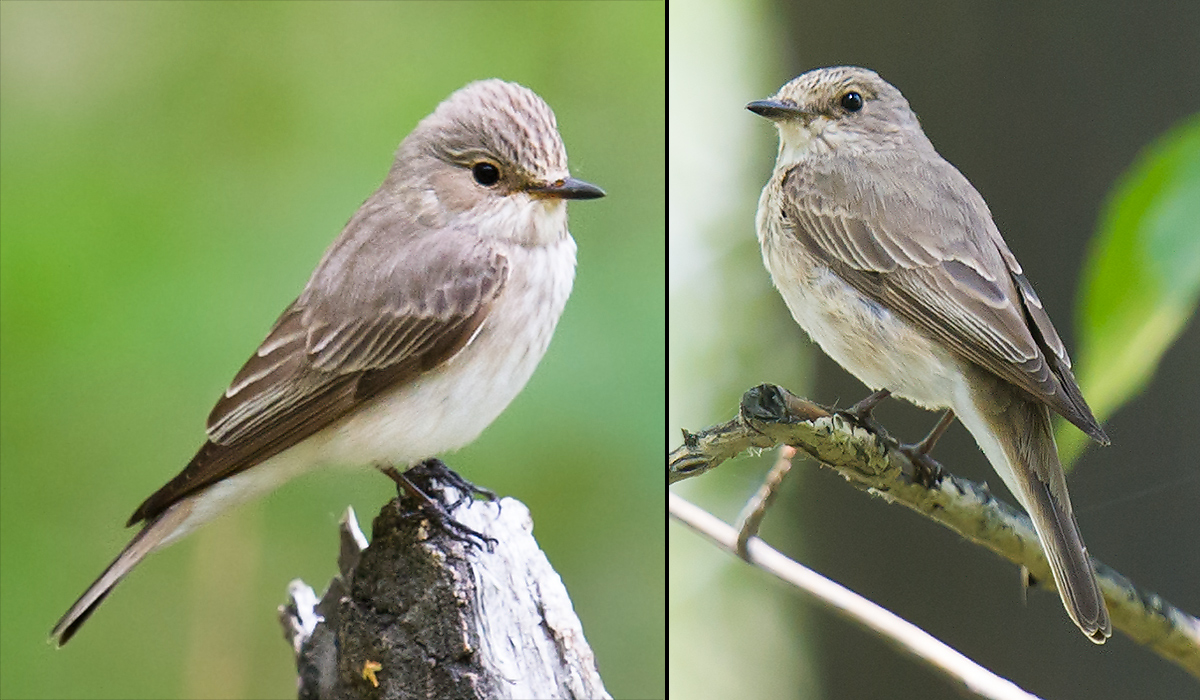 Common Nightingale Luscinia megarhynchos golzii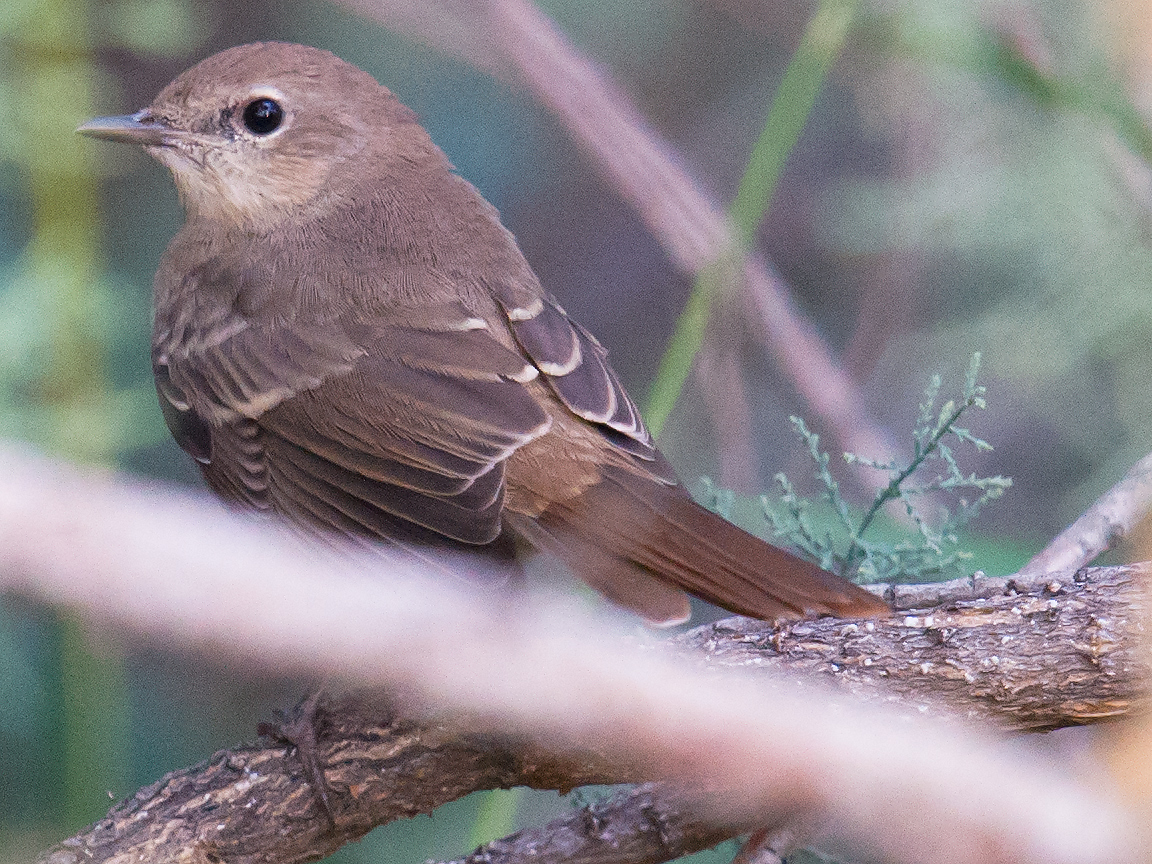 Common Nightingale, snatches of song, Hongyanglin, 24 July 2017 (00:09; 1.6 MB; Craig Brelsford)
Eversmann's Redstart Phoenicurus erythronotus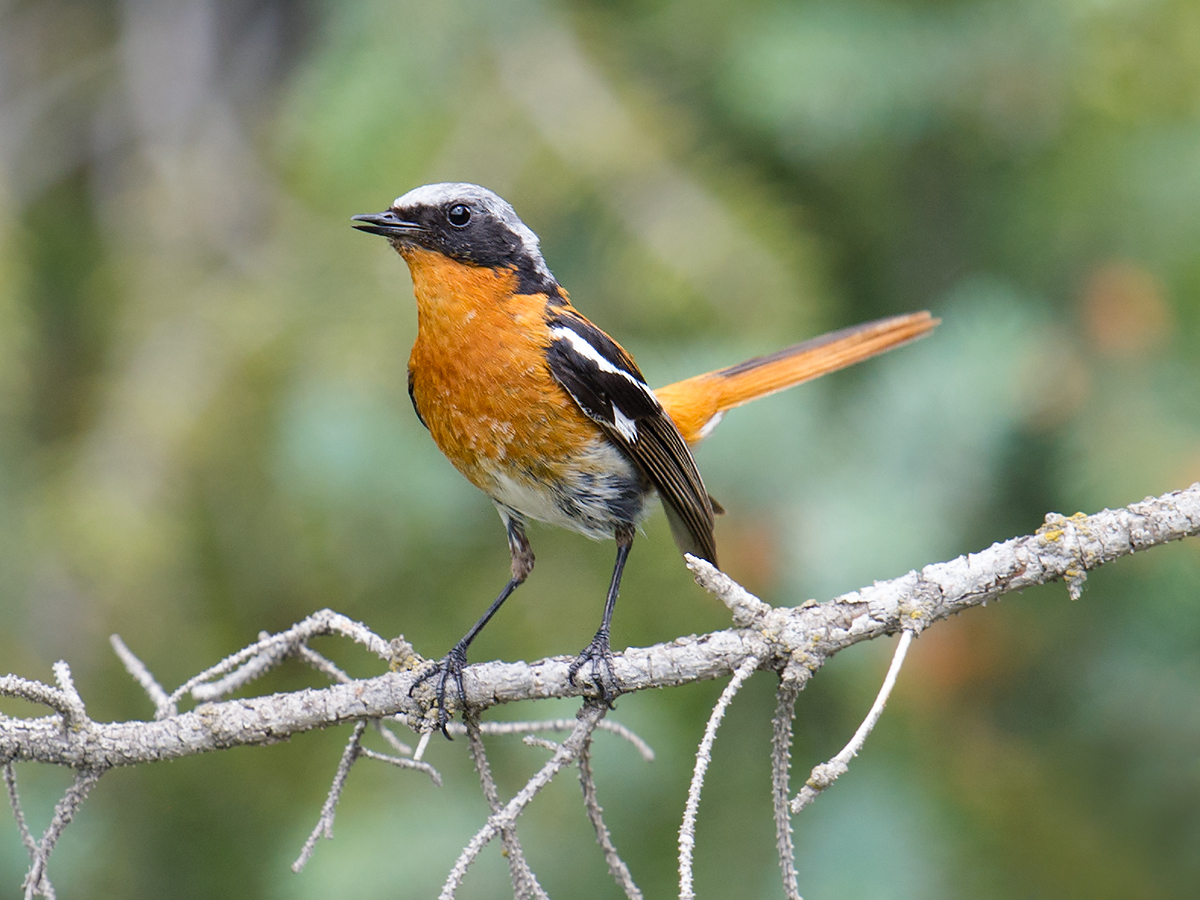 Black Redstart Phoenicurus ochruros phoenicuroides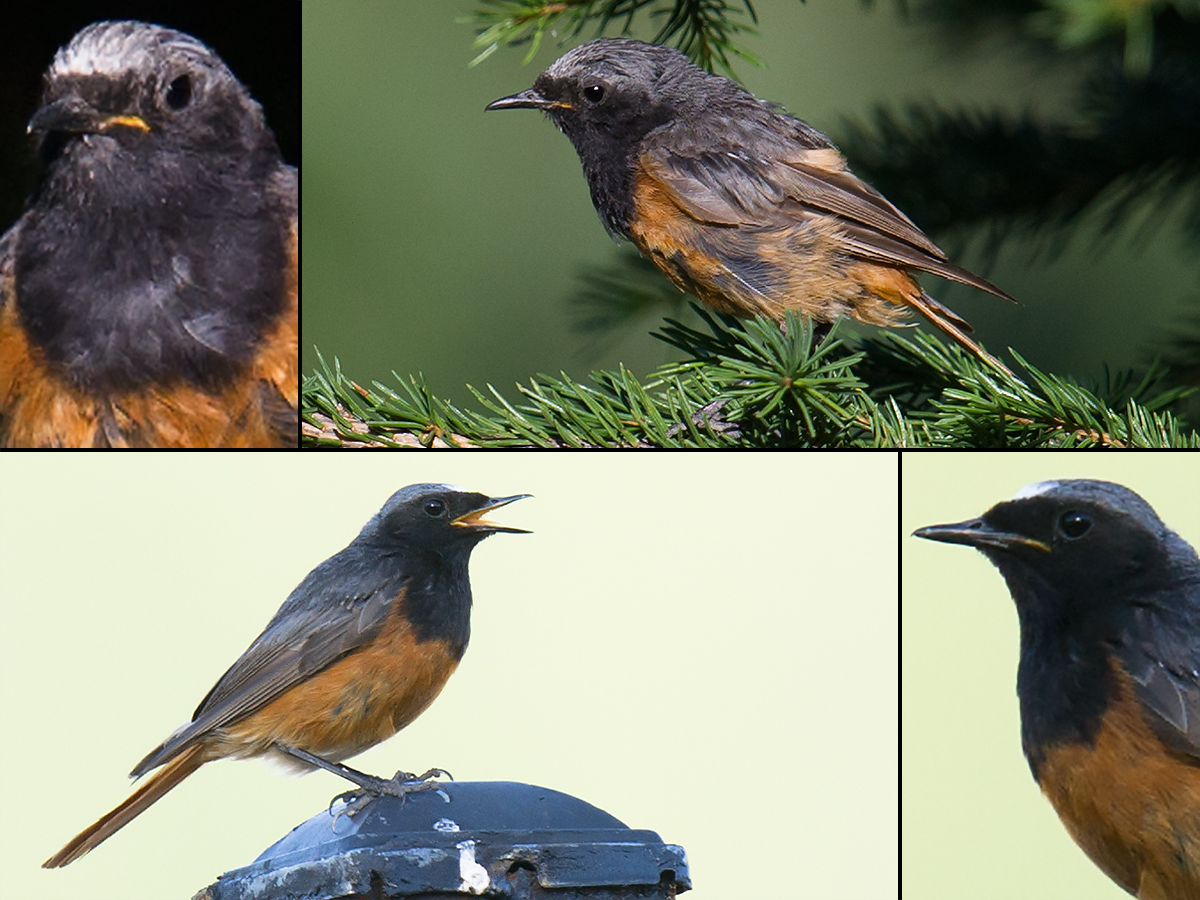 Siberian Stonechat Saxicola maurus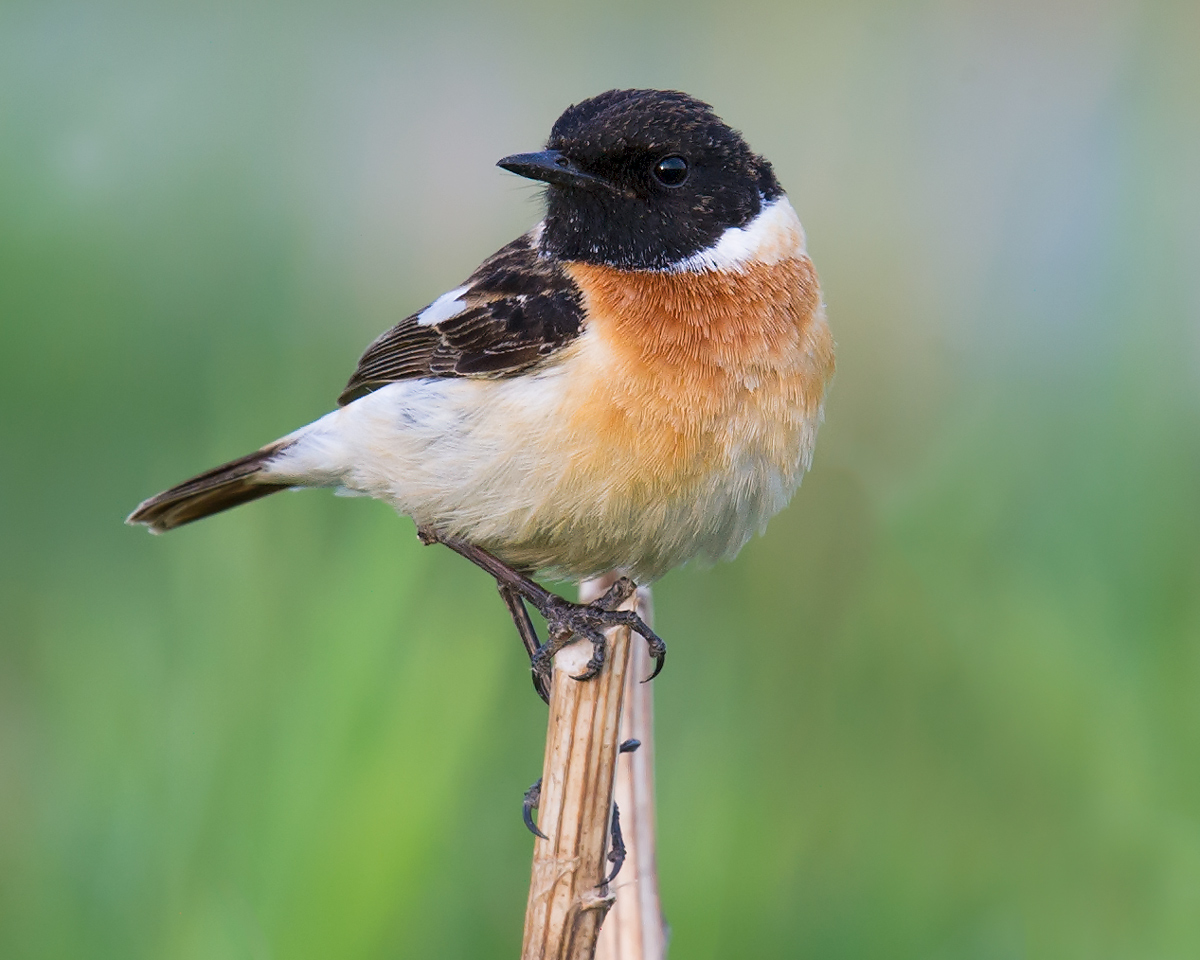 Northern Wheatear Oenanthe oenanthe
Pied Wheatear O. pleschanka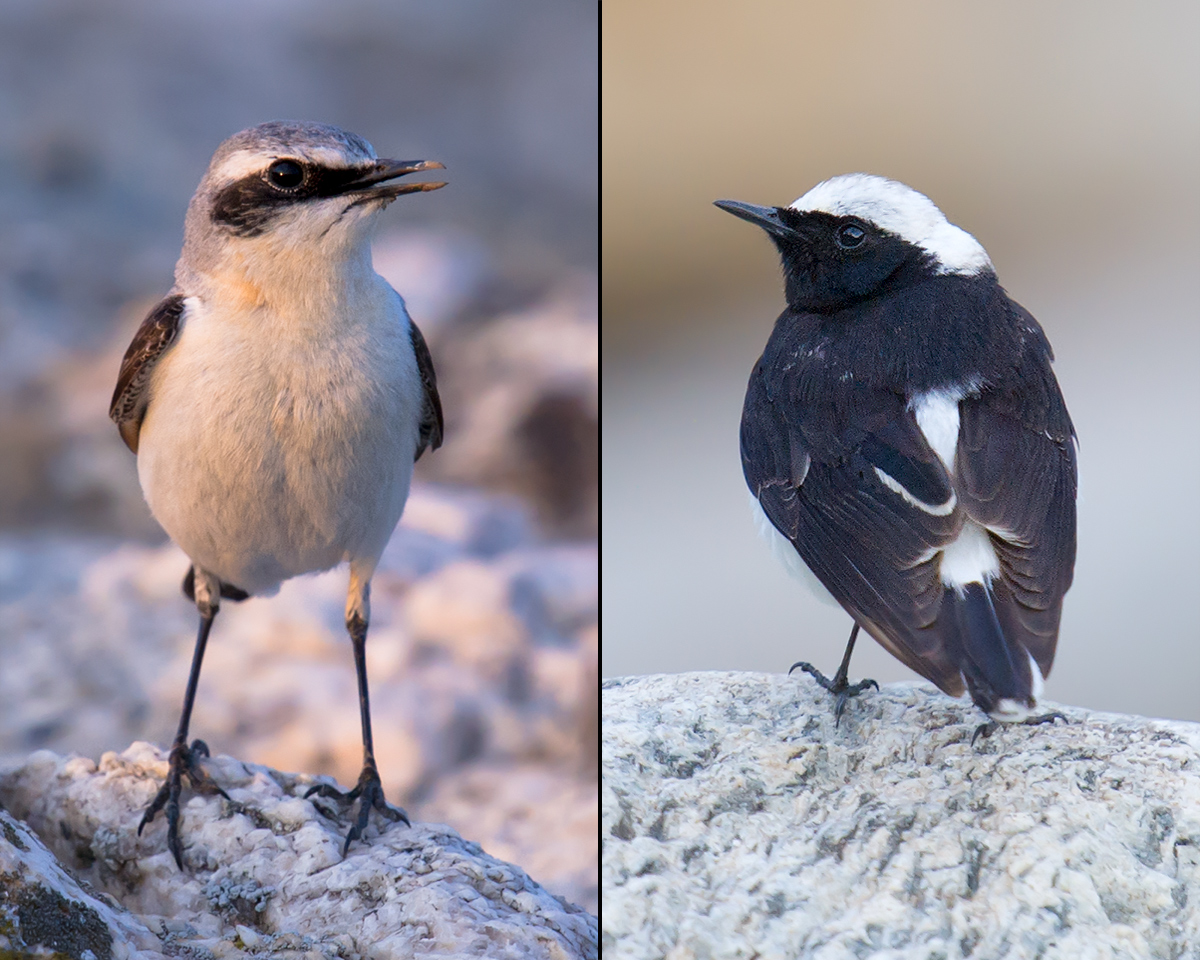 Common Chaffinch Fringilla coelebs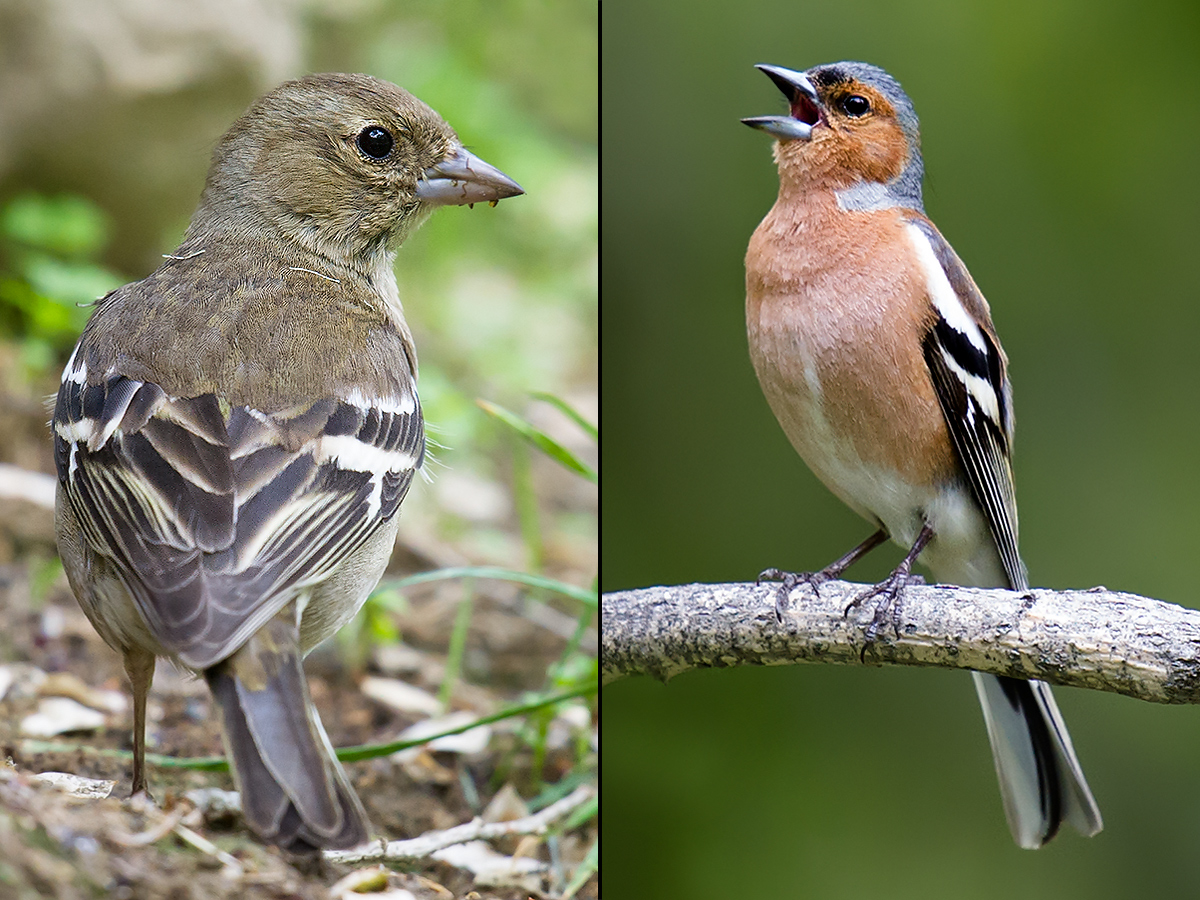 European Greenfinch Chloris chloris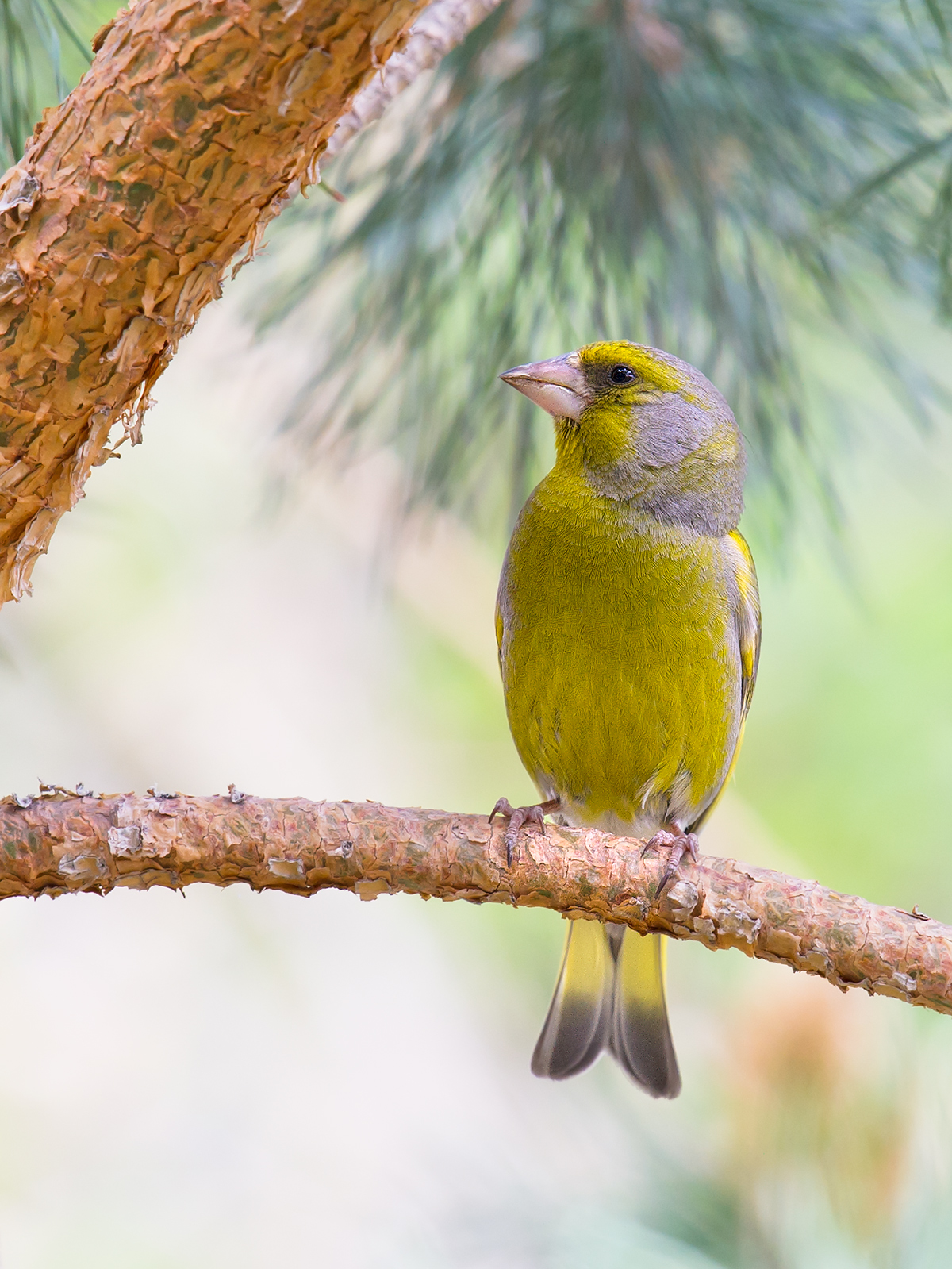 European Goldfinch Carduelis carduelis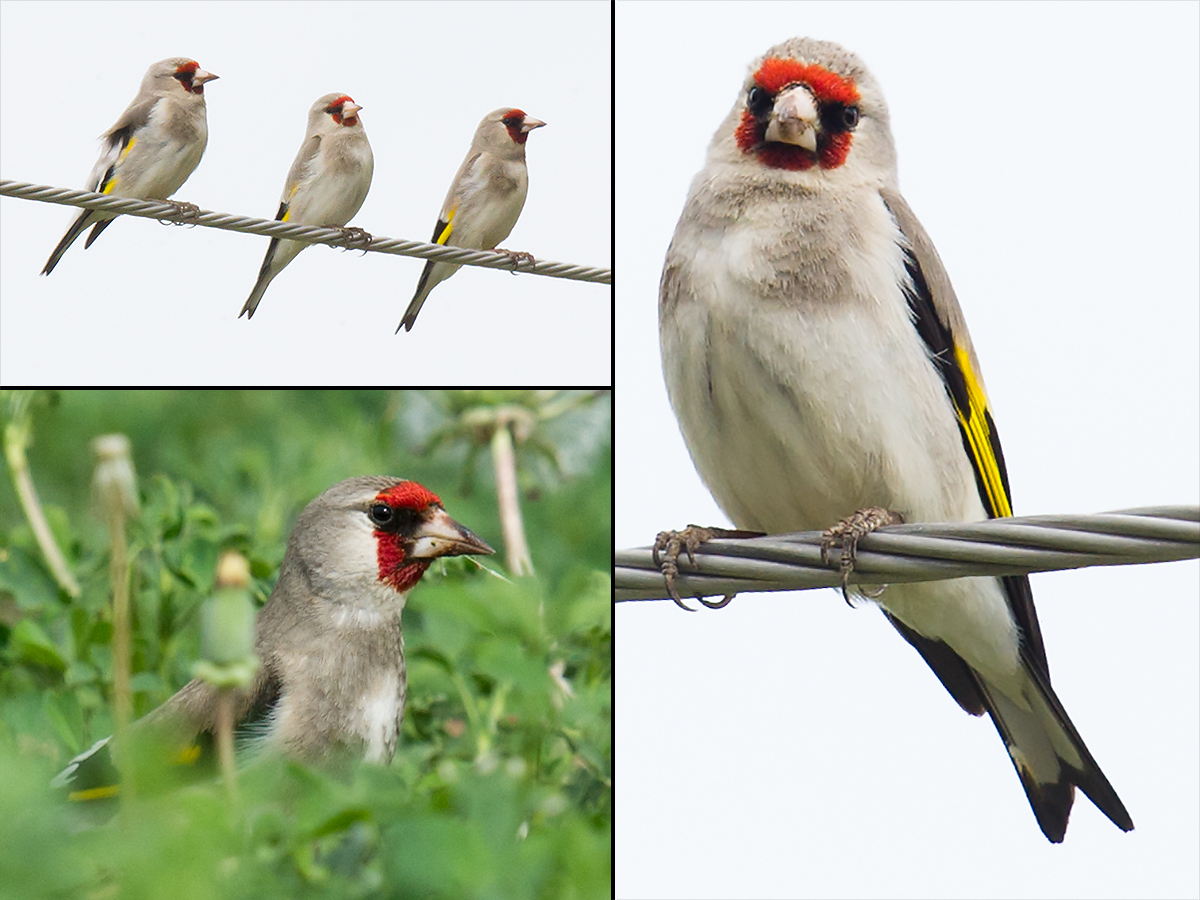 Twite Linaria flavirostris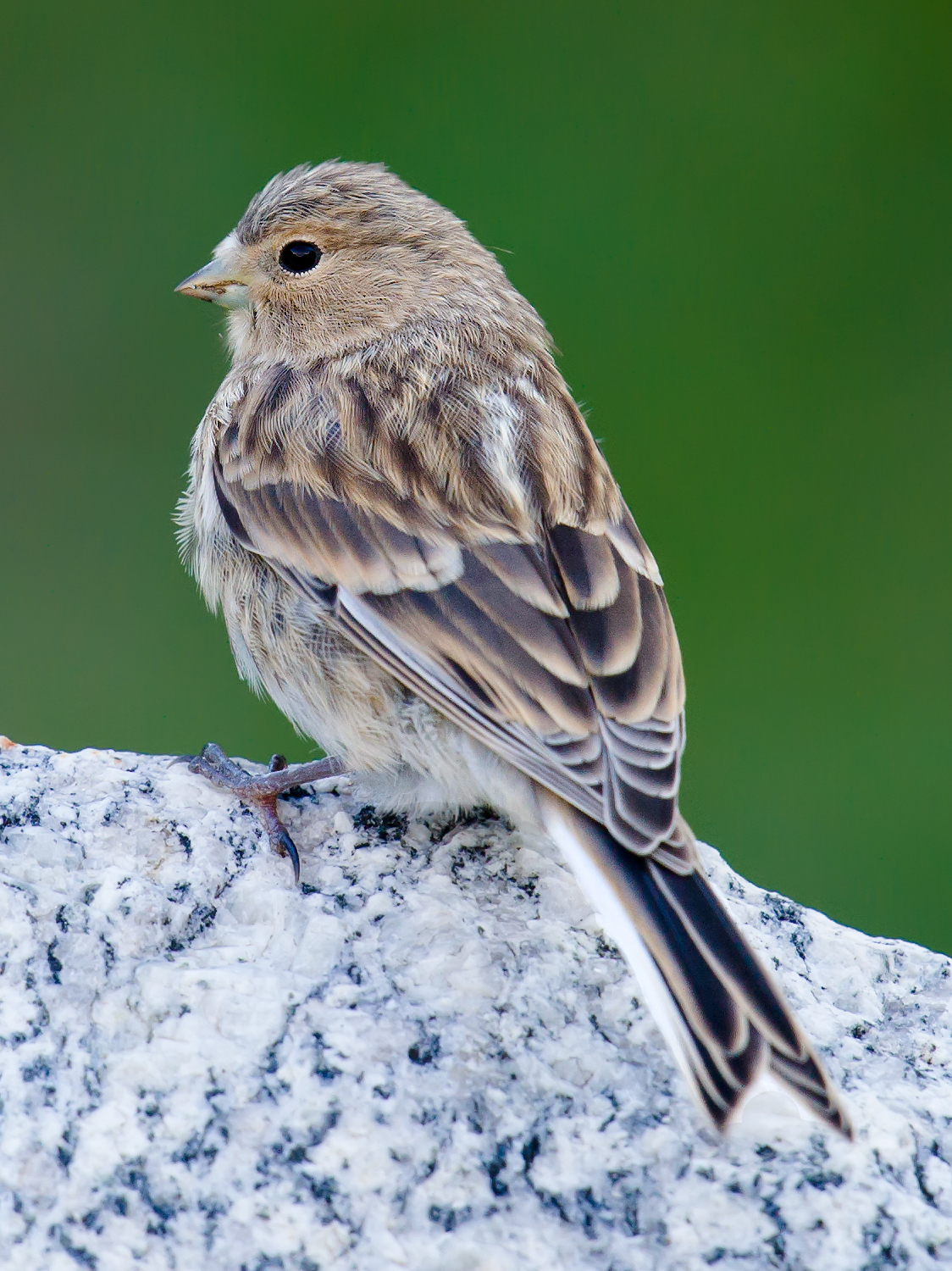 Common Linnet Linaria cannabina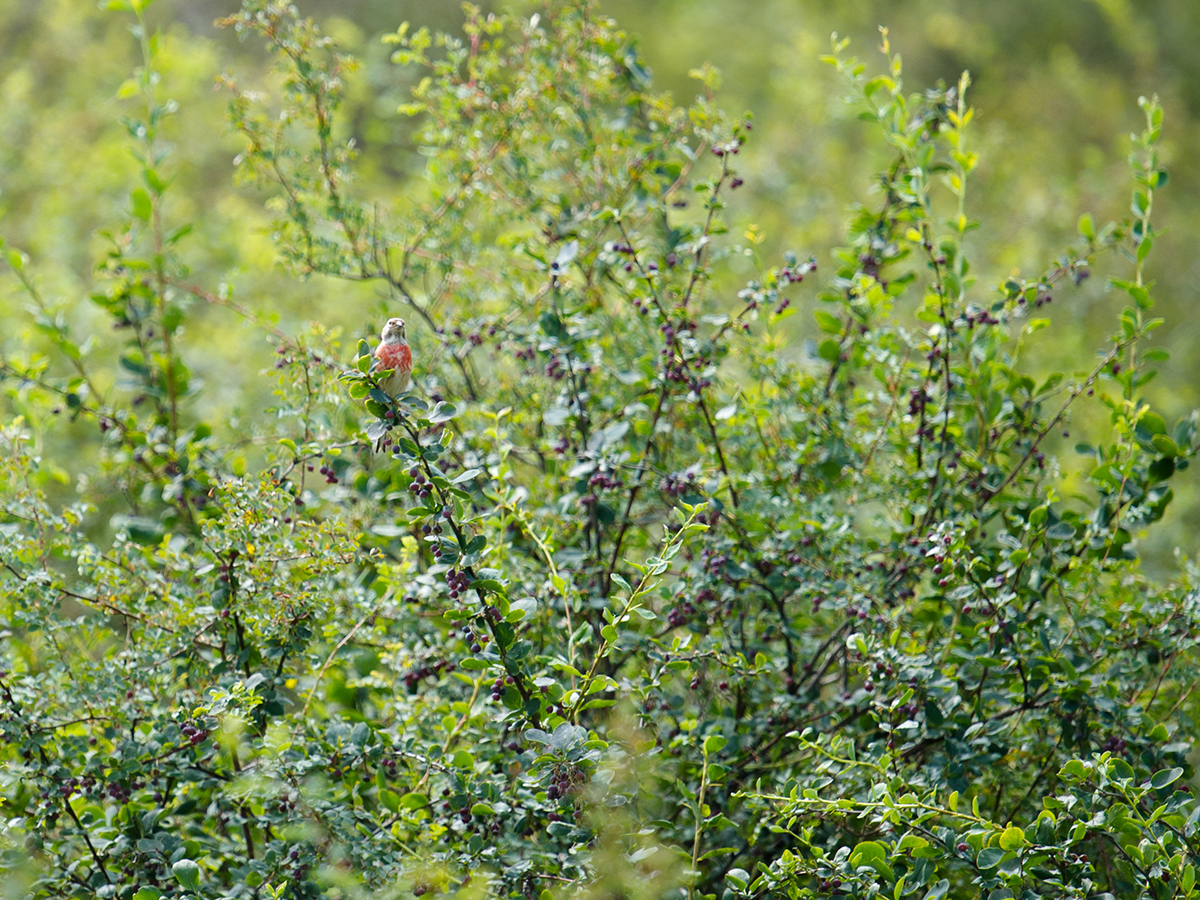 Red-fronted Serin Serinus pusillus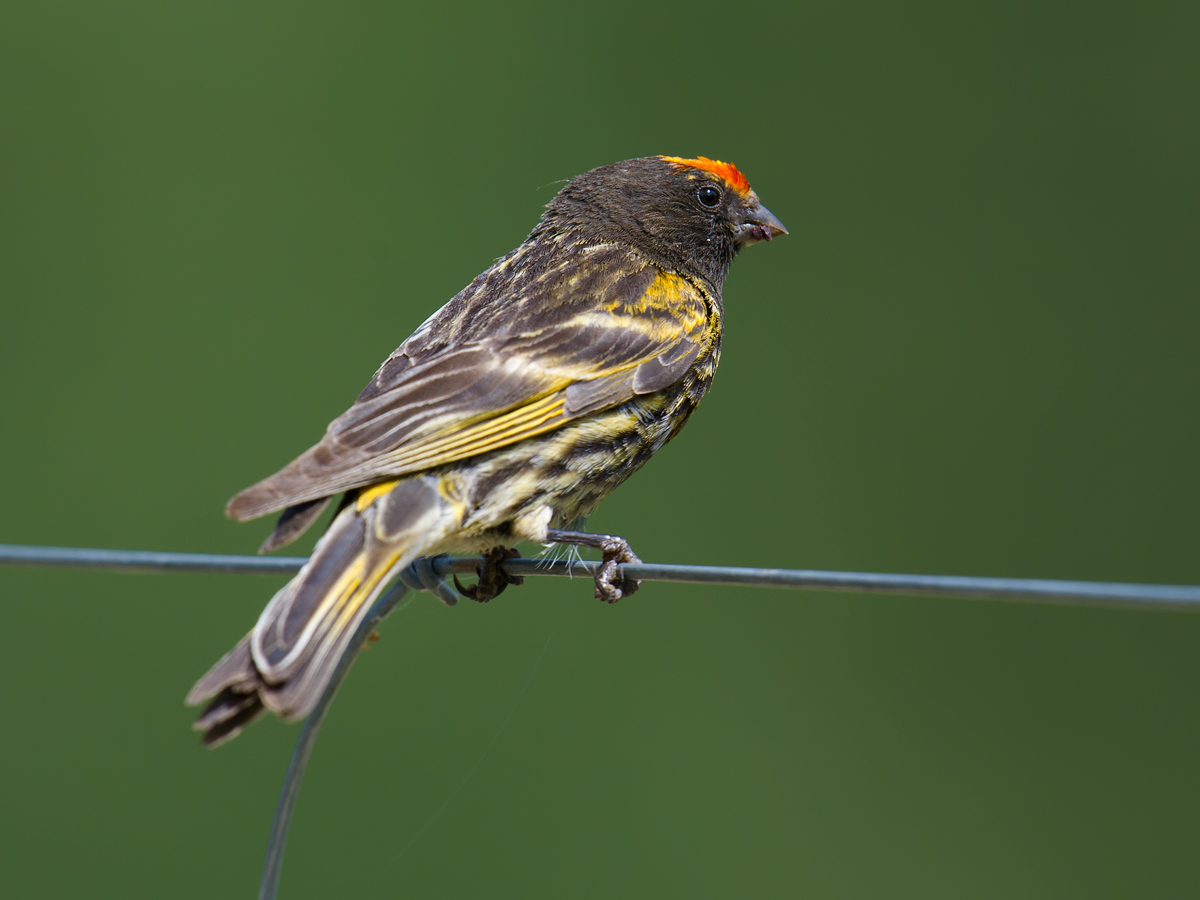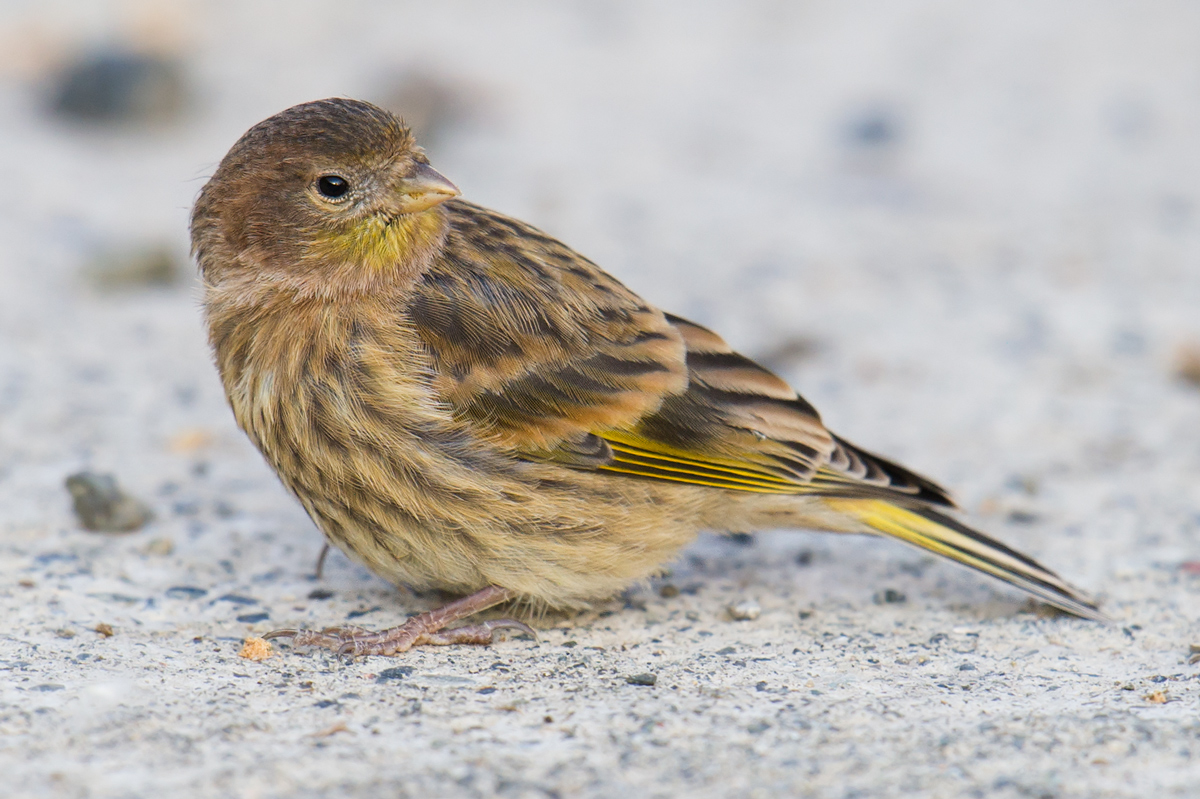 Saxaul Sparrow Passer ammodendri
House Sparrow P. domesticus
Spanish Sparrow P. hispaniolensis
Eurasian Tree Sparrow P. montanus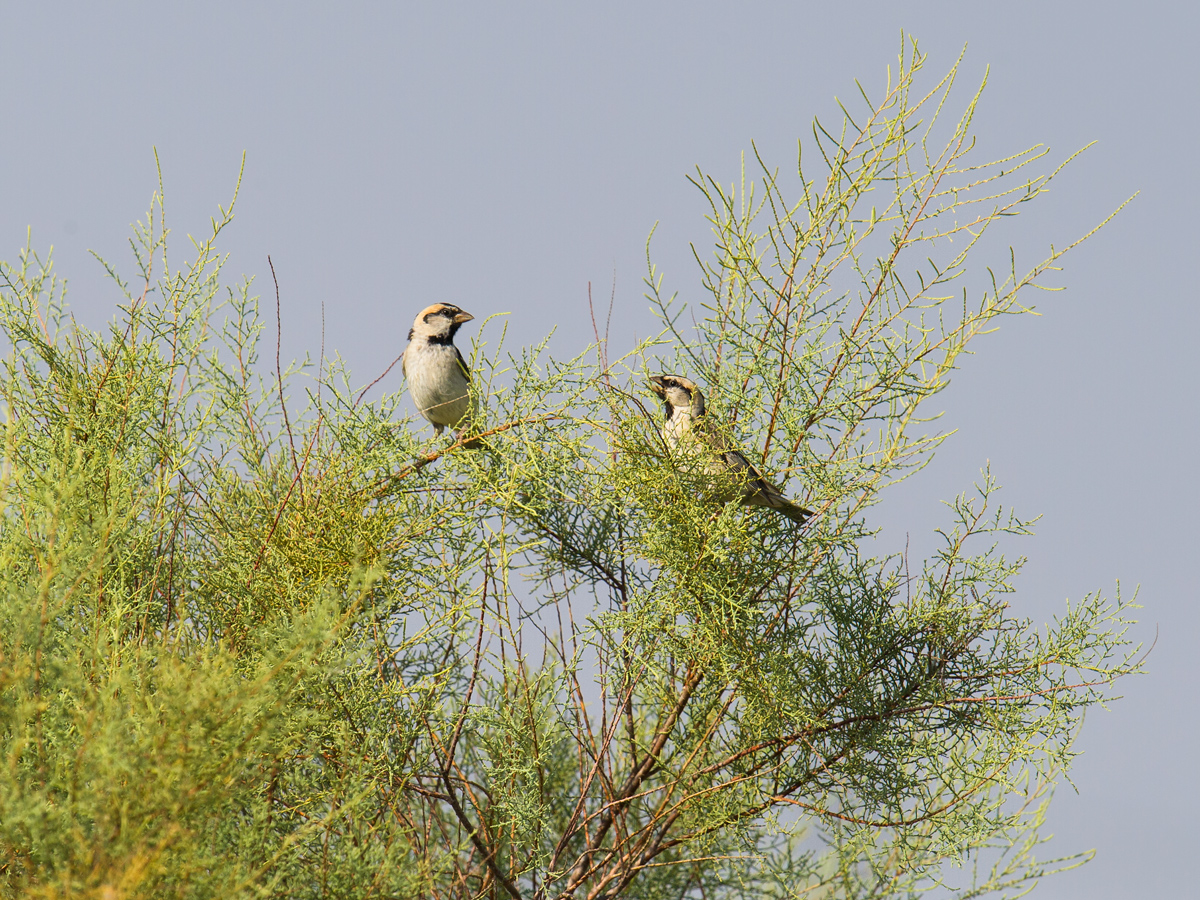 Eastern Yellow Wagtail Motacilla tschutschensis tschutschensis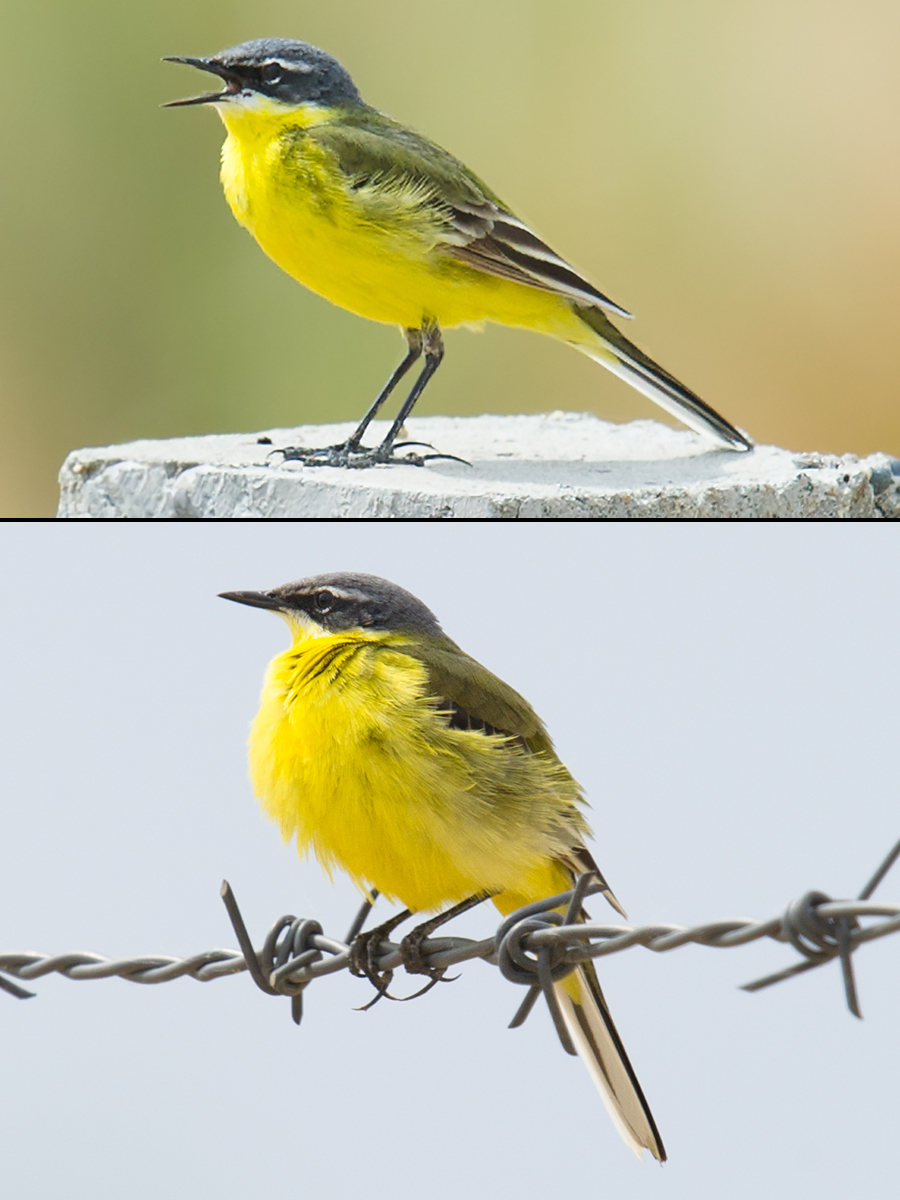 White Wagtail Motacilla alba personata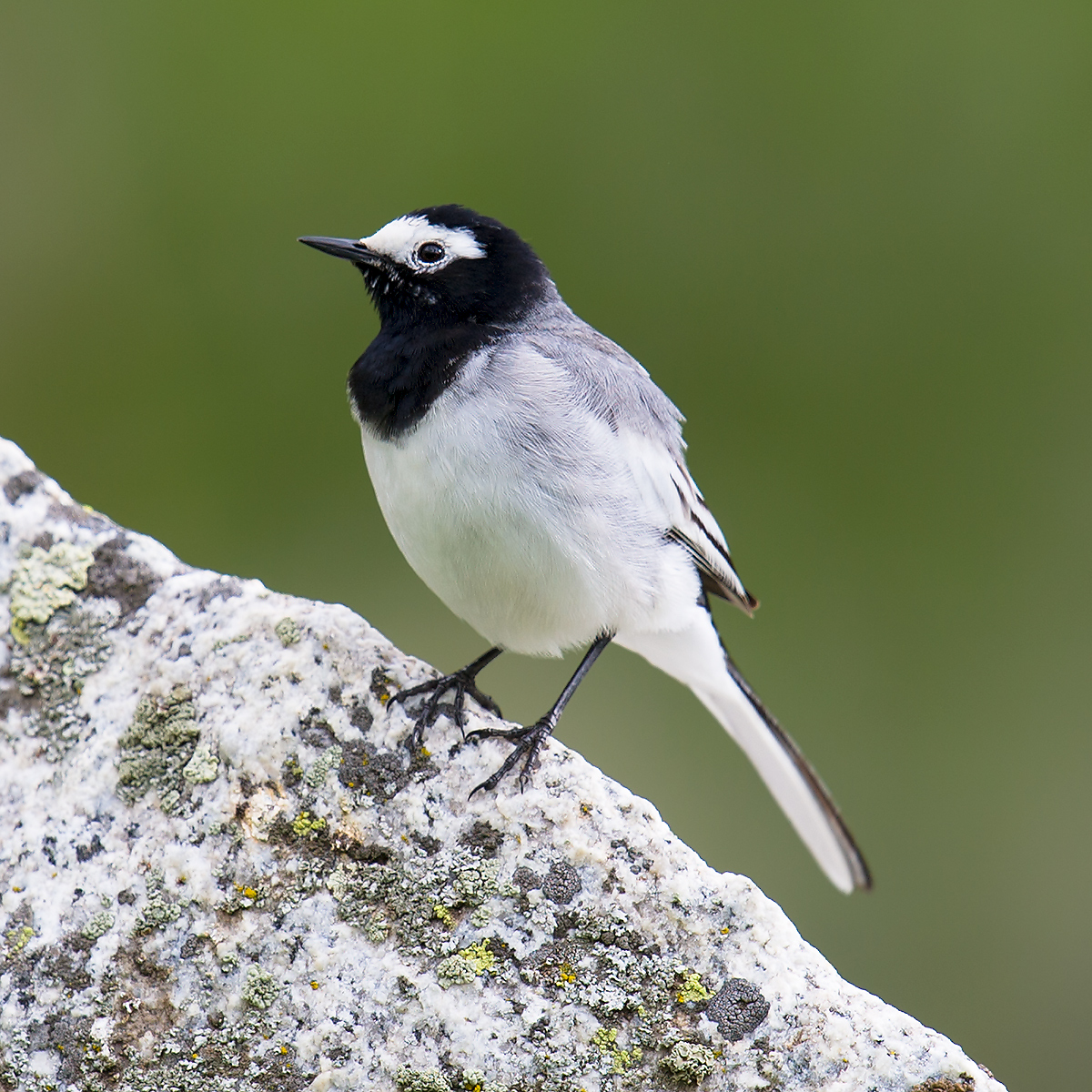 Richard's Pipit Anthus richardi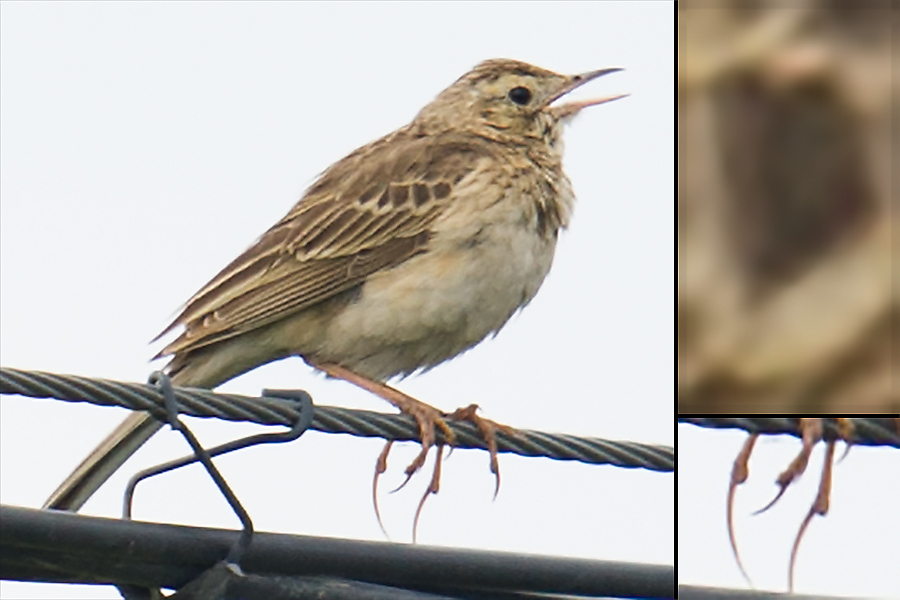 Tawny Pipit Anthus campestris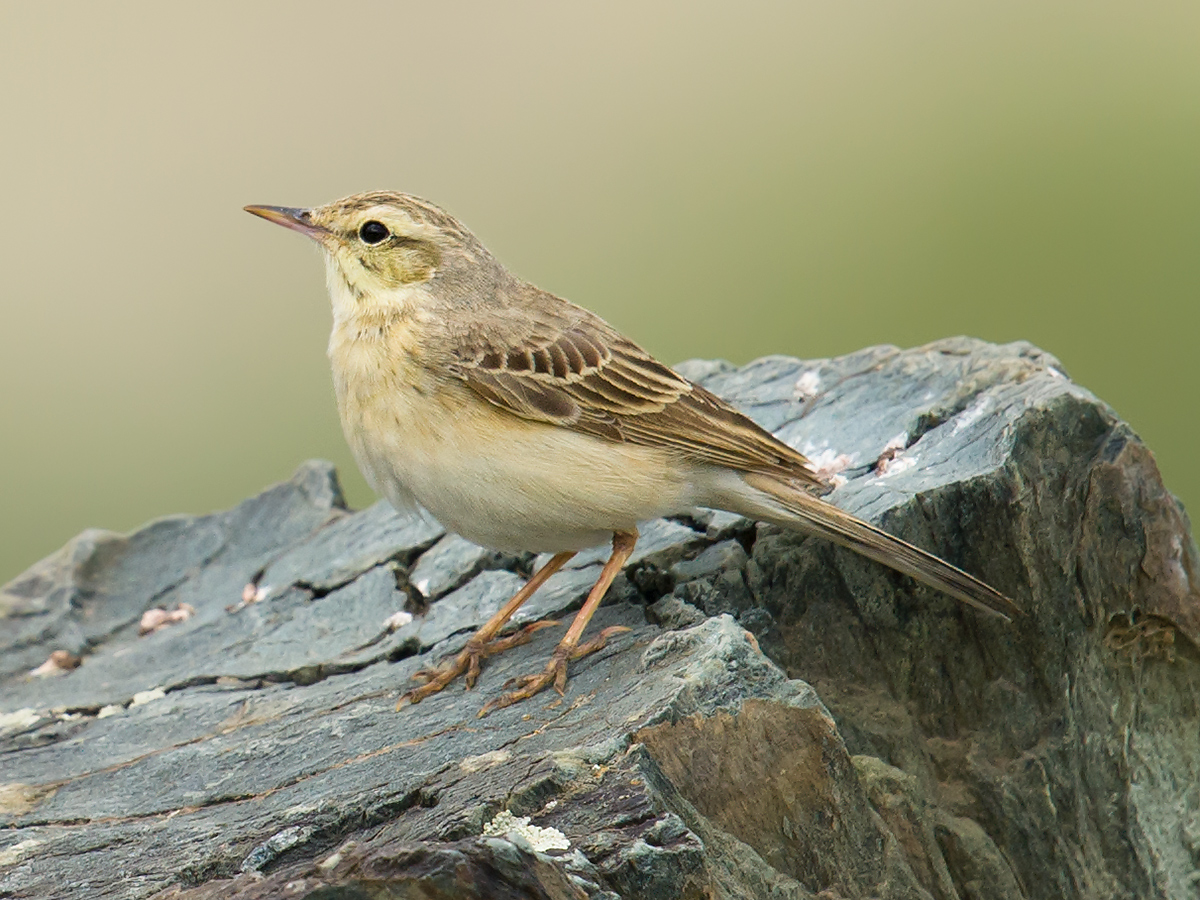 Tree Pipit Anthus trivialis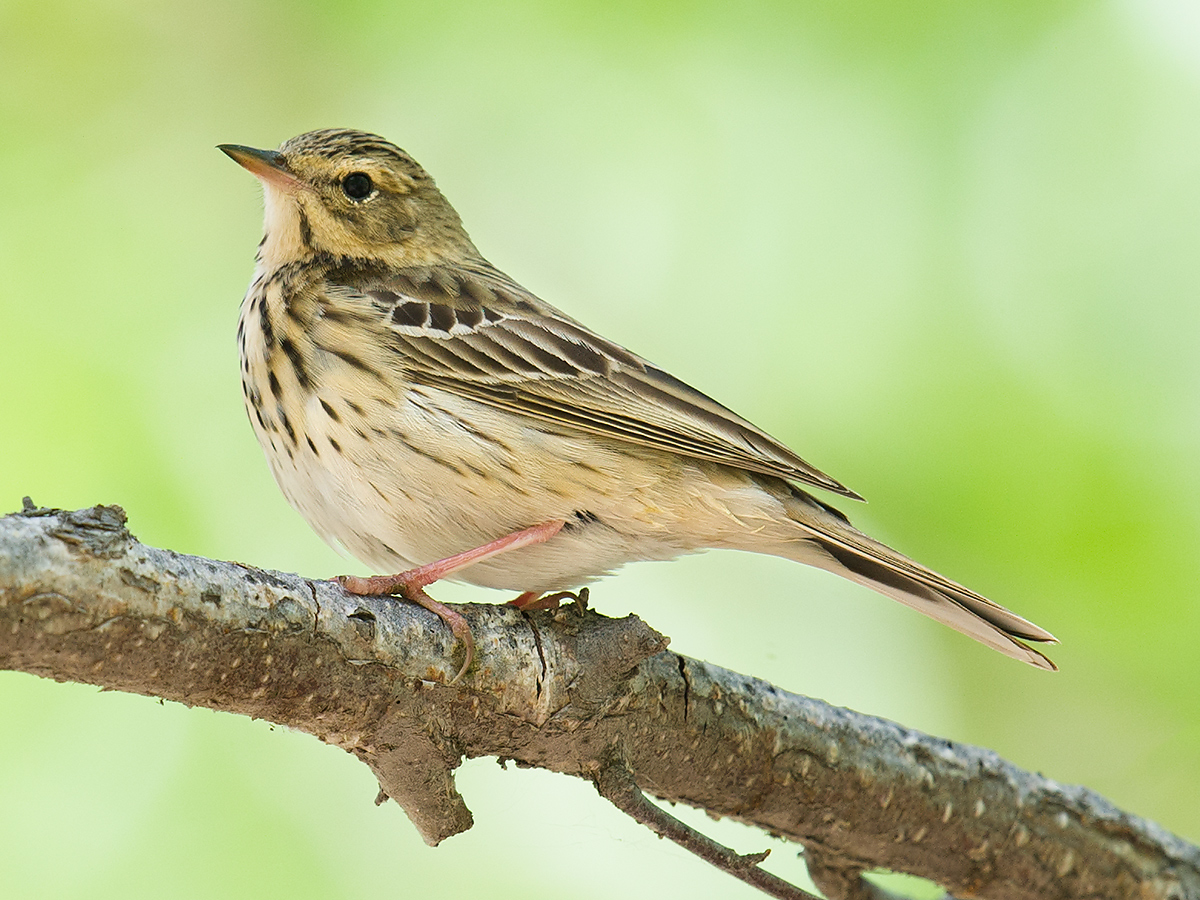 Yellowhammer Emberiza citrinella
On 26 July 2017 at White Birch Forest Scenic Area (48.078487, 86.344951), we achieved a rare China record of Yellowhammer Emberiza citrinella. The call of our bird matched that of Yellowhammer or the closely related Pine Bunting E. leucocephalos. The yellowish coloration from throat to vent of our bird strongly suggested Yellowhammer. As Yellowhammer is known to breed as far east as Lake Baikal in Russia as well as in north-central Mongolia, vagrancy to Northern Xinjiang must often occur, especially in the Altai Mountains and riverine woodlands of the northern Jungar Basin.
Pine Bunting Emberiza leucocephalos leucocephalos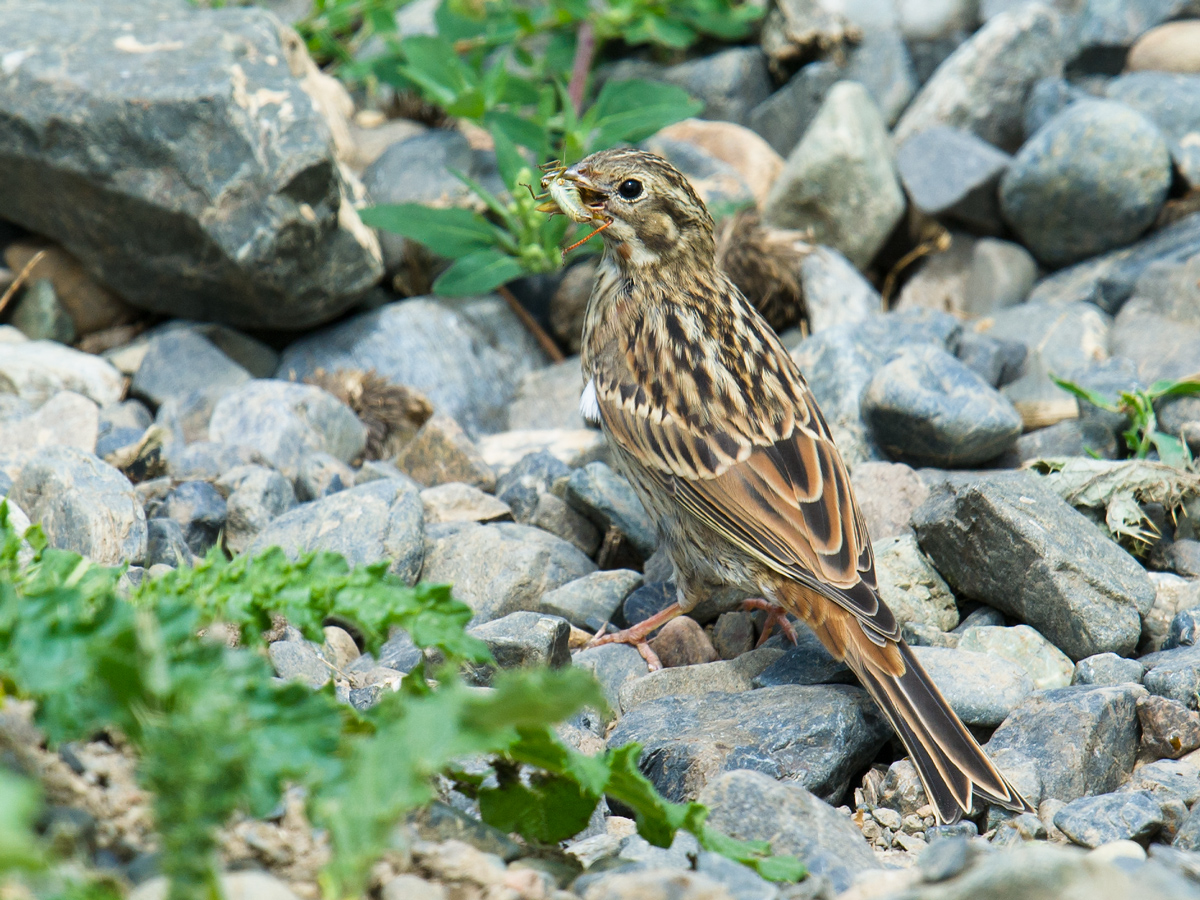 Rock Bunting Emberiza cia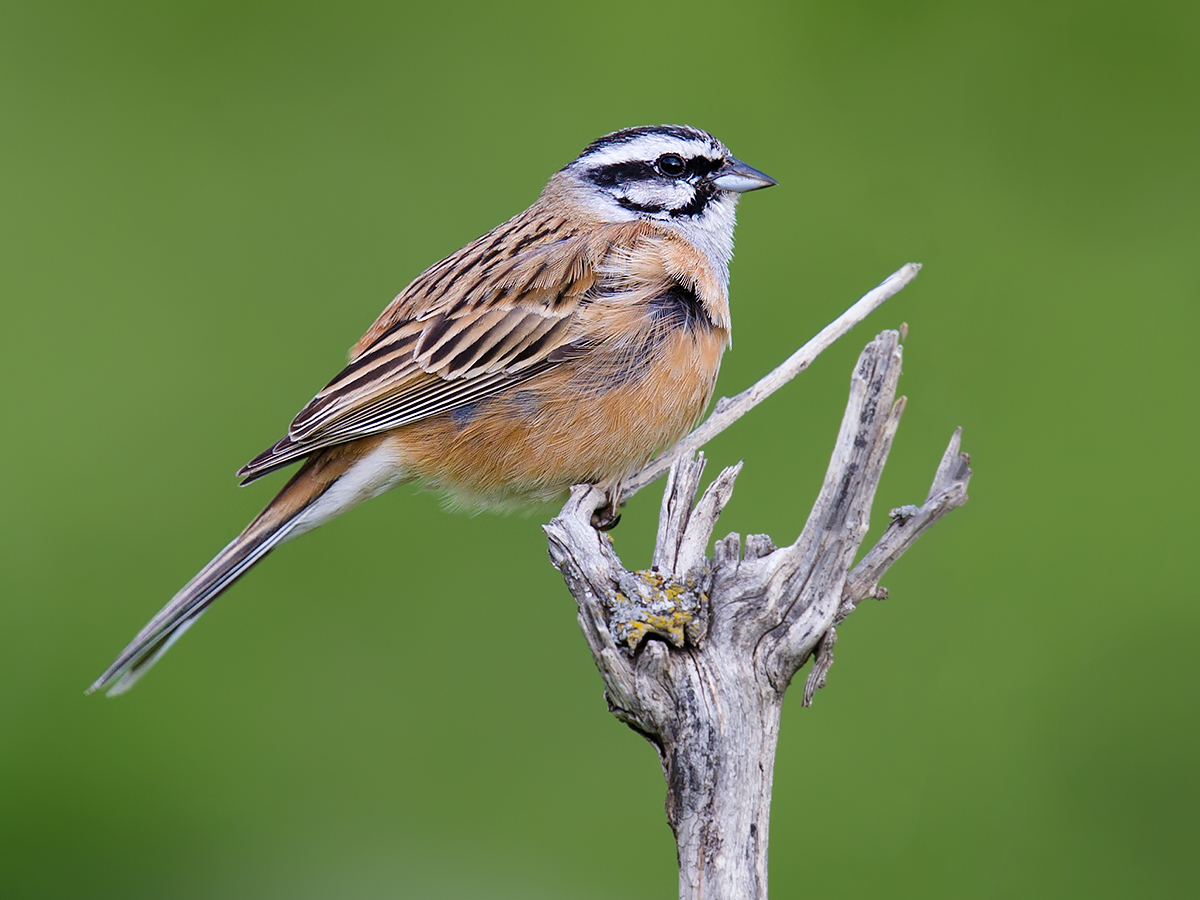 Ortolan Bunting Emberiza hortulana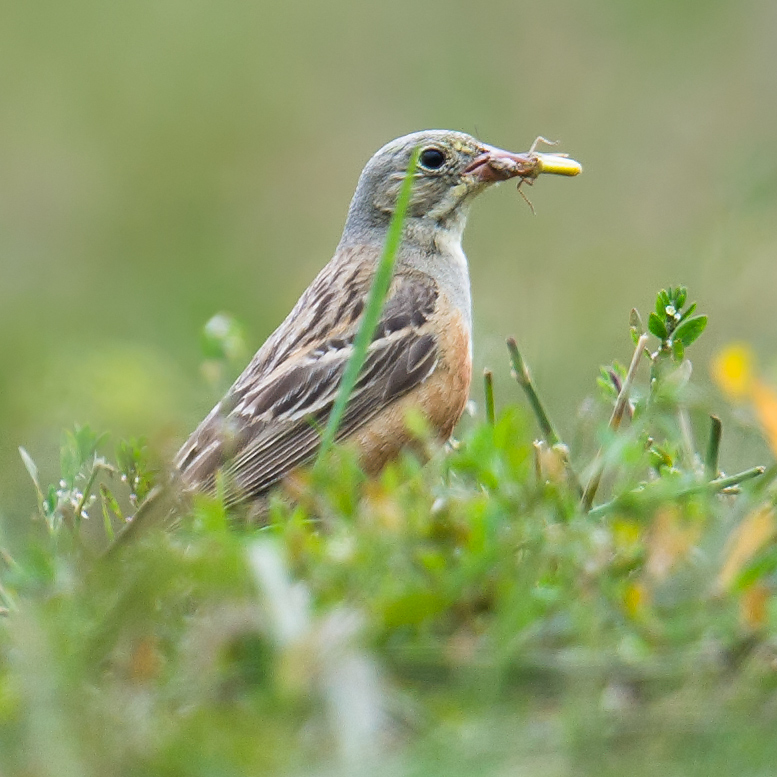 Ortolan Bunting Emberiza hortulana, Guanyu Tai-Kanasi River, 27 July 2017 (1:00; 11.5 MB; Craig Brelsford)
This post is the fourth in a five-post series about birding in Northern Xinjiang.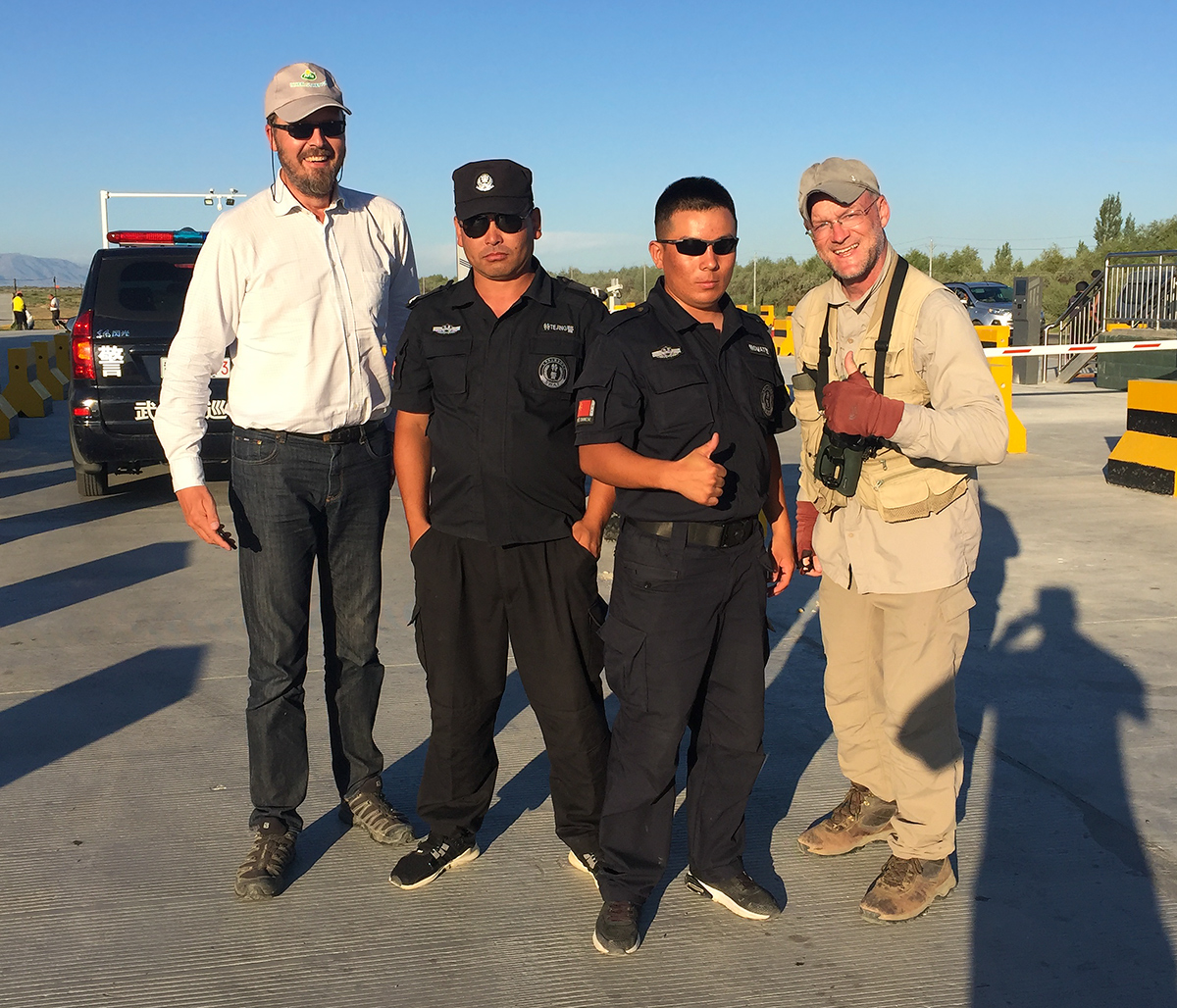 Northern Xinjiang, July 2017: Introduction: In this first post, Craig Brelsford gives you an introduction to Northern Xinjiang and an overview of the expedition of July 2017. Bounded by the Tianshan to the south and the Altai to the north, and with the Jungar Basin at its heart, Northern Xinjiang is one of the premier birding areas in China.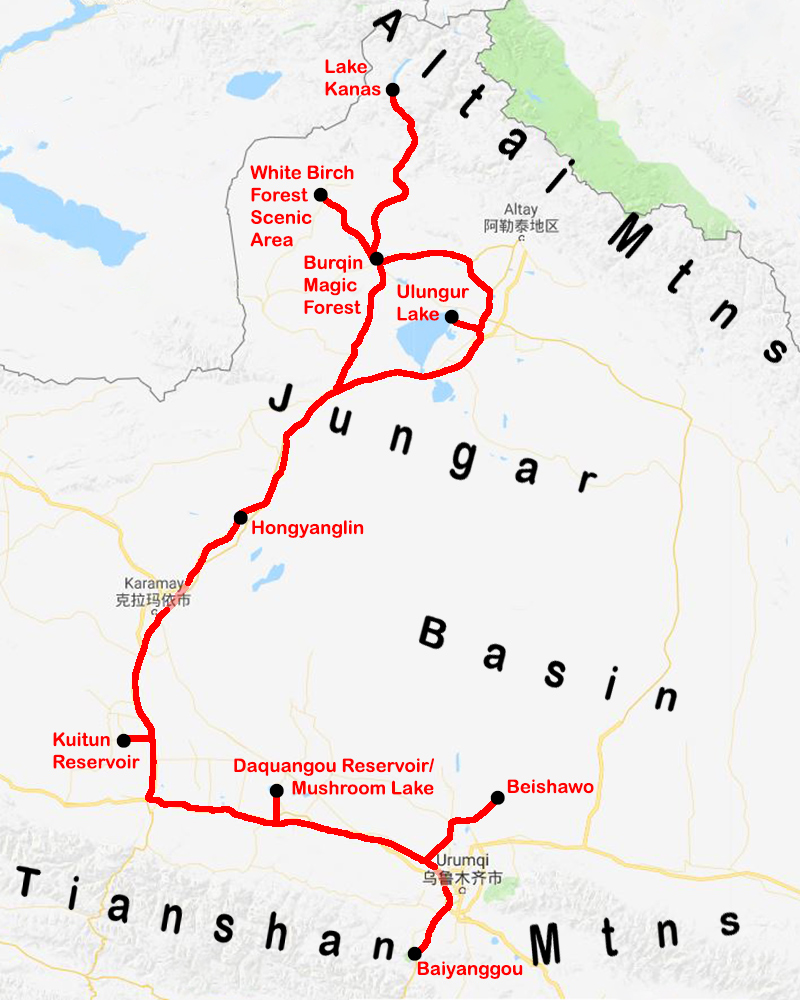 Notes on Birding in Northern Xinjiang: Read Craig Brelsford's notes on the "European" birds of Xinjiang as well as other observations recorded during the 2017 expedition. In Xinjiang, birders are saiwai (塞外), "beyond the (Great) Wall"—in China, but not in East Asia.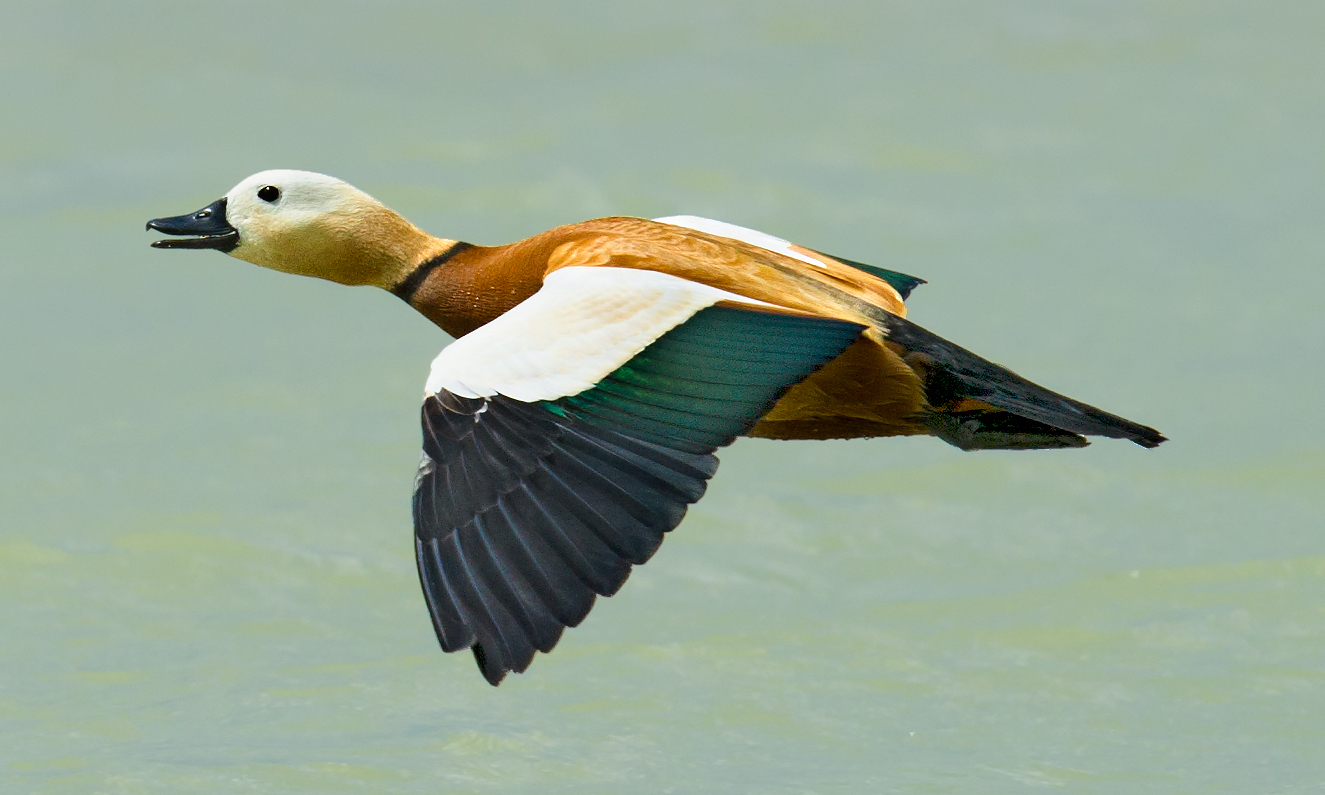 Photo Gallery of the Birds of Northern Xinjiang (Non-Passerines): This is the first of two photo galleries of the birds of Northern Xinjiang. This post covers non-passerines. Each photo in the gallery was taken by Craig Brelsford in Xinjiang.
Photo Gallery of the Birds of Northern Xinjiang (Passerines) (you are here)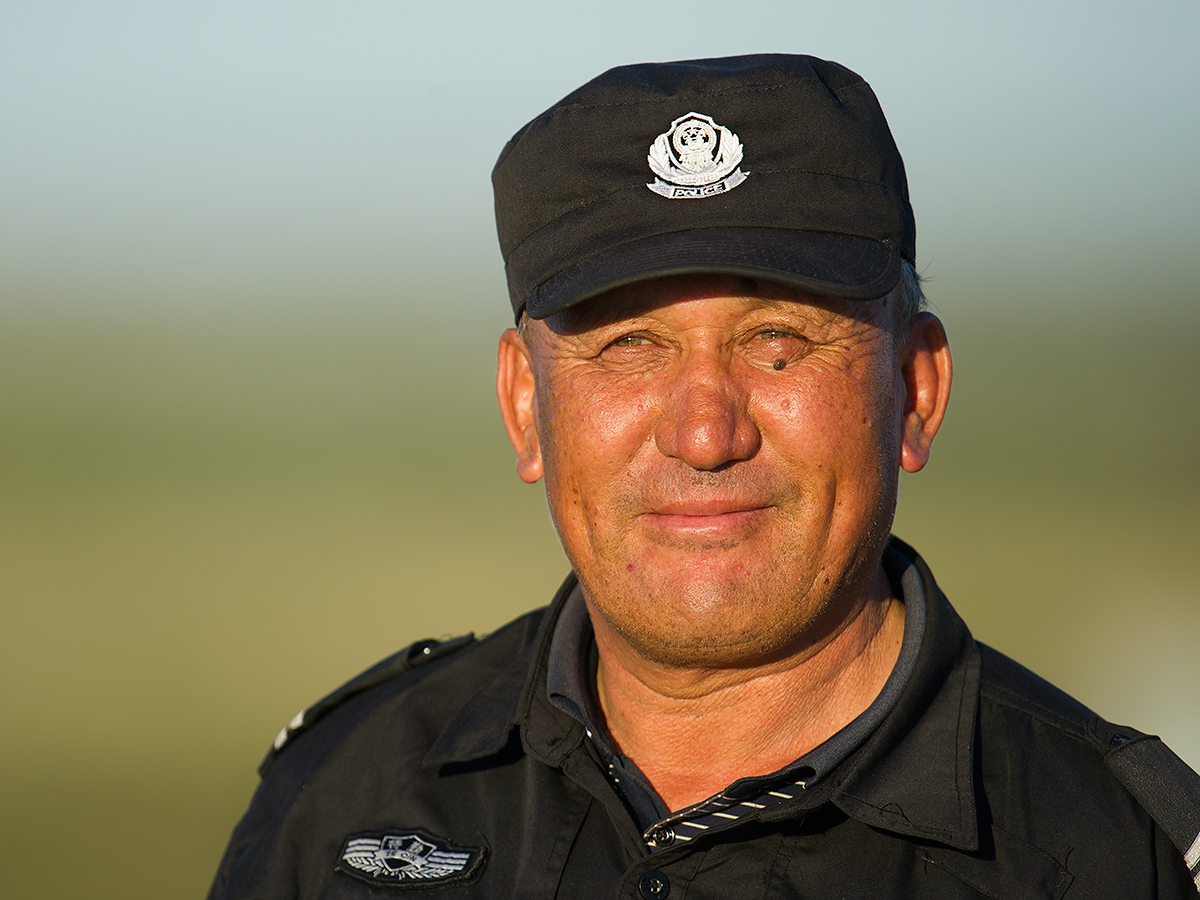 The Landscapes and People of Northern Xinjiang: Photos and detailed captions by Craig Brelsford offer a window into the habitats and people of Northern Xinjiang.
Other shanghaibirding.com posts on Xinjiang: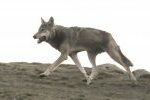 John MacKinnon in the Altai Mountains of Xinjiang: The visit of the pioneering naturalist included an encounter with wolves and records of Willow Ptarmigan and Rock Ptarmigan. "We emerged on top of the world," MacKinnon writes, "with views way into the distance across the Mongolian border."

Be notified every time we post. Send an
email with "Subscribe" as the subject to
info@shanghaibirding.com
Donate to Shanghai Birding!