Greetings from Xining! Elaine Du and I have been relaxing here after birding Qinghai for four weeks straight, from 26 June to 24 July 2016. Recently, I described for you the events of our fourth week. The third week, 11-17 July, took place entirely within Yushu Prefecture and featured the arrival of Beijing-based Swedish birder Jan-Erik Nilsén. The highlight of Week 3, and indeed of the entire trip so far, was finding Tibetan Lynx. We also noted 93 bird species, discovered new birding sites, immersed ourselves in Tibetan Buddhist culture, and saw evidence of attacks by Brown Bear.
X308, A LITTLE-KNOWN, BIRDY ROAD
On 11 July I picked up Jan-Erik at Yushu Batang Airport, at elev. 3890 m (12,762 ft.) the eighth-highest civilian airport in the world. I videoed Jan-Erik's plane as it flew in.
Jan-Erik, Elaine Du, and I spent 12-13 July exploring a scenic and birdy 85-km stretch of County Road 308 (X308). The route starts at the junction on the G214 15 km south of Yushu (Jiegu); the junction is at 32.869631, 97.070772. The route ends at Xiao Sumang Xiang near the Qinghai-Tibet border. The midpoint is Dagela Pass (4752 m), which divides the Yangtze and Mekong watersheds. On either side of the pass is scrub more pristine than any I have seen in Qinghai. In many places, the scrub covers entire slopes, from the tree line hundreds of meters above to the X308 on the valley floor.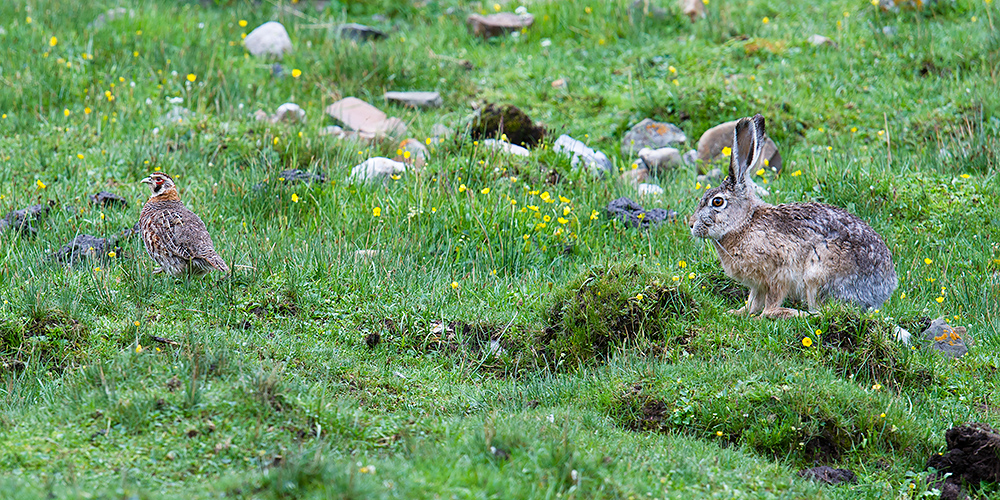 Our X308 route is a good place to find Tibetan Partridge. We noted 28 without really searching. In one dreamlike scene, a pair of Tibetan Partridge were feeding at dusk with a Woolly Hare.
Among our other X308 highlights were Alpine Accentor at Dagela Pass and, on the slopes below, Grandala and Güldenstädt's Redstart. We noted Red-fronted Rosefinch, the highest-breeding (to 5700 masl) bird in the Palearctic, and Streaked Rosefinch, another high-altitude breeder.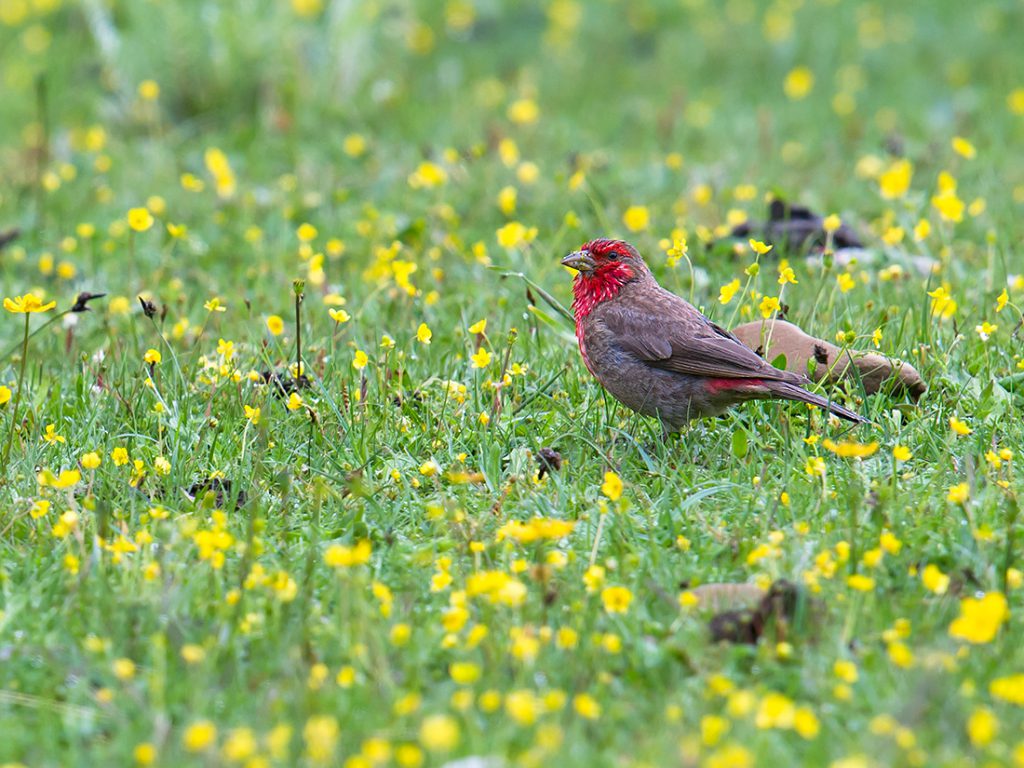 The scrub delivered close views of White-browed Tit and White-browed Tit-Warbler as well as Common Cuckoo and Greenish Warbler. In the streams were Ibisbill, White-throated Dipper, and Brown Dipper. Bearded Vulture, Himalayan Vulture, and Golden Eagle soared above. Among the most conspicuous birds were Kessler's Thrush (39), found mainly around the scrub, and on the grassy slopes Brandt's Mountain Finch (50) and Tibetan Snowfinch (25). We noted a single Snow Pigeon.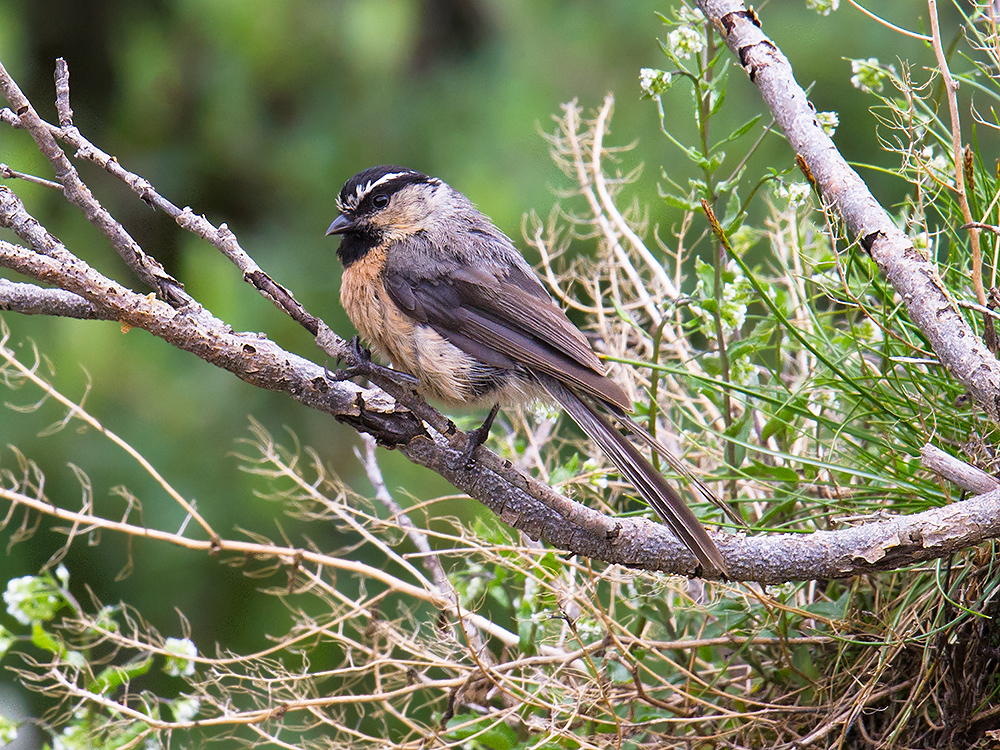 A group of eagle-eyed Tibetans gave us close views of White-lipped Deer. Two truckfuls of these hard-working men skidded to a stop near us, curious about the foreigners with the telescope on the side of the X308. None spoke Chinese. As one of the men was trying out my binoculars, another man was pointing to the scrub-covered slope and giving me the three symbol with his fingers. Finally I understood: 3 White-lipped Deer just visible in the scrub above. The buck looked formidable and the two does appeared healthy.
We returned to Yushu (Jiegu) and there spent the night of 13-14 July.
DOGS, LYNX, AND BEARS, OH MY!
On 14 July we set off again, this time heading south on the G214 to Nangqian County and Kanda Mountain. We found Wallcreeper along the G214 as well as on a sheer limestone wall in the narrows at Kanda Gorge.
Kanda Nunnery is nestled in a valley above the Gorge and is an easy place to pick up Tibetan Partridge and Tibetan Babax. We saw a partridge but were stymied in our quest to view Tibetan Babax by a pack of watchdogs. As I was walking toward the car, Elaine, who had been resting in the car, suddenly emerged, startling the dogs, which had been lying near the car. Elaine climbed back into the car, and the dogs surrounded me, growling and baring their teeth. Nine days earlier, I had fed and seemingly befriended the very dogs that were now snarling at me. I first tried standing firm, but still they closed in. Then I kicked them, but when I went for one, the other four would nip at my heels. I finally had no choice but to jump onto the hood of our Mitsubishi Pajero. One of the nuns came out and chased the dogs away.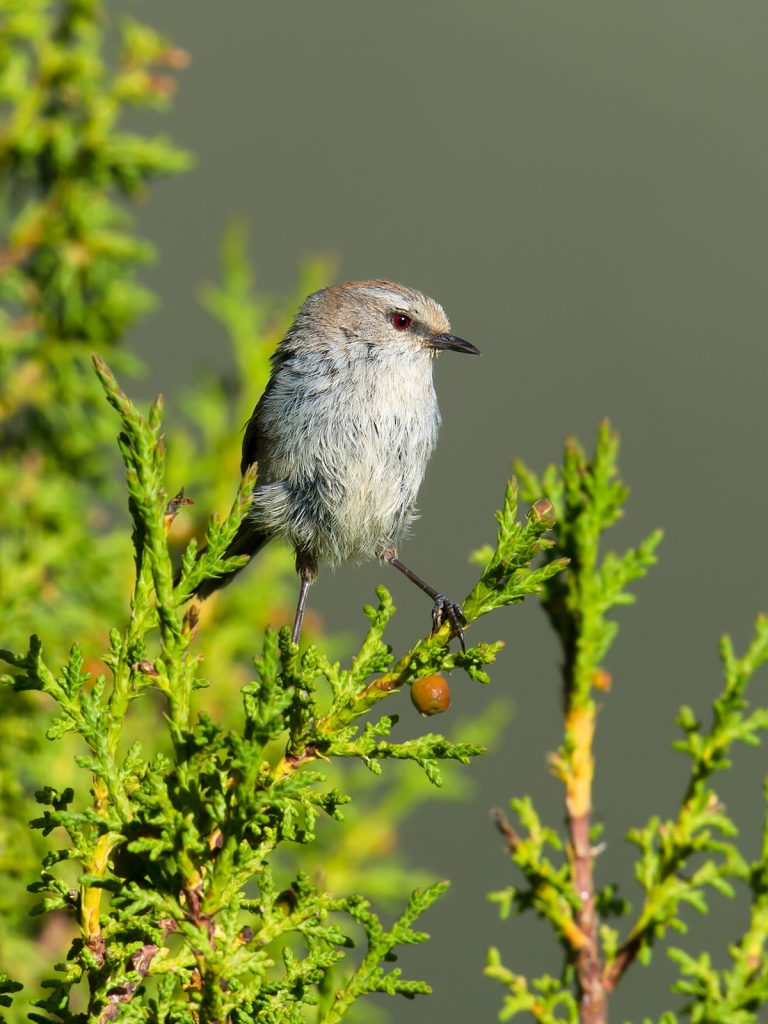 All the unpleasantness with the dogs melted away the moment we saw the lynx. If you have read my recent post, then you know the story. Everyone was deeply moved and happy. Lynx roam throughout the Northern Hemisphere and are mainly associated with boreal forests. Alpine meadows at 4550 masl may not be classic lynx habitat, but our specimen was very much well-suited—a sleek, supple, healthy cat, probably feasting regularly on the Blue Sheep, Himalayan Marmot, Plateau Pika, Woolly Hare, and gamebirds that are abundant at Kanda.
Just before finding the lynx, we observed a group of White-browed Tit-Warbler at 4400 masl. At Kanda Pass, 4680 masl, we found the local Tibetan Bunting within minutes of our arrival. Here is the male singing:
Tibetan Bunting, Kanda Pass, 14 July 2016 (00:33; 2.9 MB)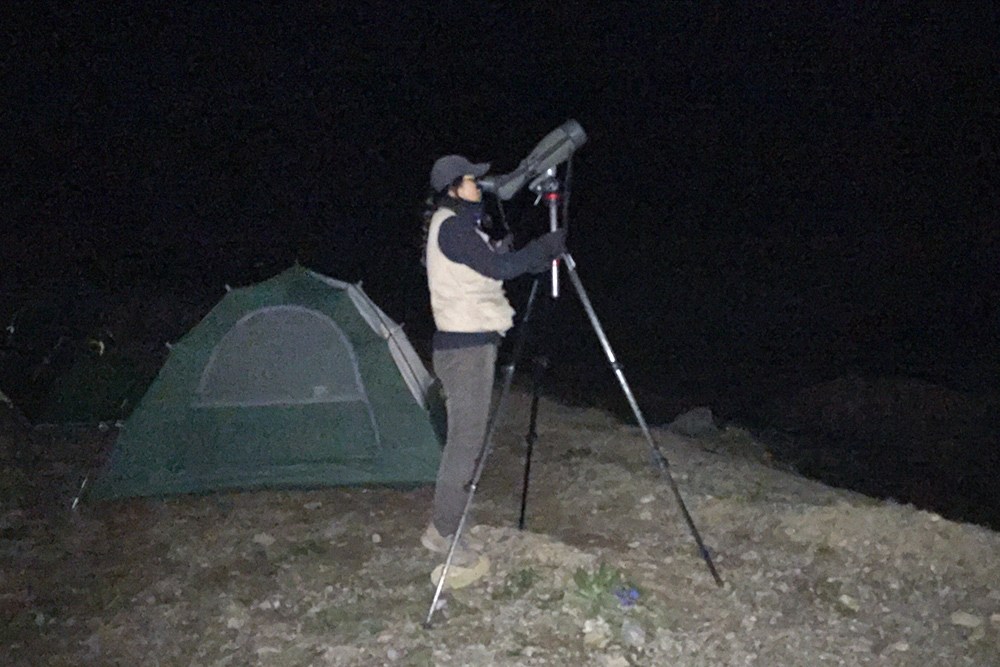 Star-gazing at Kanda Pass was slightly better than it was 3 July near Maduo, probably because we were 400 m higher. I could not keep my eyes off Saturn, its ring clearly visible. The Galilean moons of Jupiter were easy to pick out, and we saw the bands ringing the gas giant.
The next morning, 15 July, just below Kanda Pass, Jan-Erik's sensitive ear once again proved its worth. He correctly assumed that the rosefinch in front of us was not the more commonly noted Pink-rumped Rosefinch but Himalayan Beautiful Rosefinch. I recorded the call of the individual shown below:
Himalayan Beautiful Rosefinch, Kanda Mountain, 15 July 2016 (00:49; 2.7 MB)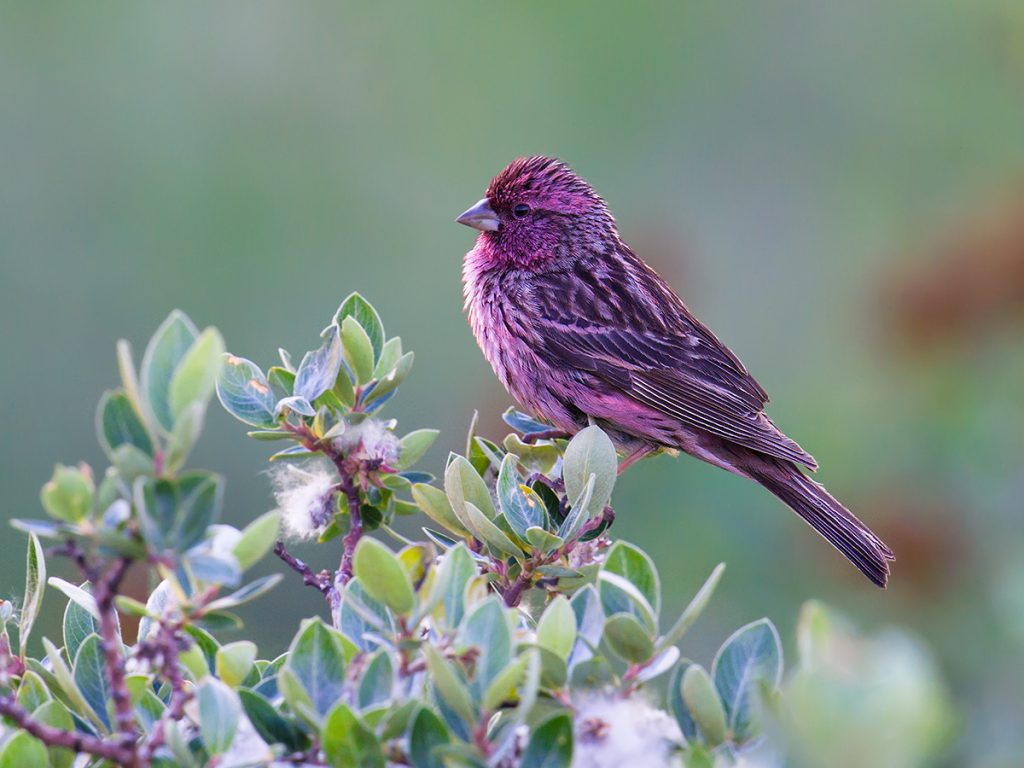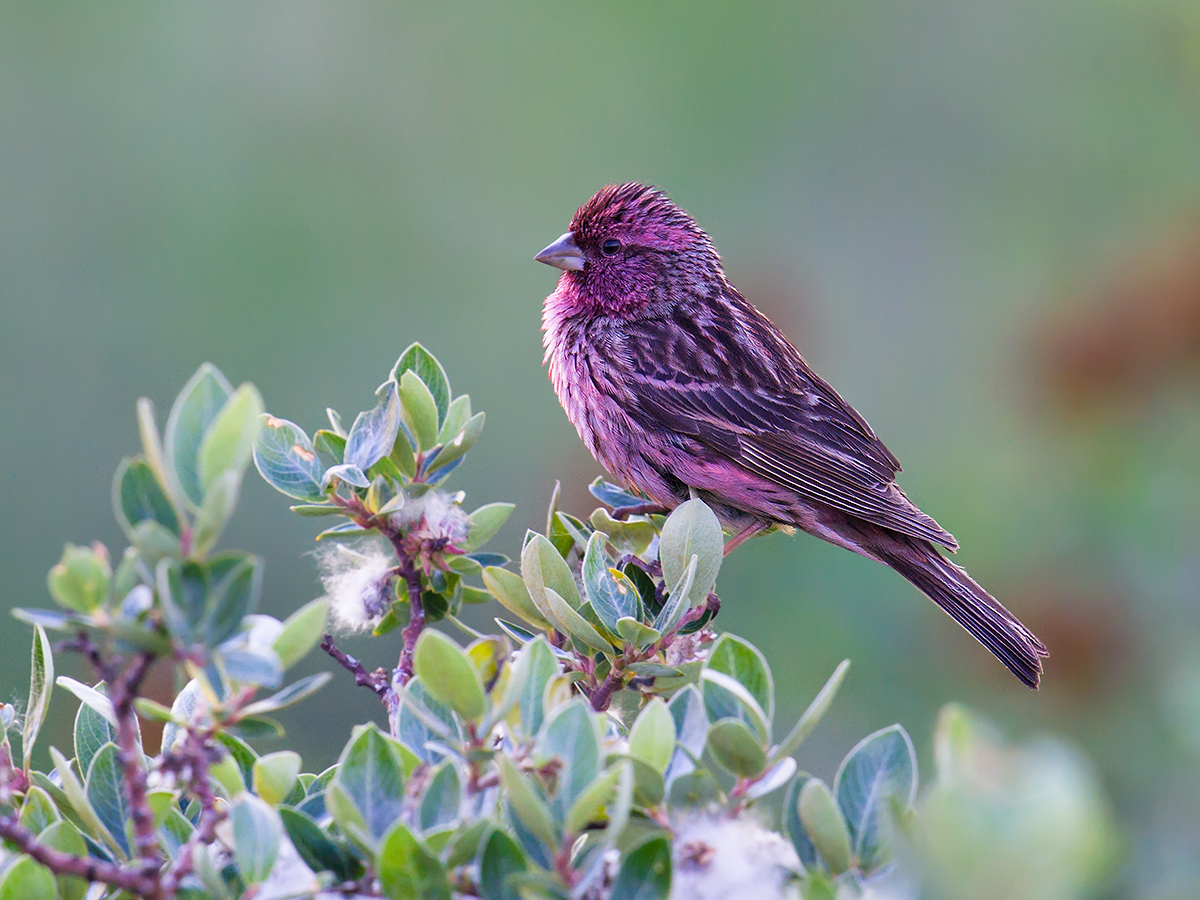 We drove over Kanda Pass to the eastern side of the mountain, passing through good scrub habitat and getting a view of singing Chinese Rubythroat. We followed the X830 to Maozhuang (32.266550, 96.824579) and continued south through the scenic gorge of the Ziqu River, a tributary of the Zaqu River (upper Mekong River). Finally we arrived at the forest station, Jiangxi Forest Management Area (32.076777, 97.009417), just a valley away from Tibet.
At the gate, the friendly Tibetan guard asked us what we wanted to seek there. "Birds," Elaine said. "Birds? You won't find many," he said, and let us in.
In Jiangxi Village we camped on the grounds of an institution called the "City of Yushu Jiangxi Huimu Vocational Training School" (32.076395, 97.063995). There, students, under the tutelage of two monks, study Buddhist-style painting. Their works are beautiful, the students are polite, and the kangbo (monks) are wise and kind. The school is an outpost of civilization in the wilderness.
We were befriended by Genqiu (根秋), a student from Kangding, Sichuan. We taught him English; he revealed to us his dream of going to the United States to see his cousin.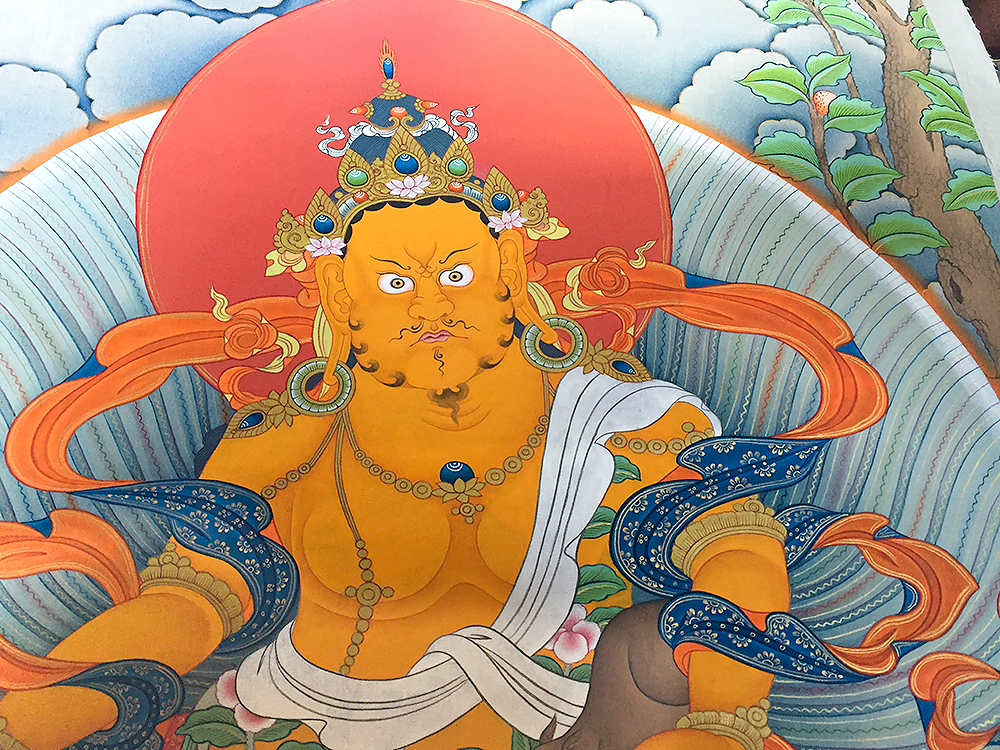 Genqiu took us to the studio, where 20 students were painting a wall-sized canvas that will take months to complete while one of the kangbo chanted Buddhist prayers. Later, Genqiu and his master showed us sacred paintings worth thousands of yuan. I felt I had been plugged into a Matrix, a beautiful, higher world of art, order, and peace.
On 16 July the school was visited by a huofo (活佛, "living Buddha"). The huofo smiled at me and said, "America." Genqiu said, "I have been at this school for three years and had never seen a huofo. You have been here one day and already seen a huofo."
We drove through the gorge. The school is at elev. 3680 m; we rose to 4000 m. As we ascended, farms and settlements grew farther apart, and the locals started telling us of attacks by Brown Bear. At first we thought the folks were telling tall tales, but we kept hearing the same story—that a local man had been mauled and had to be taken to Xining for treatment. On 17 July, as we were driving back to Yushu, we met a man who showed us the damage two Brown Bear caused when they broke into his farm.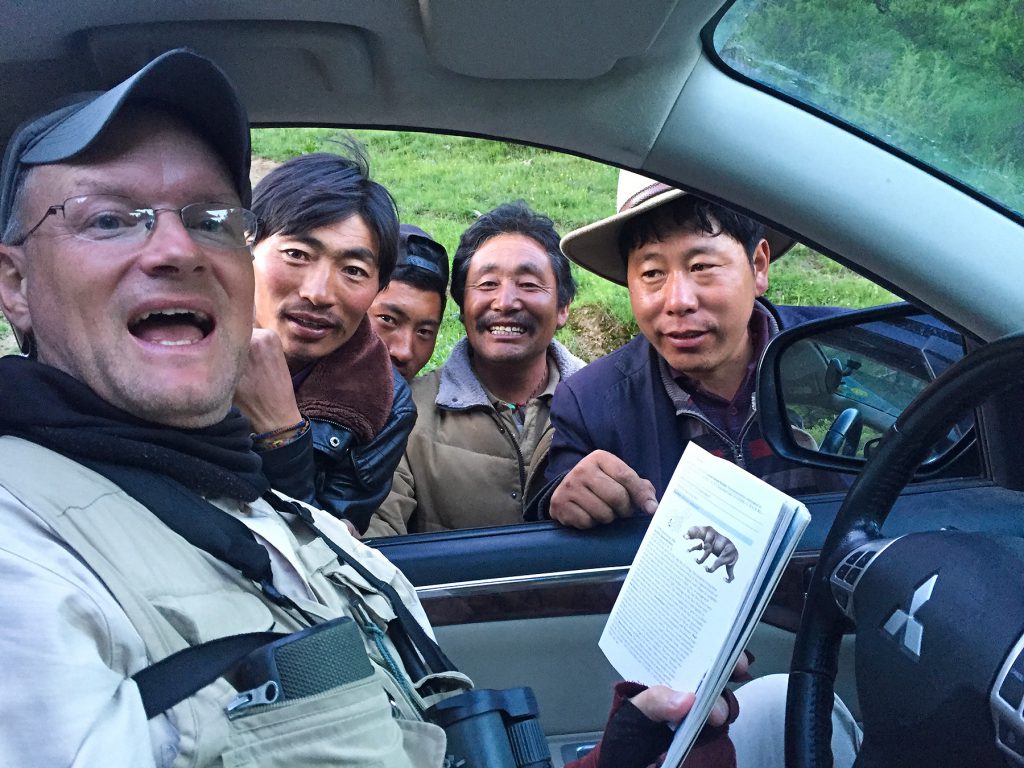 Needless to say, the bear reports aroused our curiosity, and we scanned slopes and ridges looking for the powerful mammal. We found none, but our search bore fruit with good views of Sichuan Deer (Cervus canadensis macneilli) and at dusk a distant view of White Eared Pheasant.
The steep valleys around Jiangxi Forest Management Area and the Ziqu River gave us a rare Qinghai record of Japanese Tit as well as Black Kite, Black Woodpecker, Grey-headed Woodpecker, Sichuan Tit, Long-tailed Minivet, Giant Laughingthrush, Tibetan Babax, and Dark-sided Flycatcher.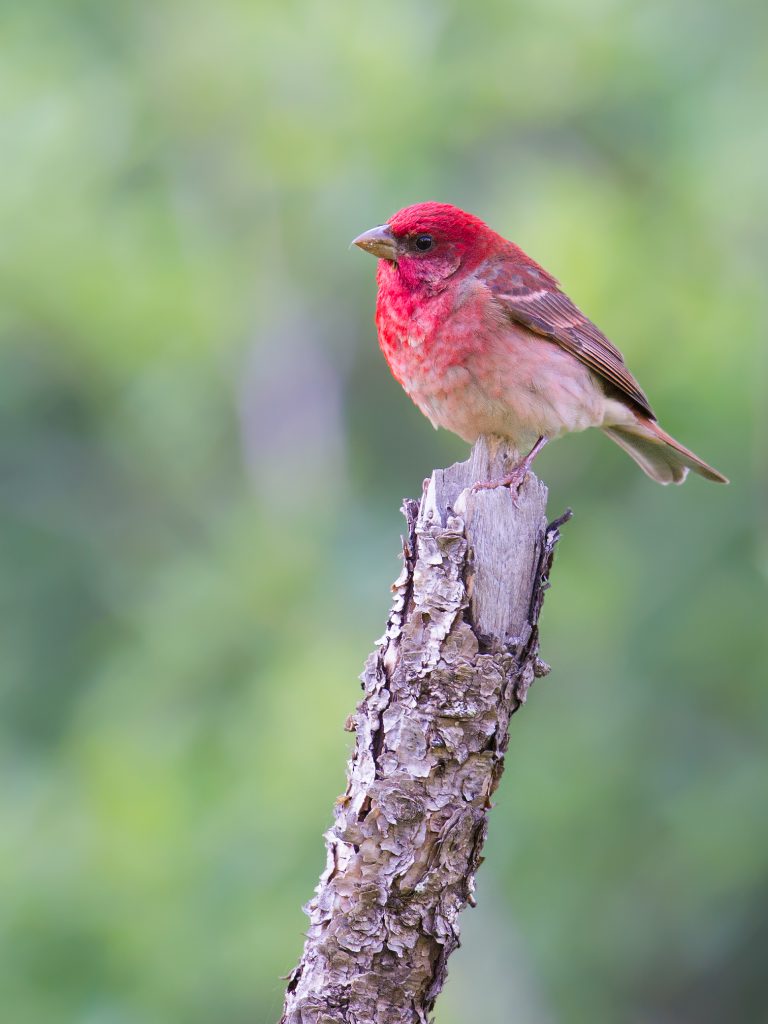 On the grounds of the school, birds roamed freely and fearlessly. Large-billed Crow cawed throughout the day, Elliot's Laughingthrush were ubiquitous, Kessler's Thrush used the lawns, and Slaty-backed Flycatcher called from the copses. There were three species of pigeon: Snow Pigeon, Hill Pigeon, and Oriental Turtle Dove. The trill of Pink-rumped Rosefinch was commonly heard, and Hodgson's Redstart and White-throated Redstart were the two main representatives of Phoenicurus. Salim Ali's Swift and Crag Martin were in the area, and we noted Red-rumped Swallow.
Jan-Erik and I paid special attention to leaf warblers. We found Yellow-streaked Warbler, Buff-barred Warbler, Sichuan Leaf Warbler, and Greenish Warbler and have an unconfirmed record of Claudia's Leaf Warbler. I sound-recorded Sichuan Leaf Warbler:
Sichuan Leaf Warbler, trill, Jiangxi Forest Management Area, 16 July 2016 (00:25; 1.8 MB)
After staying two nights at the school, on 17 July we returned to Yushu (Jiegu) via Xiao Sumang Xiang and the X308. En route we found a pair of White-winged Grosbeak. The scrub on either side of Dagela Pass held Chinese Rubythroat, Blue-fronted Redstart, Robin Accentor, Brown Accentor, and Streaked Rosefinch. Tiny pools held Ruddy Shelduck, all the White Wagtail we saw were of the ninja-masked ssp. alboides, and breeding-yellow Citrine Wagtail looked like drops of sunshine on the green pastures.
We spent the night of 17-18 July at Yùshù Kōnggǎng Jiǔdiàn (玉树空港酒店; +86 [0] 976-7800777). This hotel is a good choice for birders needing a rest after days birding at high altitude. The restaurant is good and the shower in your room is separated from the rest of the bathroom. We paid 320 yuan per night.
Featured image: Blue Sheep Pseudois nayaur feels its way down a rock face along the G214 near Shanglaxiu, Yushu Prefecture, Qinghai, 14 July 2016. Elev. 4300 m. (Craig Brelsford)
Keep
shanghaibirding.com

on the web.

Donate

today.