Last Sunday 21 Aug. Elaine Du and I returned to Shanghai from Qinghai. We had arrived in Xining on 26 June, and we spent exactly eight weeks in the sparsely populated province. We drove 8054 km (4,994 miles). I lost 5 kg (11 lbs.). On Sunday Dusky Warbler near Gonghe became our 195th and final species of the trip.
While in Qinghai, Elaine and I made new friends and deepened our friendship with our first-rate partners Michael Grunwell and Jan-Erik Nilsén. And the memories … let me tell you 'bout the memories.
Better yet, let me show you them. Ready?
I found this downy Bar-headed Goose at sunset on 28 June on the shore of Qinghai Lake, whose blue sheen you can see in the background. This youngster has much growing to do before he'll be ready to make the flight across the Himalaya to India for the winter. Will he get strong enough in time to make the frightening trip? Strength, my lad, strength!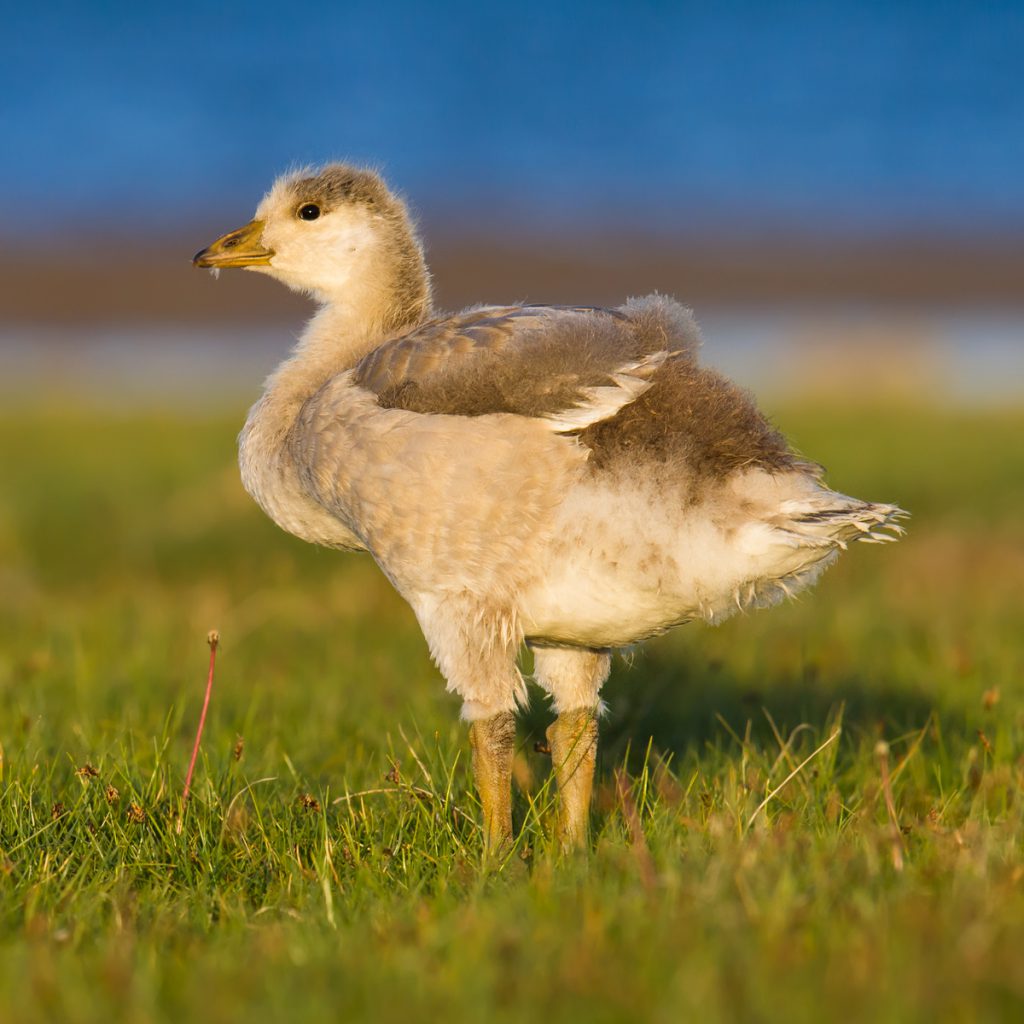 Last week I created a photo essay, "Little Birds in a Big Land," in which I photographed Isabelline Wheatear from a distance, with mountains, sand dunes, and scrub visible in the background. It was an intense, 90-minute photo workout with that arid-country specialist, well-adapted to the semi-deserts of Wulan County.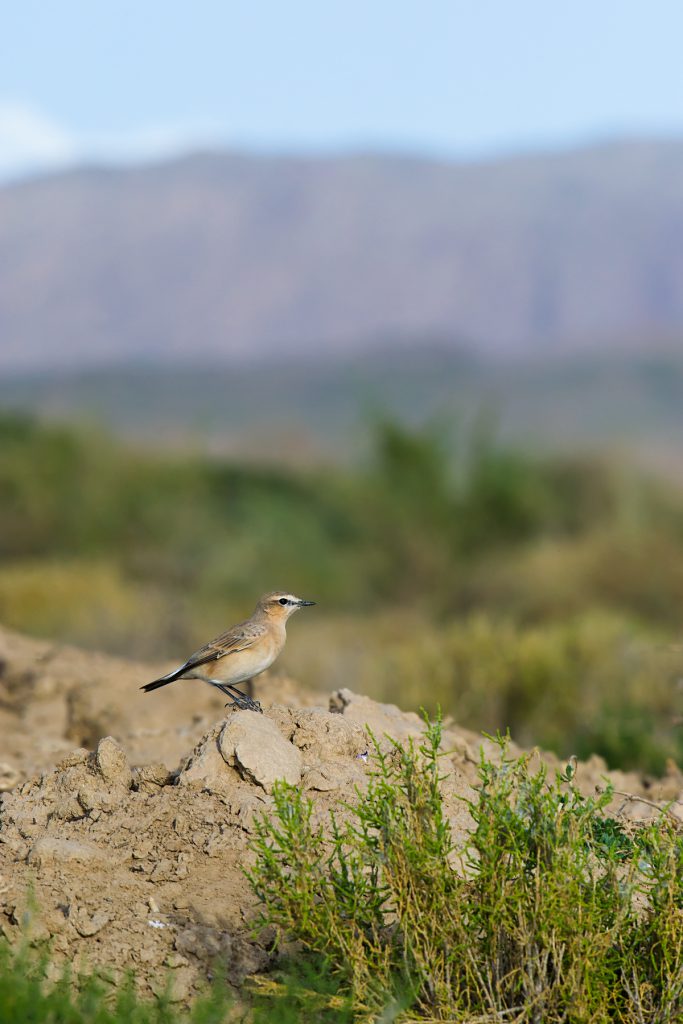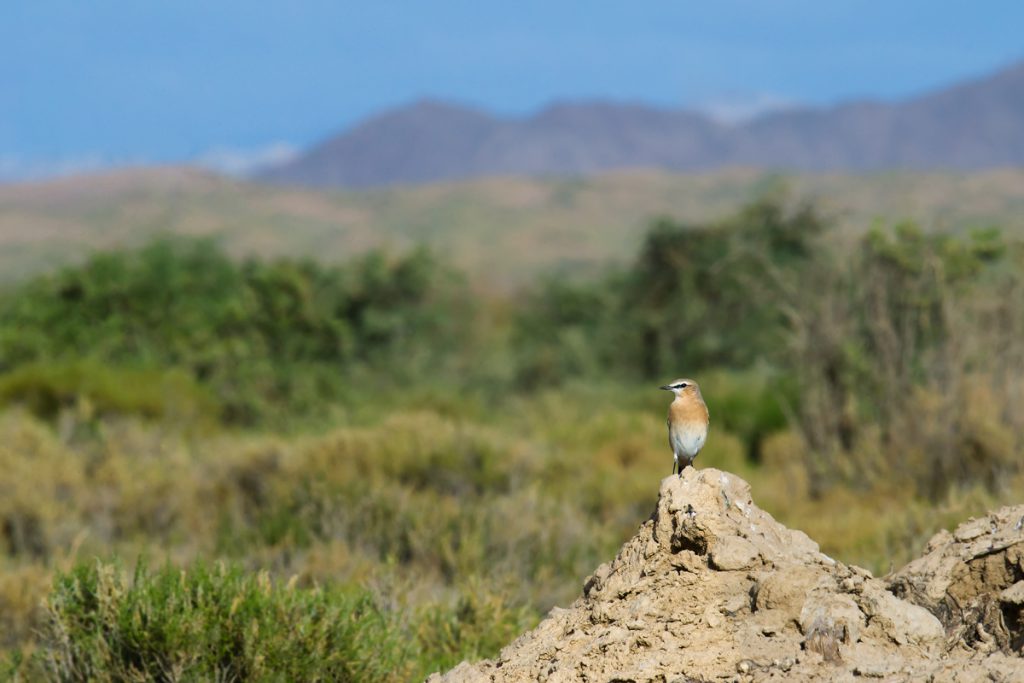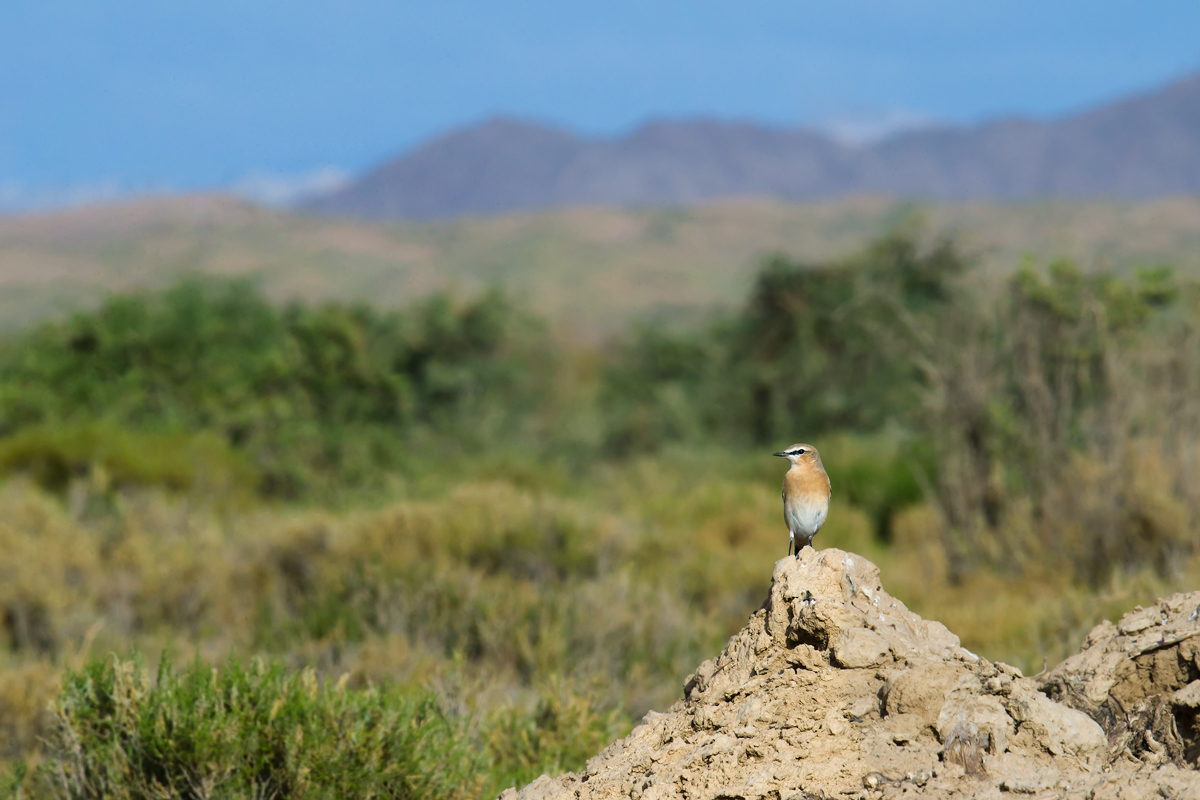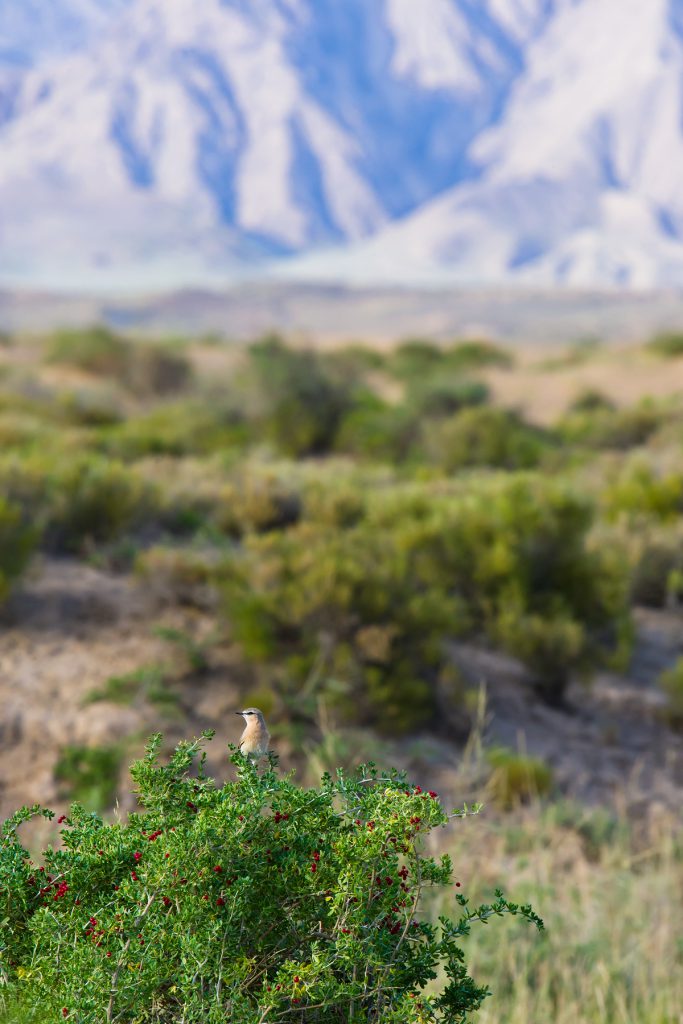 Henderson's Ground Jay is also known as Mongolian Ground Jay. Despite the ground in the name, these birds fly just fine.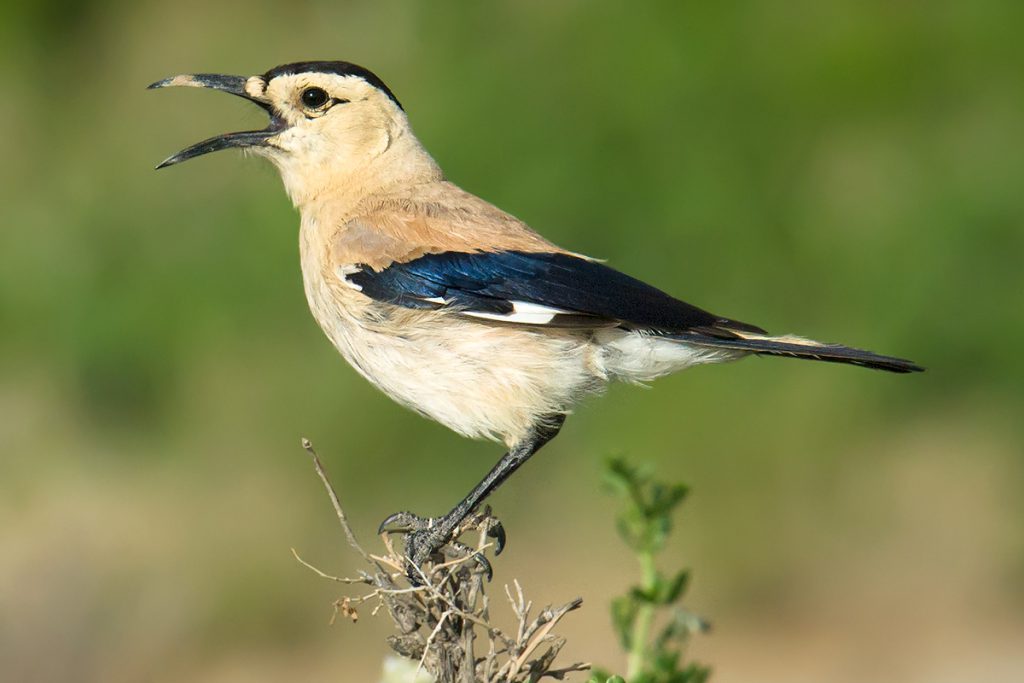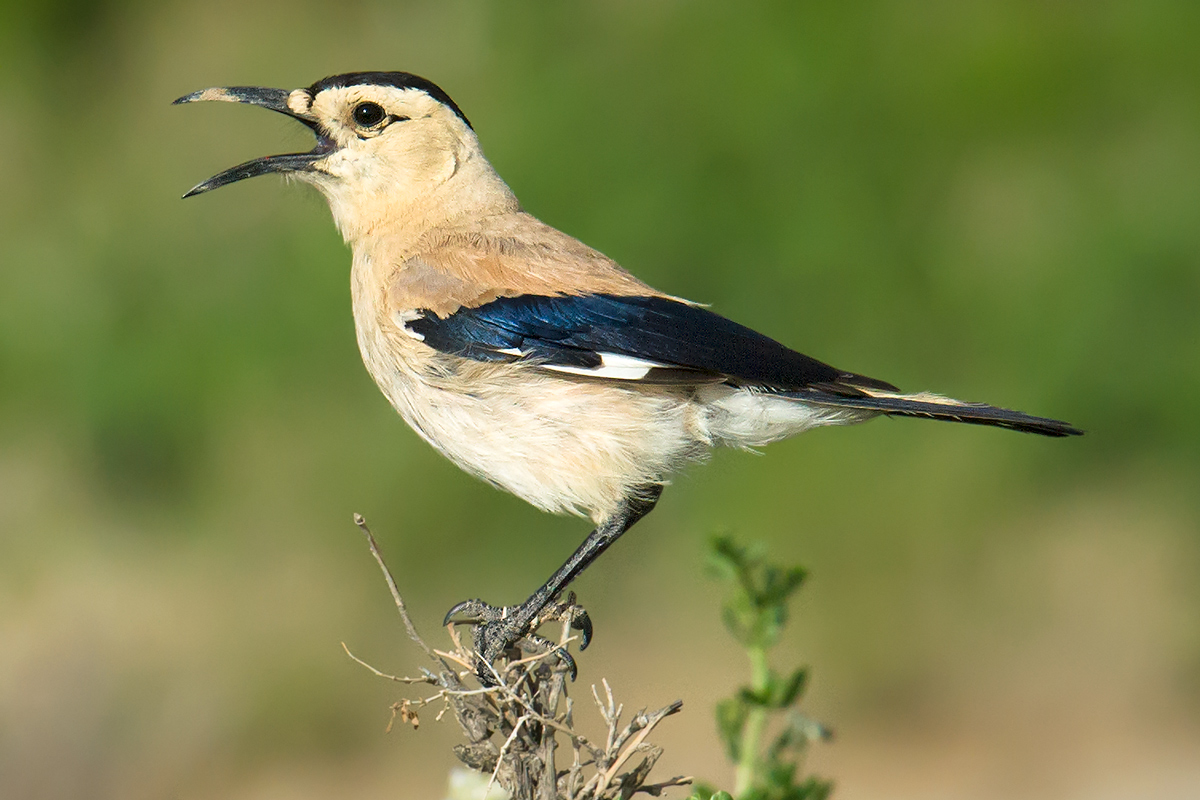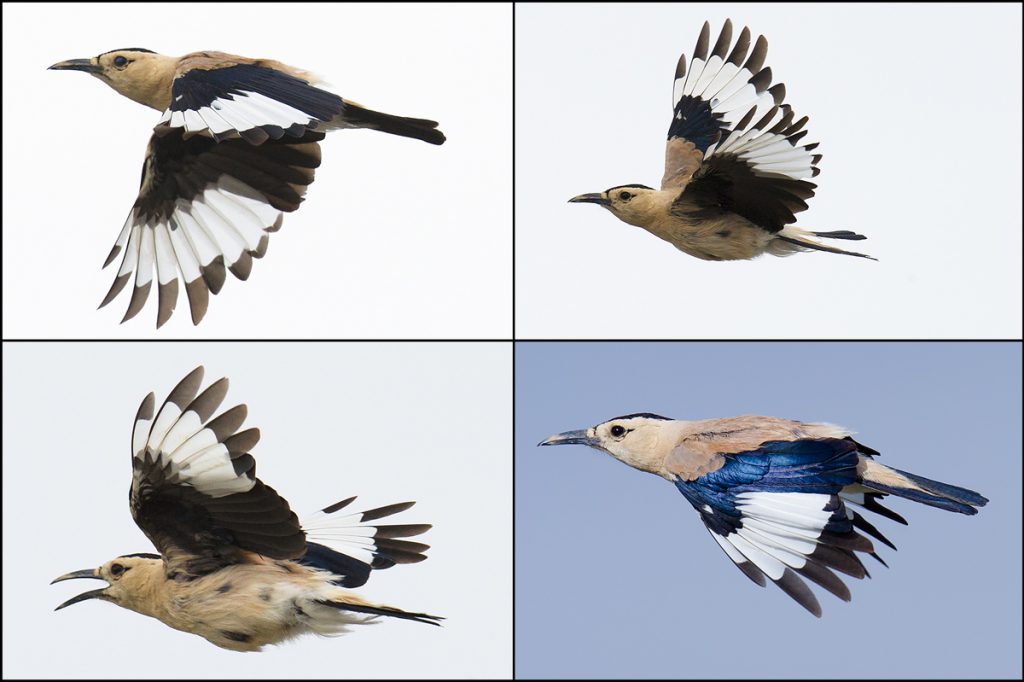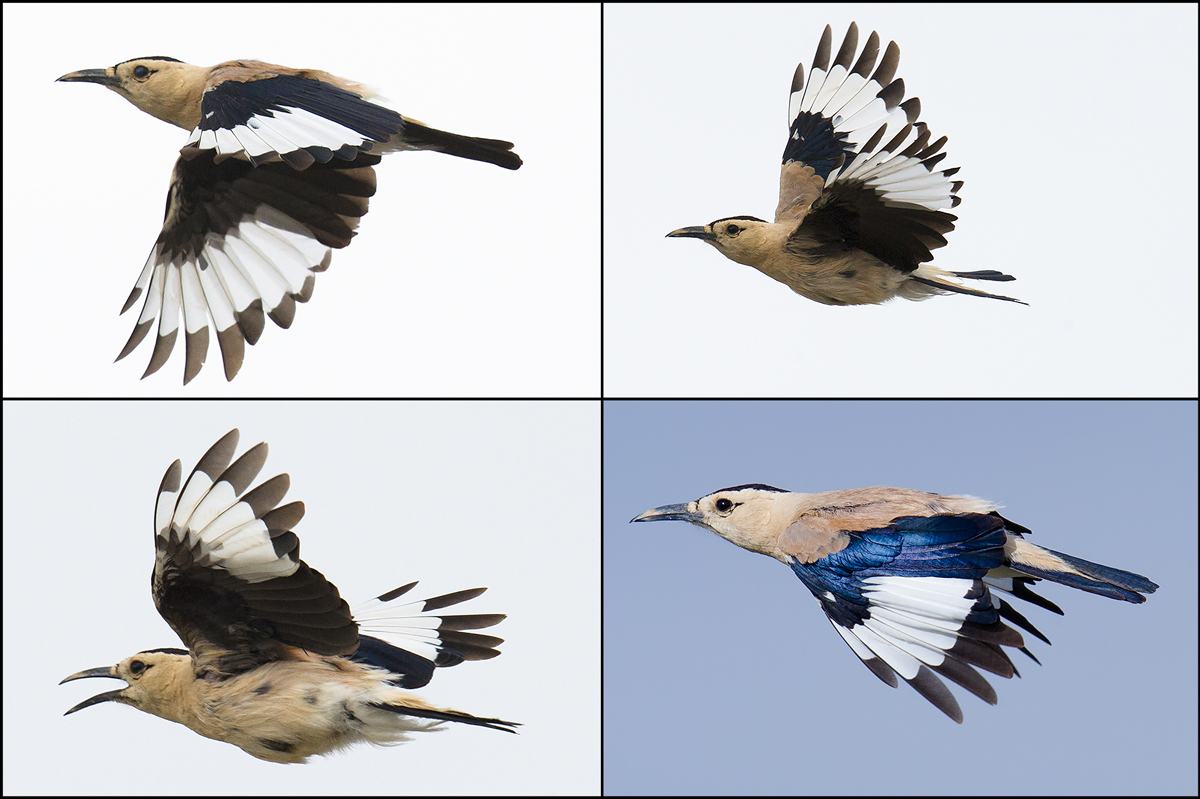 When agitated, breeding White-rumped Snowfinch does a wing-flicking display reminiscent of Claudia's Leaf Warbler. Qinghai Lake, 28 June.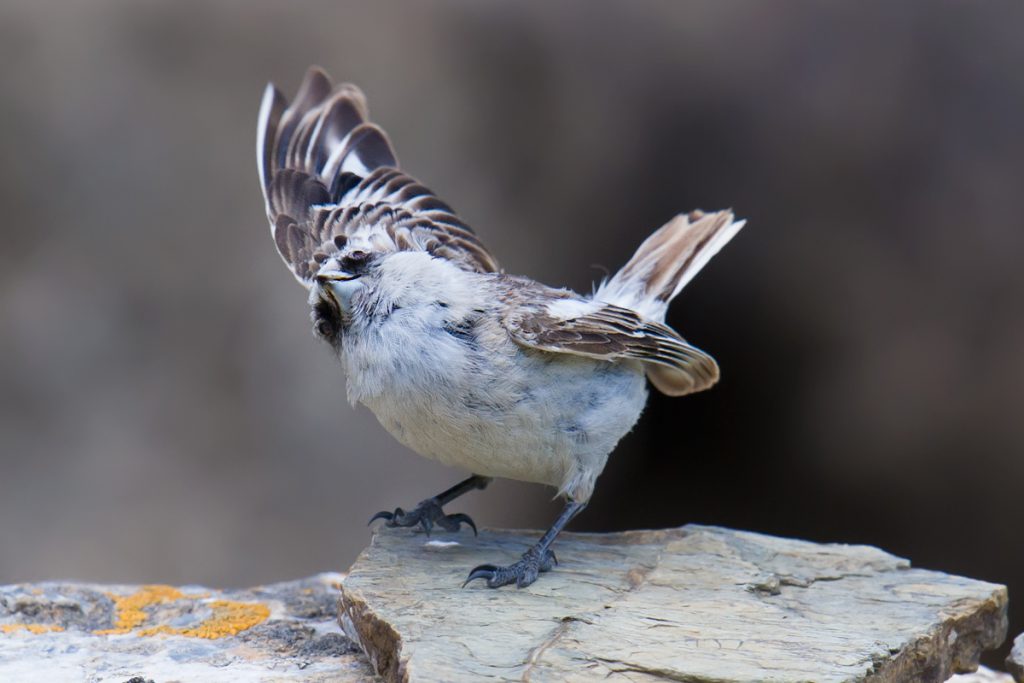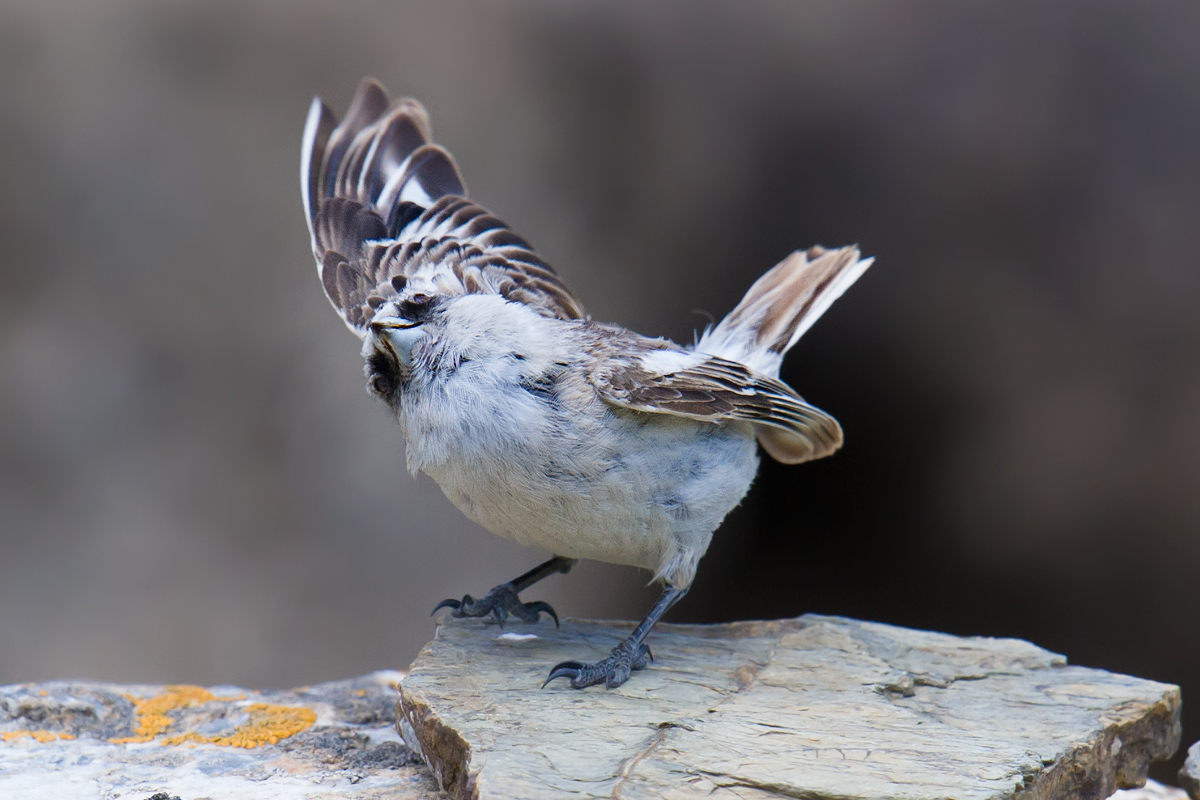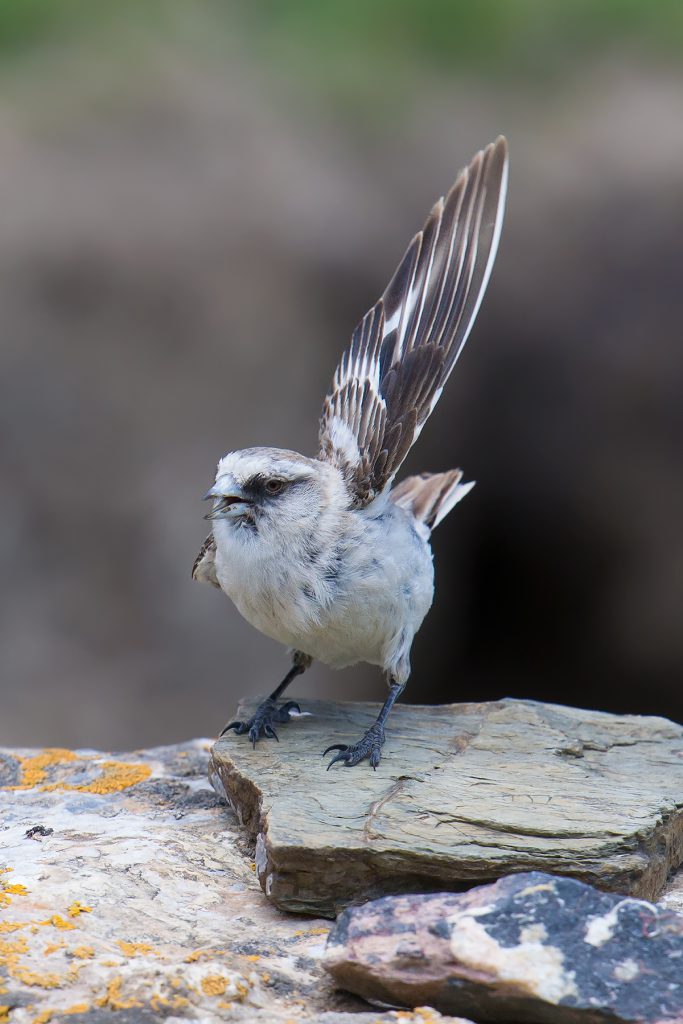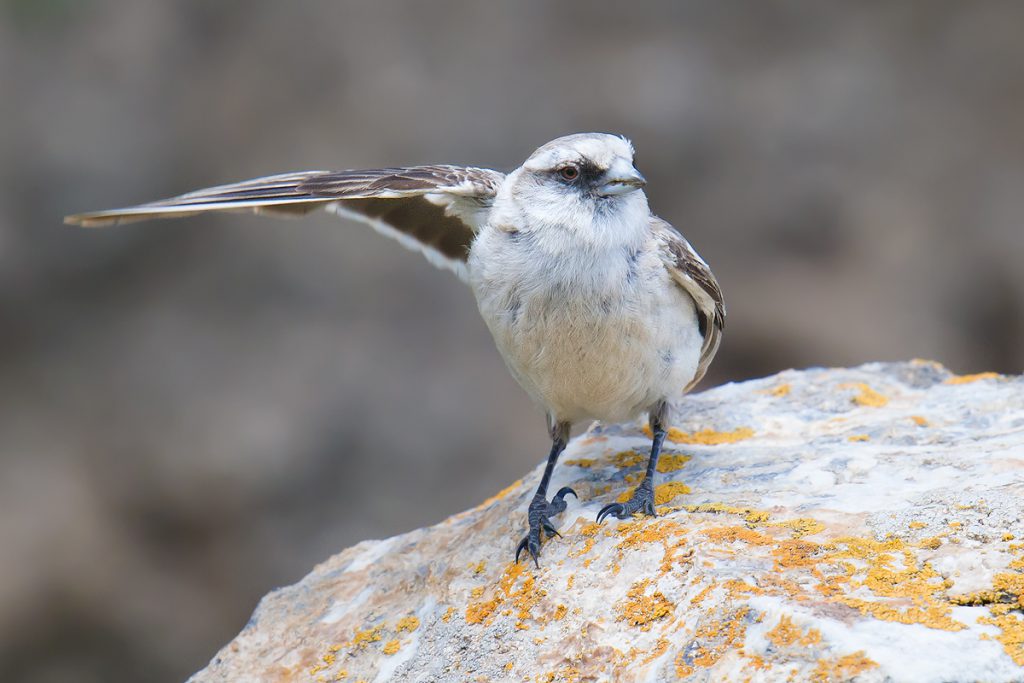 The top two photos displayed below are of Gansu Leaf Warbler (the lower of the two from our newly discovered breeding site along the Heihe River in northern Qinghai); the bottom one is of Sichuan Leaf Warbler. Note the cleaner lower mandible of Gansu Leaf Warbler and compare it to the typically darker lower mandible of Sichuan. In summer, when we met these species, they were singing, and the songs of the two species differ much. In winter, when the birds are quiet, bill color is a good way to begin to identify these two similar-looking species.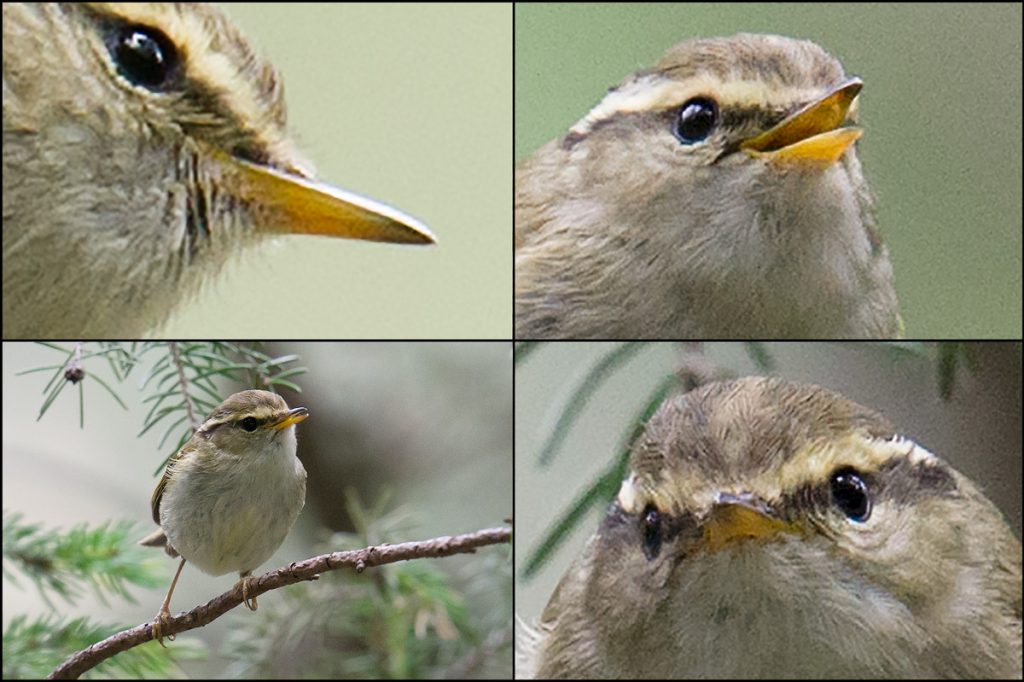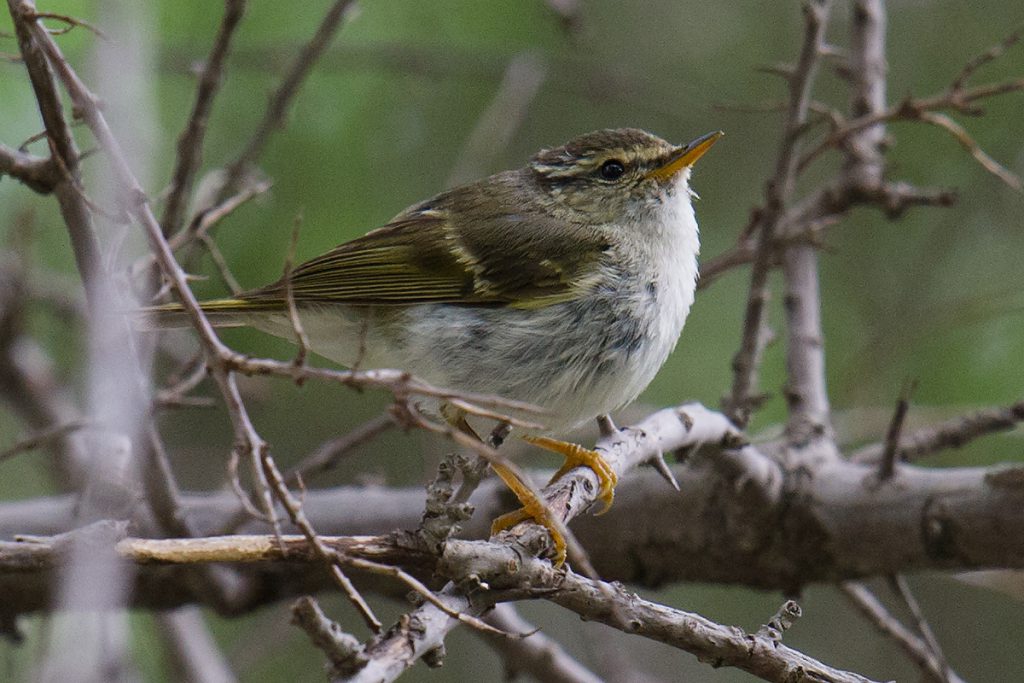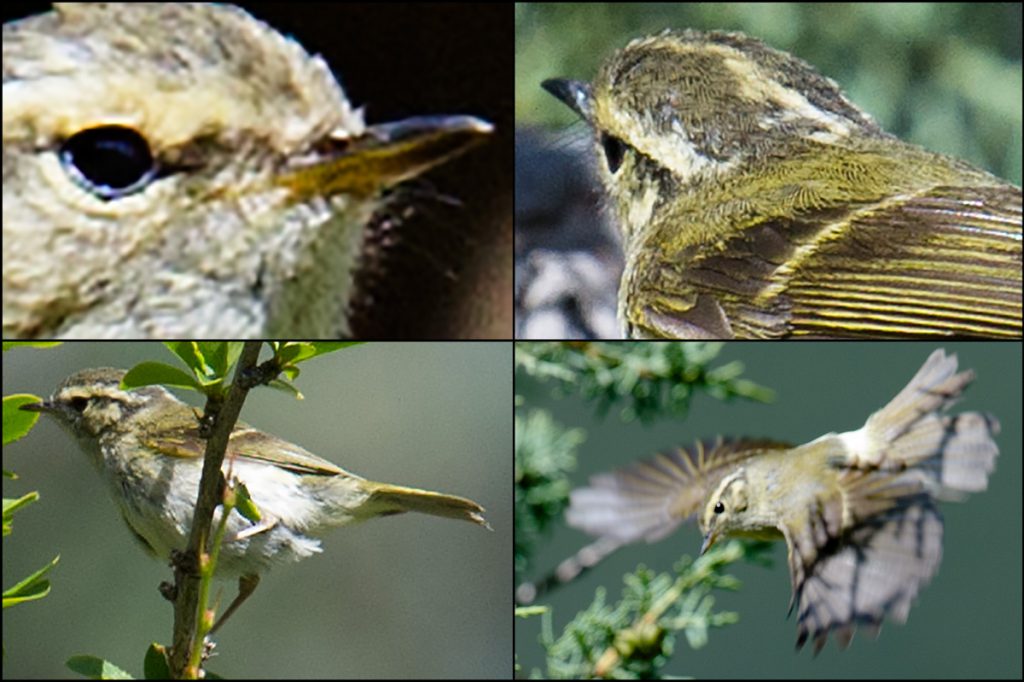 I sound-recorded Gansu Leaf Warbler:
Gansu Leaf Warbler, Qilian County, Qinghai, 3 Aug. 2016 (01:35; 4 MB)
We found a new location for Przevalski's Partridge along some back roads in Wulan County. Rusty-necklaced Partridge (alternative name) looks much like Chukar, but note the rusty line.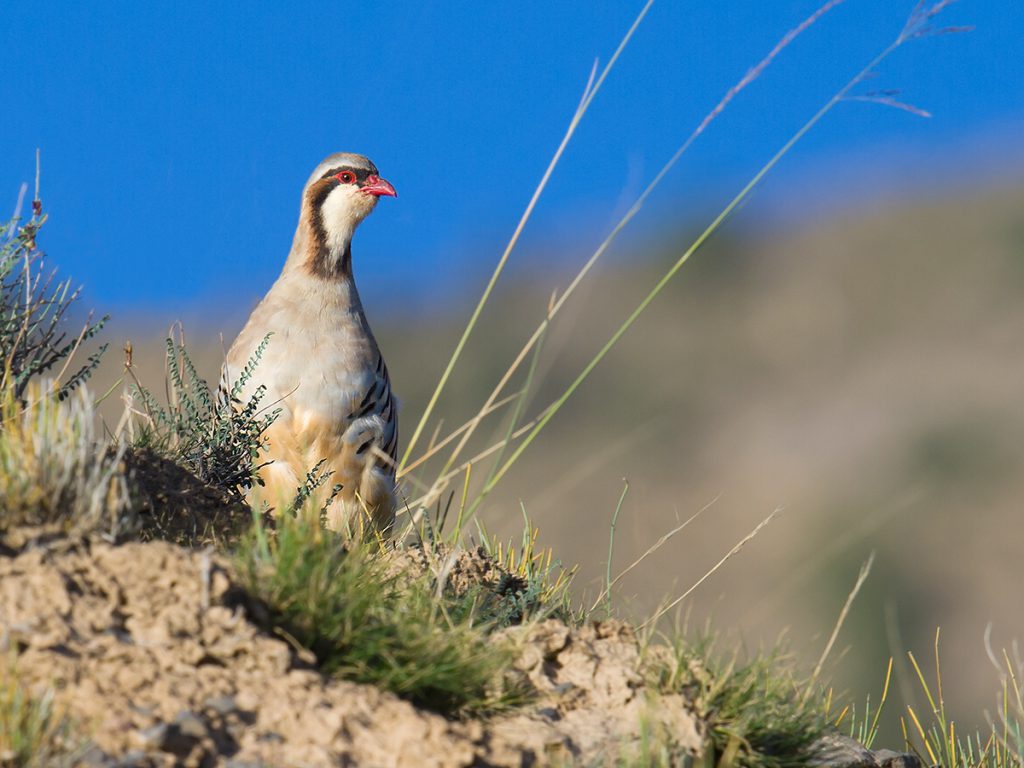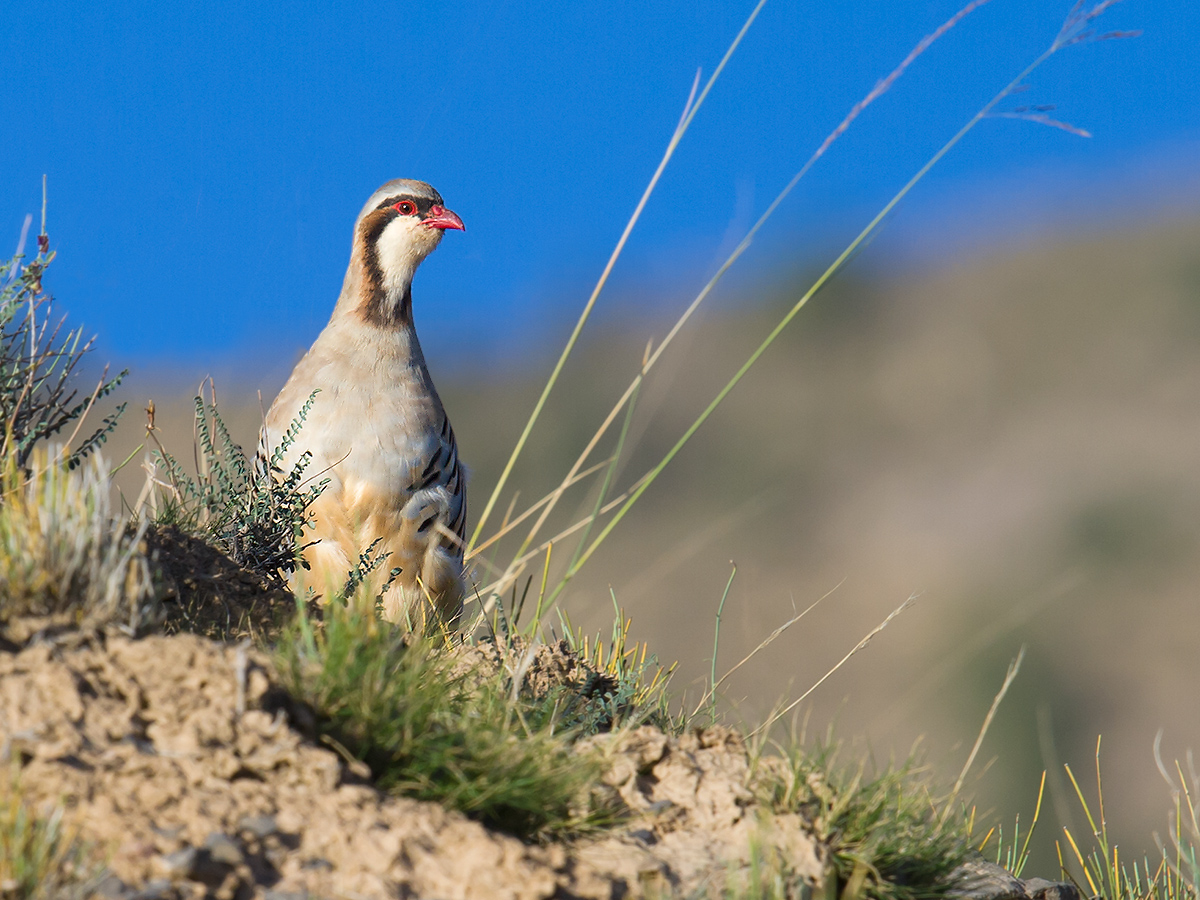 While we're on partridges, what about this charismatic Tibetan Partridge, a semi-tame specimen at the nunnery, Kanda Gorge, Yushu Prefecture.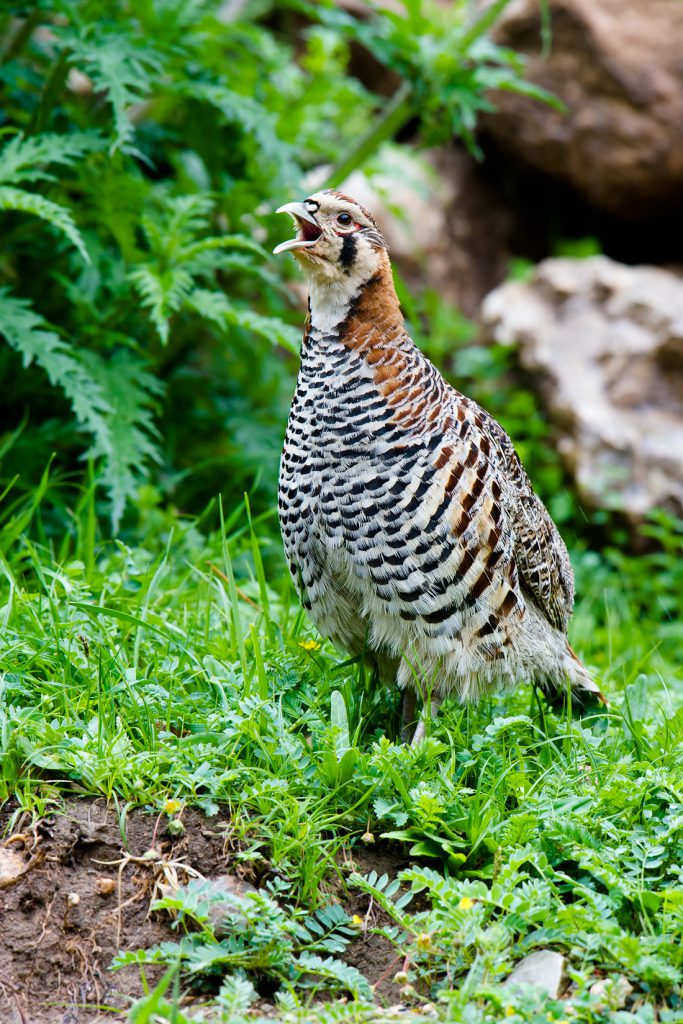 Birds of KM 2189.5 along the G109 near Qinghai Lake: Robin Accentor, a Siberian Stonechat that wasn't happy when we stumbled upon its nest, Tibetan Snowfinch using the embankment for a nest, and that one-of-a-kind species that is neither finch nor bunting but derives from a line independent of the two: Przevalski's "Finch."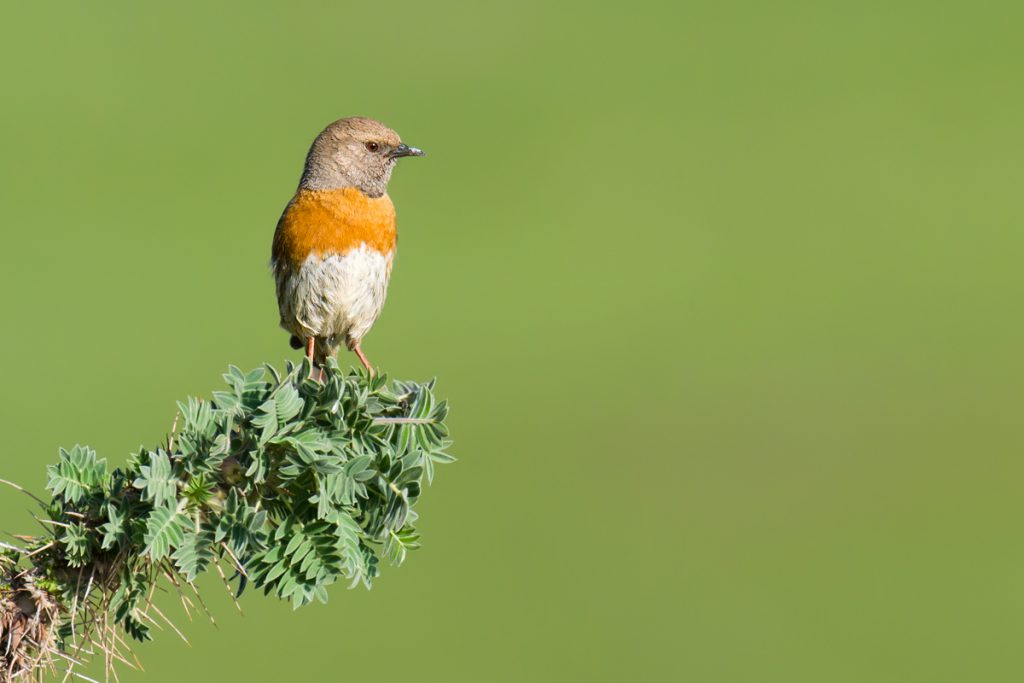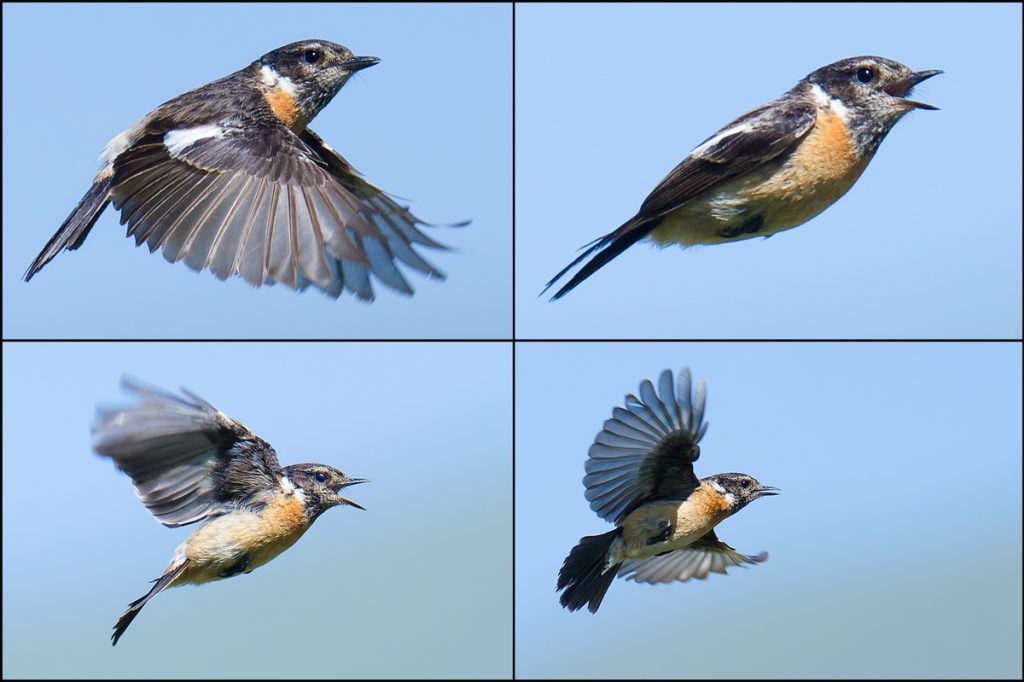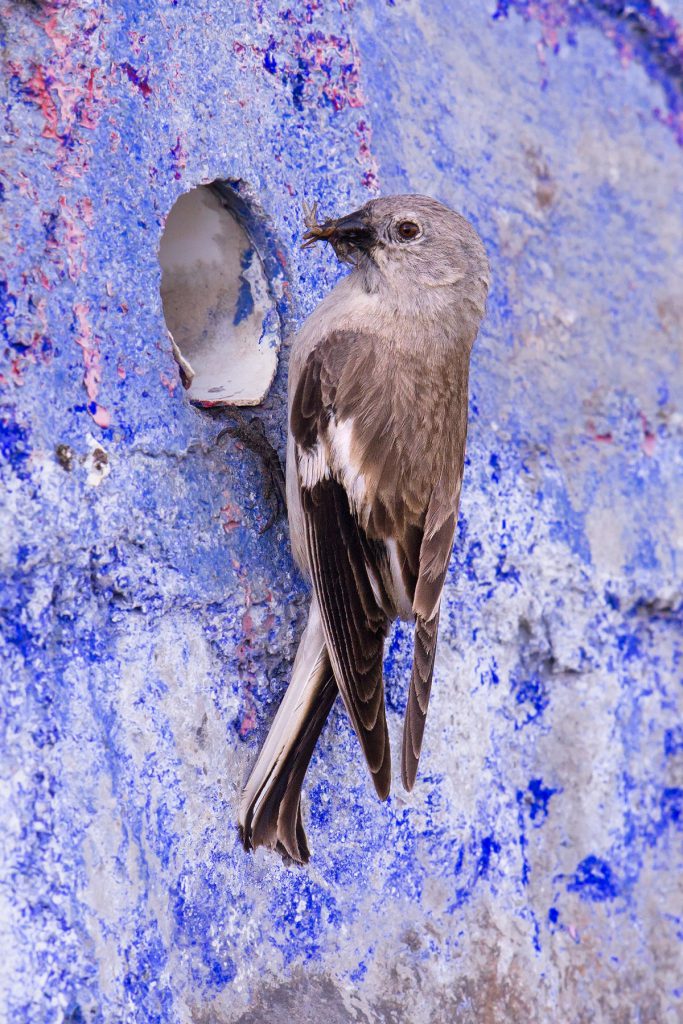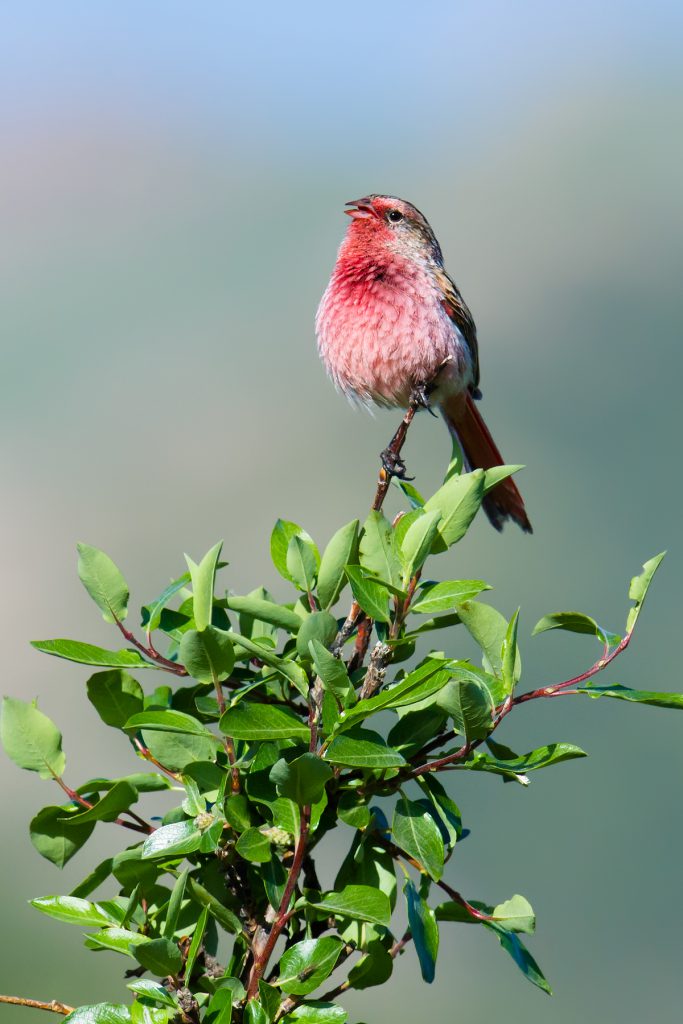 Blue-fronted Redstart is also sui generis, the only blue-headed Phoenicurus. Females are tougher to distinguish from other female redstarts, but note the inverted T, shown here on this male. Females have it too, and it is distinctive.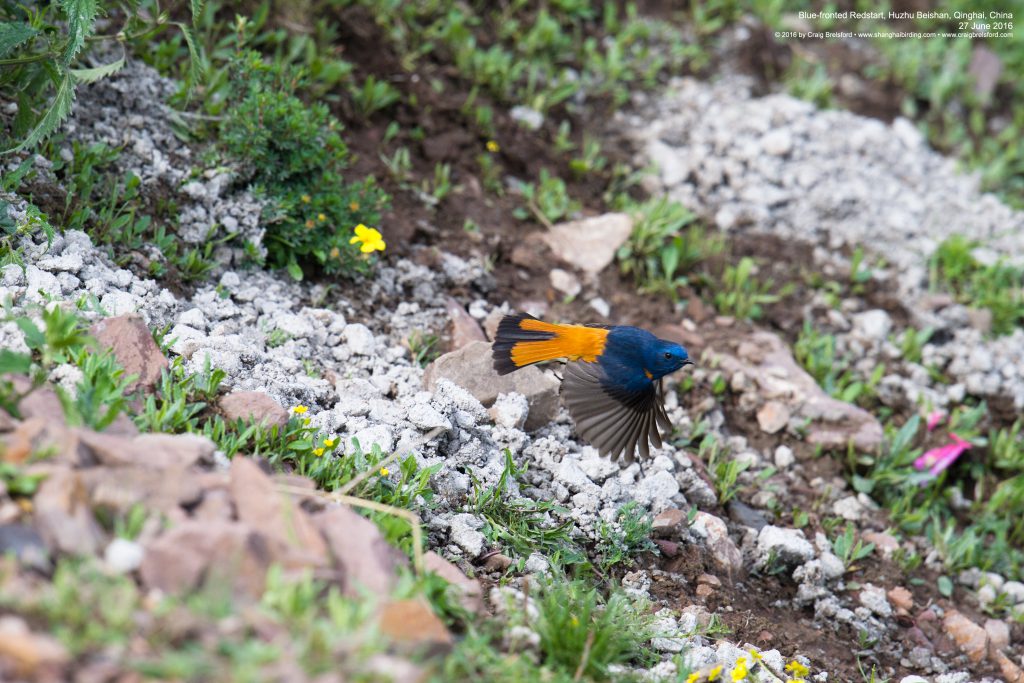 We had a memorable moment with Black-necked Crane near Lake Xiligou, Wulan County, Haixi Prefecture.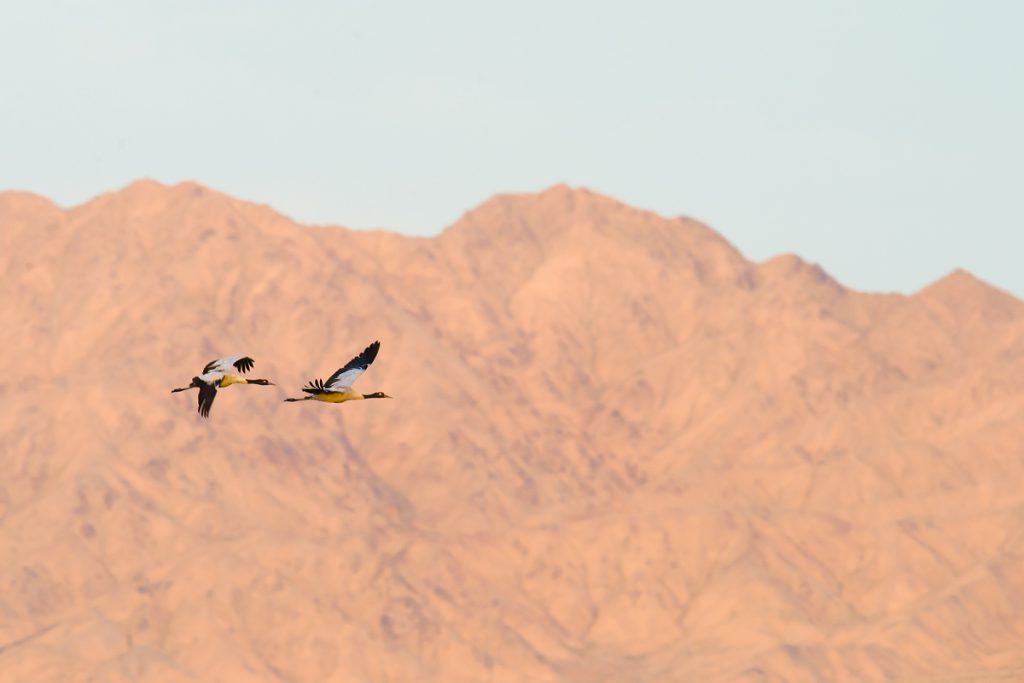 More bird + land: Bar-headed Goose at point where Eling Lake empties into the young Yellow River, Guoluo Prefecture.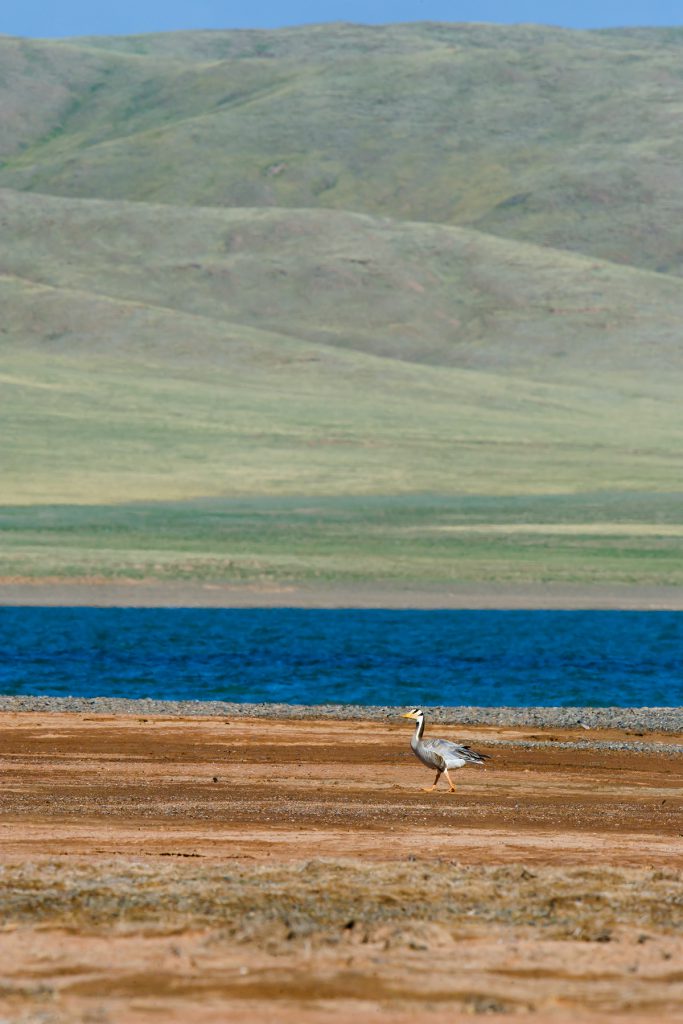 On a moonless, pitch-black night we heard a family of Eurasian Eagle-Owl making strange sounds. I shot the owls by the light of our headlights. We were in Haibei Prefecture.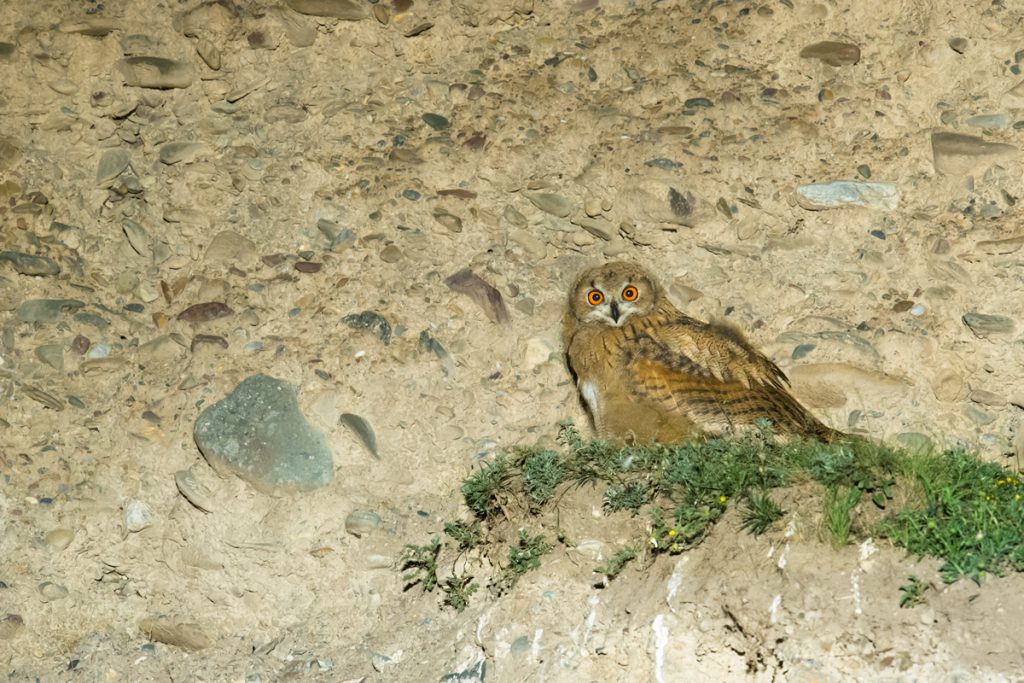 I had long wanted to put Chinese Thrush in my camera. Here's the moment when I achieved that goal. I was at the riparian forest along the Heihe River in Qilian County, Haibei Prefecture.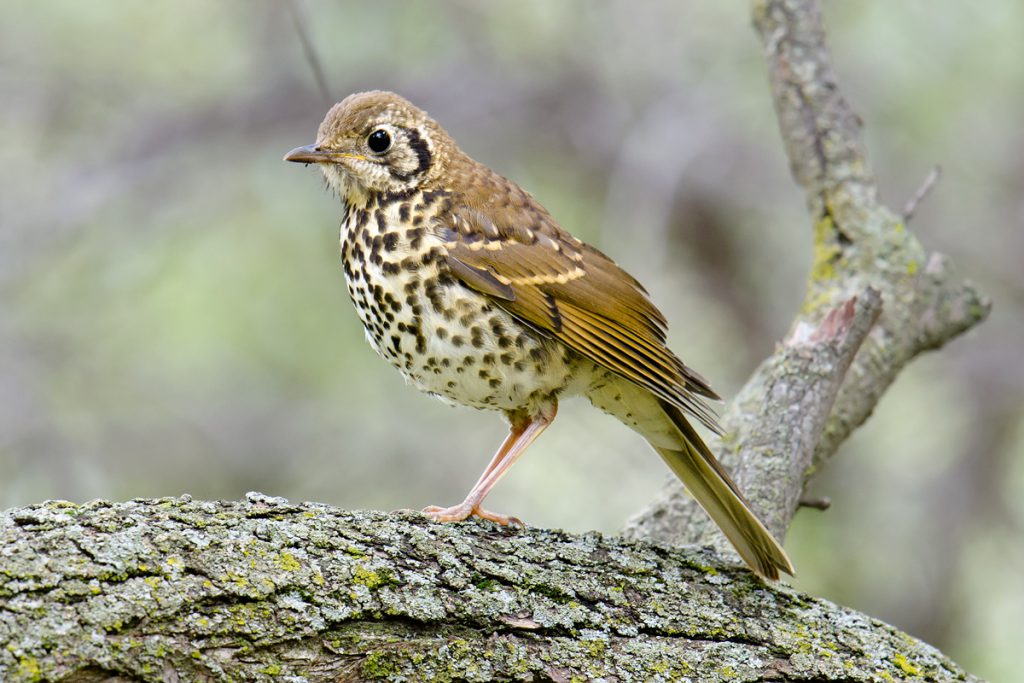 Amazing Tibetan Sandgrouse near Hala Lake.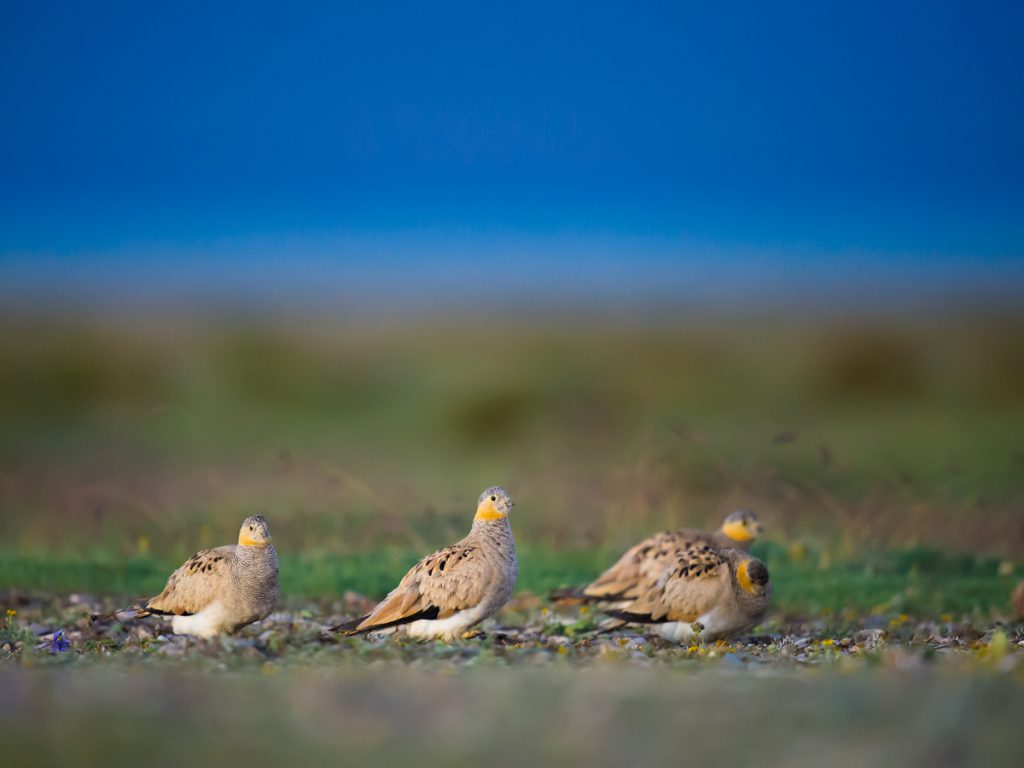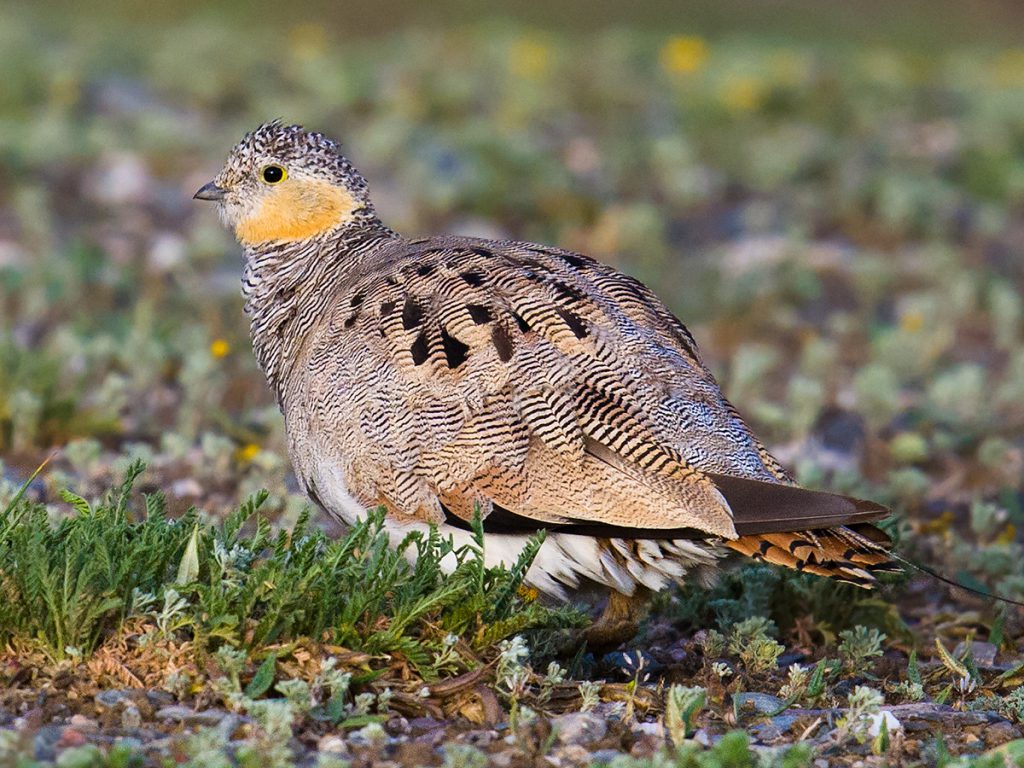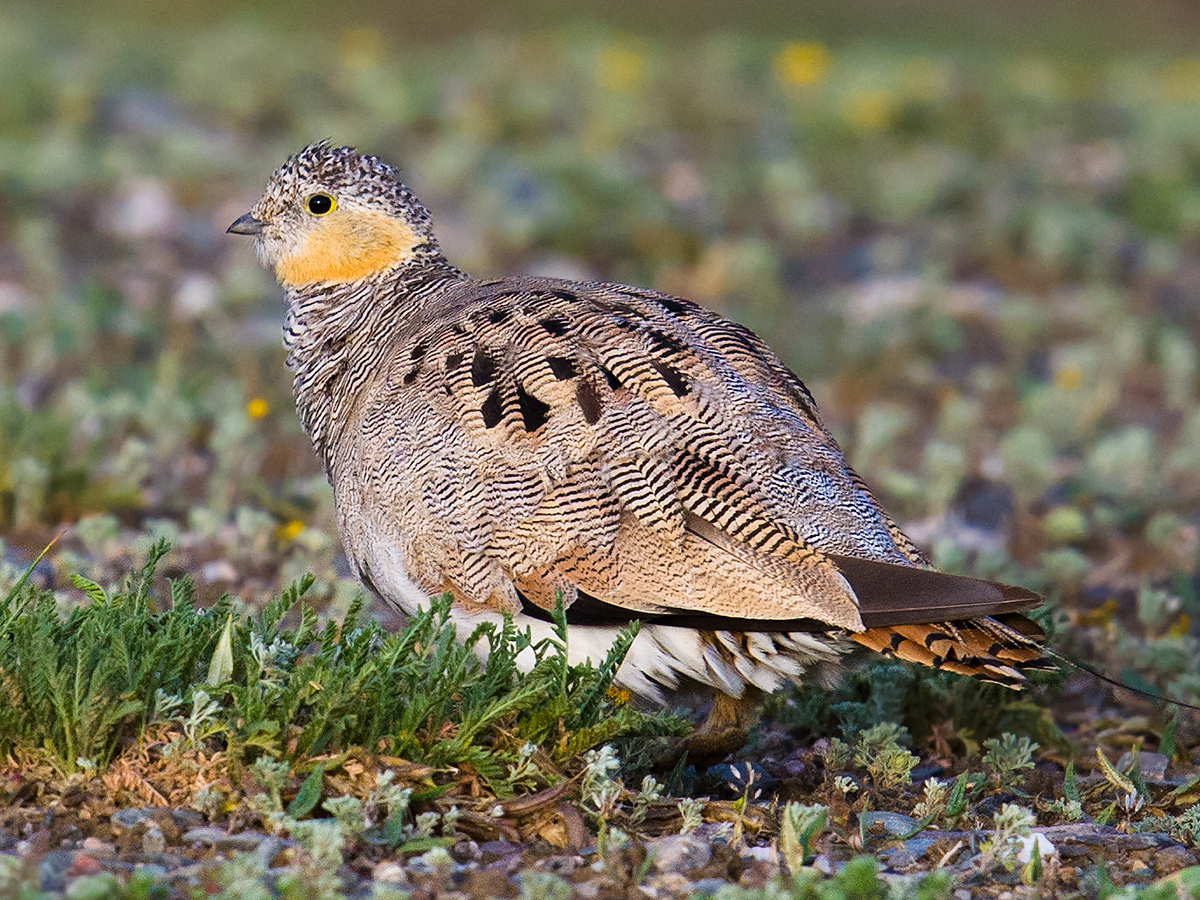 Brandt's Mountain Finch may look unexciting, but just watch it fly.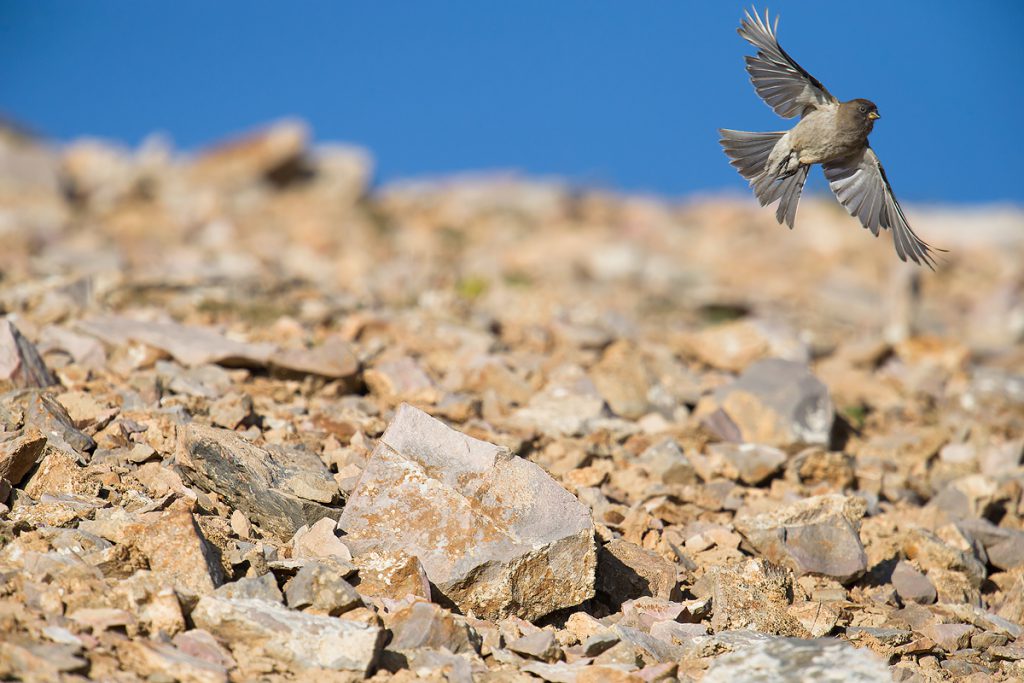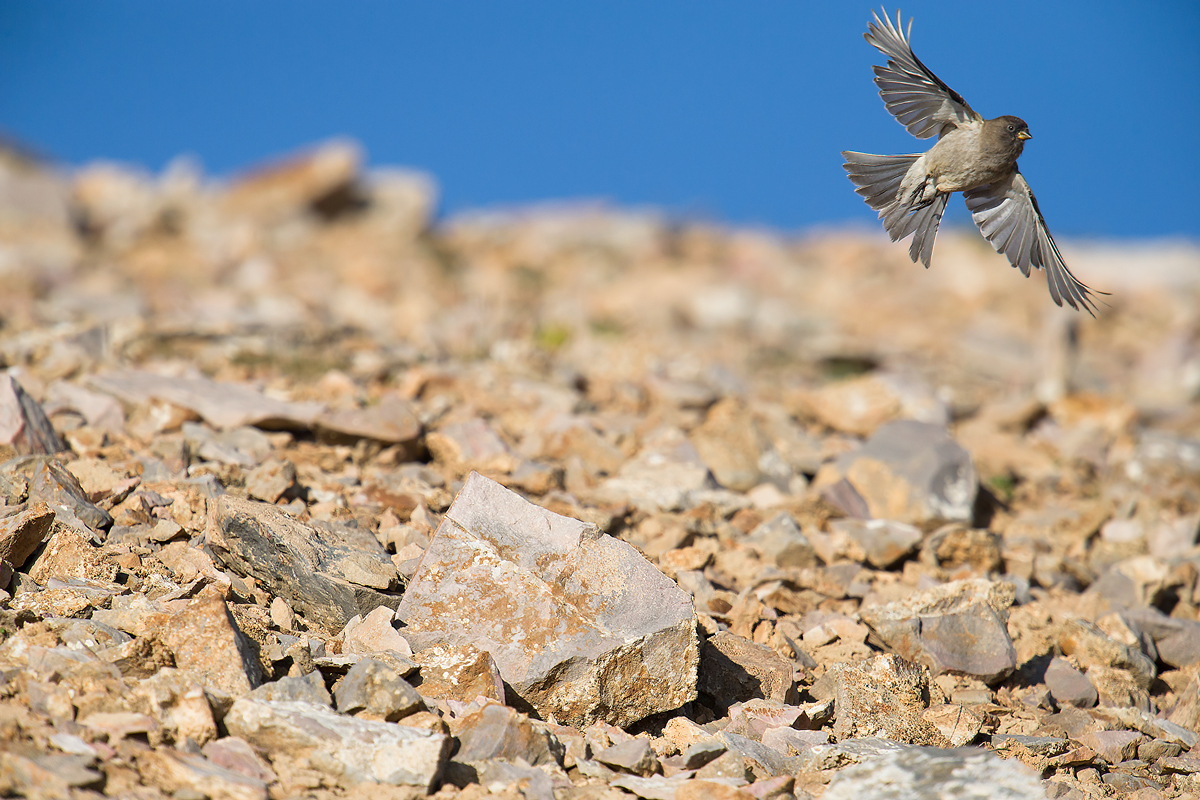 Do these Himalayan Vulture disgust you? Why? They're only doing their job—a very important one. And they have manners. Note that the juvenile doesn't interfere with the adult as it feeds.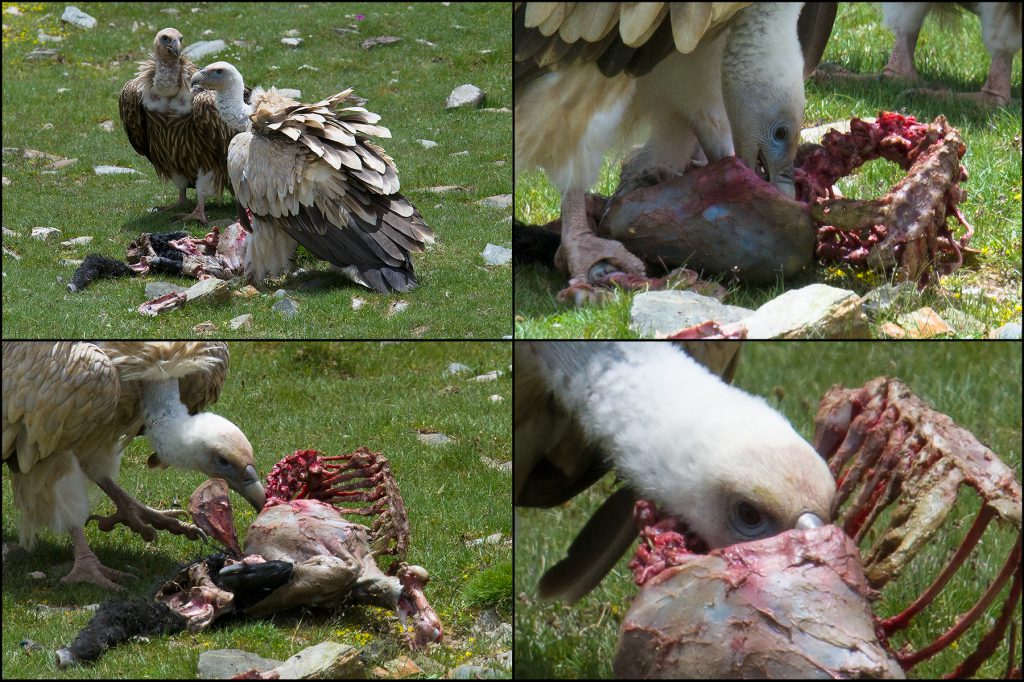 King of the high-altitude falcons: Saker.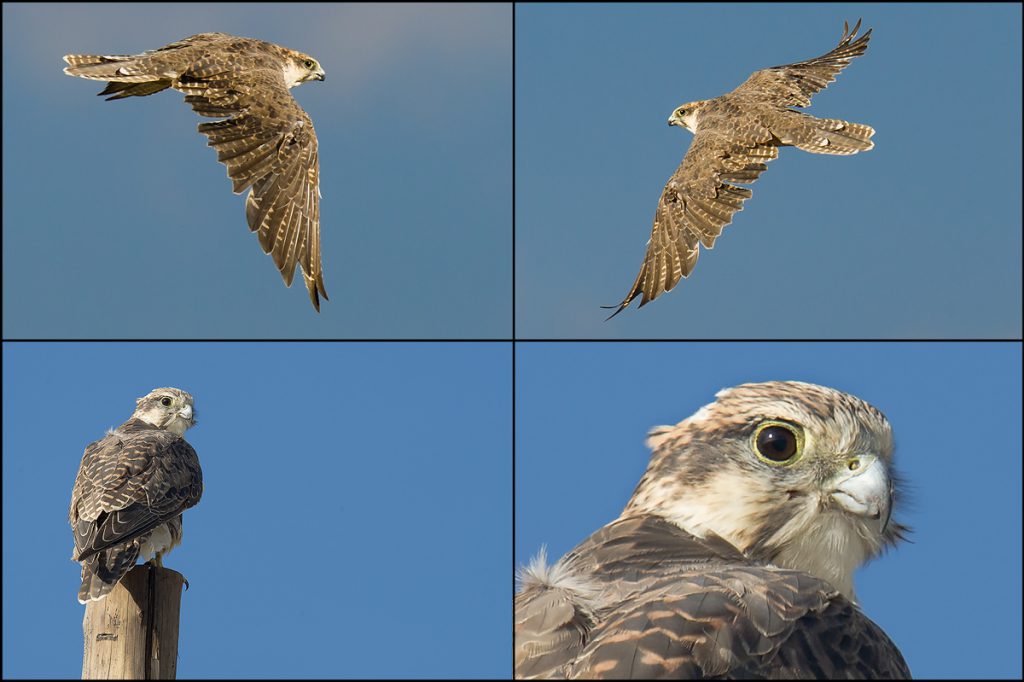 Who cares about Spotted Dove? When you're in a city park in Shanghai, then you don't care about Spotted Dove. When you're in Qilian County, Qinghai, the extreme west of its range, then you care about Spotted Dove.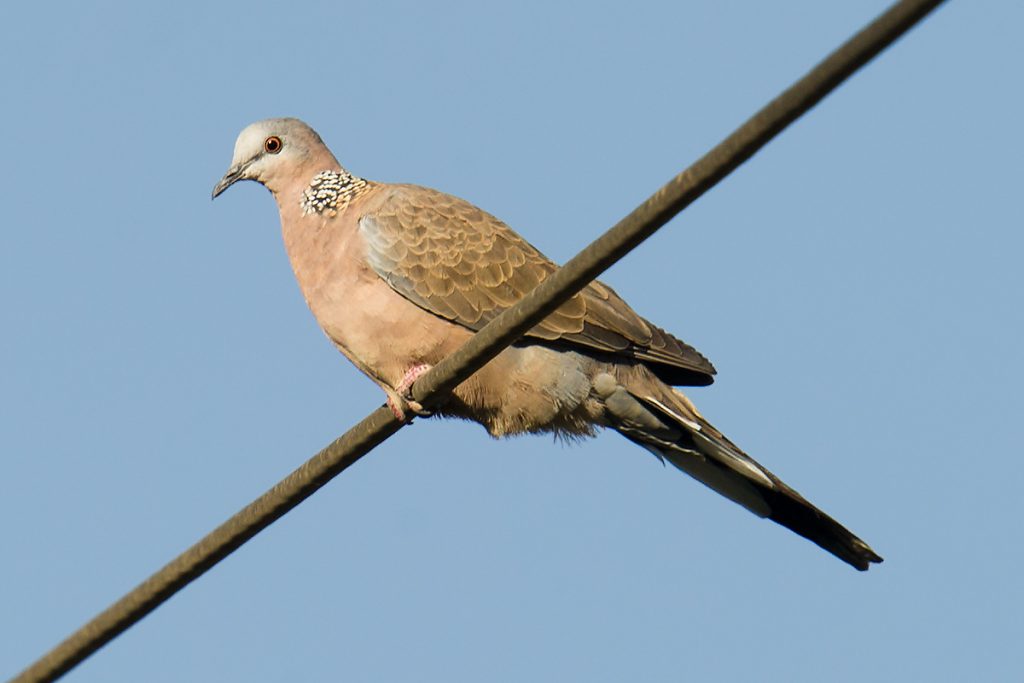 Goitered Gazelle, a Vulnerable species. Ranges from Arabian Peninsula to China. We recorded it in Wulan County.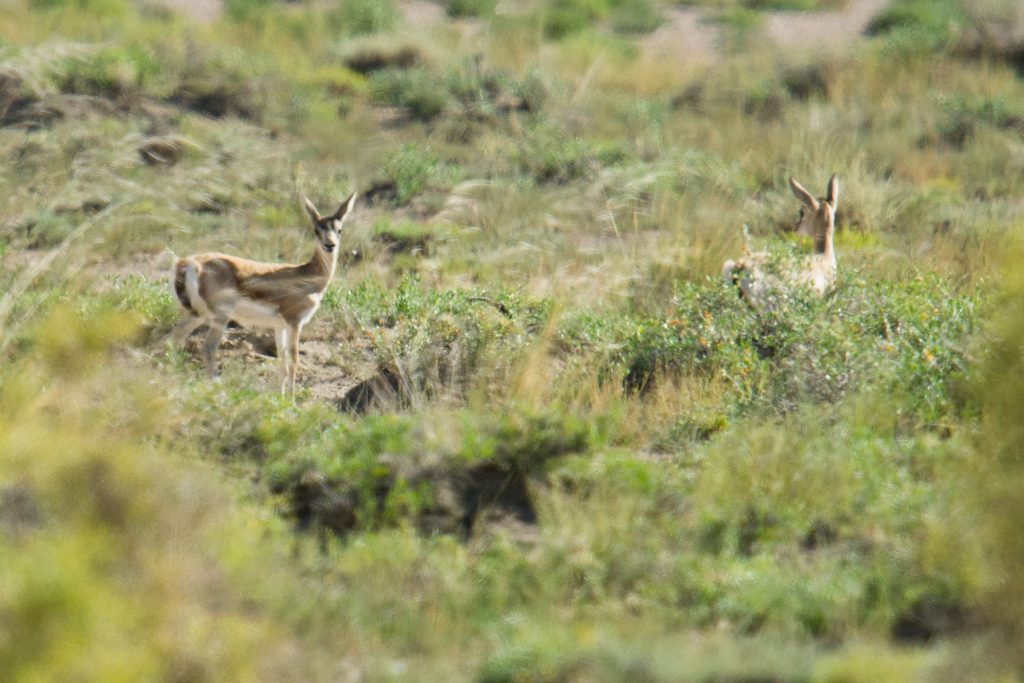 Tibetan Gazelle was waiting for us at sunset in the mountains north of Hala Lake.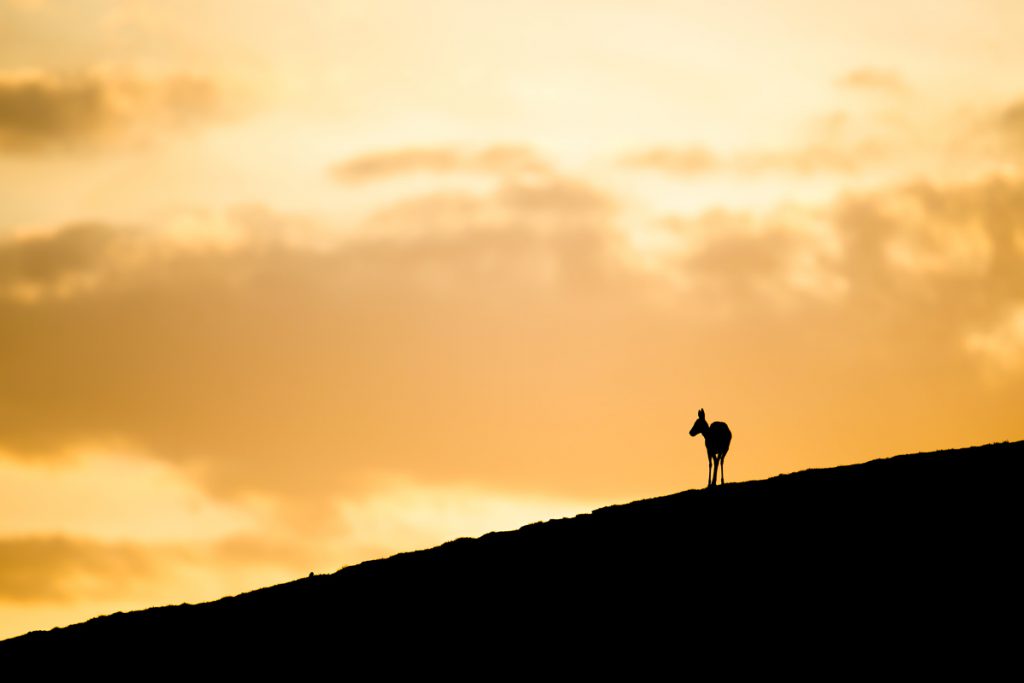 We noted Glover's Pika at various places in Yushu Prefecture. This little guy is marketable!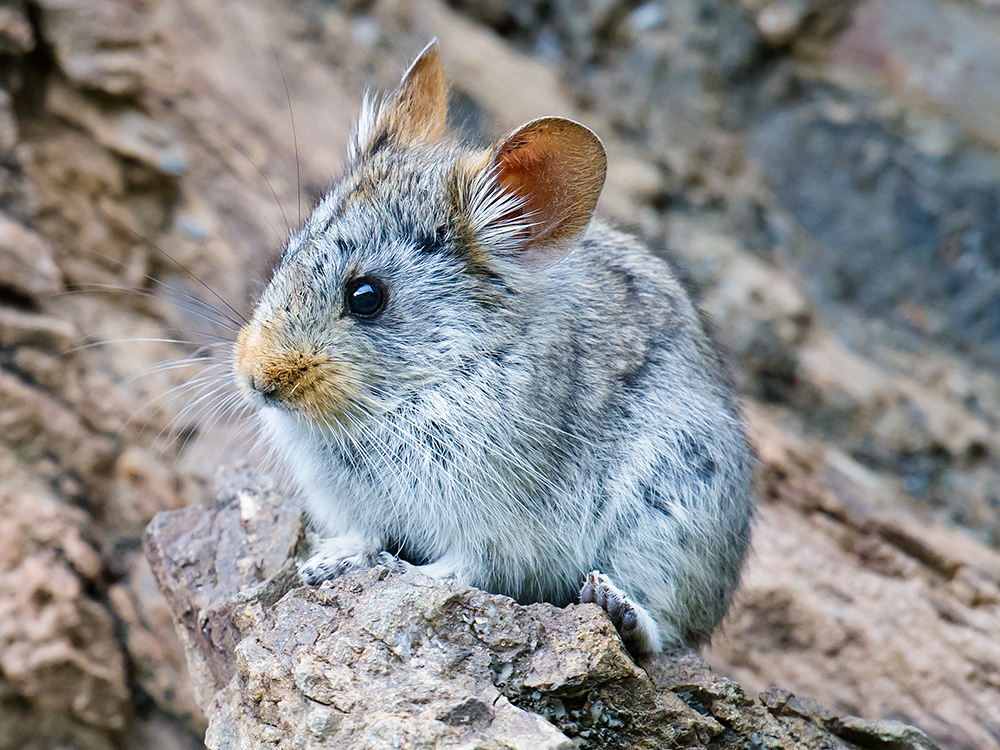 This Mountain Weasel is one of the cutest little killers you'll ever meet. Like all weasels, it's almost completely carnivorous. In Haibei Prefecture one afternoon, Elaine and I watched this little dude dart into and out of the pika burrows, terrorizing the local birds and pikas. The fruitless attempts were comical, but we noted with respect the speed and agility of this star performer.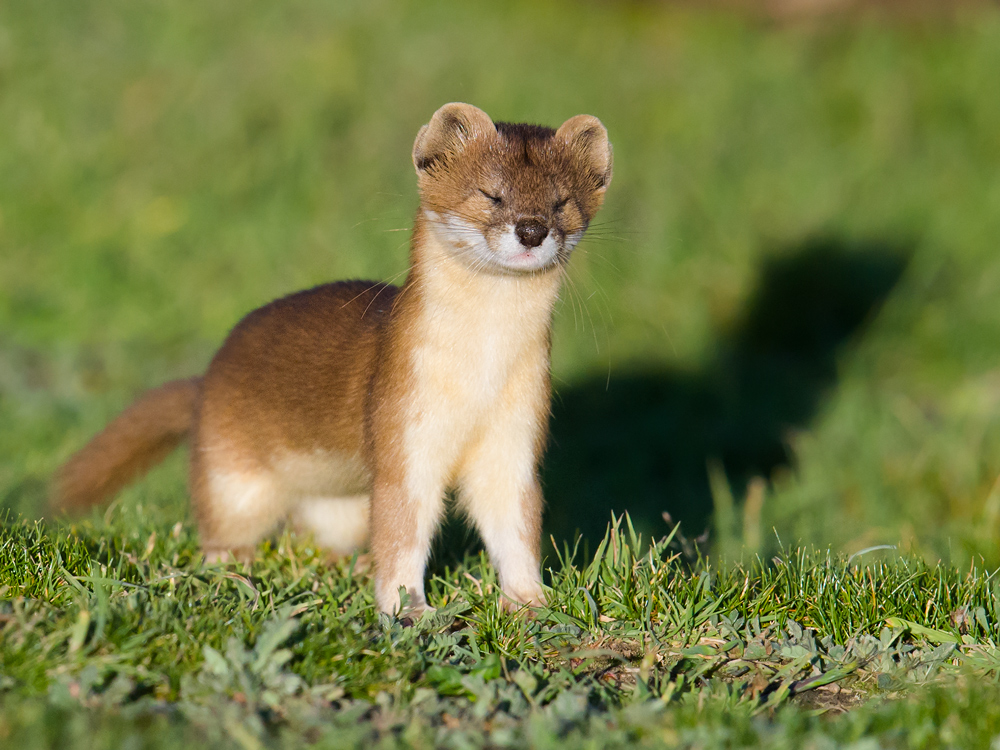 There's something sensuous about those smoothly curved sand dunes—and in that soft sunset light. Right time, definitely right place.
In a few weeks I'm going to be missing Qinghai big-time, and scenes like these are going to be why. There's no place on Earth like Qinghai, no place under the sun like the Tibetan Plateau.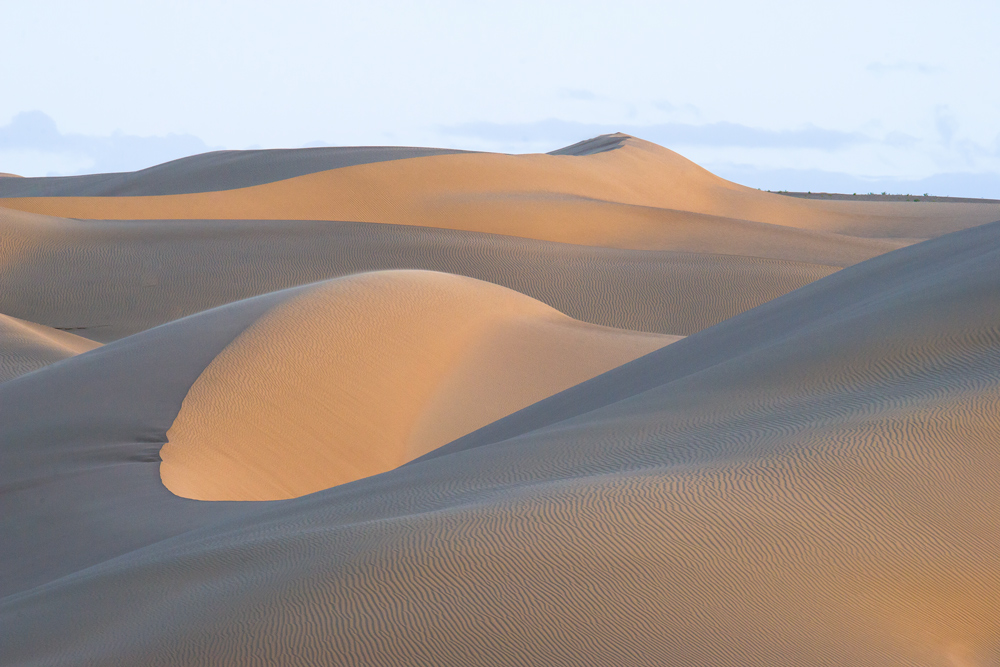 Featured image: Elaine Du and Craig Brelsford, Eling Lake, Qinghai, where the Yellow River and Chinese culture are born, 3 July 2016. (Craig Brelsford)