by Craig Brelsford
Founder, shanghaibirding.com
On Sat. 9 April and Sun. 10 April, Elaine Du and I noted 103 species at three Shanghai-area birding hot spots. We had Oriental Plover and Black-faced Spoonbill on Hengsha Island, the latter species present also at Cape Nanhui, where we found in addition Brown Crake, Greater Sand Plover, Black-tailed Godwit, Marsh Grassbird, Bluethroat, and Citrine Wagtail. Lesser Yangshan Island yielded out-of-range Rufous-faced Warbler and our season's first flycatcher, Asian Brown Flycatcher. Other season's firsts were Eurasian Wryneck and Oriental Reed Warbler on Hengsha, Oriental Pratincole, Japanese Thrush, Tristram's Bunting, and Meadow Bunting on Lesser Yangshan, and Broad-billed Sandpiper at Nanhui. Garganey and singing Brown-flanked Bush Warbler were on Hengsha and Temminck's Stint and Grey-backed Thrush were noted at Nanhui. Red-throated Pipit were on Hengsha and at Nanhui, as were Intermediate Egret, "Swintail" (Swinhoe's or Pin-tailed) Snipe, Reed Parrotbill, and Chestnut-eared Bunting.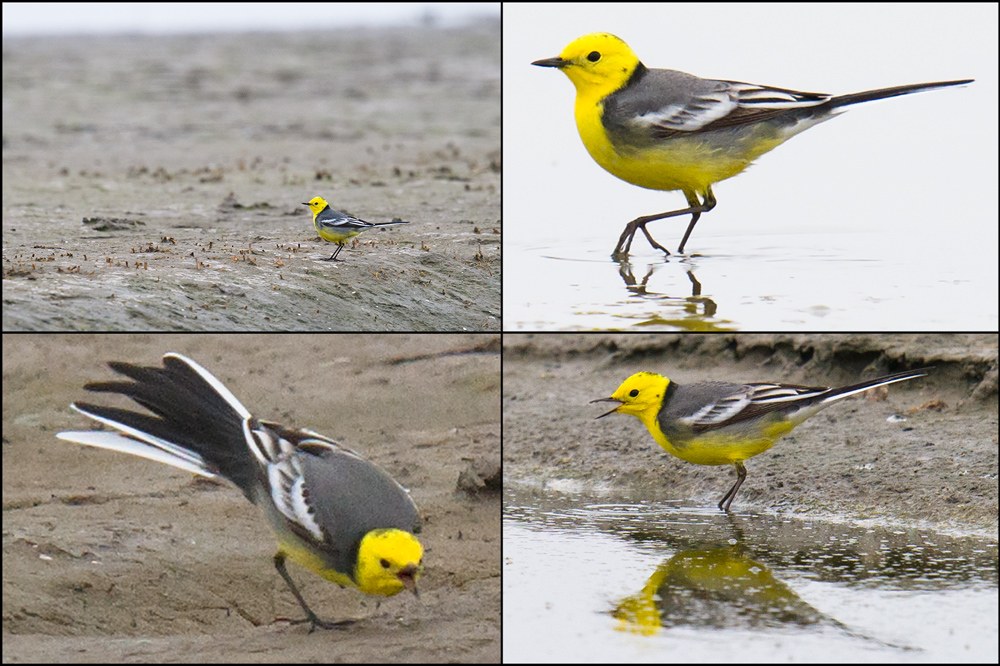 On Sat. 9 April Elaine and I birded Hengsha, the alluvial island at the mouth of the Yangtze. Our target was Oriental Plover Charadrius veredus, which we found after a short search. Oriental Plover breeds in deserts and steppes mainly in Mongolia, and in China in Hulunbeier, Inner Mongolia. For Elaine, Ori Pluv was a virtual lifer, as her only previous experience with the species was our quick, long-distance look at an individual near Hulun Lake last July.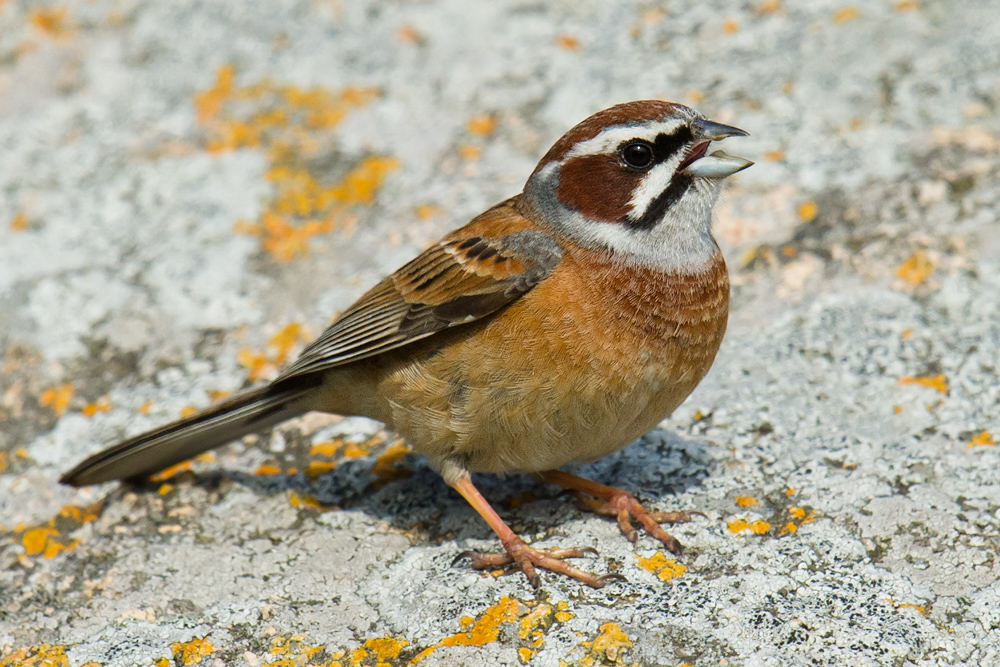 On Sun. 10 April Elaine and I were joined by Shanghai-based British birder Michael Grunwell. We noted 90 species on Lesser Yangshan Island and at Cape Nanhui.
The three of us found 30 singing Marsh Grassbird in the large reed bed at 30.866006, 121.939614, a point 2.8 km south of the lock at Nanhui and 4.1 km south of the Magic Parking Lot/Holiday Inn (30.882784, 121.972782). An unpaved road leads into the marsh. The grassbirds were noted only in that reed bed and not in other seemingly suitable reed beds elsewhere at Nanhui. The grassbirds were using only those parts of the reed bed far from the road. They were making their curving display flight.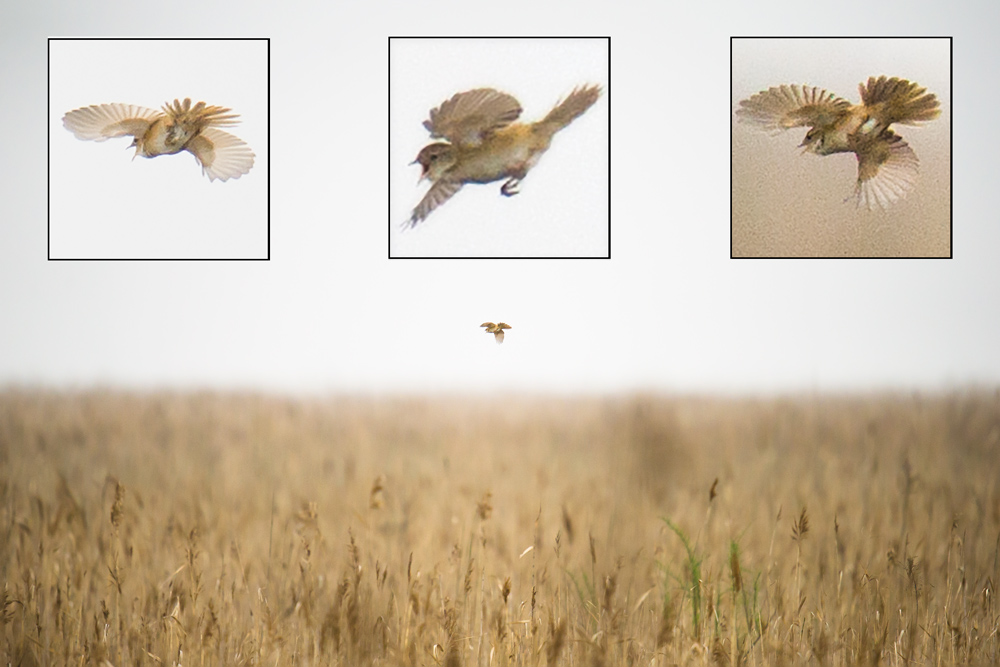 Marsh Grassbird is also known as Japanese Swamp Warbler and Japanese Marsh Warbler. It is listed as Near Threatened by the IUCN. The IUCN notes that Marsh Grassbird is "very sensitive to habitat structure and does not tolerate vegetation that is too short or too tall." It is threatened mainly by the conversion of its wetland habitat to other uses.
Speaking of conversions, new construction is changing all three of the birding spots we visited last weekend. The transformation at Nanhui has been noted by me here and here. Lesser Yangshan Island is being converted from an island to an even bigger megaport, and Garbage Dump Coastal Plain (30.638860, 122.060089) is steadily growing unbirdable. A bright spot on Lesser Yangshan is the new wetland (30.611902, 122.114873) on reclaimed land between Lesser Yangshan and Dazhitou Island.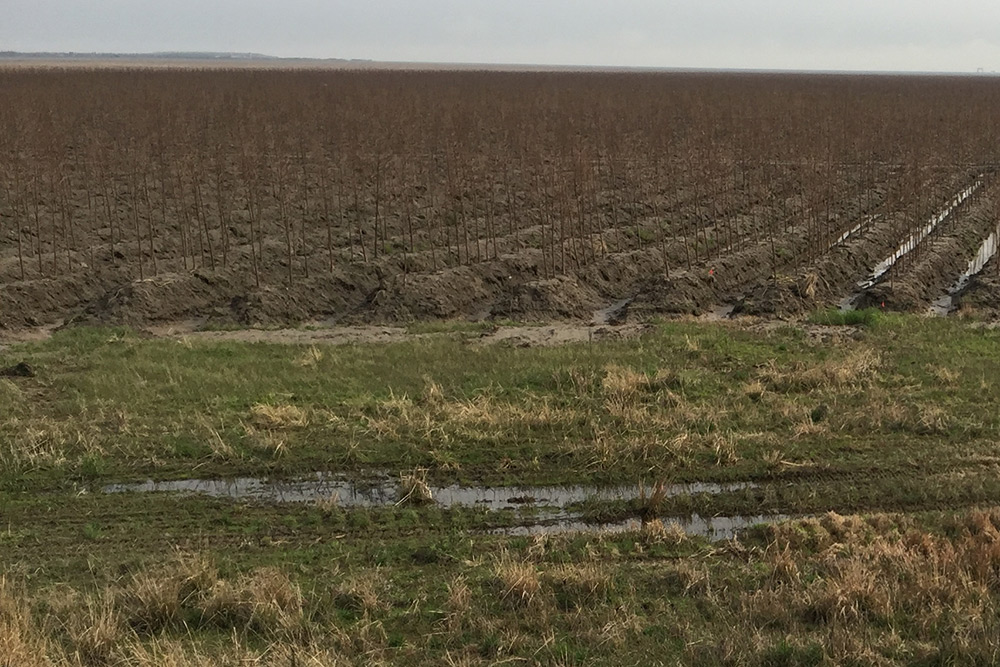 In the reclaimed area on Hengsha, a 100-hectare area at 31.299495, 121.893845 is being converted from savanna to forest. That is an area about two-thirds the size of Century Park in Pudong. This may be good news, as the tree plantation may attract forest species such as flycatchers and leaf warblers, families that on the formerly treeless reclaimed area at Hengsha have always been scarce.
The springtime birding season in Shanghai is really picking up steam. On the Web site of the Shanghai Wild Bird Society, shwbs.org, birders have recently reported Long-billed Dowitcher, Asian Dowitcher, and Ruff on Chongming and Spoon-billed Sandpiper and Black Redstart on Hengsha.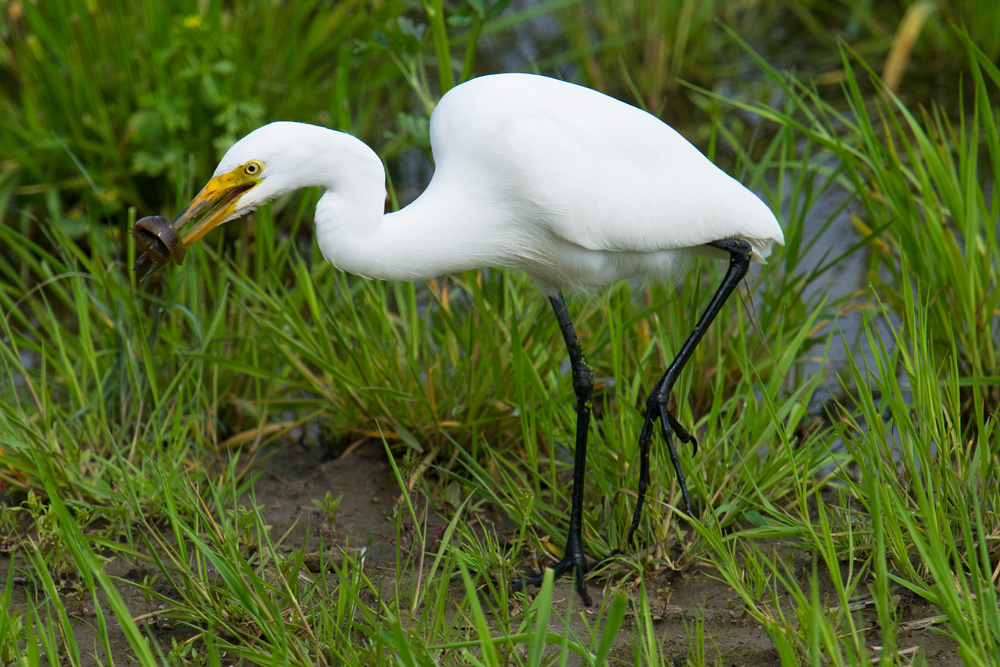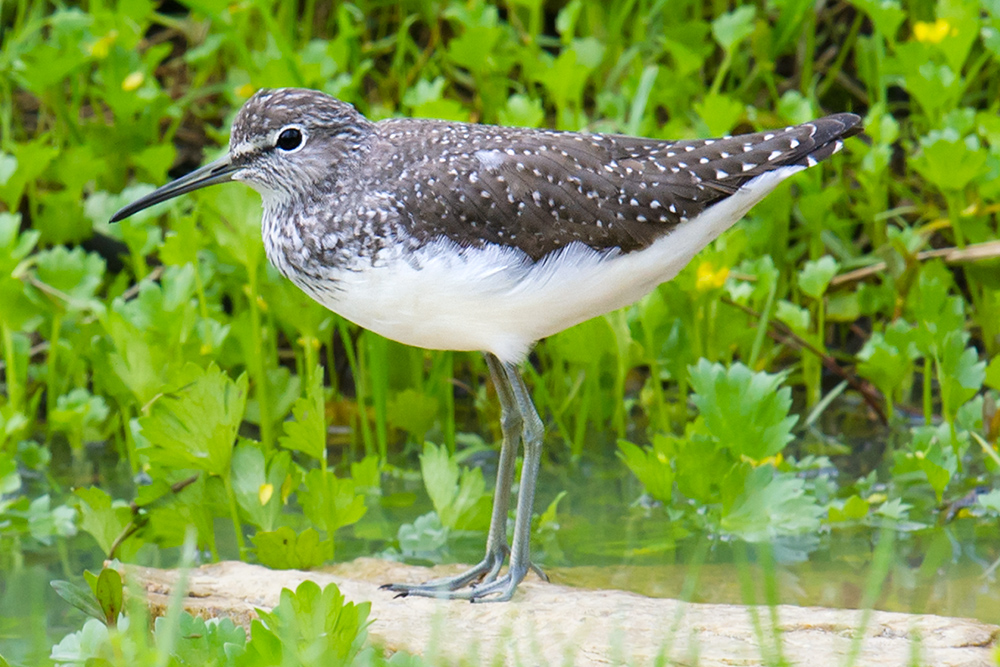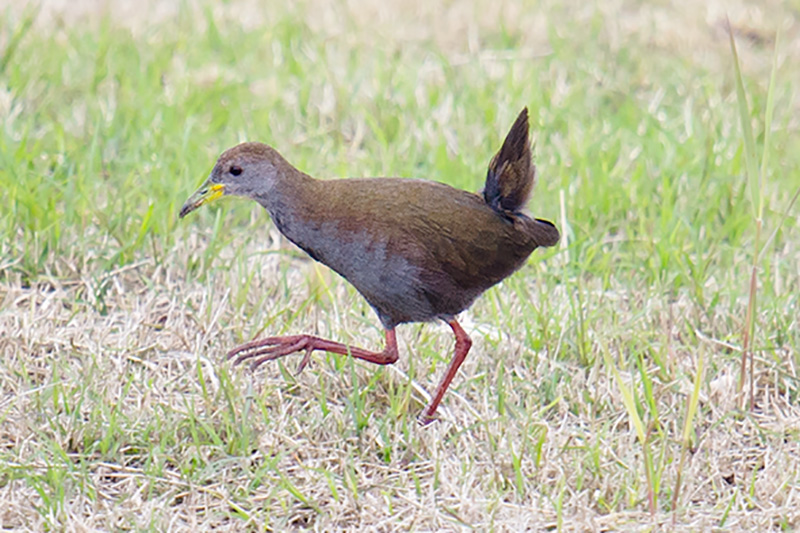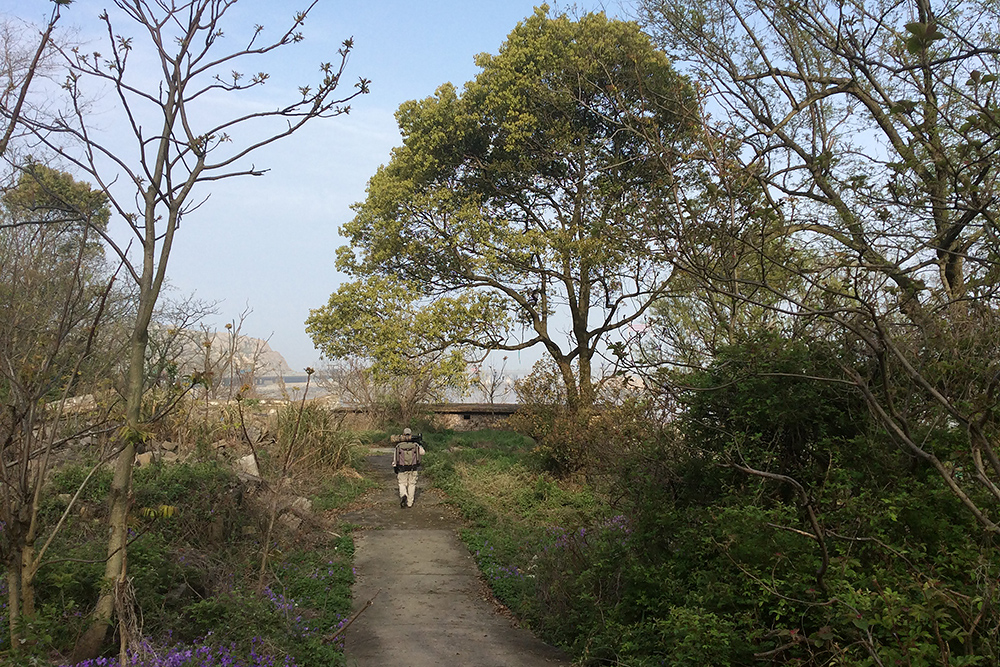 Featured image: Oriental Plover, Hengsha Island, Shanghai, 9 April. (Craig Brelsford)

Be notified every time we post. Send an
email with "Subscribe" as the subject to
info@shanghaibirding.com
Donate to Shanghai Birding!