Found at Cape Nanhui on Wed. 19 Oct. 2016: Pomarine Skua (called Pomarine Jaeger in North America). This first record for Shanghai was discovered by local birder Hé Xīn (何鑫) in the defunct nature reserve 1.4 km inland from the East China Sea. Kai Pflug was also on hand. Hé Xīn and Kai spread the news through our Shanghai Birding WeChat group, and the next day Elaine Du and I found the skua at the same spot (30.921625, 121.958940). The skua stayed four days, until Sat. 22 Oct.
The seabird appeared healthy, alternately feeding, preening, and roosting. Its plumage was shiny, and I saw no evidence of injury. It was a healthy refugee blown west by Typhoon Haima.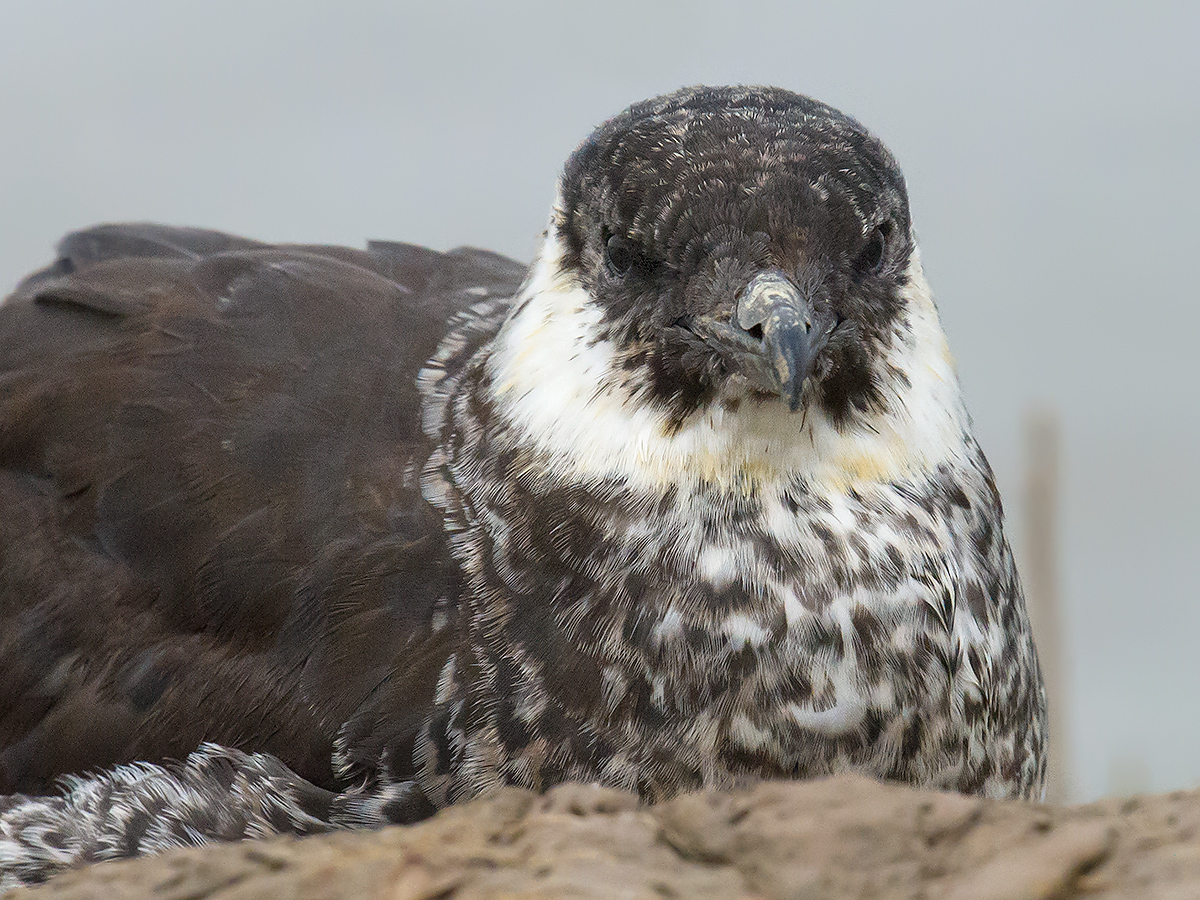 As sightings of skuas on the Chinese coast are rare, and because skuas have a bewildering array of plumages, at first there was some confusion about the species of our bird. It soon became clear that the vagrant was either Pomarine Skua Stercorarius pomarinus or Arctic Skua (IOC: Parasitic Jaeger) S. parasiticus. But which?
POMARINE ID BASICS
To answer that question, we needed photos, and so on Thurs. 20 Oct. Elaine and I drove to Cape Nanhui, the coastal birding site in Pudong.
We quickly found and photographed the bird. After examining our images, talking to other birders, and studying the books, we determined that it is a pale-morph adult pomarinus in non-breeding plumage. Here's why:
— S. pomarinus is larger and bulkier than the other jaegers (small skuas), in particular the jaeger that it most resembles, S. parasiticus. The jaeger we found was large and bulky.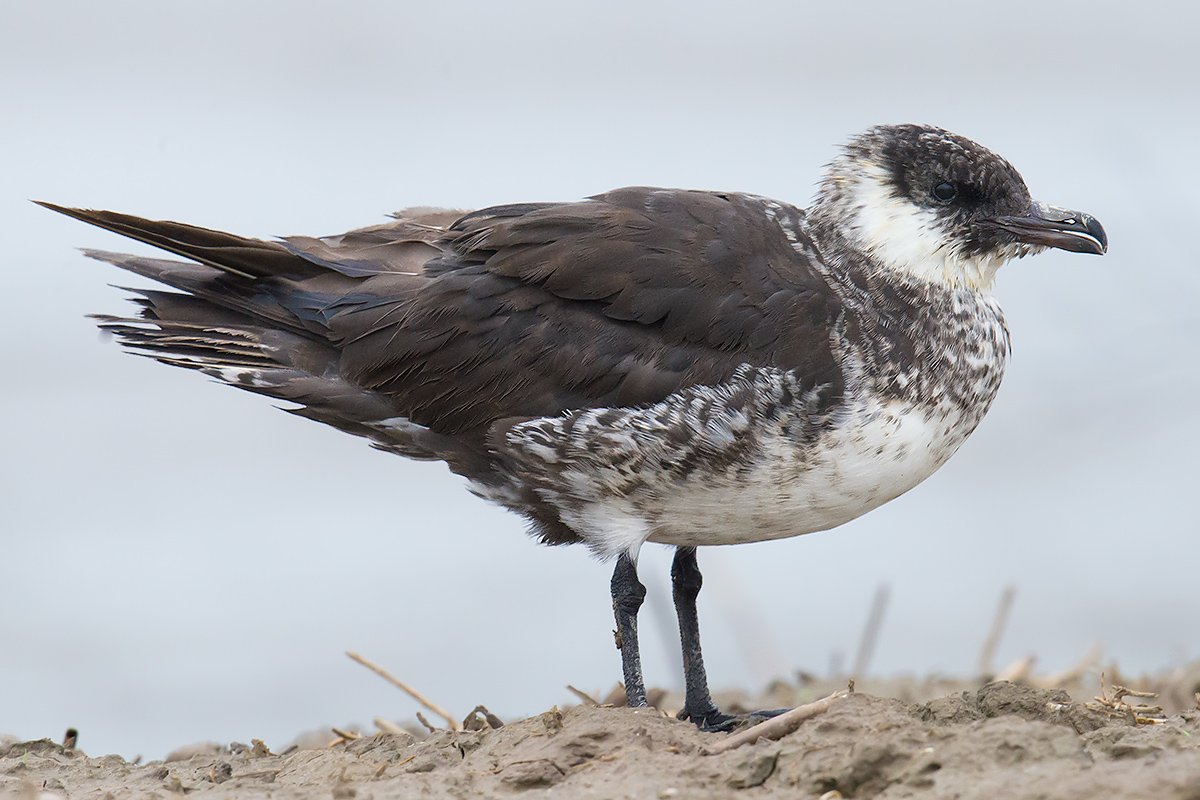 National Geographic describes pomarinus as a "bulky brute with a commanding presence [and a] thick bull-neck—a Rottweiler among the jaegers." S. pomarinus, Geographic adds, "is the bulkiest [jaeger] and appears pot-bellied and very deep at the chest. … Often it appears there is more body before the wing than behind the wing."
The image above is in line with that description. Below, another image illustrating the bulky shape and barrel chest.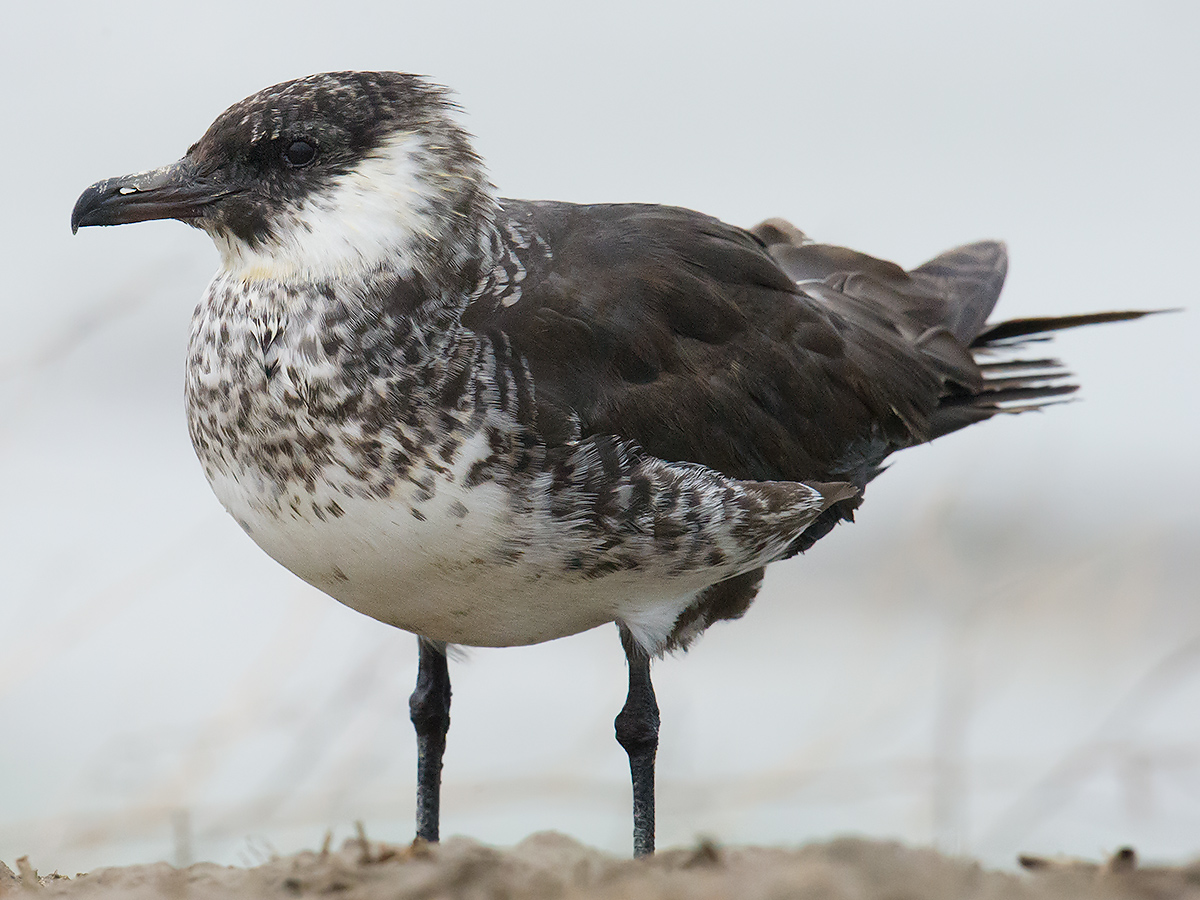 — In adult pale-morph pomarinus, the black helmet reaches below the gape, and black plumage surrounds the base of the bill. Most pale-morph parasiticus show a white spot at the base of the upper mandible and a less-extensive helmet that does not reach below the gape.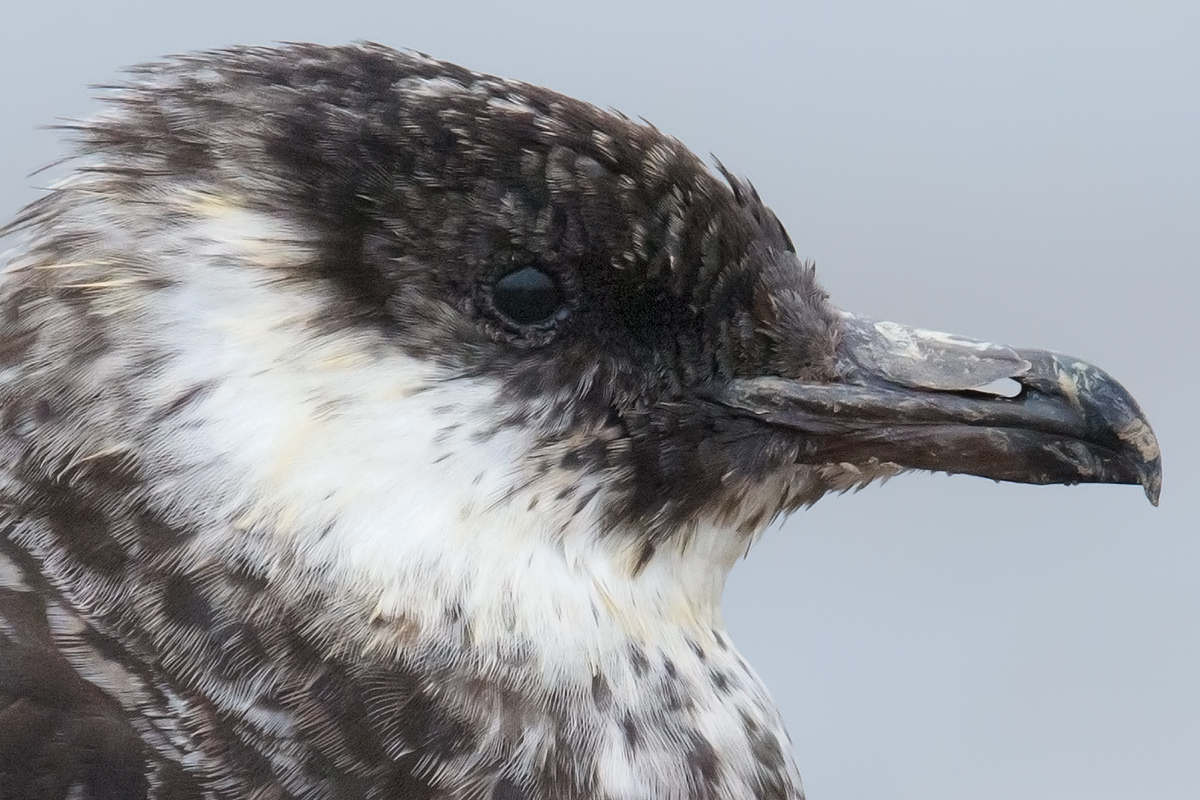 Below, another close-up of the head. Note here and above that, unusually for pomarinus, the bill appears almost all-black.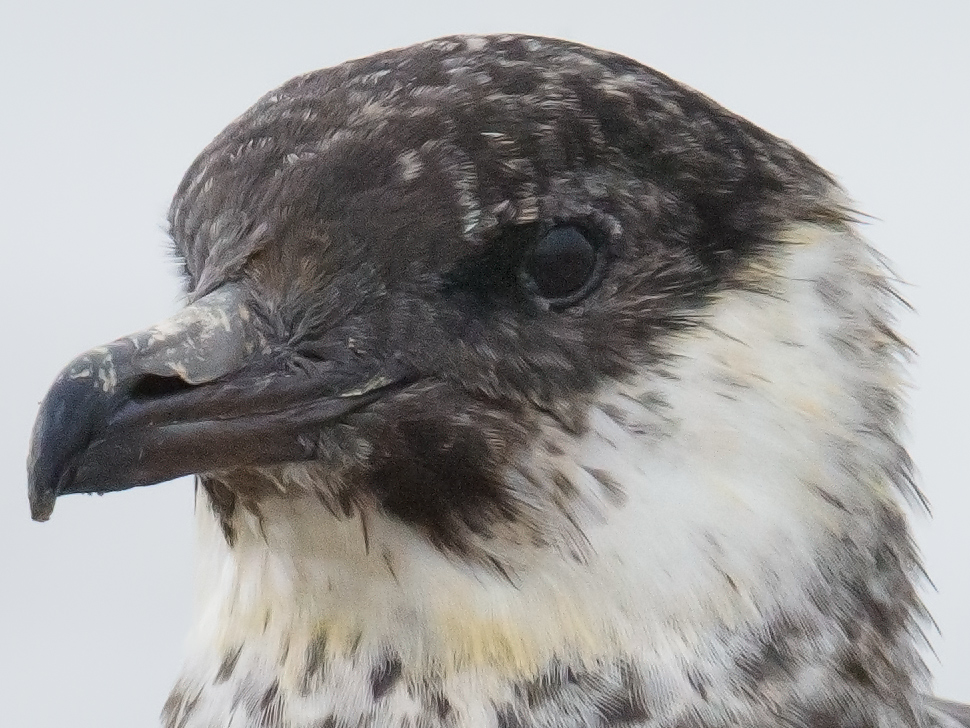 — Adult pale-morph pomarinus is more heavily barred than parasiticus. Most adult pale-morph pomarinus show a coarse breast band and dark barring on the flanks. Most adult pale-morph parasiticus show a diffuse greyish-brown breast band and lack barring on the flanks.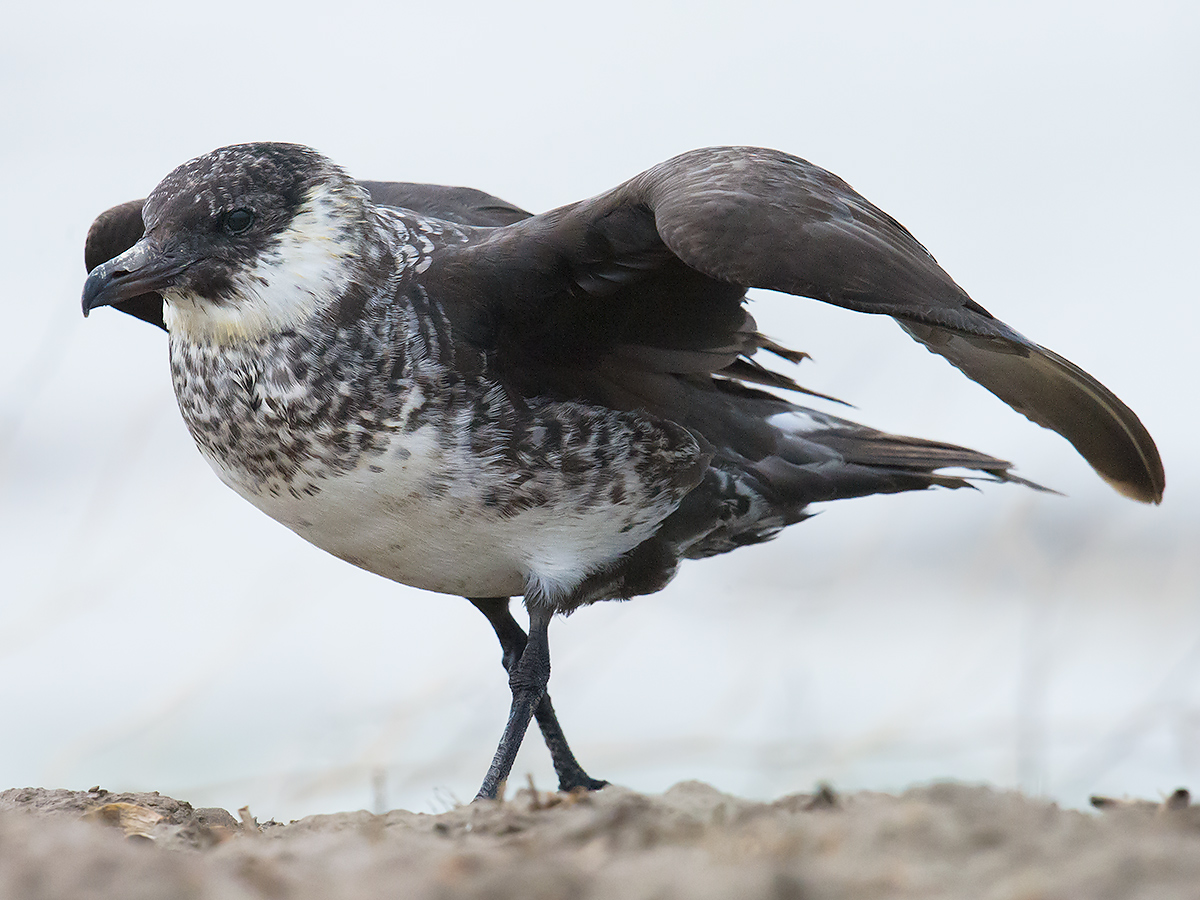 There are several other ID points, some of them, such as tail streamers, not visible in The Shanghai Skua. The points discussed above, however, are enough, we think, to clinch the ID.
OTHER PHOTOS
Enjoy these other photos of the rarity.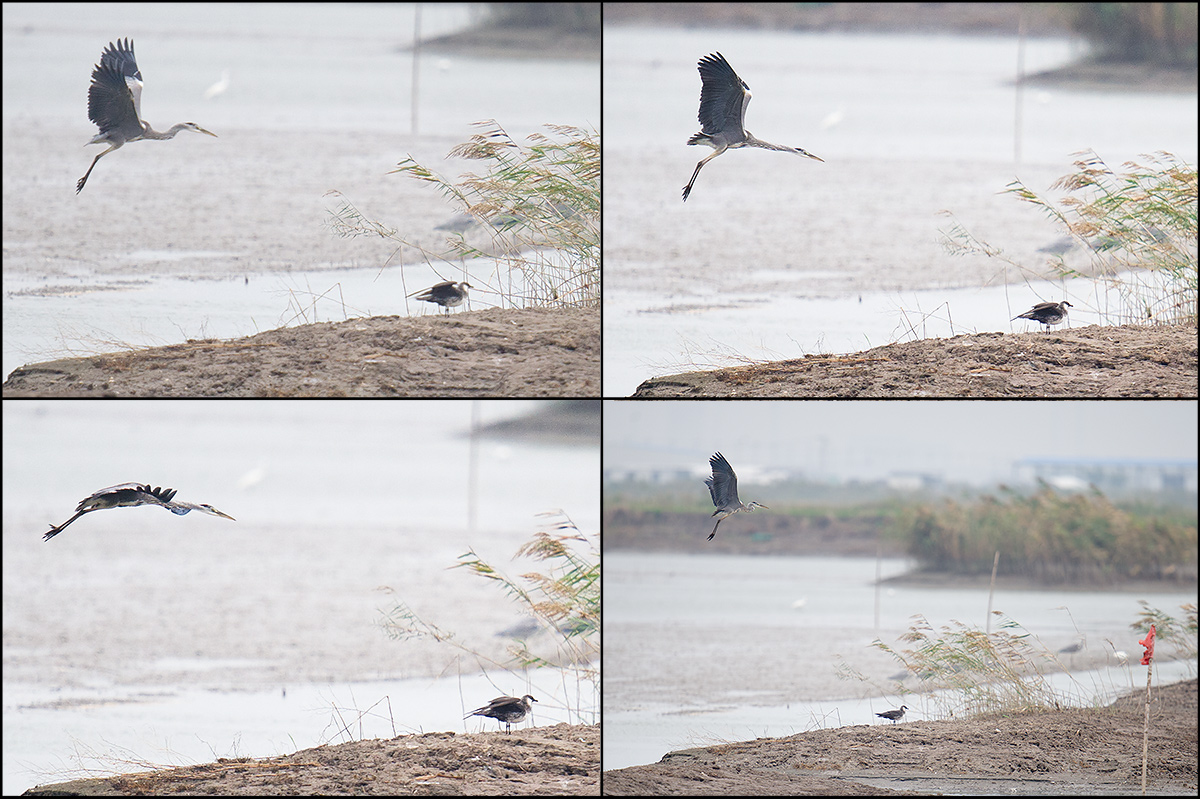 The skua was very tame and performed various functions in its unaccustomed surroundings. It scratched itself (below), bathed, scavenged dead fish, and occasionally took short flights.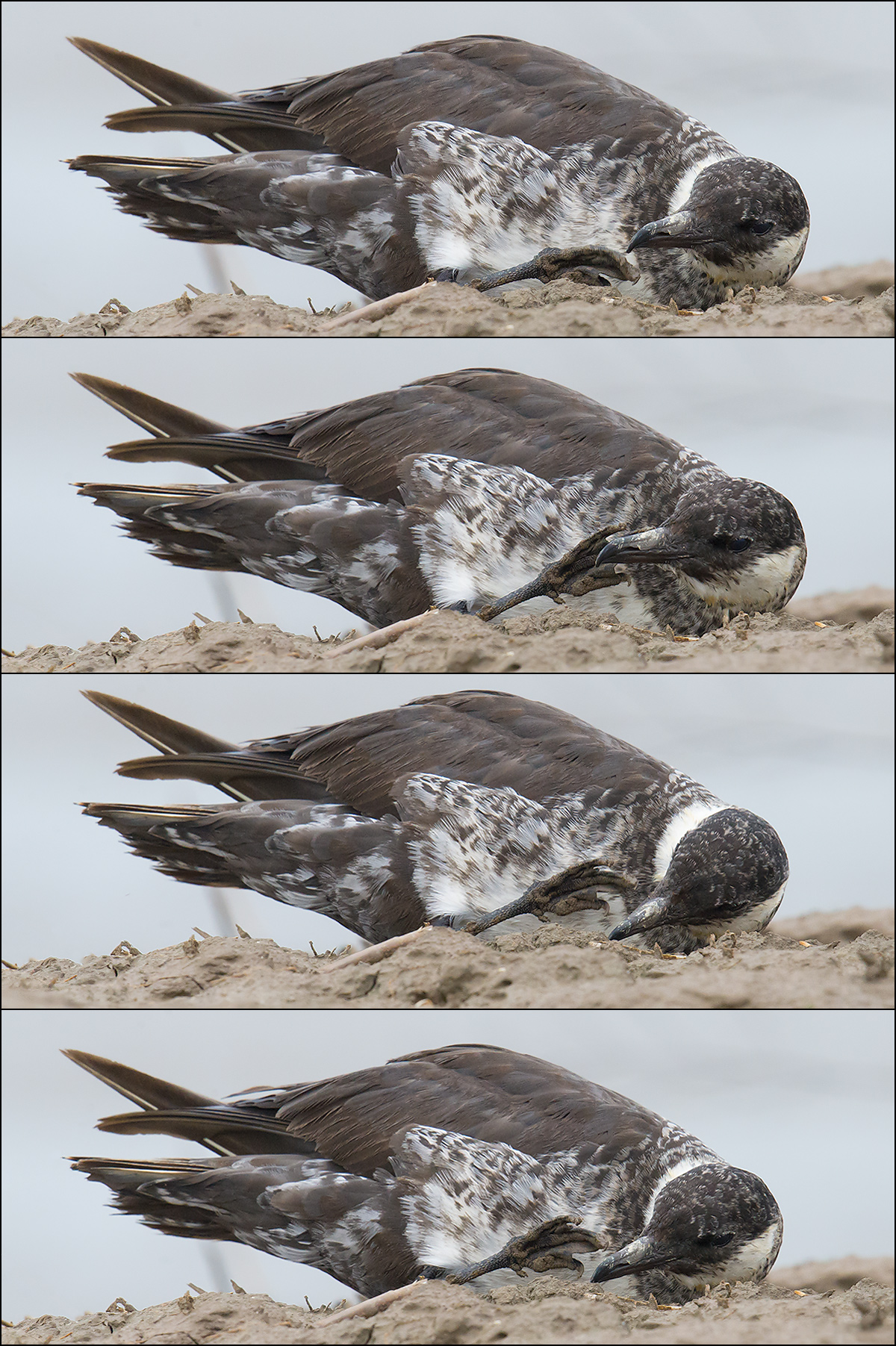 Its most common activity was roosting on the mud bank.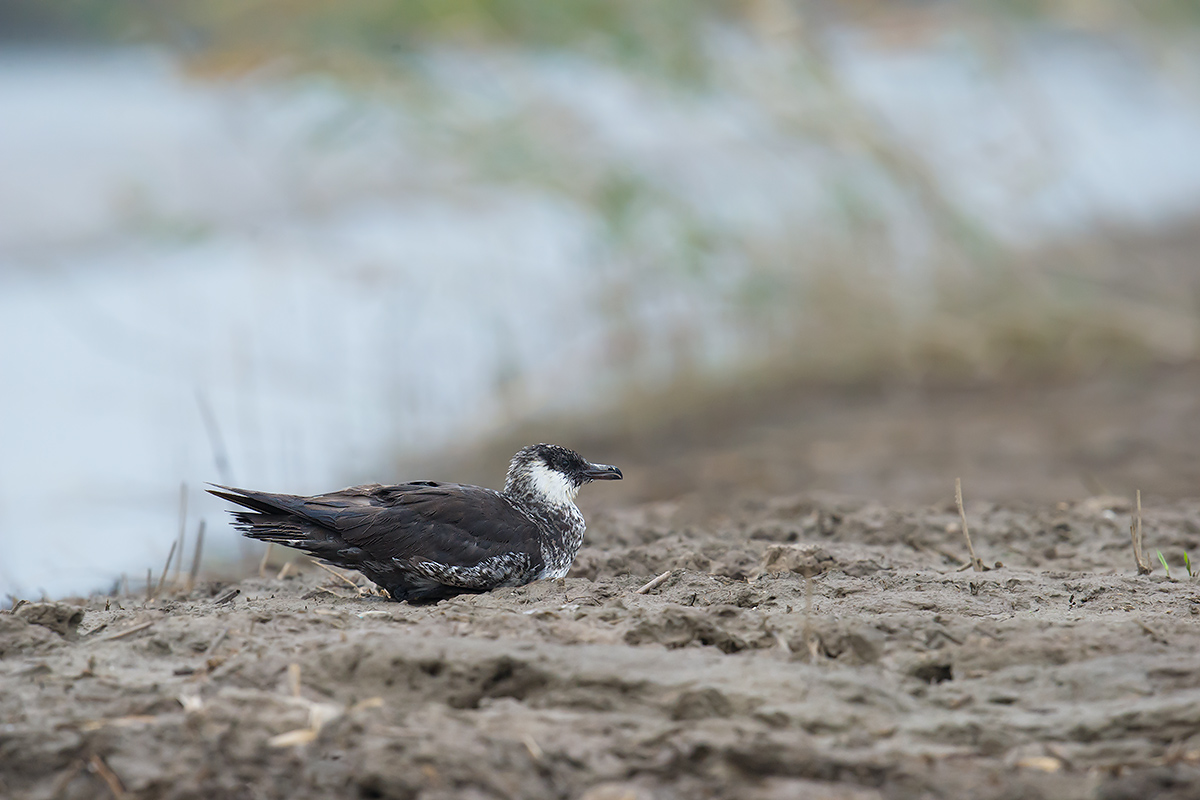 Kai Pflug got the photo below of the skua with wings upraised. Note the unbarred underwing and pale flash at the base of the primaries, further evidence that the skua is an adult.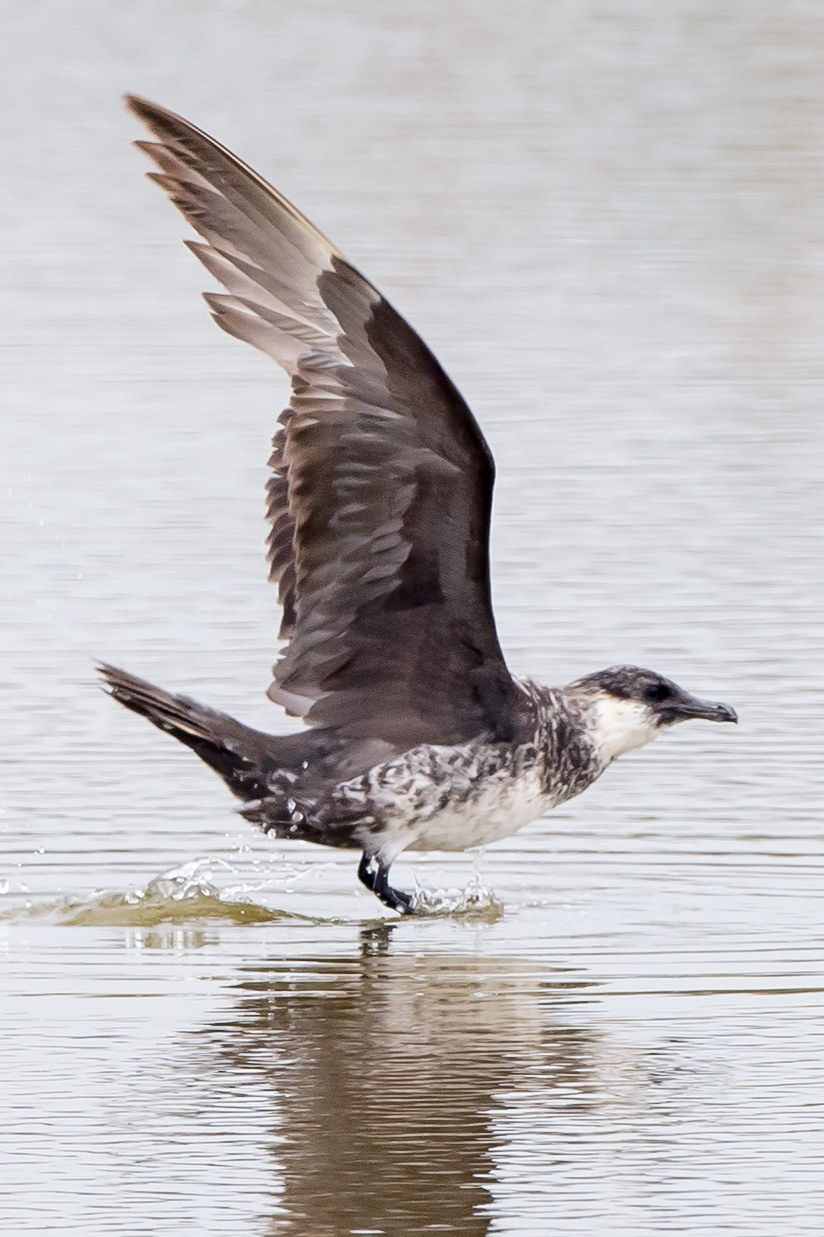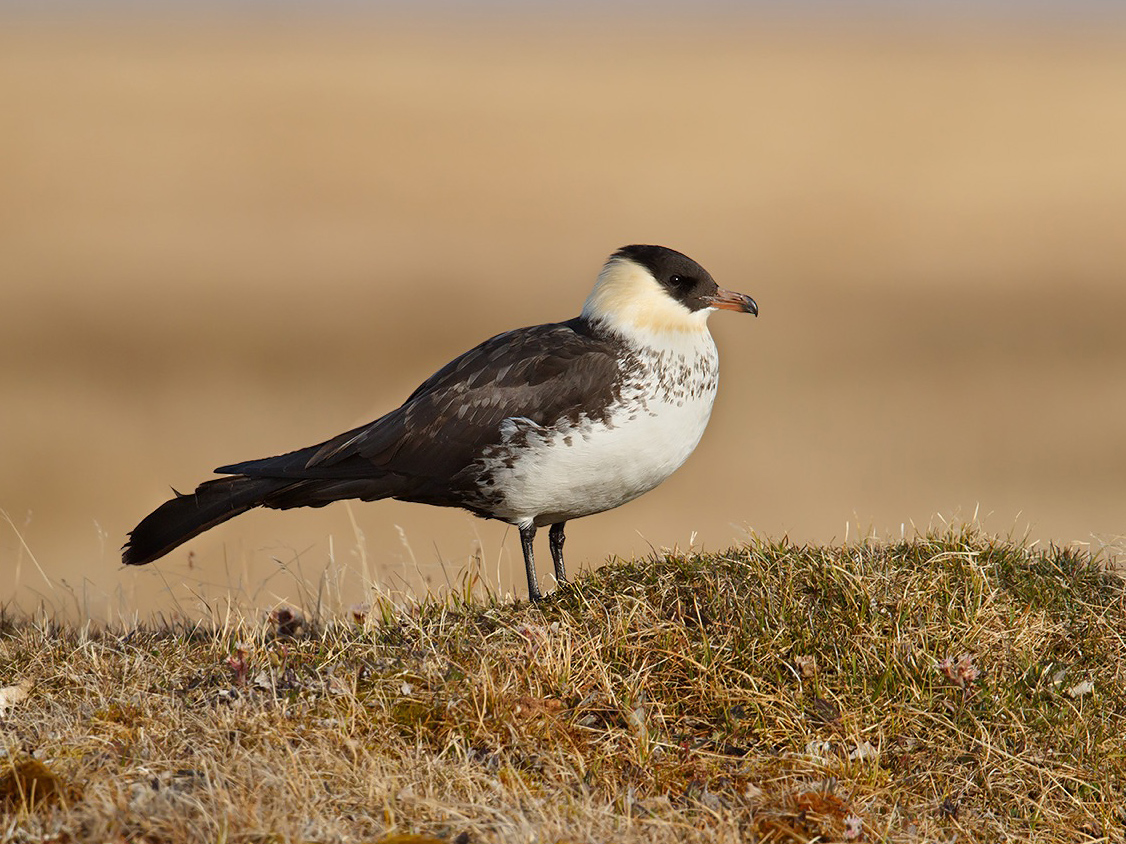 Hé Xīn (below) found The Shanghai Skua on Wed. 19 Oct. 2016, a historic first record for Shanghai. The next day I met Hé Xīn at the site.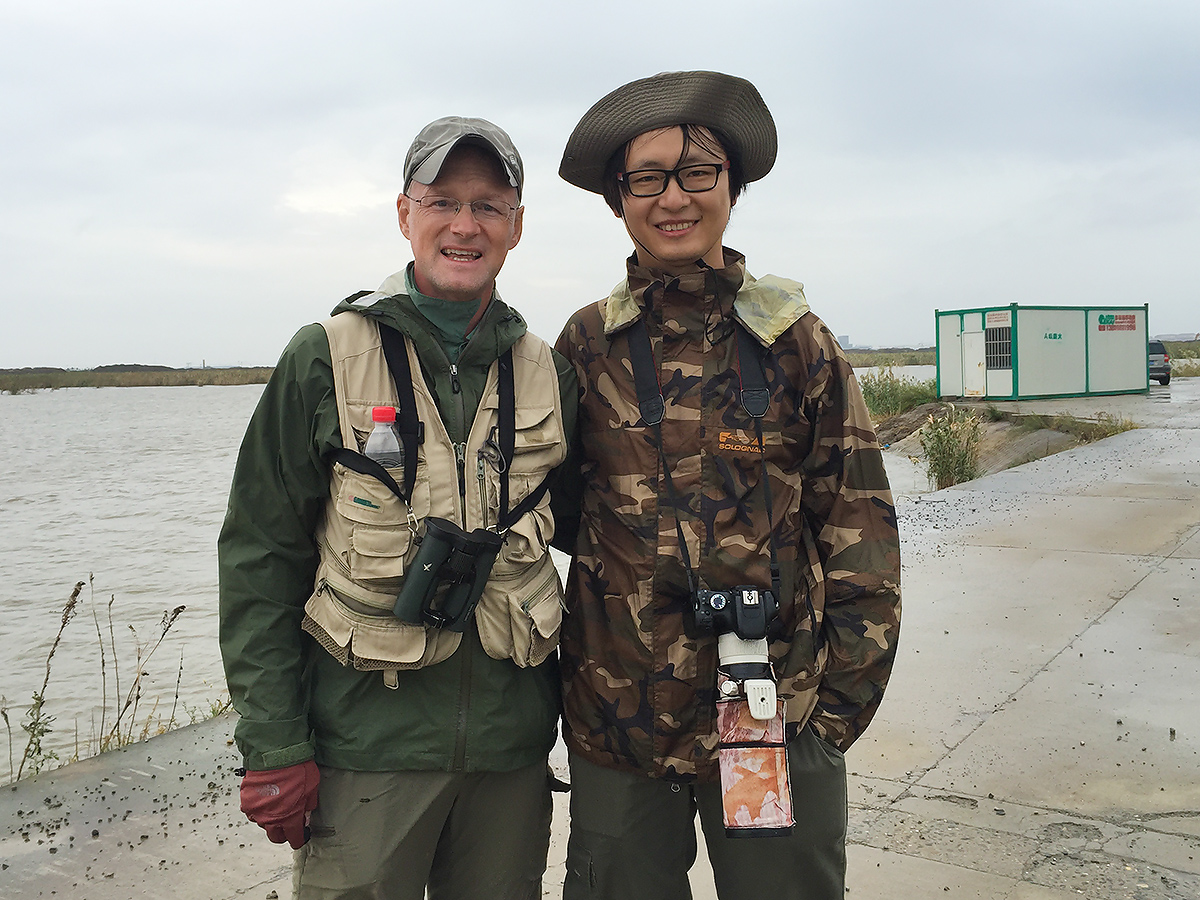 RARE AUTUMN RECORD OF NARCISSUS FLYCATCHER
On Thurs. 20 Oct. and Sun. 23 Oct. 2016, Elaine Du and I birded Nanhui and the sod farm south of Pudong Airport (31.112586, 121.824742). On 23 Oct. Elaine and I were joined by British birder Michael Grunwell. The two days yielded 92 species. After the Pomarine Jaeger, the big news was rare autumn sightings of Narcissus Flycatcher, another record of Nordmann's Greenshank, and still more evidence that the highly threatened Nanhui wetland is much depended on by Black-faced Spoonbill.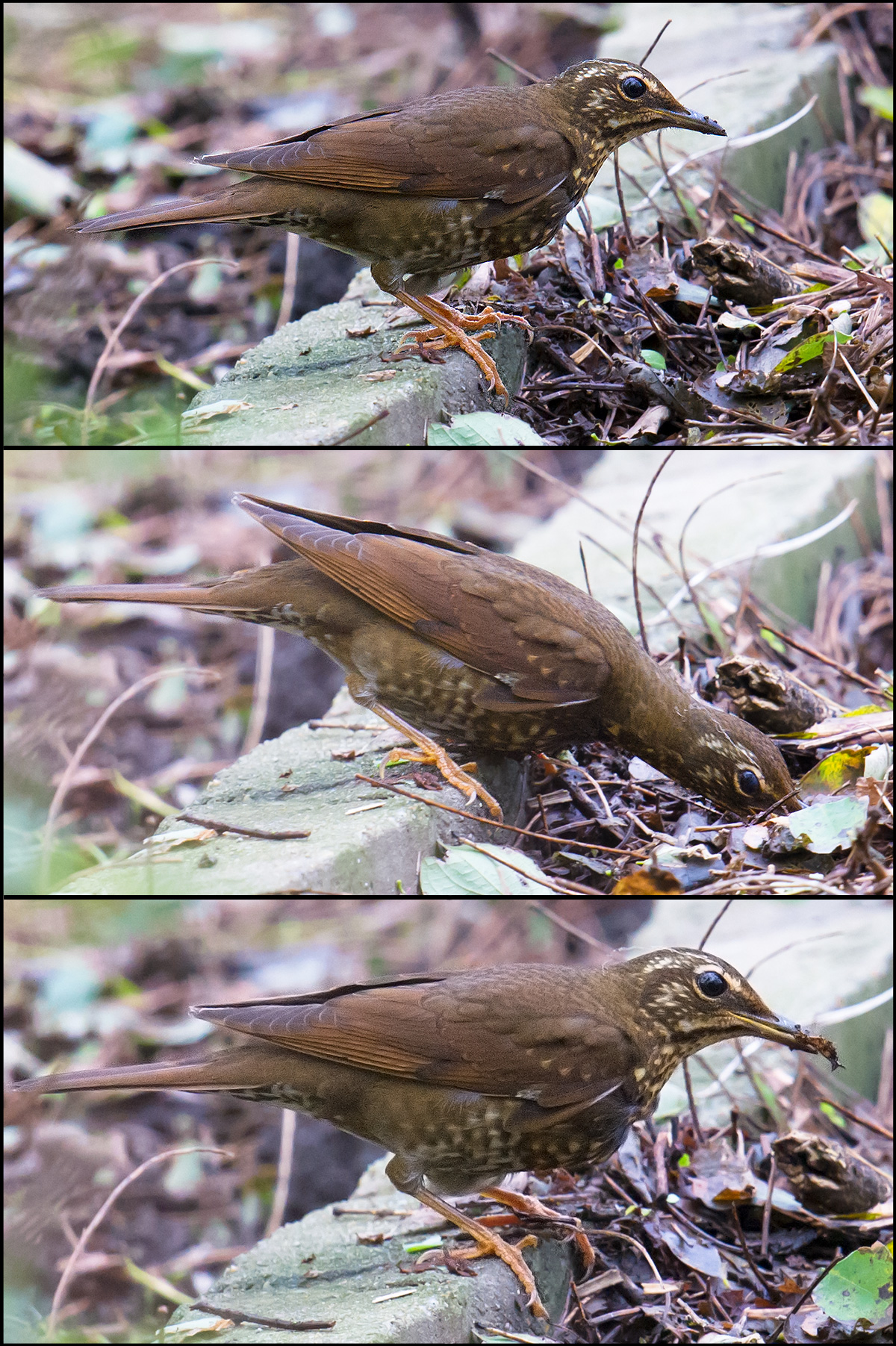 On 20 Oct. in the canal at the base of the sea wall at Nanhui, Elaine and I had 18 Mandarin Duck and 2 season's first Greater Scaup. On 23 Oct., the Nanhui microforests yielded Eurasian Woodcock, Ashy Minivet, Siberian Thrush, Red-throated Thrush, and season's first Pale Thrush. A male Siberian Rubythroat popped out of the undergrowth and a Northern Boobook dozed before a crowd of photographers. At the line of trees (30.859995, 121.910061) near South Lock, 6 km south of the Magic Parking Lot (30.882688, 121.972489), we had season's first Tristram's Bunting. Dishui Lake (30.908702, 121.945124) is attracting ducks again, the most notable Sunday being season's first Tufted Duck and Common Pochard.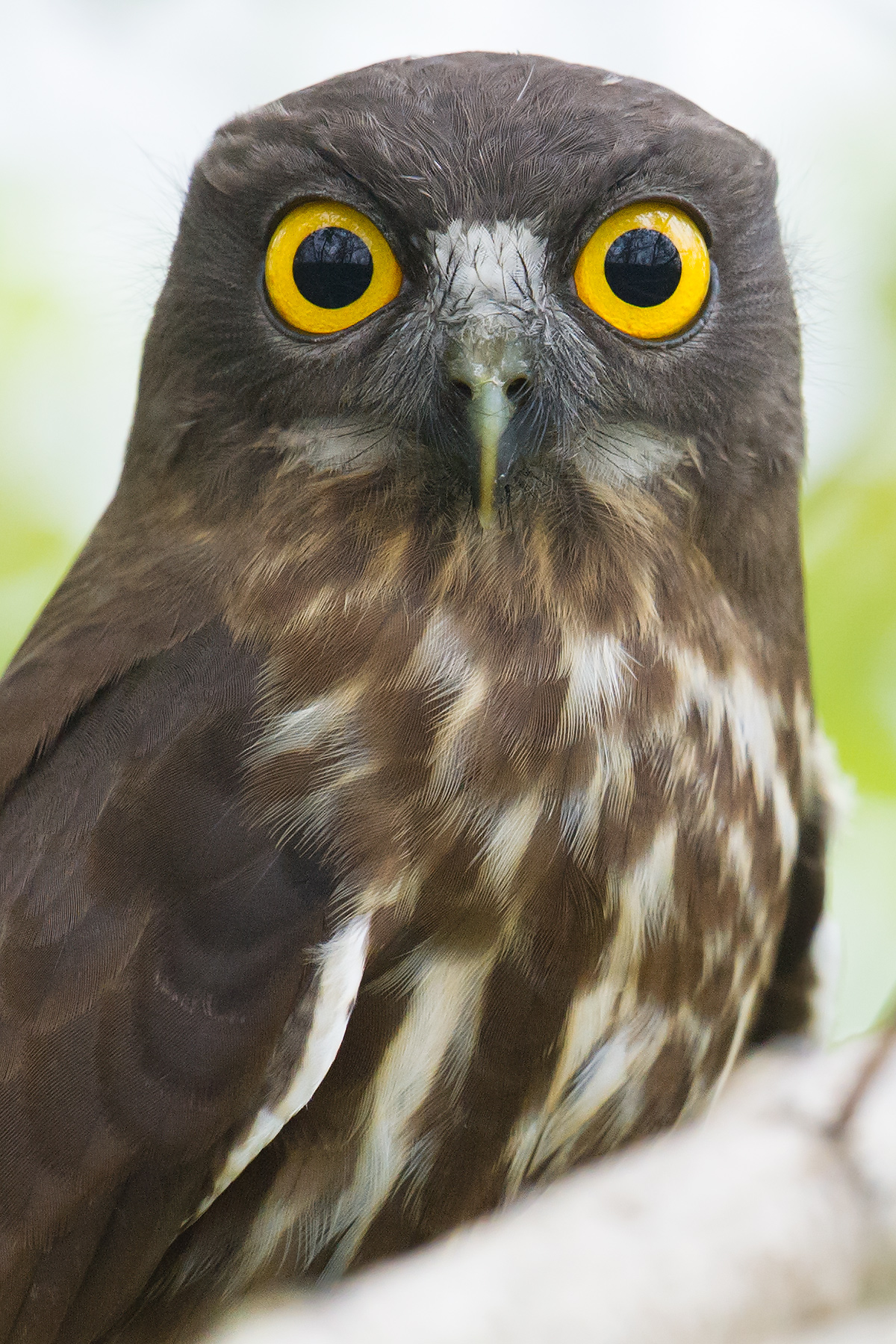 The sod farm, which we visited Sunday morning, and which lies just off the S32 freeway, was worth the small investment of time required to get there. The grassy area gave us an unusually large (80) group of Red-throated Pipit. In Nanhui, we have been experiencing this species only in fly-by mode, but at the farm dozens of them were feeding on the ground. Michael and I studied the pipits carefully and concluded the group was pure Red-throated; we saw not a single Buff-bellied Pipit.
Ducks are once again gracing the canals and ponds of Nanhui. The most numerous were, as expected, Eastern Spot-billed Duck (285 over the two days) and Eurasian Teal (270 on 23 Oct.). Less numerous was Eurasian Wigeon, and there were sprinklings of Gadwall, Mallard, Northern Shoveler, Northern Pintail, and Garganey.
OTHER NOTES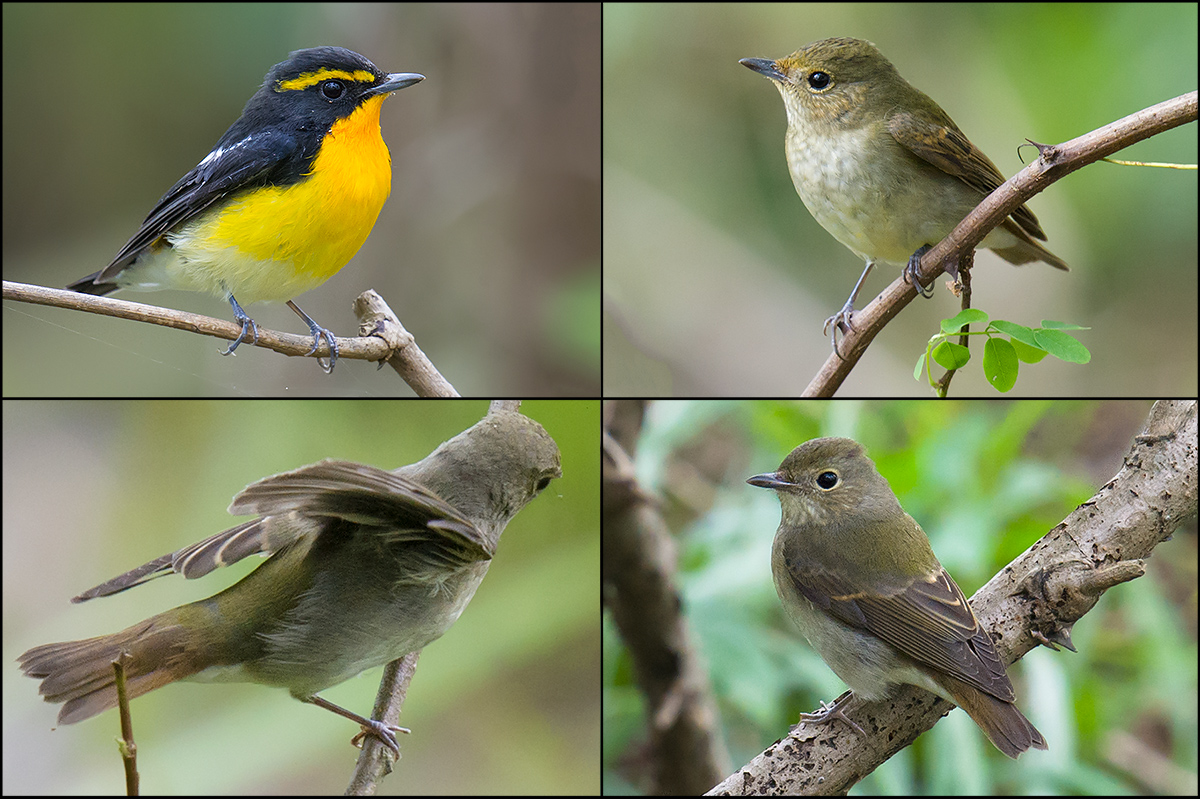 — Uniquely among the Shanghai region's passage-migrant flycatchers, most of which appear in roughly equal numbers on both the spring and autumn migrations, Narcissus Flycatcher appears almost exclusively on the spring migration. We were therefore pleasantly surprised Sunday to see the three males and three females. Did Typhoon Haima send them our way? What are the migration patterns of this beautiful flycatcher?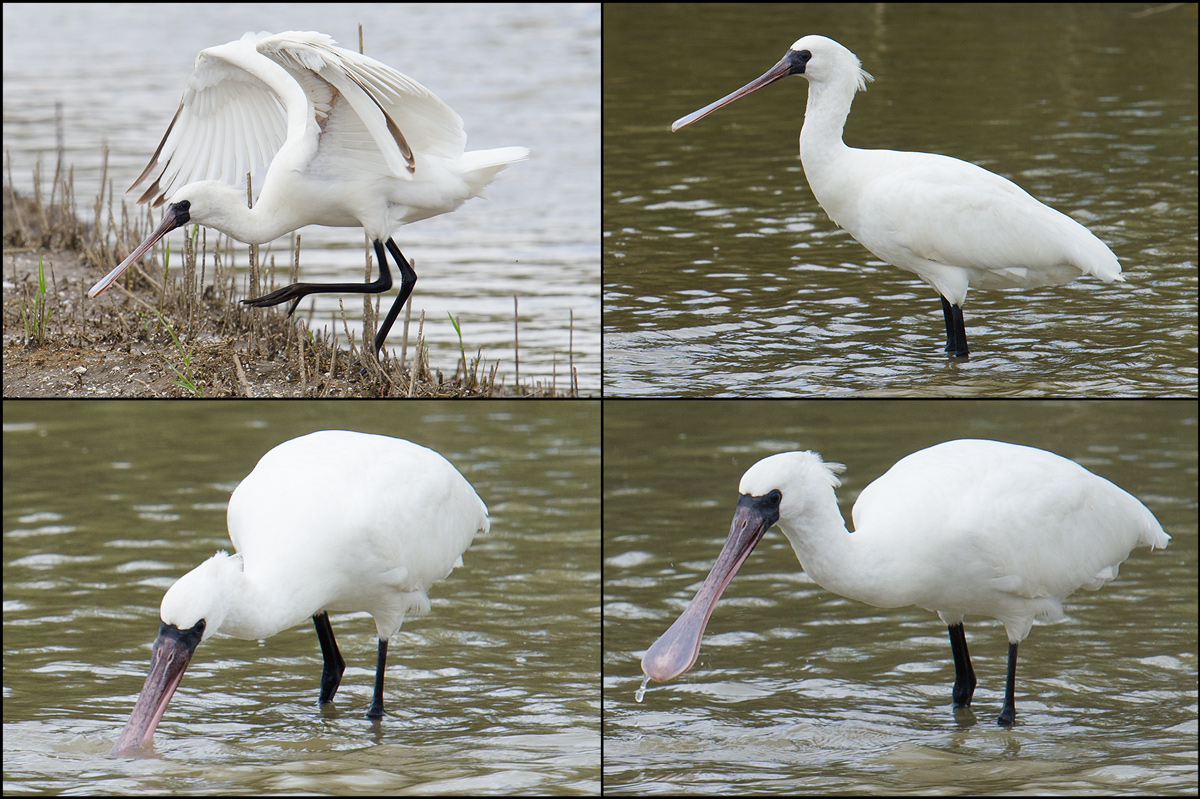 — The importance of the Nanhui wetlands—as well as the dangers they face—can hardly be overstated. On 20 Oct. at the skua site, Hé Xīn told me that the defunct wetland in which we were standing would already have been utterly transformed by now had it not been for the intervention of Chinese birders, who secured a one-year delay. Within a radius of a few hundred meters of the skua site stood 24 endangered Black-faced Spoonbill and an endangered Nordmann's Greenshank. The dependence of Black-faced Spoonbill on the defunct wetland reserve is obvious and could be demonstrated by a group of high-schoolers doing a science project. Shanghai lies at the mouth of one of Earth's greatest waterways (the Yangtze River) and is a major point on Earth's greatest migratory flyway—yet this wealthy city, a world financial center with a rich natural heritage, entirely lacks an easily accessible wetland reserve on its mainland. The one, weak attempt—the defunct Nanhui reserve, with its crumbling buildings, torn-up boardwalk, and rotting signs—stands near the gallows, in the nick of time being given a stay of execution. And yet, even now, the defunct reserve, mismanaged, unloved, and undervalued, even now the place still attracts Class A birds! When, oh when, will the Shanghai government and Shanghai people learn to value at their true worth their spoonbills, greenshanks, and vagrant skuas? When, I ask, will they see as an asset to be cherished, and not a burden to be cast away, the thousands of birds that migrate through Earth's greatest city? When will the Shanghai people apply their renowned cleverness and skill to protecting, rather than dredging up the home of, the symbol of their city, Reed Parrotbill? When will Shanghai take a cue from Hong Kong and build its own Mai Po? When will it follow the example of Singapore and create its own Sungei Buloh?
PHOTOS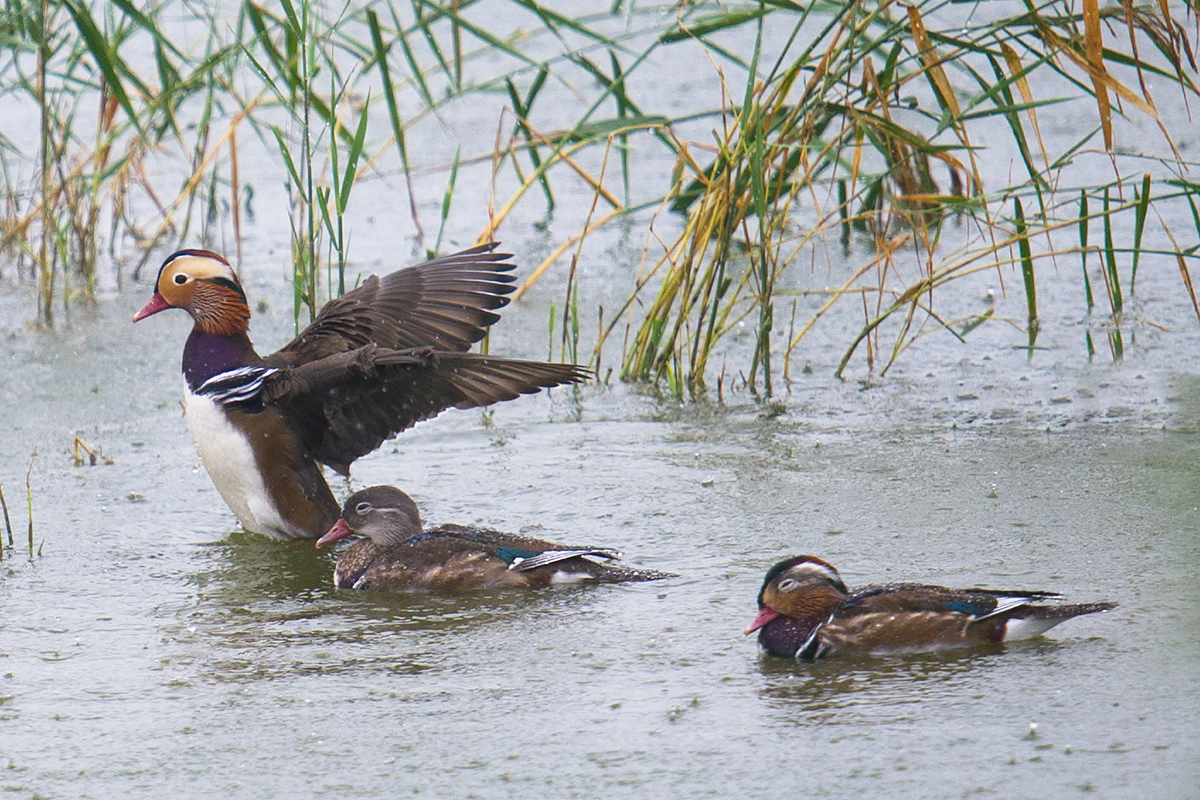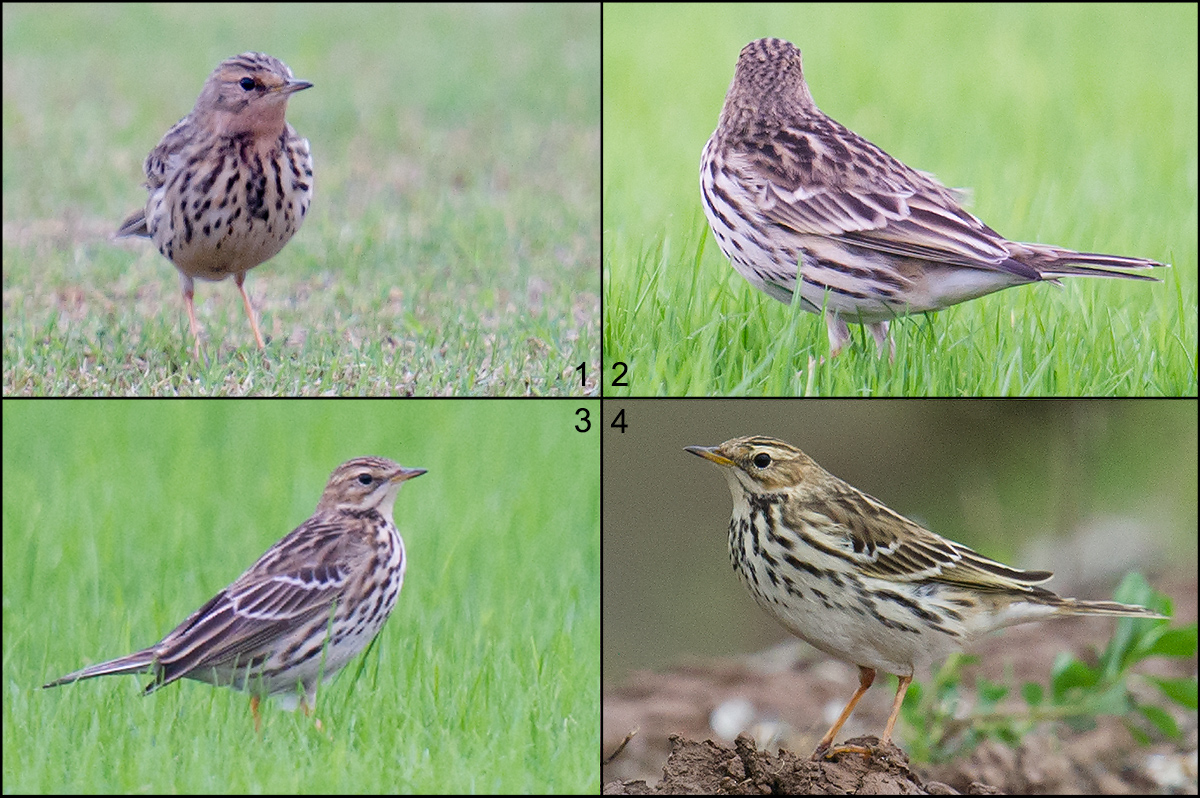 BIBLIOGRAPHY
Note: Nearly every major field guide covers skuas, a cosmopolitan family. This is a partial list showing the main works I consulted as I researched Stercorariidae.
Alderfer, Jonathan, ed. National Geographic Complete Birds of North America. National Geographic Society, 2006. Section "Skuas, Gulls, Terns, and Skimmers" by N.G. Howell and Alvaro Jaramillo. Jaegers, pp. 237-9.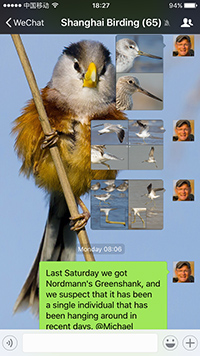 Brelsford, Craig, moderator. Shanghai Birding, a WeChat chat group. News about the sighting of Pomarine Skua was disseminated by Hé Xīn and Kai Pflug through this chat group.
Brazil, Mark. Birds of East Asia. Princeton University Press, 2009. Skuas, pp. 230-3.
Grimmet, Richard & Carol Inskipp & Tim Inskipp. Birds of the Indian Subcontinent. Christopher Helm, 2011. Pomarine Skua and Arctic Skua, p. 182.
Peterson, Roger Tory & Virginia Marie Peterson. Birds of Eastern and Central North America, 5th ed. Houghton Mifflin, 2002. Jaegers, p. 168.
Svensson, Lars & Killian Mullarney & Dan Zetterström. Collins Bird Guide, 2nd ed. HarperCollins, 1999-2009. Skuas, pp. 174-7.