Editor's note: John MacKinnon is co-author of A Field Guide to the Birds of China, the most influential book ever written about the birds of China. Herewith we present "Well-spotted in the Bamboo," MacKinnon's third guest post for our site. MacKinnon introduces the bird community of Jinfoshan, the highest peak in the Dalou Mountains in the city-province of Chongqing. MacKinnon's bird of the trip was Spotted Laughingthrush (above), a "quiet, gentle bird" of mountain forests and one of seven species of laughingthrush at Jinfoshan. — Craig Brelsford
by John MacKinnon
for shanghaibirding.com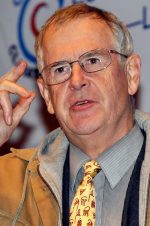 I recently was invited to join a workshop of the China Bird Watching Association to review three years' monitoring of wintering data on Scaly-sided Merganser. The attraction was that the meeting was to be held in Jinfoshan National Nature Reserve in Nanchuan District, Chongqing. So I added a day to my trip for birdwatching and ended up on the top of this spectacular mountain for three days. Whilst floods were raging in Hubei and Anhui, we 40 birdwatchers enjoyed beautiful weather—blue skies and only occasional quick showers of rain to liven up the bird life.
At an elevation of 2251 m (7,385 ft.), Jinfoshan is the highest peak in the Dalou Mountains. The reserve was recently added to the South China Karst World Heritage Site. It is also listed as an important bird area on account of its having Reeves's Pheasant. Jinfoshan combines ease of access with great birding trails and pristine habitats. It deserves much more attention, but it is not well-known to most birders.
Jinfoshan offers a great chance to view vertical stratification of flora and fauna, since you rise quickly—at first by shuttle bus and then by cable car through the subtropical evergreen valleys, temperate mixed forests, and finally subalpine forest and meadows.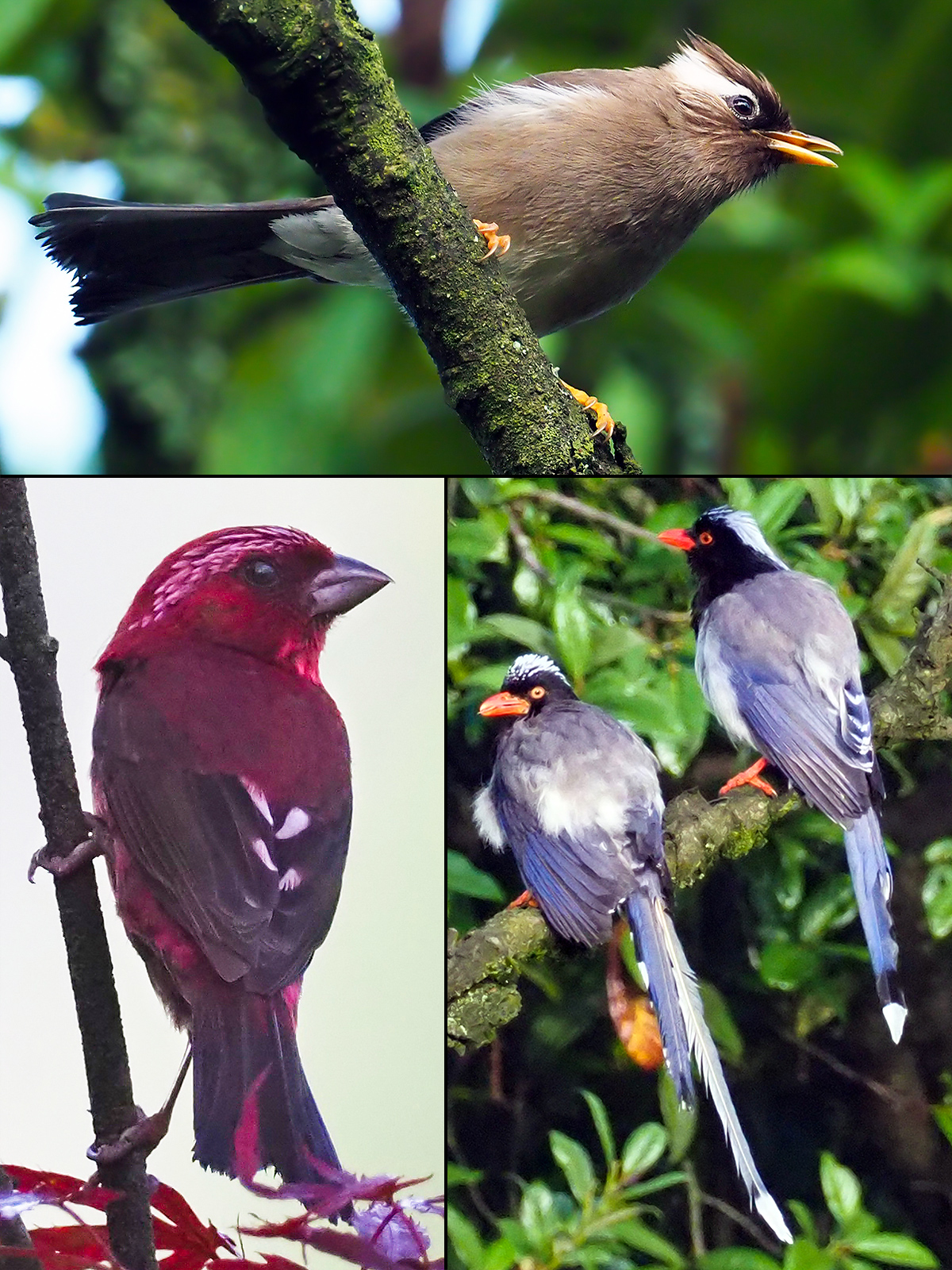 I did not have time to explore the lower levels, but even whilst waiting for the shuttle bus we could see Red-billed Blue Magpie, Hair-crested Drongo, Blue Whistling Thrush, Russet Sparrow, and Plumbeous Water Redstart. Overhead circled Crested Honey Buzzard.
Our meetings were in a fancy five-star hotel. My own room had a bath big enough to swim in! But the real attraction was to get out into the surrounding forest whenever the meeting schedule gave us a chance.
Not that the meeting was not interesting in itself! I was impressed to see so many motivated and very professional presentations by the various monitoring teams. More rivers and reservoirs get monitored each year, and more than 1,000 wintering Scaly-sided Merganser were recorded in the winter of 2016-17. The Association has also done a magnificent job in developing the species as a lovable and charismatic emblem of conservation in China.
Even from the hotel windows and gardens there were plenty of birds to see. Olive-backed Pipit and White Wagtail were nesting on the grassy flat roof, and Verditer Flycatcher perched temptingly on prominent perches (though proved skittish for photography). The woods echoed to the calls of Large-billed Leaf Warbler and Bianchi's Warbler. Green-backed Tit were in full breeding plumage; White-collared Yuhina was the most visible bird. The most beautiful of the common birds was certainly Vinaceous Rosefinch, the males of which were gorgeous in their deep purple plumage.
The cable-car ride offered amazing views of the deep gorges and lush forests. Great flocks of swifts circled their nesting sites on the sheer limestone cliff faces. In fact, these were mixed flocks, with Pacific Swift, House Swift, Himalayan Swiftlet, and Asian House Martin all visible.
Enter the woods and you meet a different complex of birds. The undergrowth is thick with bamboo, and indeed this site was historically within the range of Giant Panda and may again be considered as a site for reintroduction.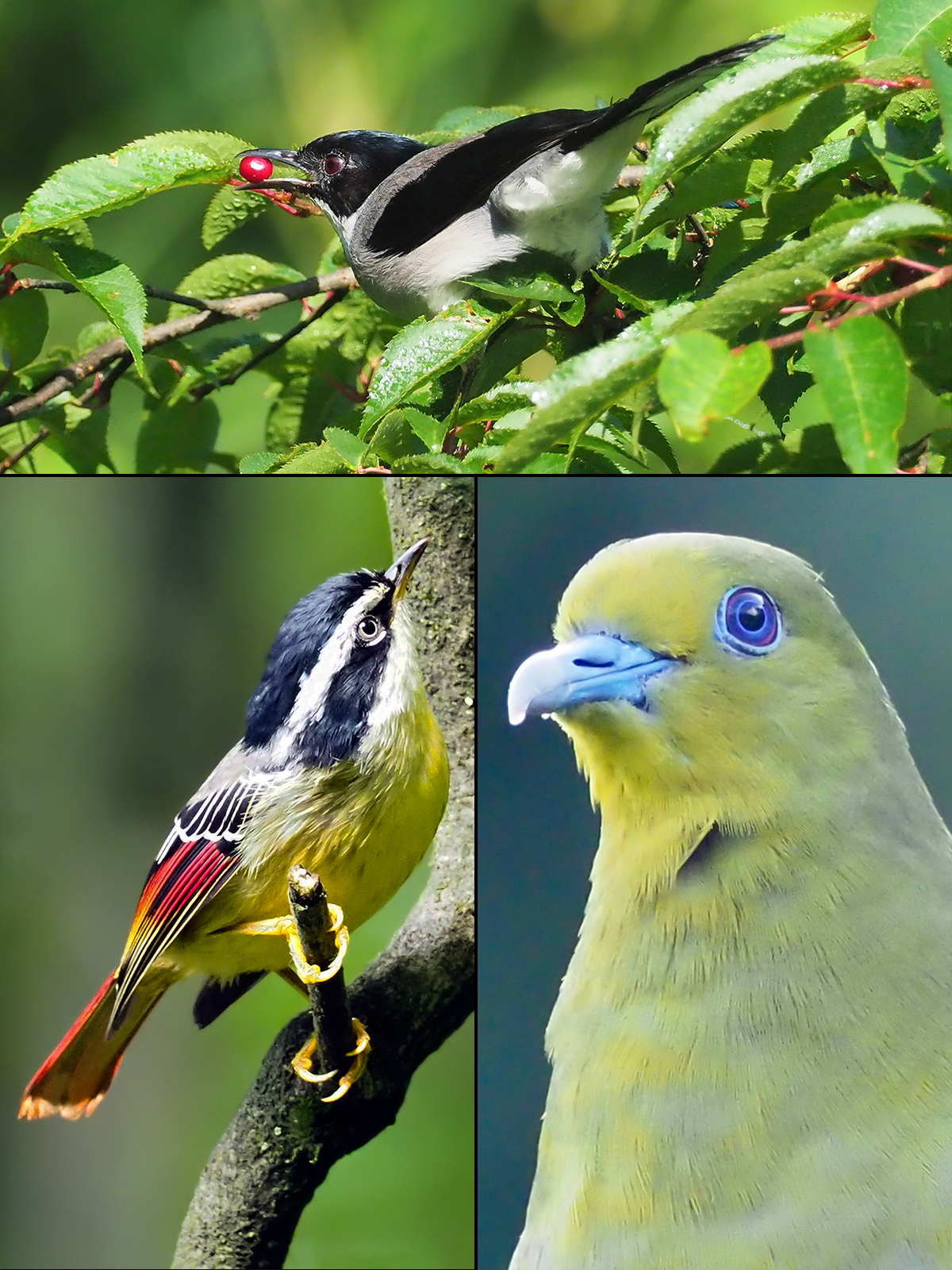 A rustling in the trees revealed feeding White-bellied Green Pigeon. Busily collecting moths and other insects were Red-tailed Minla, whilst the Blue-winged Minla were more leisurely preening each other after a morning bath. Black-headed Sibia sneaked in and out to collect small fruits. Flocks of Grey-hooded Fulvetta rattled alarm in the bamboo in mixed flocks with Rufous-capped Babbler and some very pretty Black-throated Parrotbill.
Whilst colleagues at the merganser meeting swarmed the site with an array of expensive cameras and optics, I stayed deep in the forests, looking for laughingthrushes. I was jealous of the others getting nice photos of Slaty Bunting and White-bellied Redstart, but I had my own rewards in the damp bamboo.
One of the most extraordinary bird calls consists of many dozens of high-pitched notes merging together into a prolonged whistle. The entire call lasts almost a minute, but the caller is elusive. Finally I nailed it down and photographed the caller in the act—an elusive Yellow-bellied Bush Warbler.
Another bird making loud and rather melodious calls was Red-billed Leiothrix working their way among the undergrowth collecting food for their nearby nestlings. Chinese Babax sneaked about on the forest floor.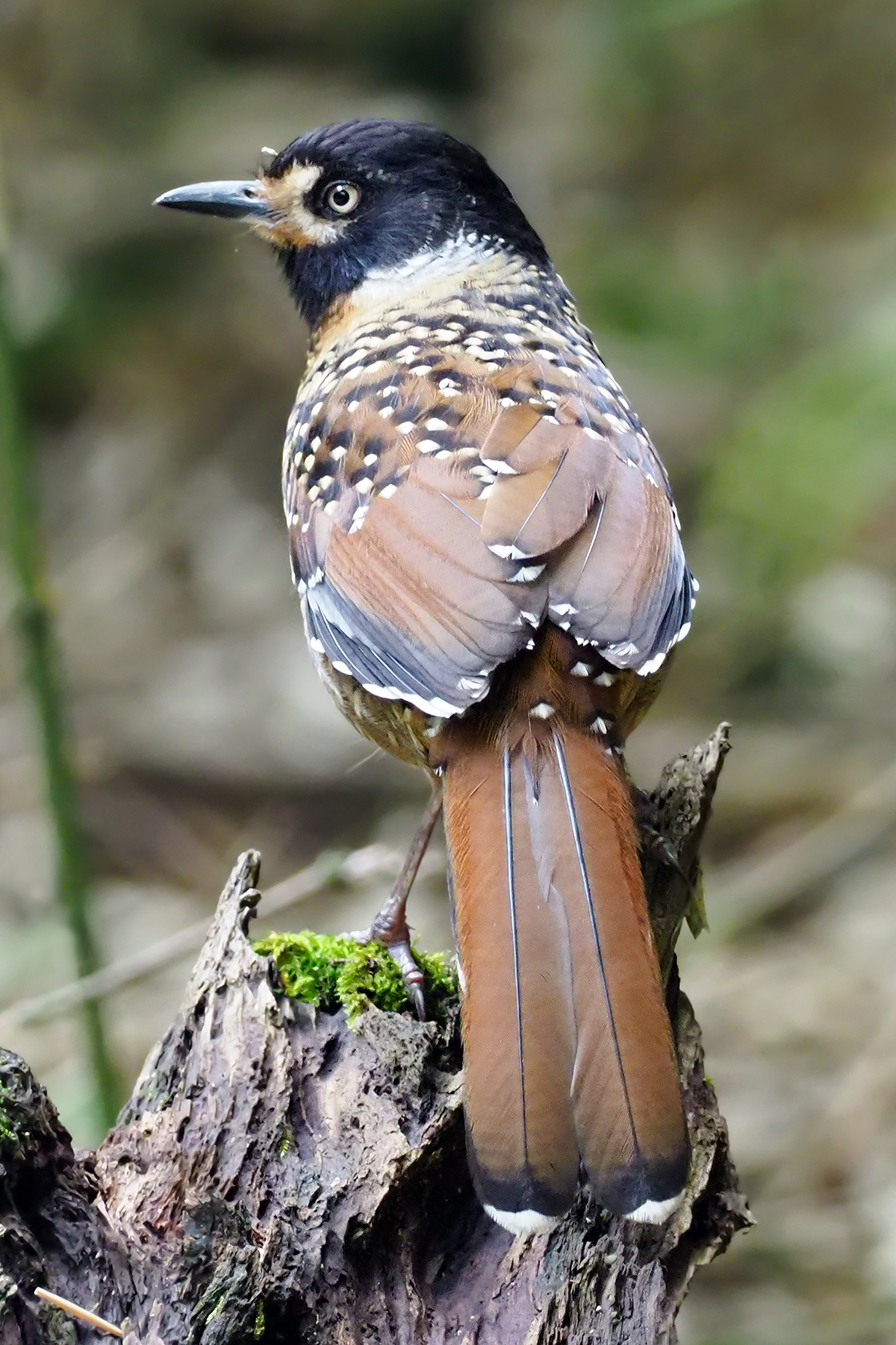 Jinfoshan boasts seven species of laughingthrush. The lower sectors are home to White-browed Laughingthrush, Moustached Laughingthrush, and White-throated Laughingthrush. Near the reserve summit in open scrub and in the forested limestone forests, the common Elliot's Laughingthrush creeps about, making low, quiet glides and gentle calls.
For me the highlight of the trip was meeting flocks of rather approachable Spotted Laughingthrush—a species with a much more restricted China distribution, being a Himalayan species extending in mountain forests as far as Jinfoshan and Shennongjia. This is a quiet, gentle bird, hopping about on the forest floor searching under leaves and through the moss.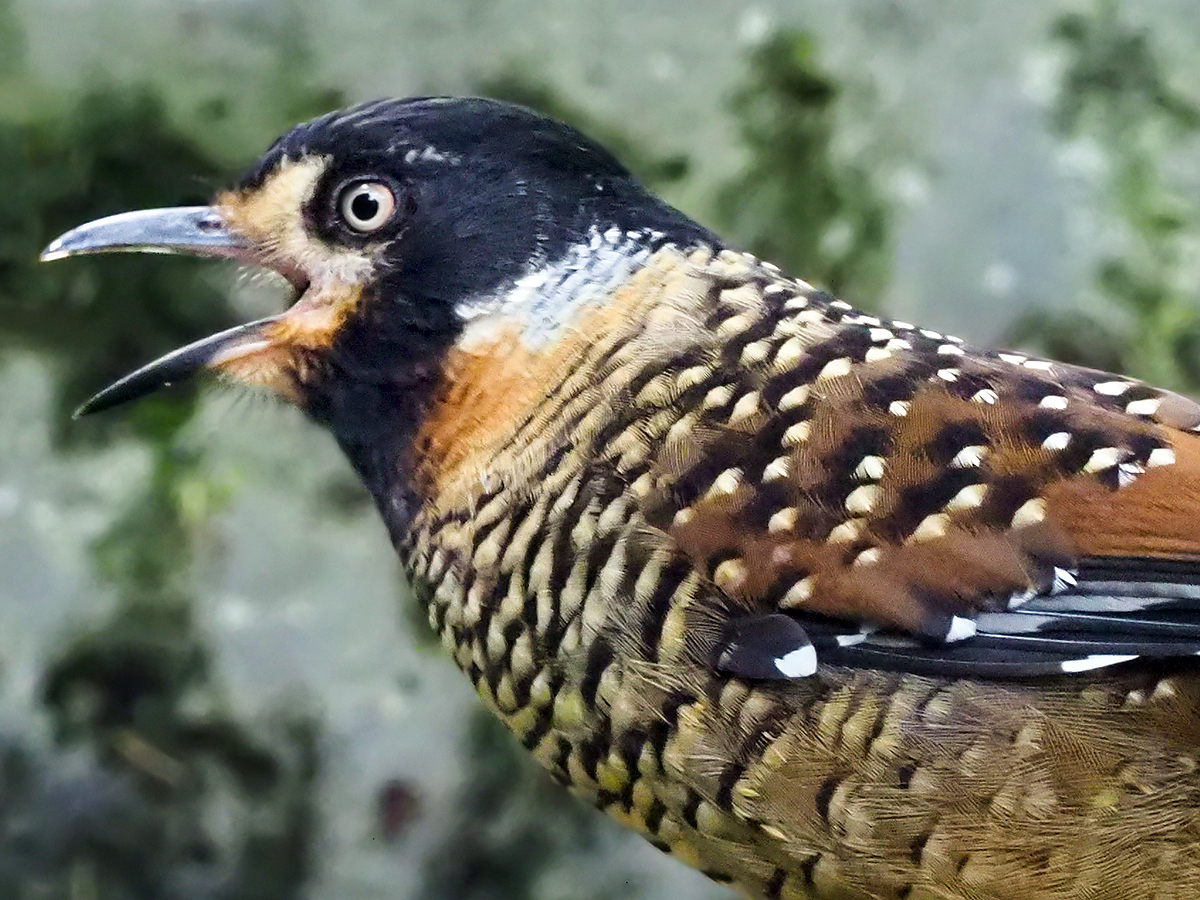 I sat among fluffy rock squirrels and watched their antics. They took me back to my favoured sites with warm memories of being among the Giant Panda of Wolong in Sichuan and the hilly forests of Bhutan.
MORE ON JOHN MACKINNON
John MacKinnon has played a major role in the development of shanghaibirding.com. MacKinnon has authored posts for the site, he has visited Shanghai and birded with the shanghaibirding.com team, and he has served as a consultant and inspiration from the very beginning.
Read the posts MacKinnon has authored for shanghaibirding.com: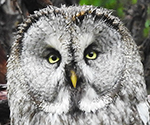 Daxing'anling: Kingdom of the Great Owls: MacKinnon describes his experiences with the owls of the Greater Khingan Range in northern Inner Mongolia. "I meet her two boyfriends," writes MacKinnon. "One has got wet in the night rain and looks rather miserable with straggly wet feathers."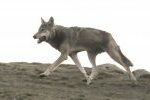 MacKinnon in the Altai Mountains of Xinjiang: The visit of the pioneering naturalist included an encounter with wolves and records of Willow Ptarmigan and Rock Ptarmigan. "We emerged on top of the world," MacKinnon writes, "with views way into the distance across the Mongolian border."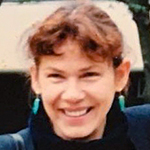 The Artistry of Karen Phillipps: In this post, written exclusively for shanghaibirding.com, MacKinnon describes the qualities that made the late Karen Phillipps a great wildlife artist. "She had a unique, inimitable style," MacKinnon writes. "Her pictures are clean, vibrant, and beautiful."
See also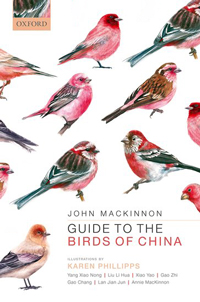 Exclusive Interview with John MacKinnon: On the occasion of the publication of his Guide to the Birds of China, the pioneering naturalist talks with shanghaibirding.com about his new book, his long career in Asia, and the many attractions that mega-diverse China offers to birders.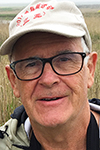 John MacKinnon in Shanghai: We gave the great naturalist the Cape Nanhui Grand Tour, noting 84 species, among them Oriental Plover. A fine storyteller and keen wit, MacKinnon had us roaring with tales drawn from his six decades as a researcher in Asia.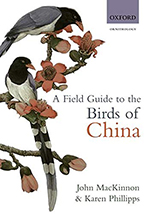 MacKinnon's new Guide and classic Field Guide: The Guide to the Birds of China, published in 2022, and its predecessor, the Field Guide to the Birds of China, published in 2000, are the most influential books ever written about the birds of China. Birders from Xinjiang to Hainan have come to depend on MacKinnon's monumental works.
Featured image: Spotted Laughingthrush Ianthocincla ocellata, Jinfoshan, Chongqing. (John MacKinnon)

Be notified every time we post. Send an
email with "Subscribe" as the subject to
info@shanghaibirding.com
Donate to Shanghai Birding!