by Craig Brelsford
Founder, shanghaibirding.com
​At Pudong's Century Park on 26 Nov., I recorded Crested Goshawk Accipiter trivirgatus. It was my first record at Century of Crested Goshawk, a species whose presence in urban Shanghai is growing ever more noticeable.
Li Qiu (李秋), her husband Qiao Ying (乔颖), Paul Hyde, and I were standing in Woodcock Forest (31.213235, 121.551704), a heavily wooded part of Century Park. We were watching Great Spotted Woodpecker Dendrocopos major, itself rare in urban Shanghai.
We saw an Accipiter flying over the treetops. We ran out of the forest into a grassy area and saw the goshawk soaring 100 m above the park. Qiu got the photo above left.
The goshawk seemed not to be passing through Century but to be using the park; the combination of low flight over the treetops followed by soaring flight over the park gave me an impression of a raptor that knows the area.
Why is Sunday's goshawk Crested Goshawk?
1. Wings short and broad and "pinched" at base—the narrow wing base is obvious in Qiu's photo, as well as in my photo above right of a Crested Goshawk from Emeifeng, Fujian. Crested Goshawk is well-known for its narrow wing base and bulging secondaries. By contrast, regional sparrowhawks such as Besra Accipiter virgatus and Eurasian Sparrowhawk A. nisus have less-rounded wings.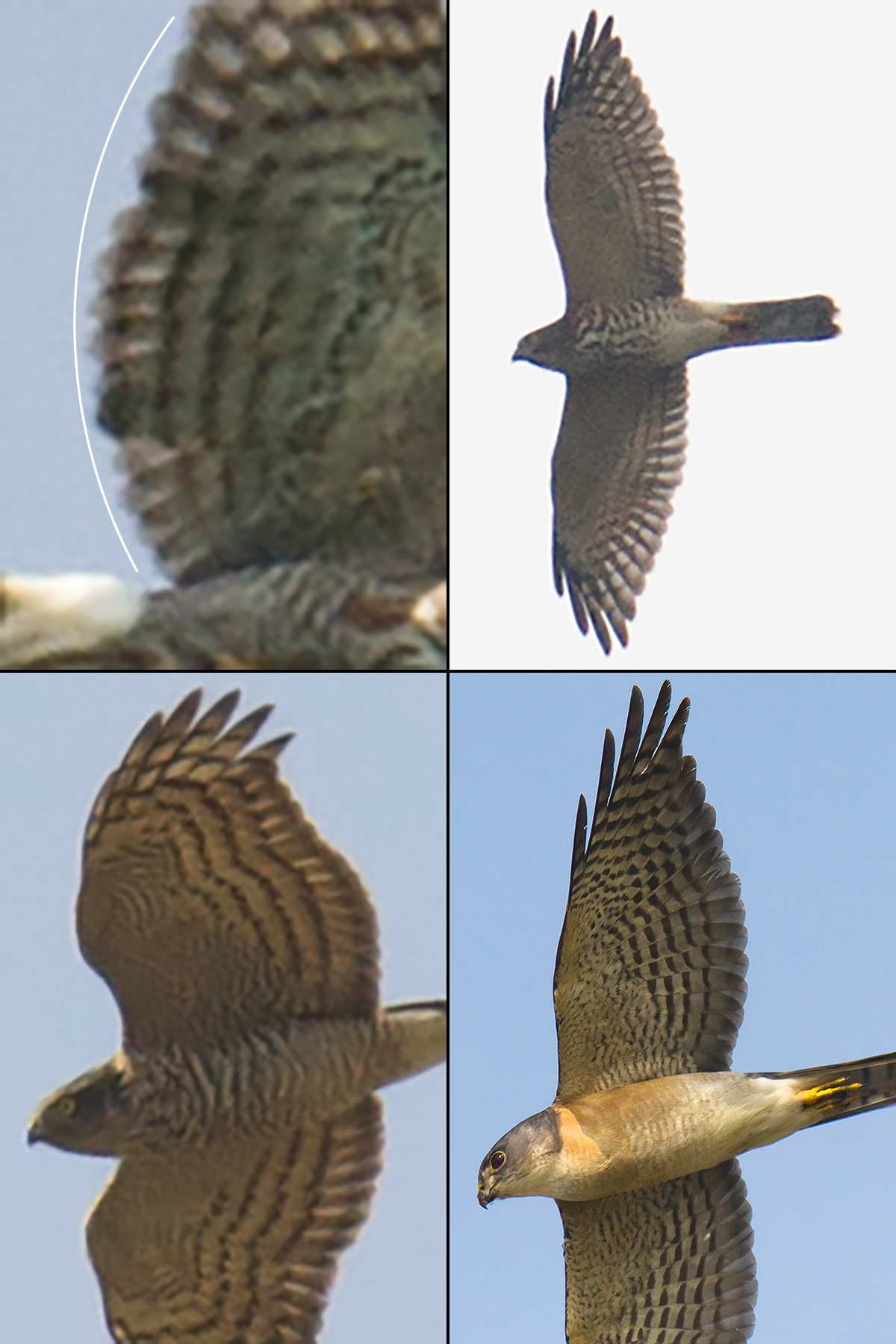 2. When I saw the raptor close, soaring over the treetops, the impression I got was not of a large, buzzard-sized Accipiter (as might have been the impression if the raptor had been Northern Goshawk A. gentilis). Instead, I got the impression of a smaller raptor. An impression of a large, Buteo-sized raptor would weigh against a diagnosis of Crested Goshawk, but an impression of a smaller raptor weighs in favor of an Accipiter the size of Crested Goshawk.
3. Besra is less likely to be seen soaring than is Crested Goshawk.
4. As I note in my post "Crested Goshawk Invades Shanghai," Crested Goshawk is known to occur in urban Shanghai, including Century Park. Knowledge that Crested Goshawk is in this city does not weigh against a diagnosis of the Accipiter Sunday as Crested Goshawk. Indeed, if my impression of a more or less resident Accipiter is correct, then it lends support to the idea.
P.S. In addition to the goshawk, our 38 species Sunday included a first-ever Century Park record of Eurasian Coot Fulica atra. For a list of all the species recorded at the premier birding park in urban Shanghai, see our page Birds Recorded at Century Park.
Featured image: Crested Goshawk Accipiter trivirgatus. Left: Century Park, Shanghai, 26 Nov. (Li Qiu). Right: Emeifeng, Fujian. (Craig Brelsford)

Be notified every time we post. Send an
email with "Subscribe" as the subject to
info@shanghaibirding.com
Donate to Shanghai Birding!