Distinguishing non-breeding Nordmann's Greenshank from Common Greenshank is a tricky task, but one that reaps rewards. With practice you too can feel the rush that comes when you realize that the greenshank you are viewing is not one of the most common shorebirds in Eurasia, but one of the rarest. On Sat. 17 Sept. 2016 at Cape Nanhui in Pudong, our team experienced that thrill, picking out a Nordmann's in a roost holding a few hundred shorebirds.
We noted the following:
— Tibiae of Nordmann's Greenshank are noticeably shorter than those of Common Greenshank.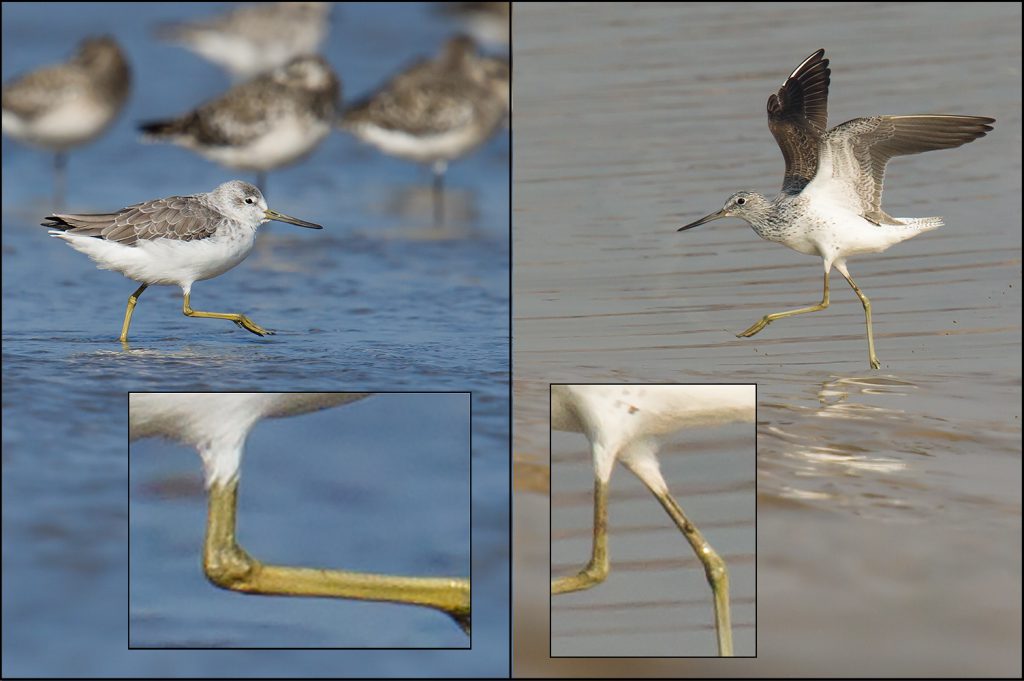 The picture above makes it clear. The biggest reason Nordmann's is known as the stockier bird, the rugby player compared to the ballerina that is Common Greenshank, is tibia and leg length.
— Nordmann's has a thicker neck that it often holds closer to its body and has a pronounced ventral angle (protruding belly), giving Nordmann's a more hunched appearance than Common.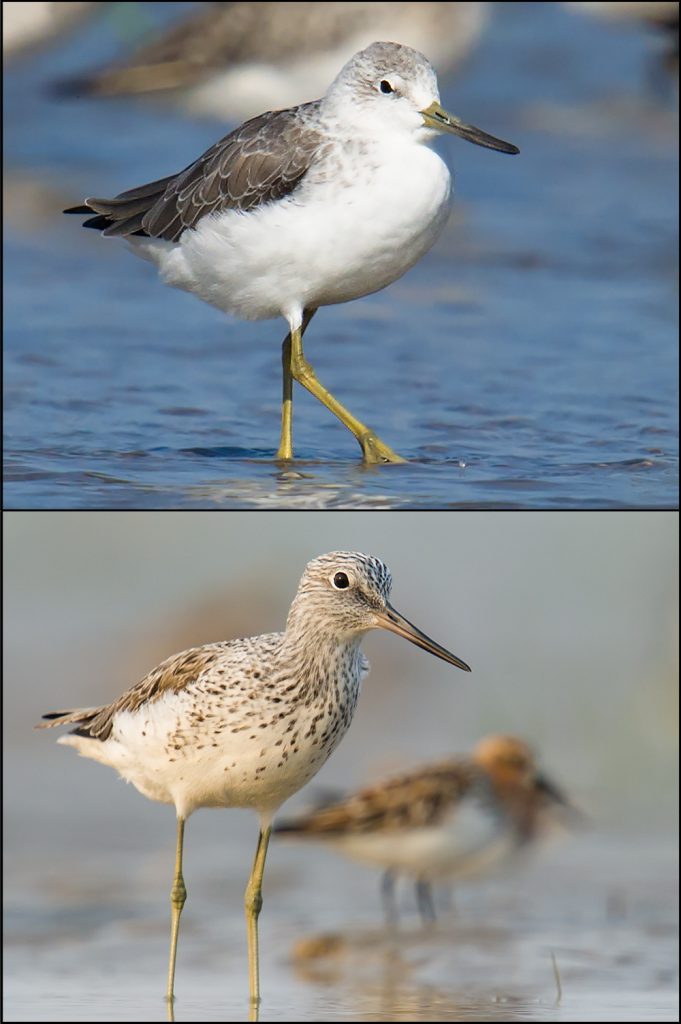 As with many of the characters of these species, the hunched stance of Nordmann's is not always obvious, especially when the bird is active. Likewise, even a Common sometimes can appear stout. But as one's observation time grows, the classic features of both species will emerge.
— Nordmann's has a thicker, more obviously bi-colored bill than Common.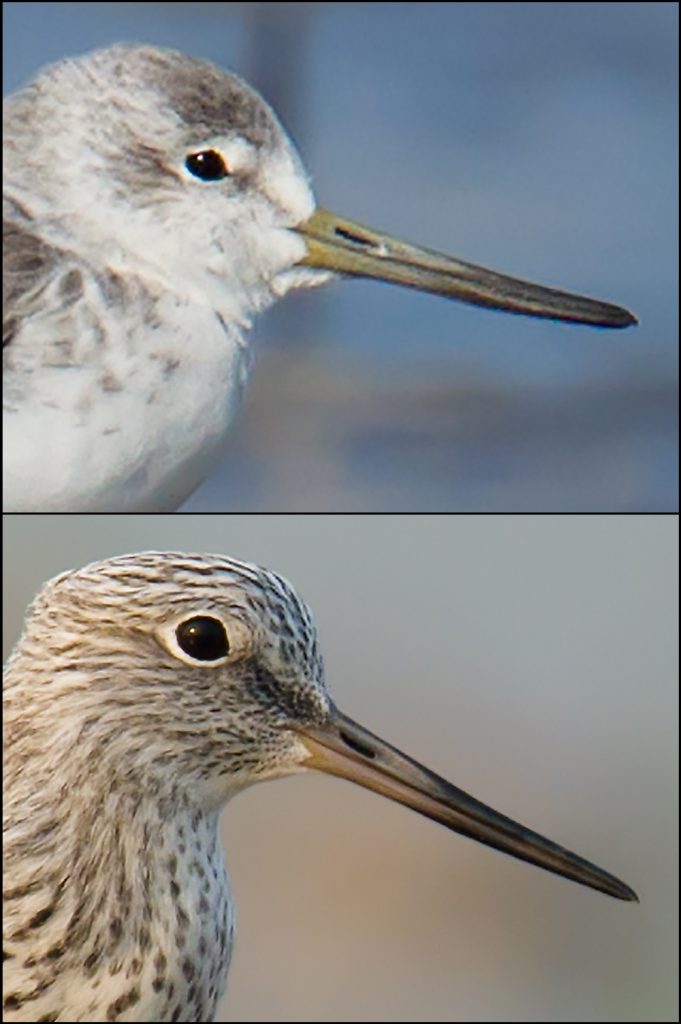 Because the Nordmann's at our Nanhui roost did not fly, we missed the following key characteristics:
— The toes of Nordmann's project just beyond the tail-tip; the toes of Common project farther.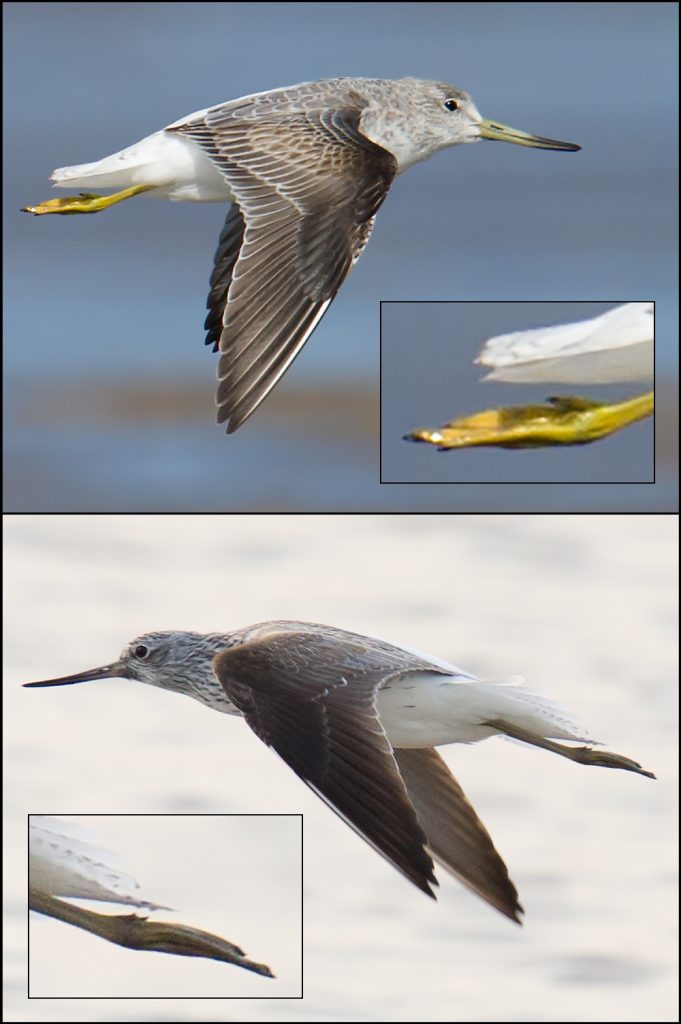 This difference can be subtle, and a good camera is sometimes needed to appreciate it. But it is consistent.
— Nordmann's has a cleaner tail and underwing than Common.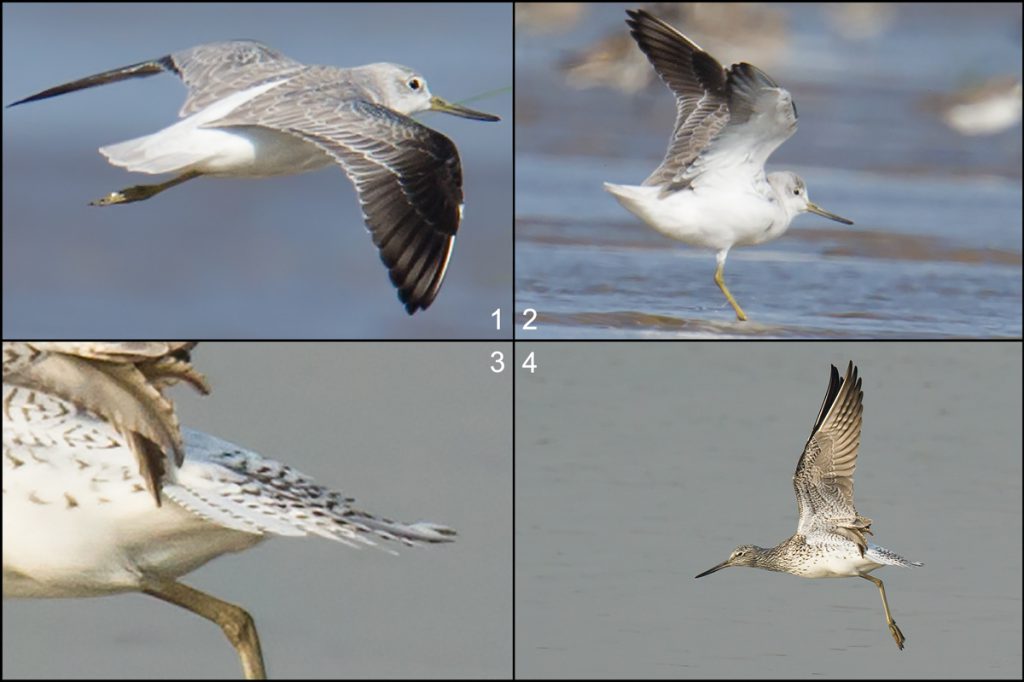 Even if your Nordmann's is roosting, you can sometimes note the white underwing. Wait for the bird to stretch out its wing.
Other differences: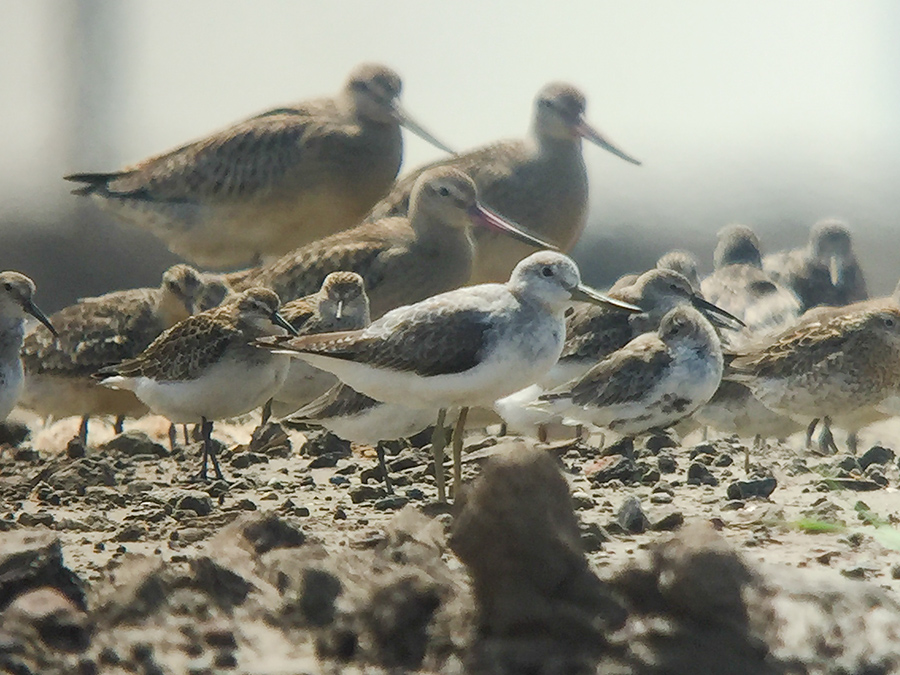 — The calls of Nordmann's Greenshank and Common Greenshank are markedly different. The well-known "chew-chew-chew" call of Common is never made by Nordmann's.
— In breeding plumage the species are more readily distinguishable. Nordmann's Greenshank is also known as Spotted Greenshank for good reason. The heavily spotted underparts of breeding Nordmann's are diagnostic. Unfortunately for birders in Shanghai, however, Nordmann's in full breeding plumage is rarely seen.
Nordmann's Greenshank Tringa guttifer is an endangered species. Only 500 to 1,000 of these birds are thought to remain. Development along the East Asian coast is the main reason for its decline. Nordmann's breeds in Russia, passes through China, and winters in Southeast Asia. It is present in the Shanghai area for several months each year.
OTHER GOOD STUFF
The Nordmann's took top billing on a day that saw veteran British birder Michael Grunwell, my wife Elaine Du, and me note 71 species at Cape Nanhui, Lesser Yangshan Island, and the sod farm south of Pudong Airport (31.112586, 121.824742). We were joined at the roost and Nanhui microforests by the crack high-school birding team of Larry Chen, Komatsu Yasuhiko, Chi Shu, and Andy Lee.
Our Non-Nordmann highlights:
White-winged Tern
We noted 2500 at Nanhui, by far the highest number of White-winged Tern that I have seen. They made quite a spectacle, fluttering like snowflakes over the reed beds.
Common Tern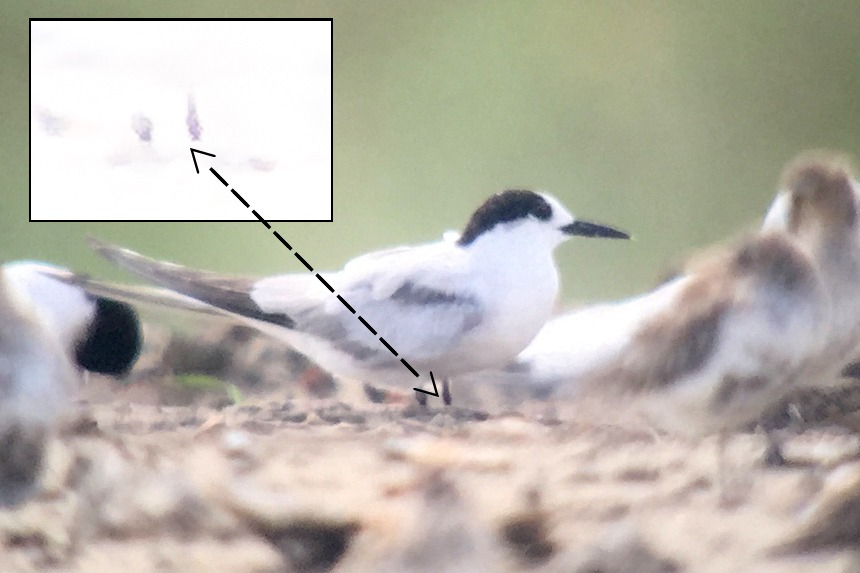 Three at the roost. Michael and I discussed whether Aleutian Tern, similar to Common Tern in winter plumage, passes through Shanghai and has been overlooked. Check for the red legs of Common; if the legs appear black, then keep investigating; you may have an Aleutian.
Ruddy Shelduck
Ruddy Shelduck is uncommon in Shanghai; I have recorded flocks at Chongming but had never seen the species at Nanhui. We saw a single Ruddy in the marshy agricultural land north of Luchao (芦潮; 30.851111, 121.848528).
Black-tailed Godwit, Bar-tailed Godwit, Great Knot, Red Knot, Grey-tailed Tattler
The godwits, knots, and tattlers were in the dry roost with the Nordmann's. Every one of these species is at least near-threatened; Great Knot is endangered.
Black-winged Cuckooshrike
After the excitement with the Nordmann's at the roost, the seven of us covered the microforests. Our teamwork paid off with a view of Black-winged Cuckooshrike, an uncommon passage migrant in Shanghai.
Japanese Paradise Flycatcher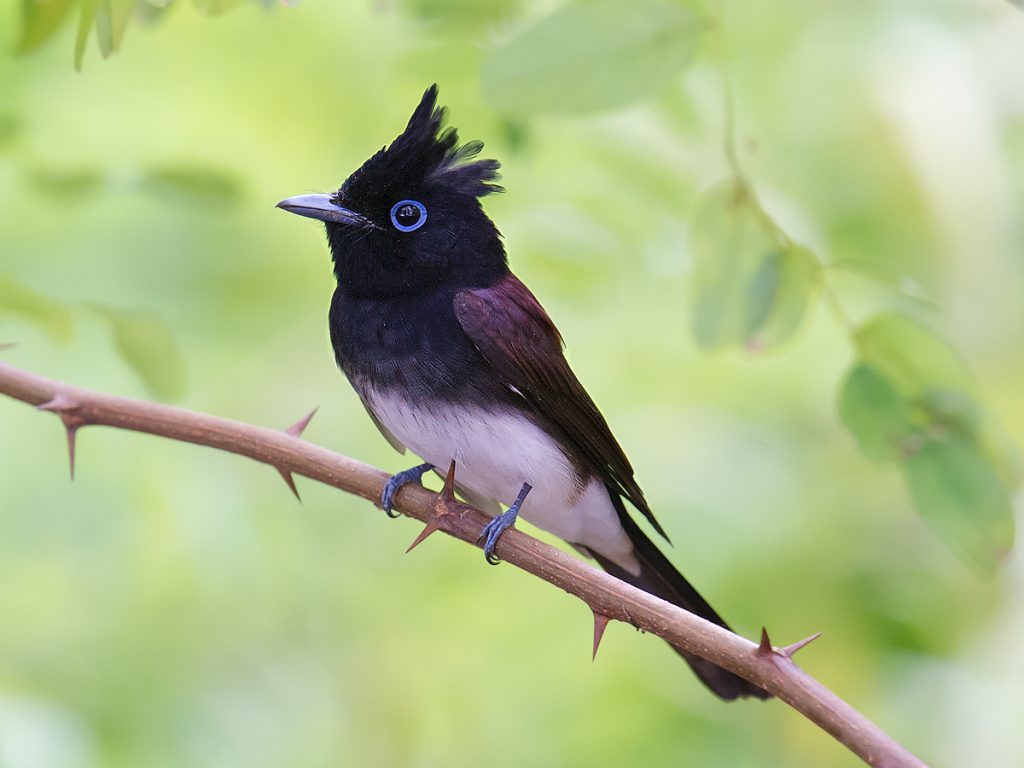 Yet another near-threatened species, Terpsiphone atrocaudata is common on migration in Shanghai. We noted 10 on Saturday. Care must be taken to separate this species from Amur Paradise Flycatcher T. incei, which passes through Shanghai in smaller numbers. Male and female Japanese have a more extensive dark hood, extending almost to the belly, whereas that of Amur extends only to the upper breast. For more help distinguishing these two species, see my post ID Workshop: Paradise Flycatchers.
On Lesser Yangshan we found Oriental Dollarbird. Our final stop was the sod farm south of Pudong International Airport, where we found 4 Pacific Golden Plover and 200 Oriental Pratincole.
Featured image: Nordmann's Greenshank stands among wader roost at Cape Nanhui, 17 Sept. 2016. Using the principles described in this post, our team was able to ID this Nordmann's. Photo by Komatsu Yasuhiko ("Hiko") using his Kowa TSN 883 Prominar spotting scope and Kowa TSN IP6 adapter and Craig Brelsford's iPhone 6.
Keep
shanghaibirding.com

on the web.

Donate

today.