In the wake of my recent post on distinguishing Pale-legged Leaf Warbler from Sakhalin Leaf Warbler by call, I have been hoping to find more members of this species pair in Shanghai. On 4 Sept. 2017 at Pudong's Cape Nanhui, my hopes were fulfilled in a big way. At the Magic Parking Lot (30.884889, 121.968222), not one but both species were calling.
Below, the recordings I made with my Olympus DM-650 pocket recorder. The first Sakhalin recording was made at Microforest 4 (30.953225, 121.959083), 7.7 km north of the Magic Parking Lot on the coastal road. The others were made at the Magic Parking Lot.
Note the higher frequency of the calls of Pale-legged—on average a full kilohertz higher. The difference is discernible by the keen listener, but nothing tells the story better than the spectrograms.
To summarize what I argued in the previous post: The calls, as well as the very distinctive songs, of Pale-legged Leaf Warbler and Sakhalin Leaf Warbler are diagnostic—that is, they differ markedly and consistently and are a reliable basis for an ID. The diagnosability of the calls of the two species has been affirmed by various researchers, among them Yap et al. (2014; Birding Asia 21: 76–81).
Sakhalin Leaf Warbler Phylloscopus borealoides, call, Microforest 4 (30.953225, 121.959083), Cape Nanhui, Pudong, Shanghai, 4 Sept. 2017 (00:02; 528 KB)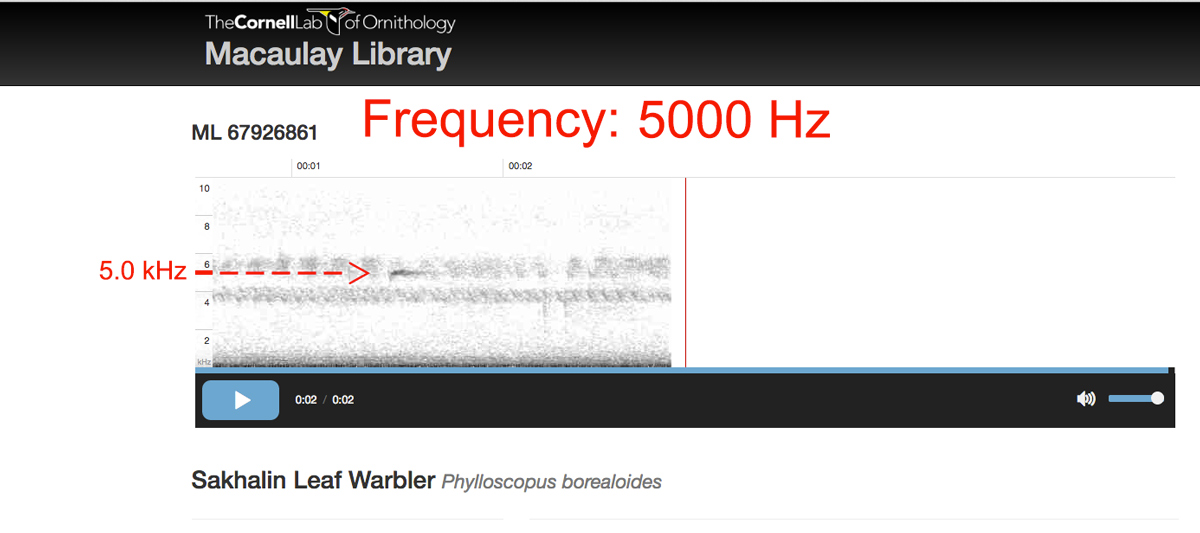 Sakhalin Leaf Warbler, call, Magic Parking Lot (30.884889, 121.968222), Cape Nanhui, Pudong, Shanghai, 4 Sept. 2017 (00:07; 1.4 MB)
Pale-legged Leaf Warbler Phylloscopus tenellipes, call, Magic Parking Lot, 4 Sept. 2017 (00:19; 3.7 MB)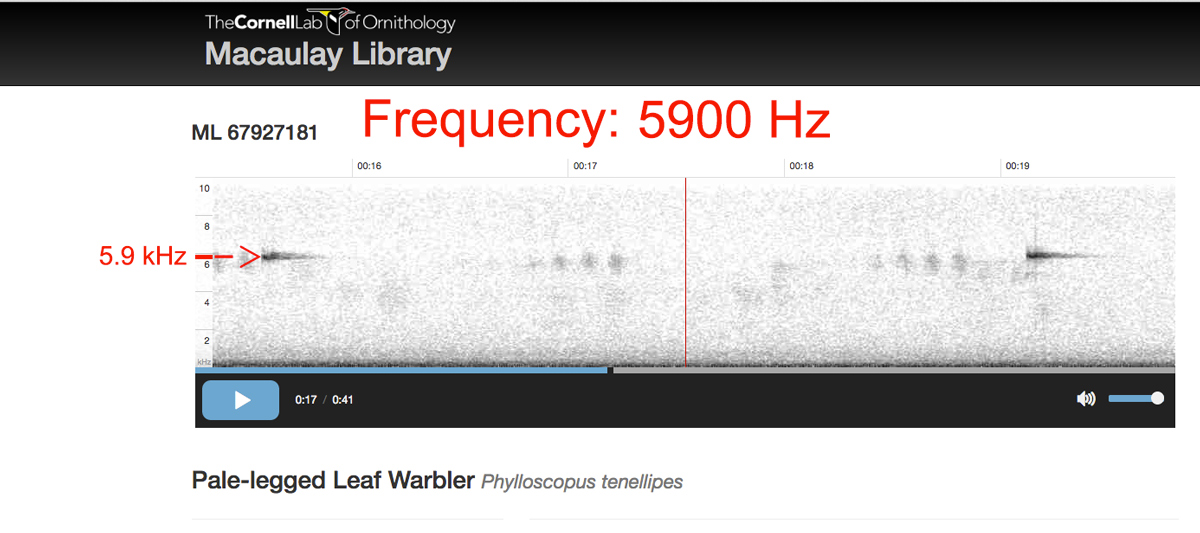 Pale-legged Leaf Warbler, call, Magic Parking Lot, 4 Sept. 2017 (00:41; 7.9 MB)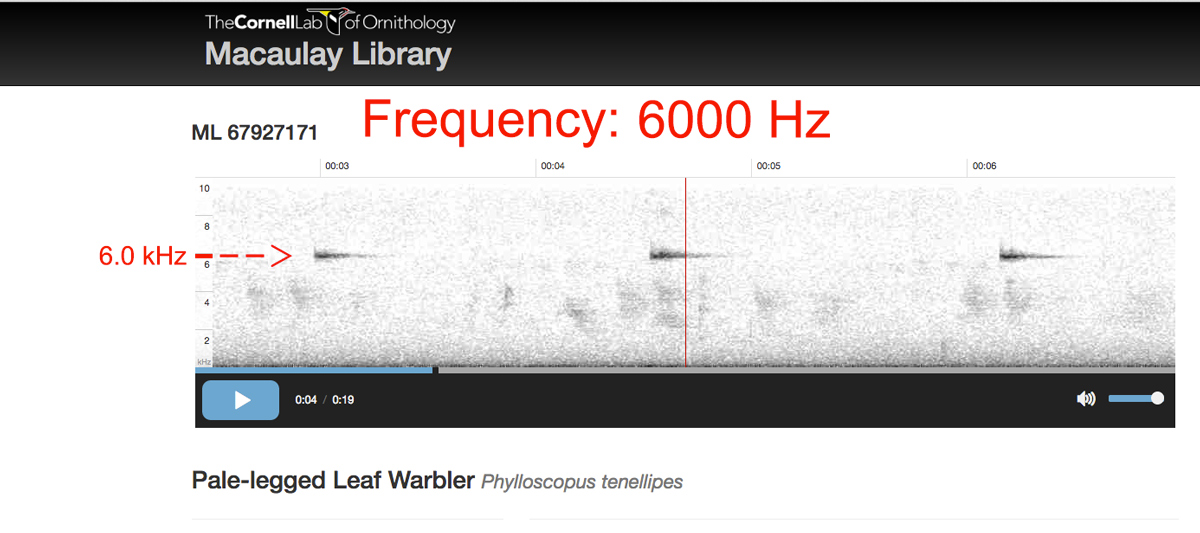 Pale-legged Leaf Warbler, call, Magic Parking Lot, 4 Sept. 2017 (00:10; 2 MB)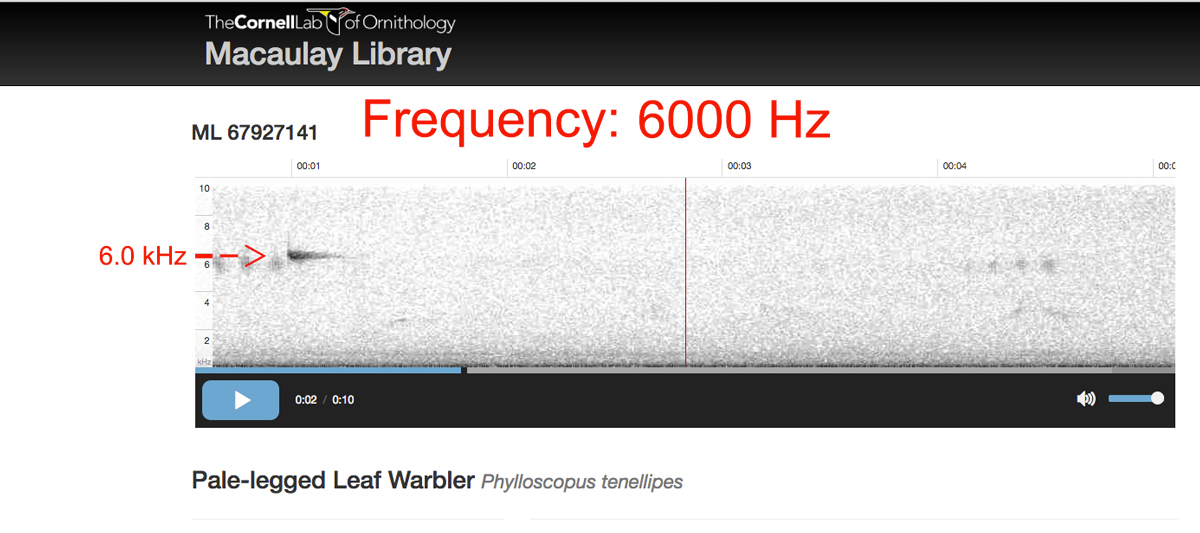 Pale-legged Leaf Warbler, call, Magic Parking Lot, 4 Sept. 2017 (00:01; 332 KB)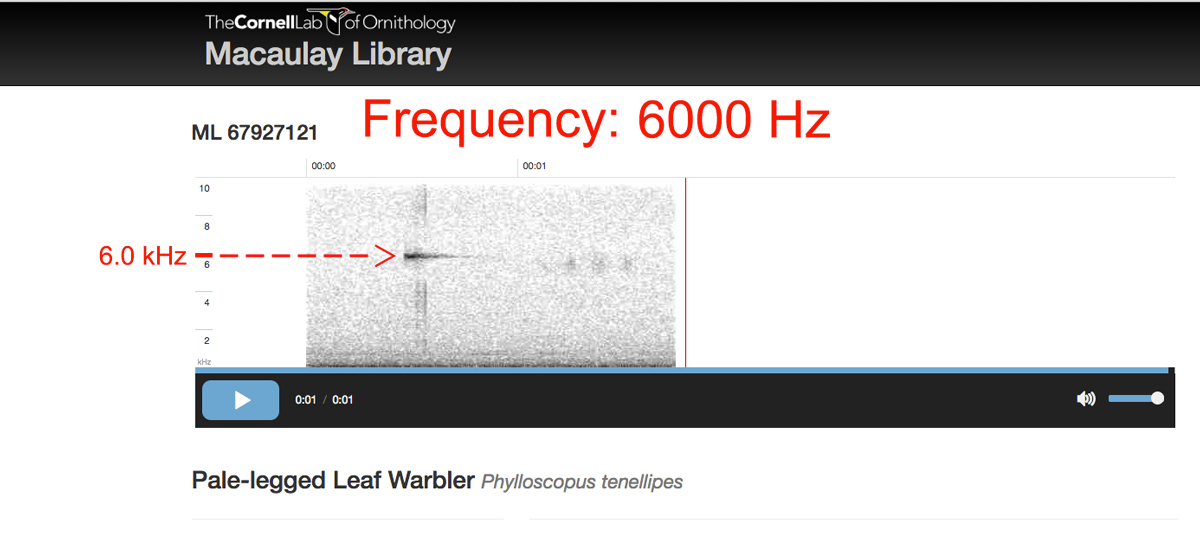 Featured image: Pale-legged/Sakhalin Leaf Warbler, Jiangsu, May. Some of the salient characteristics of Pale-Sak are pointed out. Separating Pale-legged from Sakhalin on the basis of plumage and bare parts is not possible; because this bird was neither singing nor calling, it cannot be determined to which of the two species it belongs. (Craig Brelsford)