The past 10 days have seen a parade of migrants passing through Shanghai. Grey-crowned Warbler and Blue Whistling Thrush shocked birders at Cape Nanhui. The birding site in southeast Pudong also yielded Pheasant-tailed Jacana, Pacific Golden Plover, Red Knot, Grey-tailed Tattler, Amur Paradise Flycatcher, singing Arctic Warbler, calling Two-barred Warbler, Radde's Warbler, White-throated Rock Thrush, and still more Pechora Pipit. Tiger Shrike and Black Bulbul have been noted at Nanhui and on Lesser Yangshan, with the latter location yielding Peregrine Falcon and Rufous-tailed Robin singing from deep cover. Other interesting records were Red Turtle Dove, Black-winged Cuckooshrike, Hair-crested Drongo, Ashy Drongo, day counts as high as 21 of Black Drongo, a trio of Siberians (Siberian Thrush, Siberian Blue Robin, Siberian Rubythroat), plus Chestnut Bunting and endangered Yellow-breasted Bunting. Zhongshan Park yielded our season's first singing Black-naped Oriole. My friend Kai Pflug was one of a group of birders who found Fujian Niltava at Nanhui, a first for Shanghai.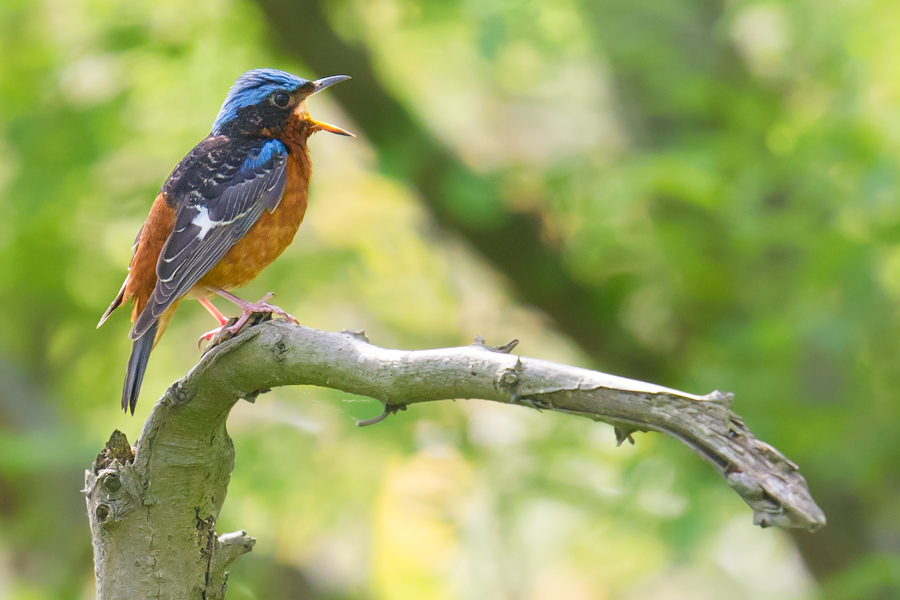 At this time of year, considering the richness of the Shanghai coast and the lack of birder coverage over the years, I go out not hoping, but expecting to get interesting records. Recently, I have rarely been disappointed.
GREY-CROWNED WARBLER, RARE IN SHANGHAI
Though I missed Kai's niltava, the German birder brought me good luck in another way. On a spectacular Tues. morning 17 May at Nanhui, exploring the lush microforests, he and I found Grey-crowned Warbler Seicercus tephrocephalus.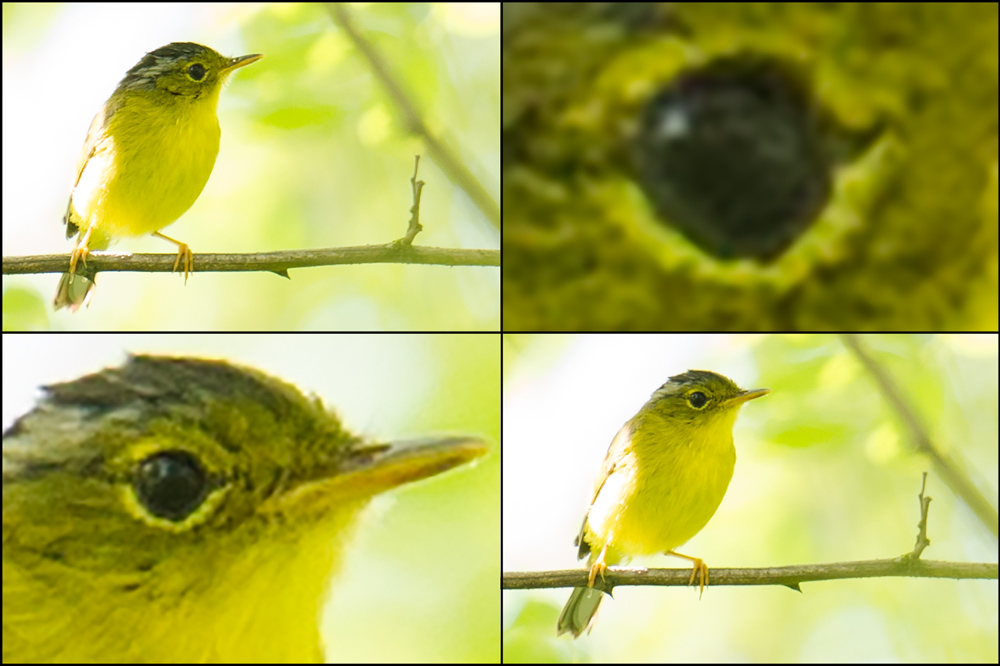 The bird was singing, an amazing incongruity, the bright, sharp south-Chinese Seicercus sound here in a tiny wood on the muddy Chinese coast. The golden warbler alighted on a branch for several seconds. I got photos and a sound recording. Grey-crowned Warbler is rarely seen this far east and is not covered in Mark Brazil's Birds of East Asia. However the very good Handbook of the Birds of the World Vol. 11, which I can't recommend enough to lovers of leaf warblers and golden spectacled warblers, has the info we need.
A monotypic species, S. tephrocephalus is said by HBW 11 to breed closest to us in Hubei. It is very simliar in plumage and song to Martens's Warbler S. omeiensis but unlike Martens's has eye-ring broken at rear. S. tephrocephalus is common to abundant in its normal range of south China and Southeast Asia, but it has rarely if ever been recorded in Shanghai. The lack of records is owing not only to its scarcity but also to its difficulty in identification, particularly for birders unfamiliar with HBW 11.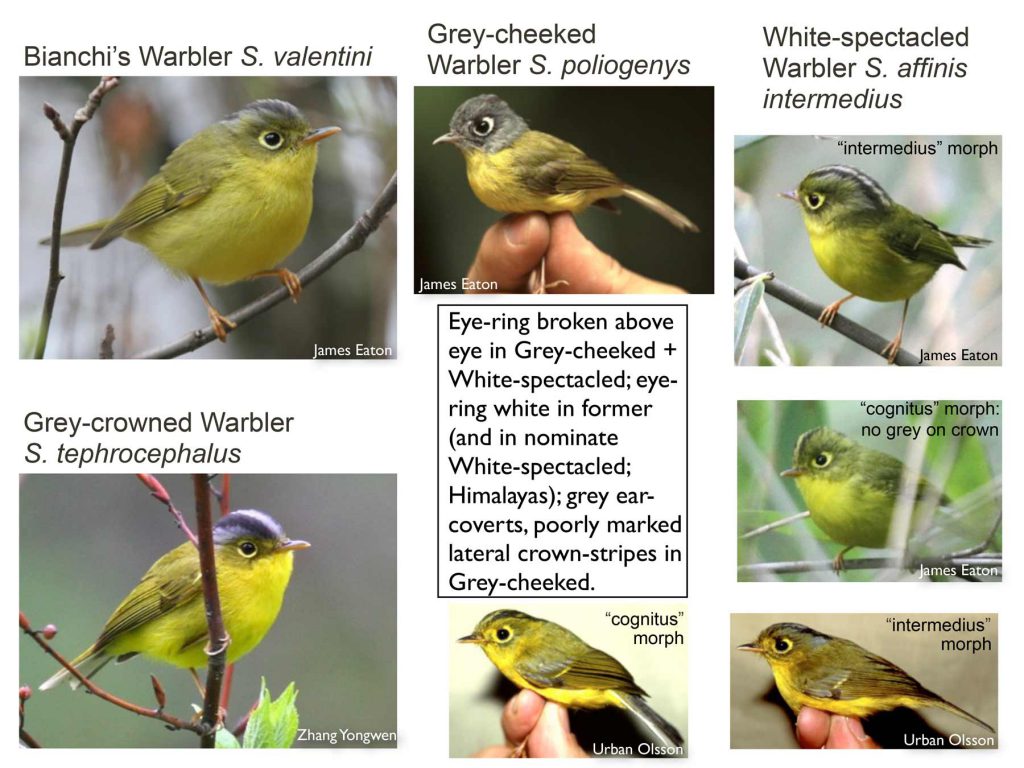 Much of the wealth of info on Seicercus warblers in HBW 11 is the fruit of the research of Swedish ornithologist Per Alström, who wrote nearly all the Seicercus entries. Guangdong-based French birder Jonathan Martinez has also researched S. tephrocephalus and helped me with the ID of the Grey-crowned Warbler. Both are members of the Shanghai Birding WeChat group and are readers of shanghaibirding.com. Thanks to both of you for your contributions.
Here are the sound-recordings I made of Grey-crowned Warbler. The recordings and photos are of the same individual.
Grey-crowned Warbler 1/2, Nanhui, Shanghai, 17 May 2016 (00:11; 1.2 MB)
Grey-crowned Warbler 2/2, Nanhui, Shanghai, 17 May 2016 (00:23; 1.7 MB)
After viewing the photos and listening to the recordings, Per wrote the following to the Shanghai Birding chat group:
"Hi Craig. … I agree with your id of Grey-crowned Warbler, mainly based on the song recording (songs and calls are by far the best ways to id Seicercus warblers). The photos look a bit off (e.g., eye-ring broken in front, which isn't normally the case in any Seicercus, seemingly poorly marked lateral crown-stripes, no clear grey on crown [though that could be a photo effect], and dark-tipped lower mandible [only in Grey-cheeked W]). Simple id tips, paintings and a few photos can be found on my research web page. In a PDF on leaf warblers from a talk for Beijing Birdwatching Society, there are also sound recordings of … Seicercus warblers on the same page." (That very useful PDF is now available for download through shanghaibirding.com [13 MB]: Phylloscopidae-Beijing-Birdwatching-Society-nov-2012 English)
To sum up:
My research indicates, and Per Alström concurs: Grey-crowned Warbler (Seicercus tephrocephalus)
Grey-crowned has eye-ring broken at rear; my photos show eye-ring broken at rear. The songs I recorded most closely match the song of S. tephrocephalus.
Next-closest possibility: Martens's Warbler (S. omeiensis)
Very similar to Grey-crowned Warbler but doesn't have eye-ring broken at rear.
Also: Alström's Warbler (S. soror); my recording has trills; distinctive song of Alström's lacks trills. Bianchi's Warbler (S. valentini) does not trill. White-spectacled Warbler (S. affinis intermedius) has eye-ring broken above eye, not behind.
BLUE WHISTLING THRUSH, ANOTHER RARITY IN SHANGHAI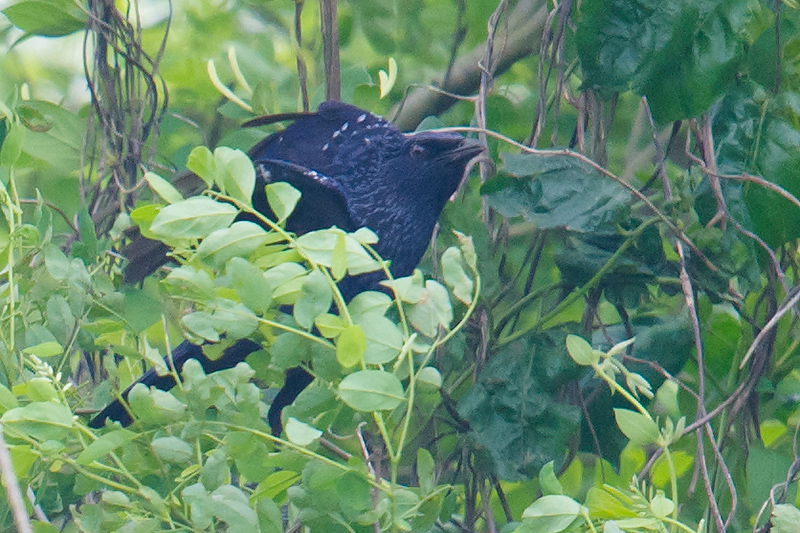 A coastal record of Blue Whistling Thrush is rare; the species had not been recorded in Shanghai since 1987. The places closest to Shanghai where I've seen the species are Tianmu Mountains in Zhejiang and in Nanjing Zhongshan Botanical Garden. When on Sun. 15 May we first saw the glossy blue-black bird, my partners Jan-Erik Nilsén and Elaine Du and I were flummoxed. We lingered around microforests 3-8 at Nanhui, waiting to get another look. We finally got a second look and realized it was whistler.
Birders tend to think of Blue Whistling Thrush as the ultimate resident, a fixture along fast-flowing mountain streams. The bird is however at least partly migratory, as our record and observations of other birders prove. In a text message to the Shanghai Birding WeChat group, Jonathan Martinez wrote: "BWT are migrants; I used to have them annually in northern Hunan at a site not suitable for breeding."
CUCKOOS ARE CALLING IN SHANGHAI!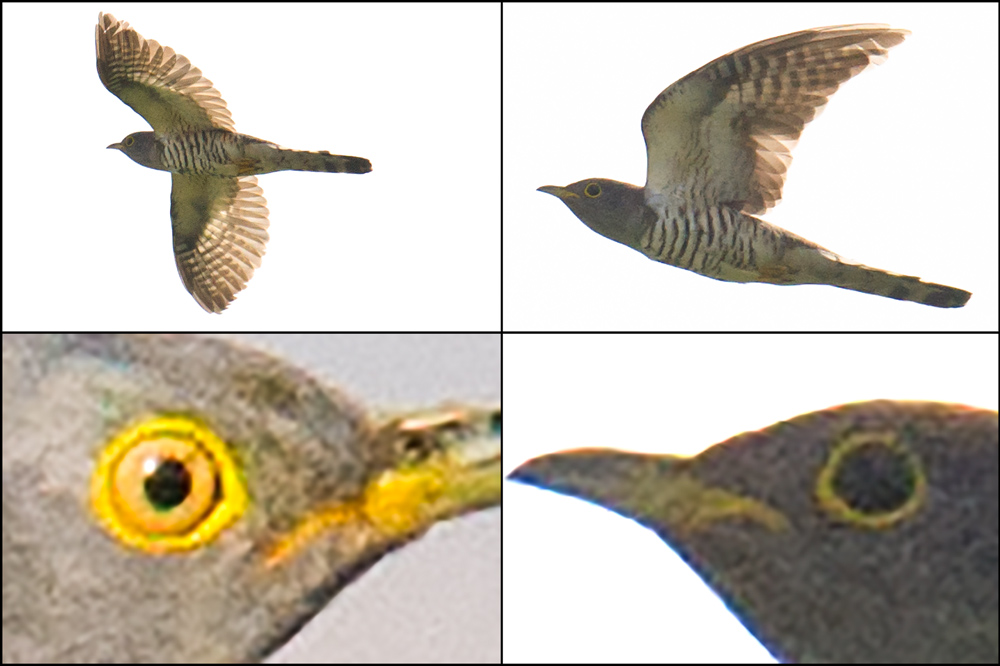 One of the many reasons I love spring is that during this time cuckoos call and are easier to identify. On Tues. 17 May at Nanhui Kai Pflug and I had two calling cuckoos: Common and Indian. I got photos of both. Can you see differences in the appearance of Common and Indian? One is eye color. See four-panel photo for comparison. The other is the thickness of the barring on the underparts. Indian also is smaller than Common, but the size difference is harder to see.
Here is one of the best-known bird calls in the world, that of Common Cuckoo, recorded by me at Nanhui on 17 May (00:31; 2 MB):
OTHER NOTES
— More Nanhui notes from Tues. 17 May: 0 ducks, 0 raptors, and Dishui Lake contained a grand total of 3 birds, all Great Crested Grebe. Also, on a weekday, even though weather superb, tourists were few; Kai Pflug and I enjoyed blessed peace and quiet. It was as quiet as a rainy Saturday or Sunday. We were lovin' that!
— On Tues. 17 May Kai and I found bird netting at "Dowitcher Pond" (30.877779, 121.955465) in Nanhui. Area is fenced in and netting was tied to posts in deep water, so removing it will be a challenge.
— Here is a recording I made of Arctic Warbler at Nanhui.
Arctic Warbler, "half-hearted" song, Nanhui, 17 May 2016 (00:38; 2.3 MB)
— Here is the sound of Rufous-tailed Robin singing on Lesser Yangshan. The robins were singing unseen on the thickly vegetated hillside above the tunnel entrance at Xiǎoyánglíng Cove (30.642243, 122.066940).
Rufous-tailed Robin singing from thick cover, Lesser Yangshan Island, 14 May 2016 (00:08; 1.1 MB):
— Thanks to our birding partners Michael Grunwell, Jan-Erik Nilsén, and Kai Pflug.
PHOTOS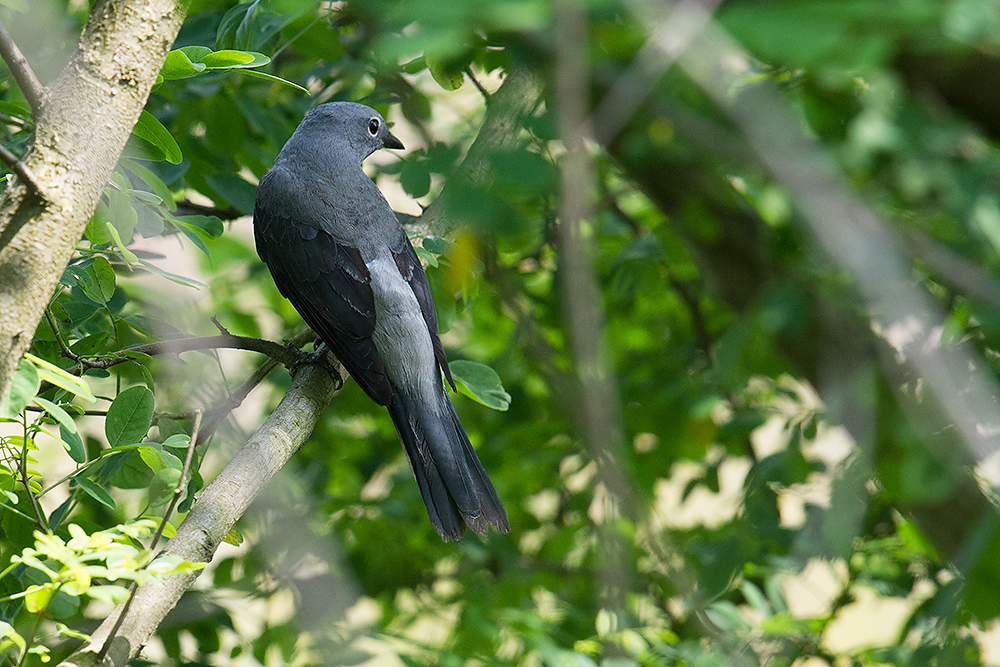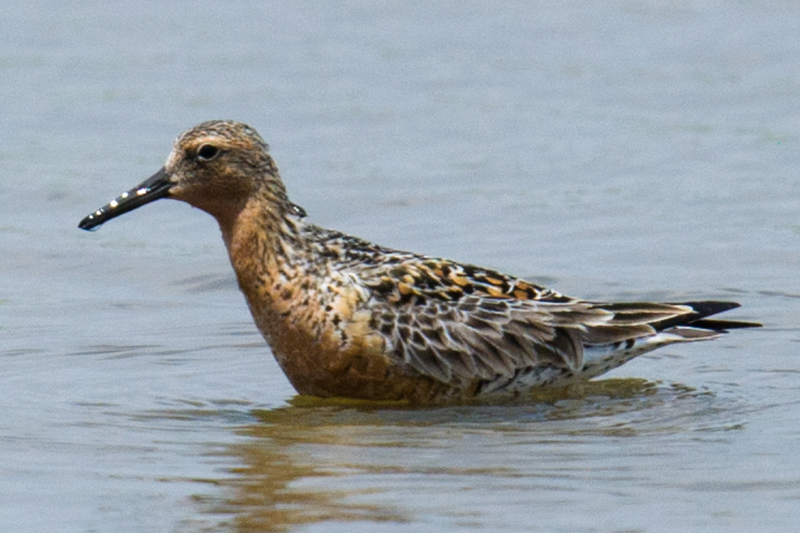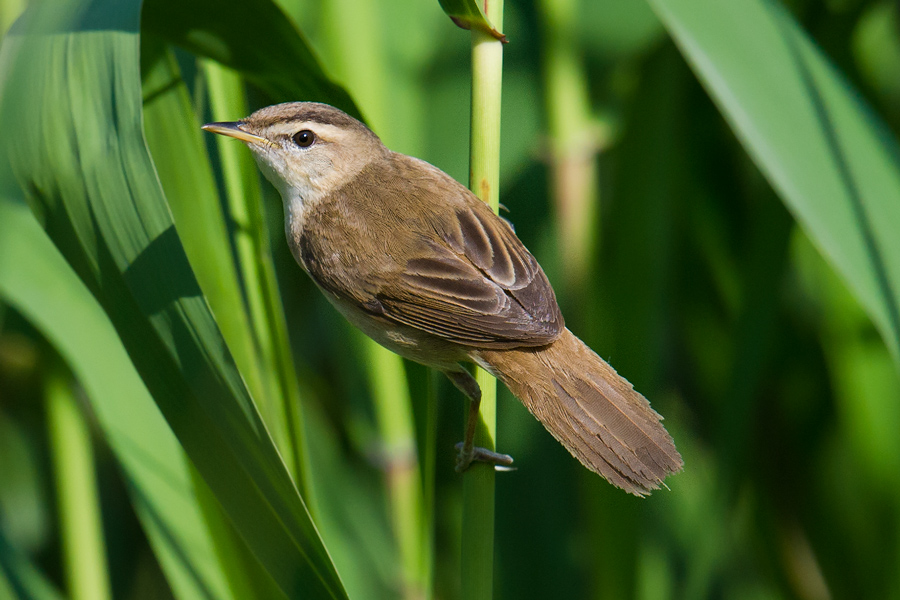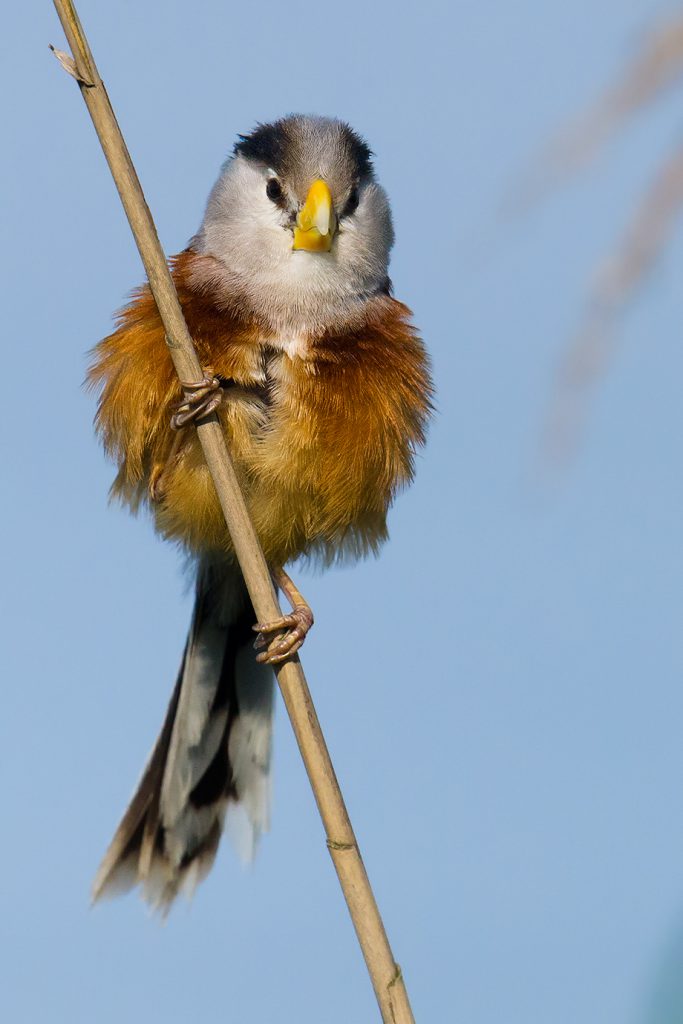 Featured image: Here's a handy rule for bird photographers: When you have light conditions as good as those we had Tues. morning 17 May 2016, then shoot anything, even a sparrow. It'll look good. Luckily I had this more interesting Common Cuckoo Cuculus canorus. I was at Cape Nanhui in Shanghai. Nikon D3S, 600 mm, F6.3, 1/5000, ISO 6400.