Black-throated Loon and Red-throated Loon have been found at a little-birded recreational area in Pudong, and Slaty-backed Gull has appeared on the Huangpu River across from the Bund. All three species are rare in Earth's Greatest City, with Black-throated Loon the scarcest. All three were brought to light by Shanghai birders using social media.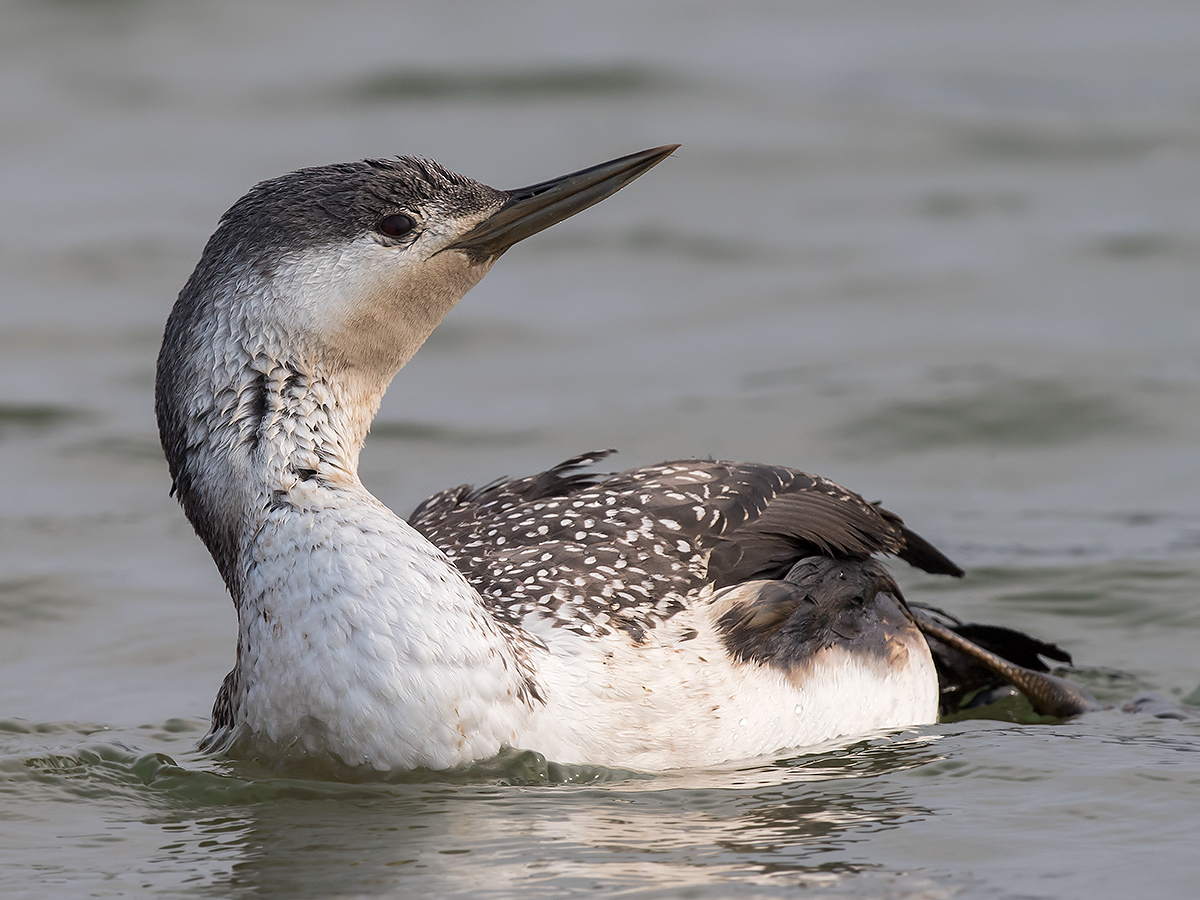 The loons had been sighted numerous times before my partner Michael Grunwell and I arrived on Sat. 18 March 2017 at Sanjiagang Seaside Park (31.217928, 121.768172). The dilapidated recreation area is on the coast of the East China Sea, near the mouth of the Yangtze River, 9 km north of Pudong Airport. Chinese birders discovered the loons, and birder Larry Chen, his partners Komatsu Yasuhiko and Archie Jiang, and bird photographer Kai Pflug followed up, reporting back to our chat group, Shanghai Birding.
On Sun. 19 March, the Red-throated Loon was discovered dead at the park by local birder Suōyǔ Hè (蓑羽鹤). It is not clear what killed the bird, but it may have slowly poisoned itself by ingesting oil that had collected on its feathers. Larry said that during his encounters with the individual "The loon was constantly attempting to preen itself" and that he clearly saw oil on one of its flanks. Can you detect anything amiss in the video below?
Red-throated Loon breeds at latitudes above 50 degrees in Eurasia and North America. Wintering Gavia stellata is more common in Shanghai than Black-throated Loon, being recorded annually here. Michael, my wife Elaine Du, and I found Red-throated Loon at Cape Nanhui in January 2016.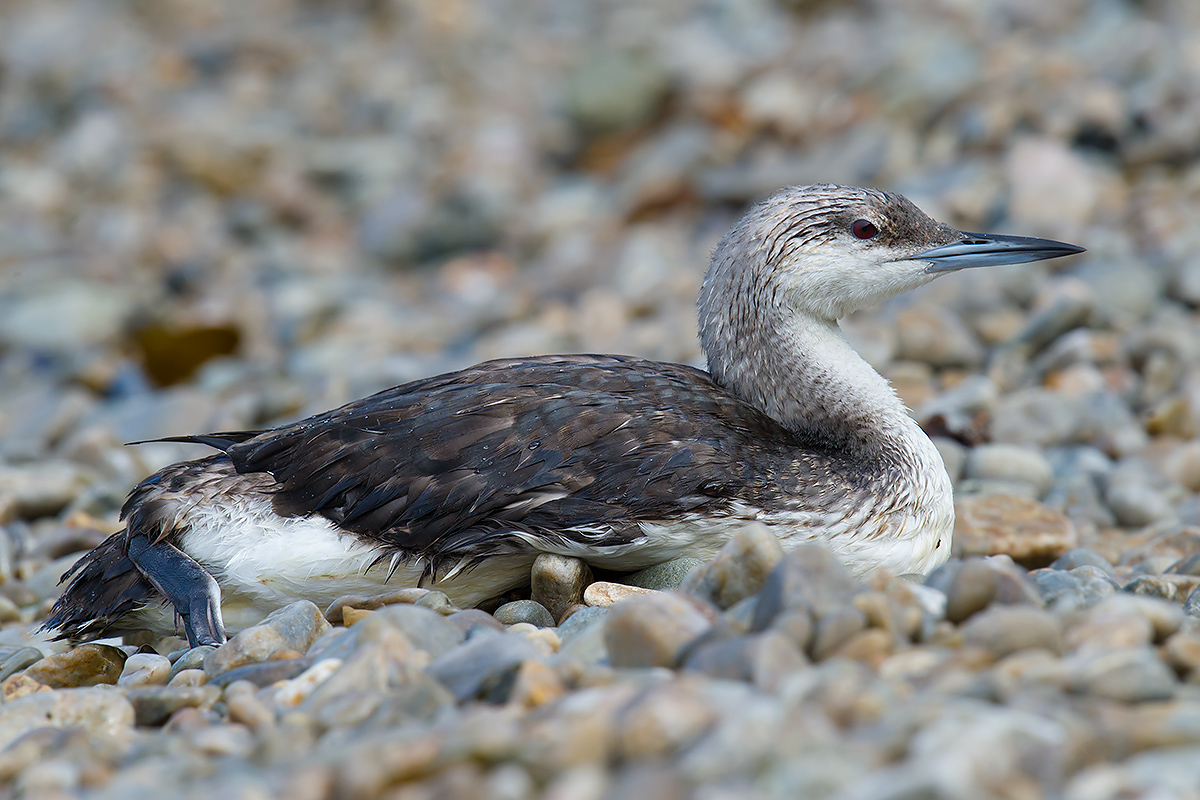 Black-throated Loon is also known as Black-throated Diver and Arctic Loon. Gavia arctica breeds across northern Eurasia and into Alaska. It is an uncommon winter visitor all along the coast of China and is very rarely noted in Shanghai, with the last previous record in 2012. Before the encounter Saturday, I had seen Black-throated Loon only once, on 18 Sept. 2013 at Laotieshan (38.730483, 121.134018) in the northeastern province of Liaoning.
Here is video of Black-throated Loon at Sanjiagang Seaside Park.
GULLING WITH BIRDERS IN MY POCKET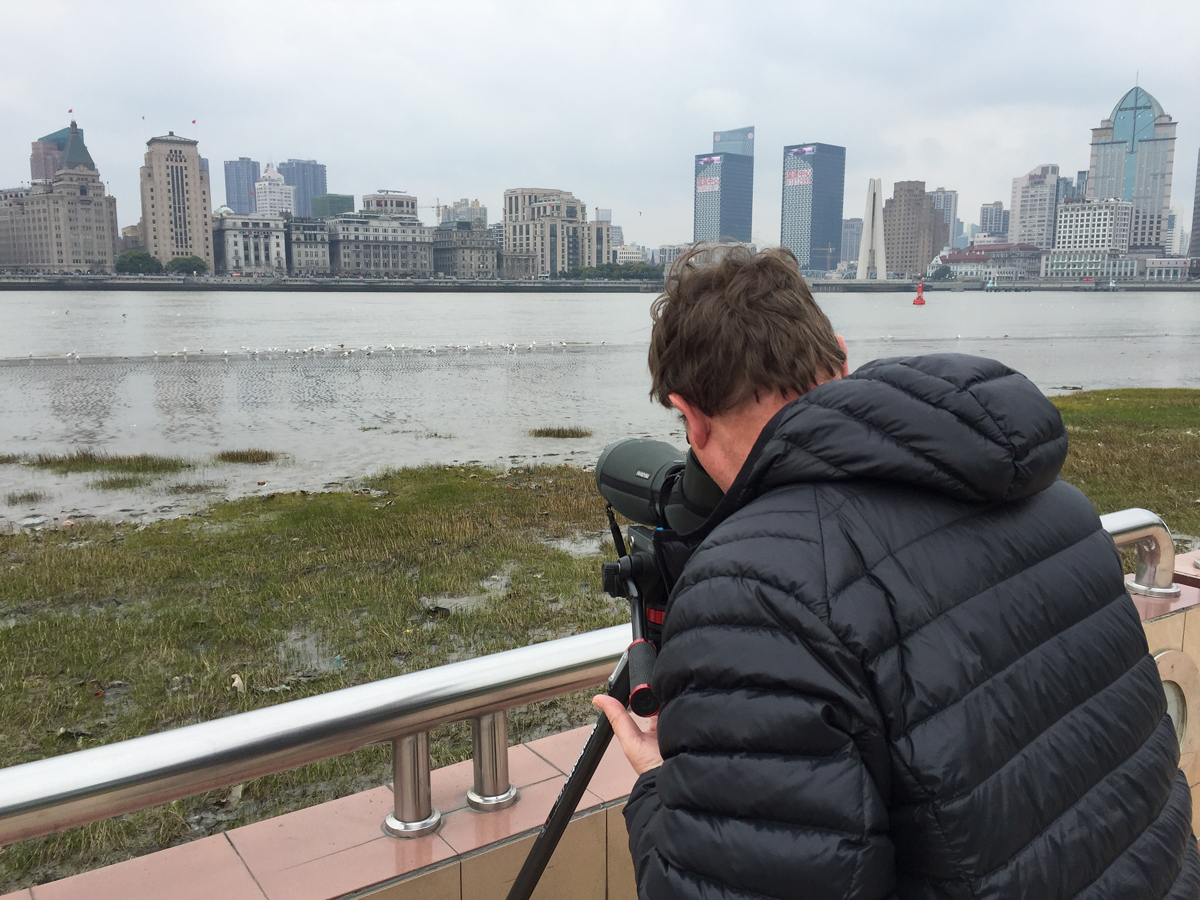 On Sat. 18 March at Binjiang Park (31.2356935, 121.4973863), with the Pudong skyline looming behind, Michael Grunwell and I scanned the gulls on the Huangpu River.
"I think we've found Slaty-backed!" Michael cried.
With my iPhone I took photos of the gull through my scope and uploaded the photos to Shanghai Birding, the chat group I manage on the instant-messaging application WeChat. Within minutes the experts in my pocket started weighing in. Shenzhen birder Jonathan Martinez and Larry Chen, both strong gullers, confirmed Michael's ID. Michael and I had a life bird!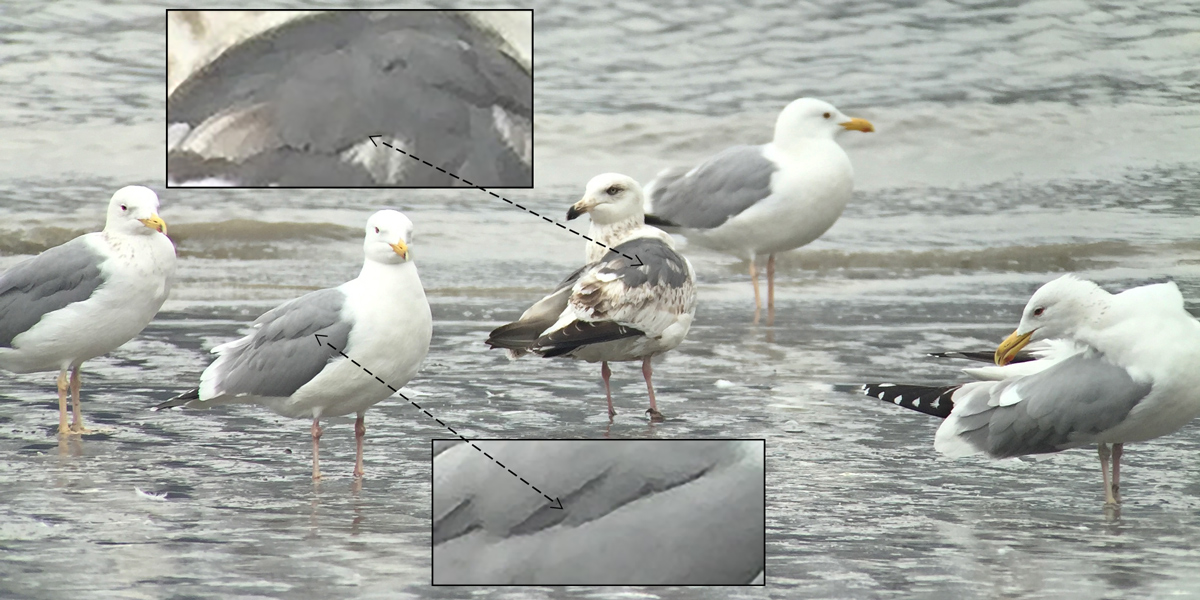 Slaty-backed Gull Larus schistisagus breeds on islands and cliffs on the coast of the Russian Far East (particularly the Kamchatka Peninsula) as well as Hokkaido. Wintering Slaty-backed are common in Japan, less common in northern coastal China, and rare in Shanghai.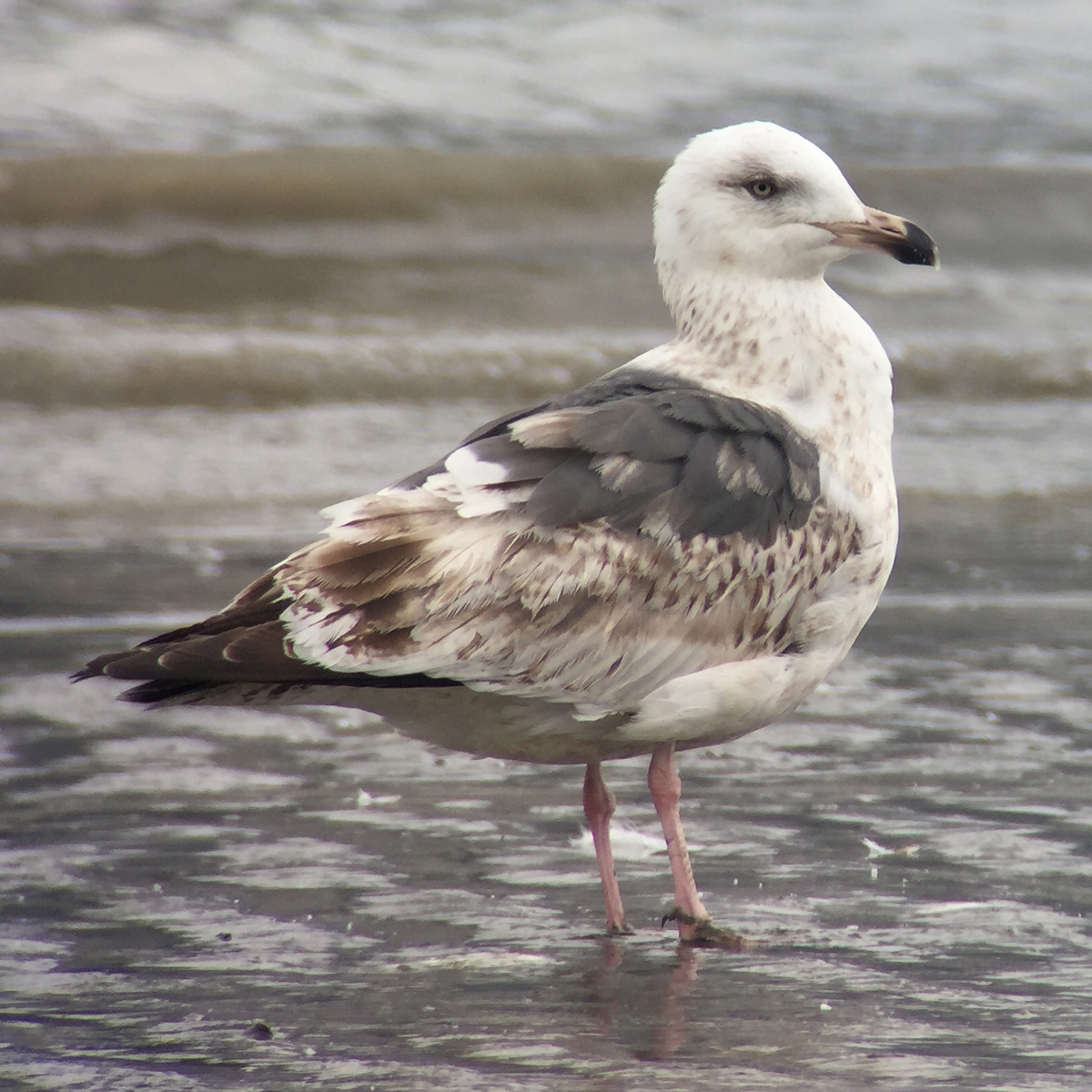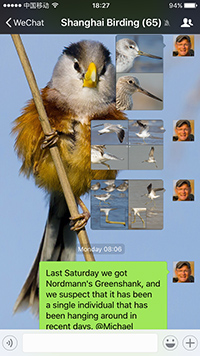 JOIN US ON SHANGHAI BIRDING
You too can join Shanghai Birding. In WeChat, search in New Friends for  "craigbrelsford." I'll accept your friend request and add you to the group.
Also, don't forget to subscribe to this Web site. Just fill out the form in the sidebar. You will be notified every time I post, and you can opt out at any time.
With these two absolutely free resources, you will have the equivalent of a daily newspaper (Shanghai Birding) and weekly news-magazine (shanghaibirding.com) dedicated to birding in the great city of Shanghai.
Day Lists
Lists are generated on eBird then adjusted to comport with my first reference, the IOC World Bird List.
List 1 of 2 for Sat. 18 March 2017 (7 species)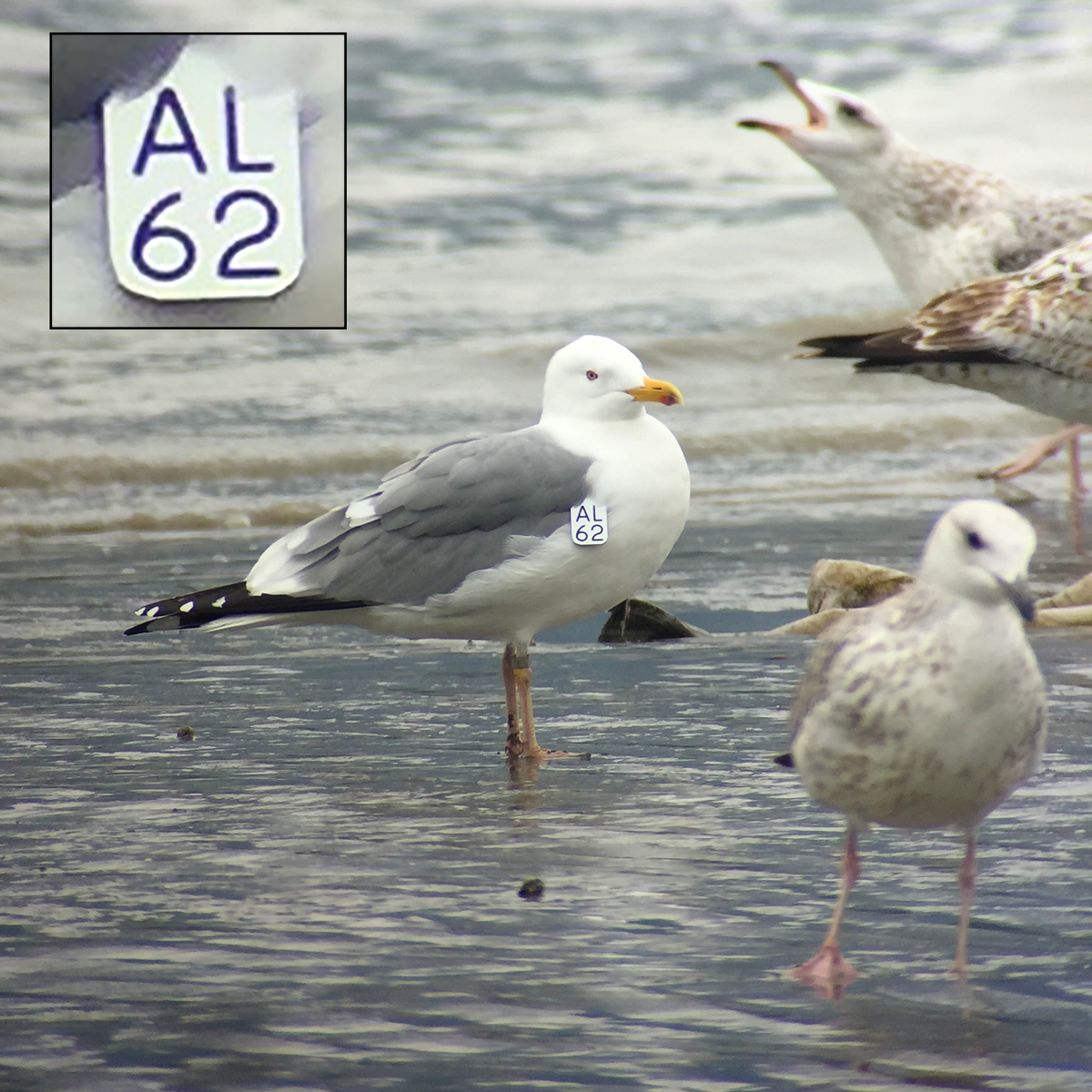 Birds noted at Binjiang Park (Bīnjiāng Gōngyuán [滨江公园], (31.2356935, 121.4973863), small urban park on Huangpu River in Pudong New Area (Pǔdōng Xīn Qū [浦东新区]), Shanghai, China. Overcast; low 10° C, high 13° C. Visibility 10 km. Wind NE 11 km/h. PM2.5 AQI: 91 (moderate). Sunrise 06:00, sunset 18:04. SAT 18 MAR 2017 11:00-12:45. Craig Brelsford & Michael Grunwell.
Little Egret Egretta garzetta 20
Black-crowned Night Heron Nycticorax nycticorax 50
Mongolian Gull Larus vegae mongolicus 1 w. tags & band
Vega/Mongolian Gull L. vegae vegae/mongolicus 149
Lesser Black-backed Gull L. fuscus heuglini 3
Slaty-backed Gull L. schistisagus 1
Long-tailed Shrike Lanius schach 1
Chinese Blackbird Turdus mandarinus 15
List 2 of 2 for Sat. 18 March 2017 (22 species)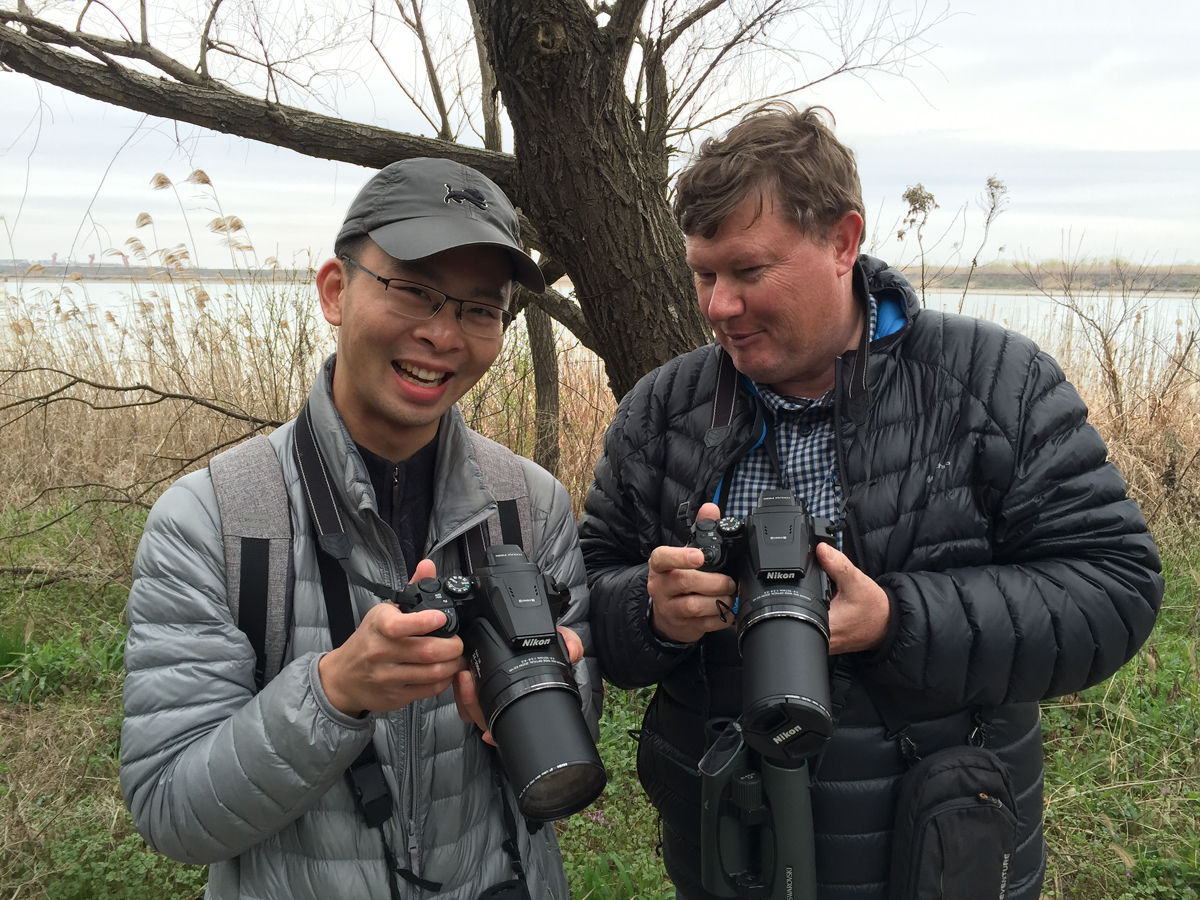 Birds noted at Sanjiagang Seaside Park (Sānjiǎgǎng Hǎibīn Lèyuán [三甲港海滨乐园]; 31.217928, 121.768172), Pudong New Area (Pǔdōng Xīn Qū [浦东新区]), Shanghai, China. Overcast; low 10° C, high 13° C. Visibility 10 km. Wind NE 11 km/h. PM2.5 AQI: 91 (moderate). Sunrise 06:00, sunset 18:04. SAT 18 MAR 2017 14:15-16:45. Craig Brelsford & Michael Grunwell.
Tufted Duck Aythya fuligula 40
Red-throated Loon Gavia stellata 1
Black-throated Loon G. arctica 1
Little Grebe Tachybaptus ruficollis 50
Great Crested Grebe Podiceps cristatus 5
Grey Heron Ardea cinerea 3
Little Egret Egretta garzetta 75
Eurasian Coot Fulica atra 60
Spotted Dove Streptopelia chinensis 7
Long-tailed Shrike Lanius schach 3
Barn Swallow Hirundo rustica 25
Light-vented Bulbul Pycnonotus sinensis 15
Pallas's Leaf Warbler Phylloscopus proregulus 2 (1 singing)
Vinous-throated Parrotbill Sinosuthora webbiana 40
Pale Thrush Turdus pallidus 1
Daurian Redstart Phoenicurus auroreus 1
Eurasian Tree Sparrow Passer montanus 50
White Wagtail Motacilla alba leucopsis 20
Little Bunting Emberiza pusilla 5
Yellow-throated Bunting E. elegans 1
Black-faced Bunting E. spodocephala 7
Pallas's Reed Bunting E. pallasi 7
Featured image: Black-throated Loon Gavia arctica, Laotieshan, Liaoning, China, 18 Sept. 2013. Photo by Craig Brelsford using Nikon D3S and Nikkor 600mm F/4 lens. 1/800, F/14, ISO 1600. I was just 7.1 m from the loon, lying on my belly on the rocky shore.