On Sun. 24 July, Elaine Du and I drove our partner Jan-Erik Nilsén to Xining Caojiabao Airport, completing our second week with the Beijing-based Swedish birder and fourth in Qinghai. This trip started on 26 June with Michael Grunwell and his old friend Mark Waters. Since then, Elaine and I have noted 168 species of bird, driven 5800 km, and birded six of the eight prefectures of this province, which is thrice the size of the United Kingdom. I have been attacked by dogs at Kanda Nunnery, met a Living Buddha at a Buddhist art school, scoped the rings of Saturn and the moons of Jupiter in the clear Tibetan Plateau air, and photographed Tibetan Lynx.
After four weeks birding at high altitude without a day off, and after nearly collapsing in exhaustion Sunday night in our hotel room here in Xining, Elaine and I made the only logical choice: We have decided to extend our Qinghai trip three more weeks, into August. You can say we're crazy about Qinghai, or you can say we're just crazy.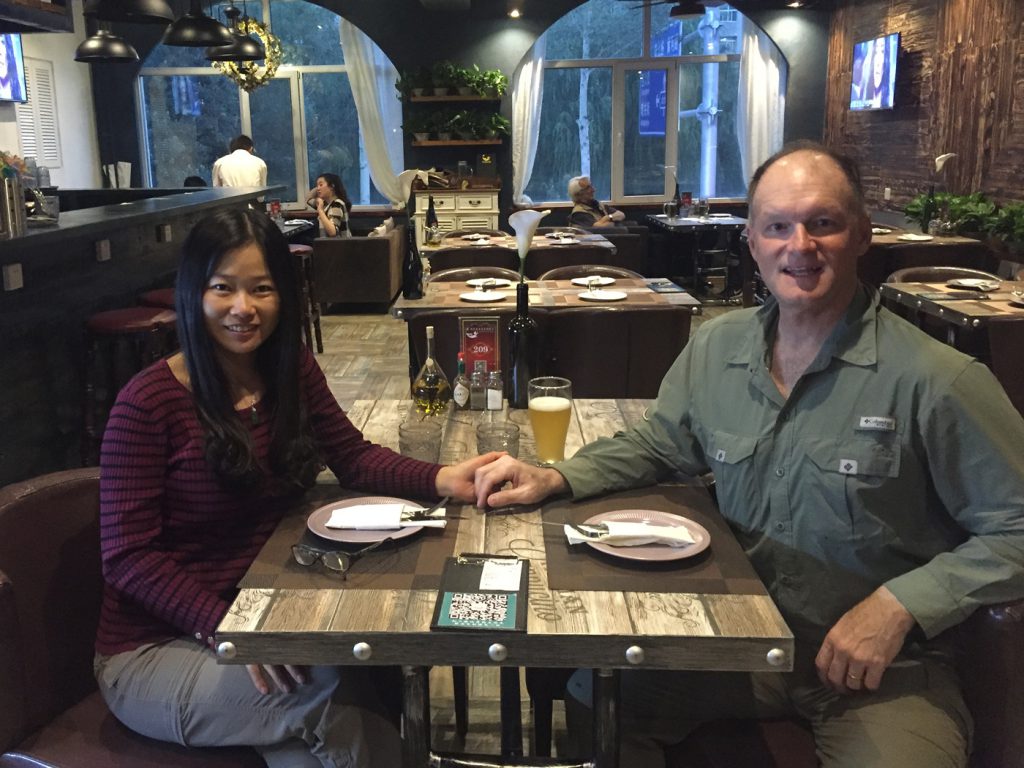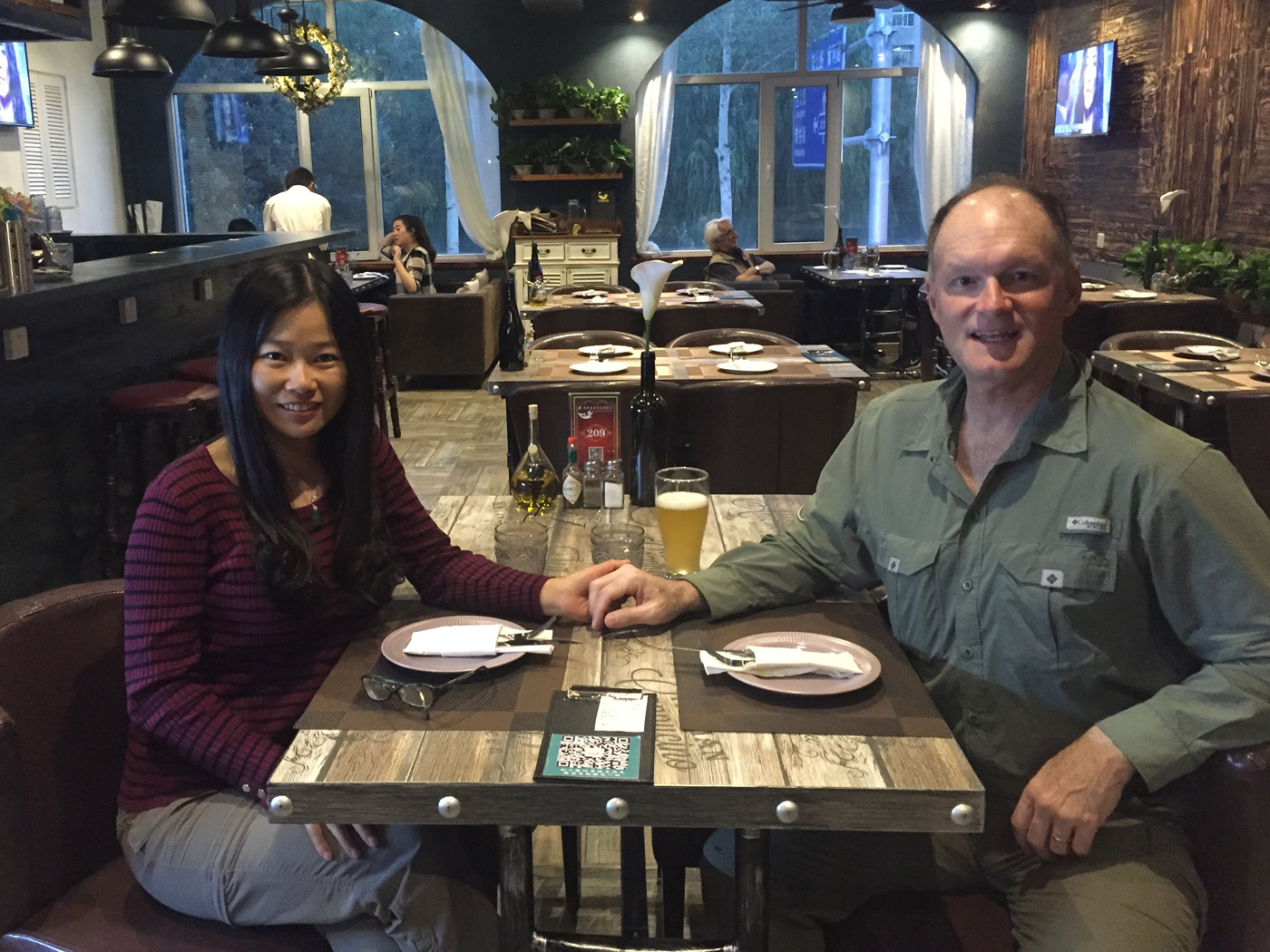 My wife and I are currently resting up here in the capital of Qinghai, the largest city on the Tibetan Plateau. Trading our birder's hat for a tourist's, we have taken in the sights of Xining, a city that has long been a crossroads of Han, Hui, and Tibetan culture. Dongguan Mosque dates from 1380, Ta'er Monastery from 1583. Western culture has arrived: On Monday night Elaine and I shared a steak at an Italian restaurant, and I drank a Hoegaarden.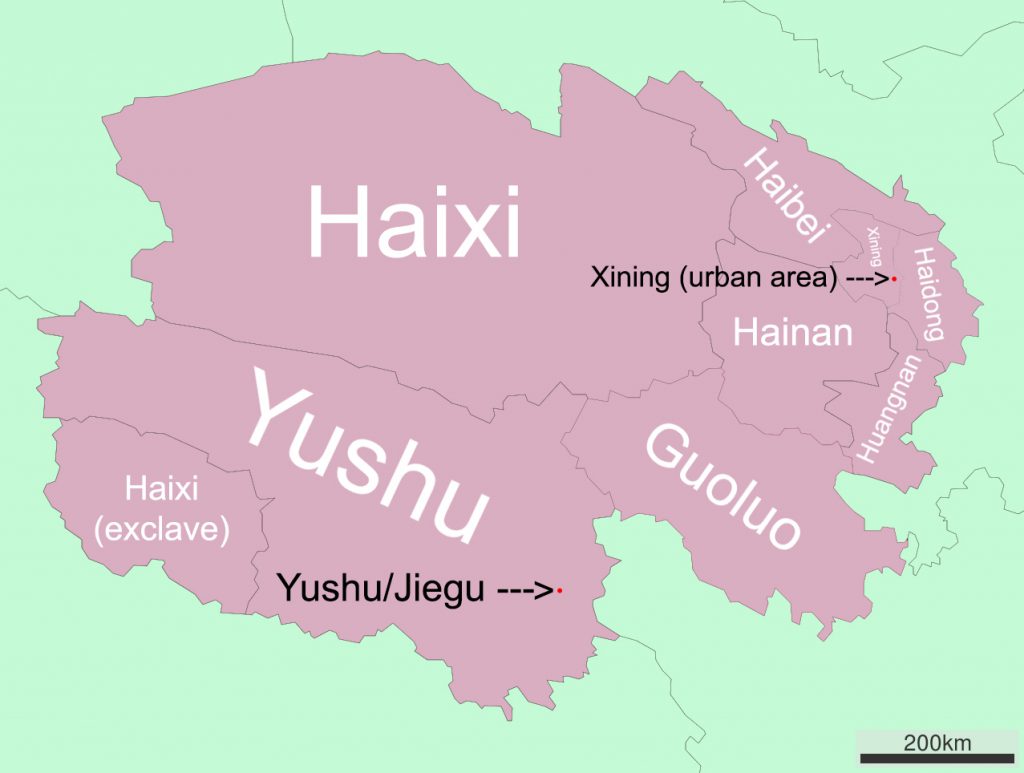 Jan-Erik's second week with us saw us range from the town of Yushu (Jiegu) (33.002242, 96.978488) north through Maduo County and Ela Pass (35.497608, 99.511449) and into the desert around Dulan before a final night in Chaka (36.791576, 99.078878) and a long ride to Xining Caojiabao Airport (36.527923, 102.040889). We noted 69 species. Highlights:
Greylag Goose Anser anser
2 in pond west of Chaka (36.791576, 99.078878). First record for Qinghai 2016 trip.
Bar-headed Goose Anser indicus
952 in lakes in Maduo County (4250 masl) and at Lake Donggeicuona (35.290072, 98.537098) in Maduo County (4100 masl).
Grey Heron Ardea cinerea
1 at Lake Donggeicuona. My first record on Tibetan Plateau.
Great Egret Ardea alba
1 at Donggeicuona. My first on Tibetan Plateau. Unexpected in region (according to A Field Guide to the Birds of China).
Eastern Cattle Egret Bubulcus coromandus
1 surprising record along G214 in Maduo County at lofty 4250 masl.
Steppe Eagle Aquila nipalensis
1 sub-ad. 24 July in semi-desert between Chaka (36.791576, 99.078878) and Heimahe (36.729239, 99.779524).
Himalayan Vulture Gyps himalayensis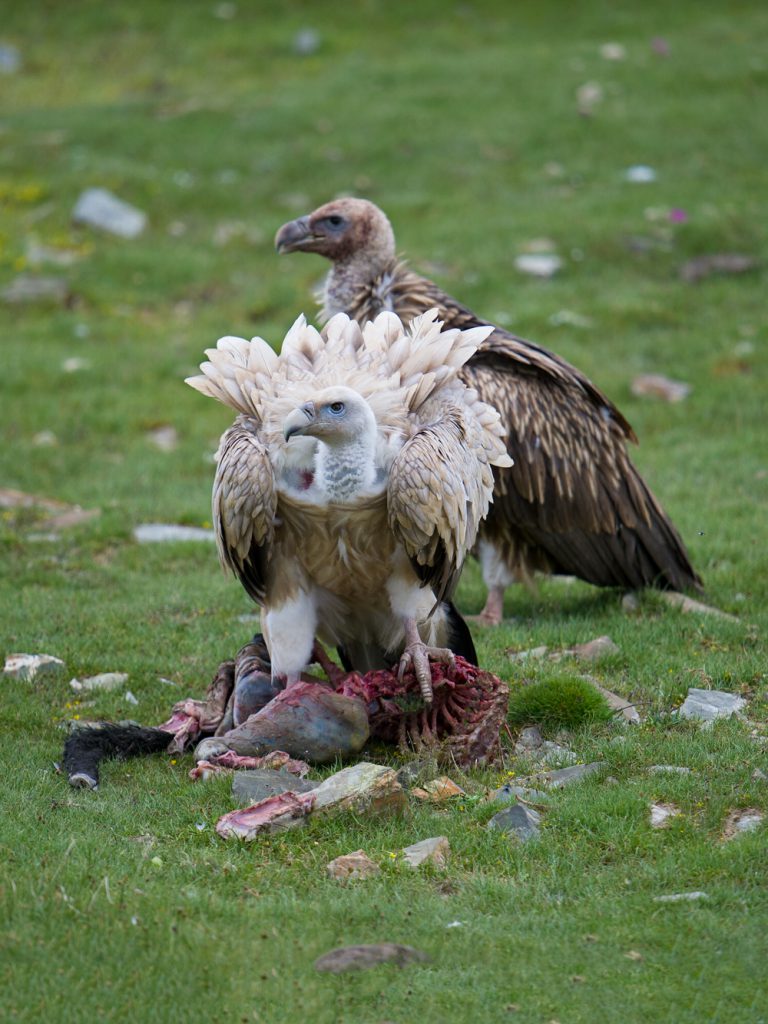 Amazing scene 20 July near Ela Pass (35.497608, 99.511449) in which juvenile waited patiently while adult ate its fill of lamb carcass.
Black-necked Crane Grus nigricollis
16 around Maduo County wetlands, at Donggeicuona, and at Chaka.
Black-winged Stilt Himantopus himantopus
4 in pond with Greylag Goose west of Chaka. My first on Tibetan Plateau.
Black-tailed Godwit Limosa limosa
59 around Chaka. Unexpected (according to A Field Guide to the Birds of China).
Little Owl Athene noctua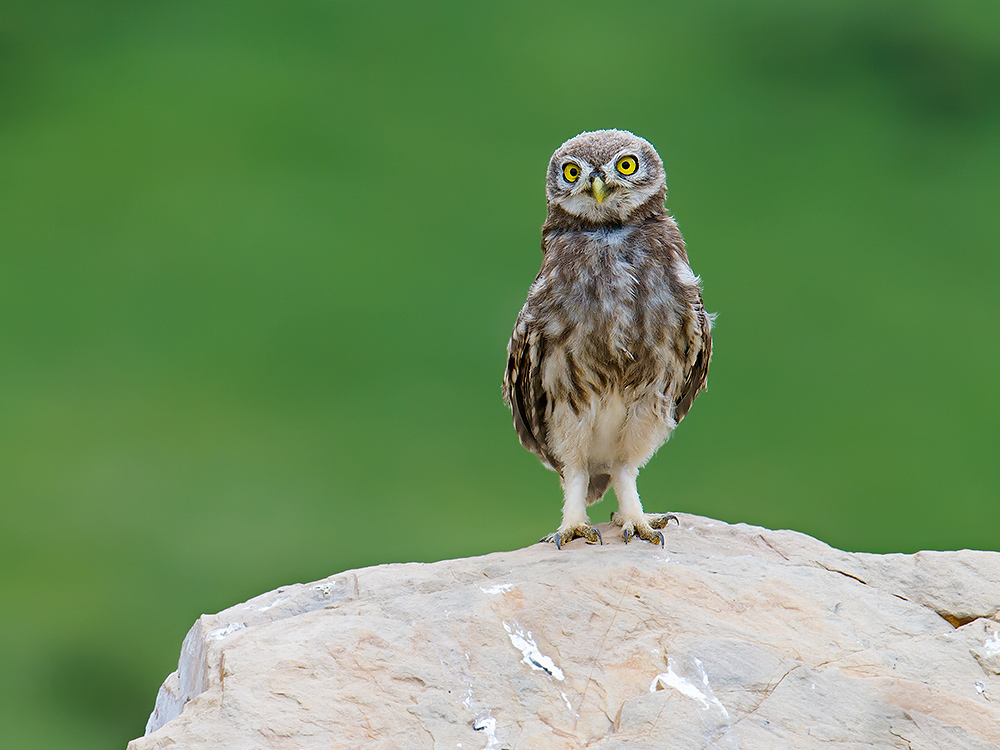 Owlets examined us near Yankou Shan (33.199406, 97.466606) in Yushu Prefecture.
Chinese Grey Shrike Lanius sphenocercus giganteus
4 in semi-desert W of Dulan.
Mongolian Lark Melanocorypha mongolica
4 in grassland between Chaka and Gonghe-Qiabuqia (36.275266, 100.624701).
Barn Swallow Hirundo rustica
1 (first record of trip) across from hotel in Chaka (36.791576, 99.078878).
Desert Whitethroat Sylvia minula
1 singing individual and 1 dead individual in semi-desert W of Dulan.
Tibetan Rosefinch Carpodacus roborowskii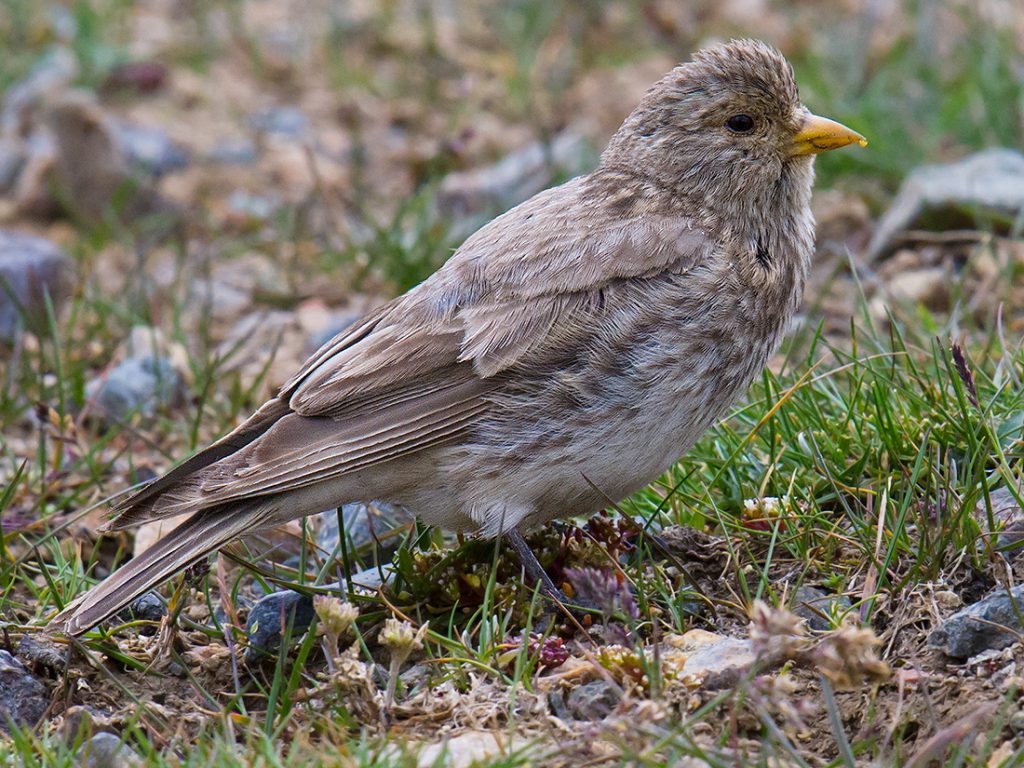 1 female at Ela Pass (35.497608, 99.511449), elev. 4499 m, on G214, Hainan Prefecture.
Streaked Rosefinch Carpodacus rubicilloides
2 (pair) aggressively defending territory in semi-desert W of Dulan.
Great Rosefinch Carpodacus rubicilla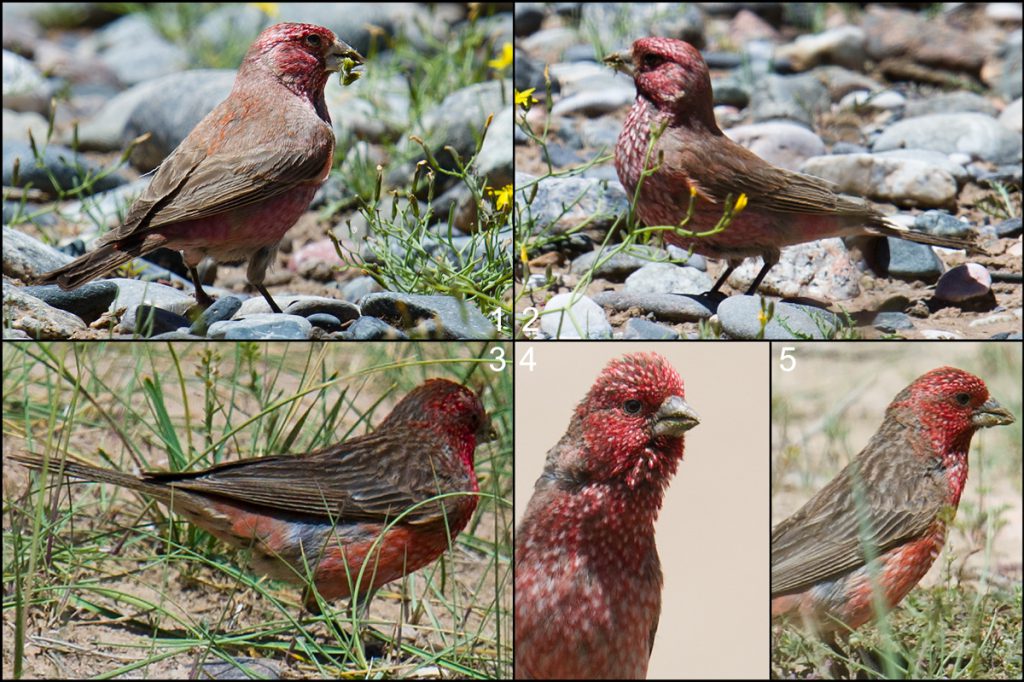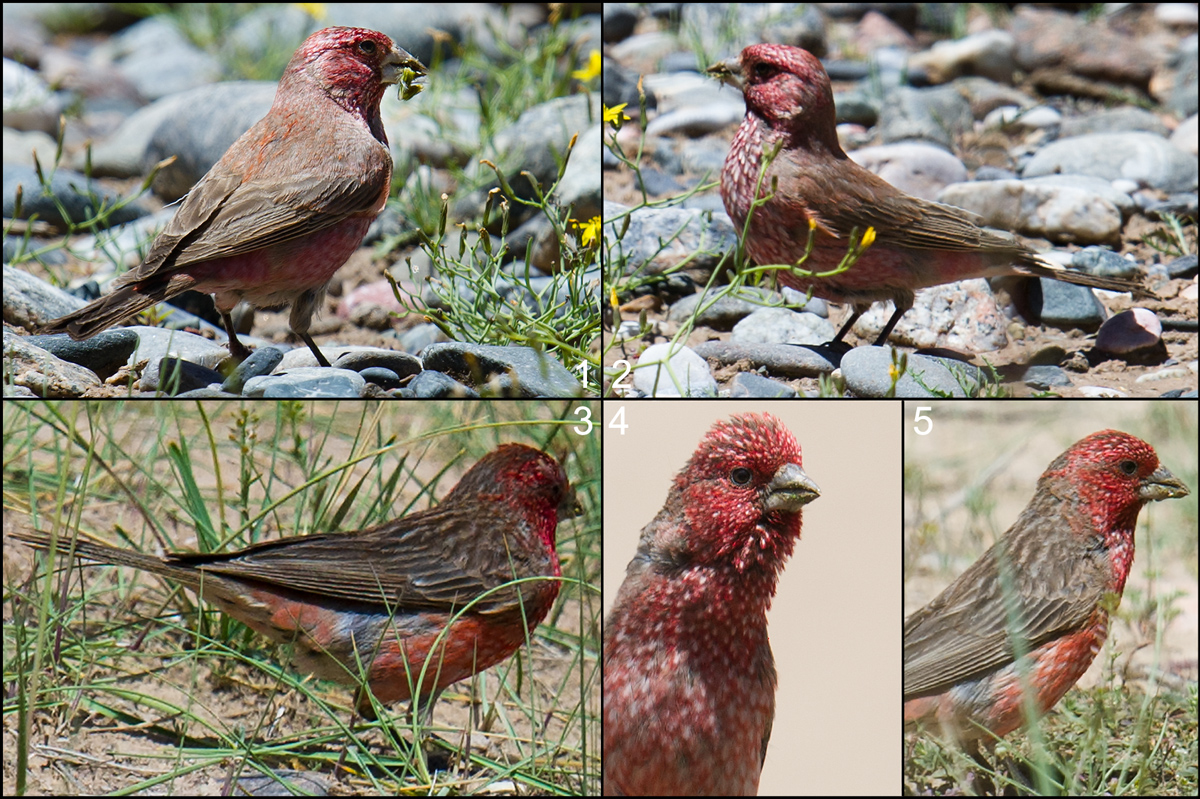 2 males found near Streaked Rosefinch; no defense of territory, no streaking on back, larger white spots on breast, browner wings.
Henri's Snowfinch Montifringilla henrici
2 at Ela Pass.
Pine Bunting Emberiza leucocephalos fronto
8 singing males at Przevalski's Site (36.457249, 98.502578) in Dulan Mountains west of Chaka.
Mammals
Mongolian Five-toed Jerboa Allactaga sibirica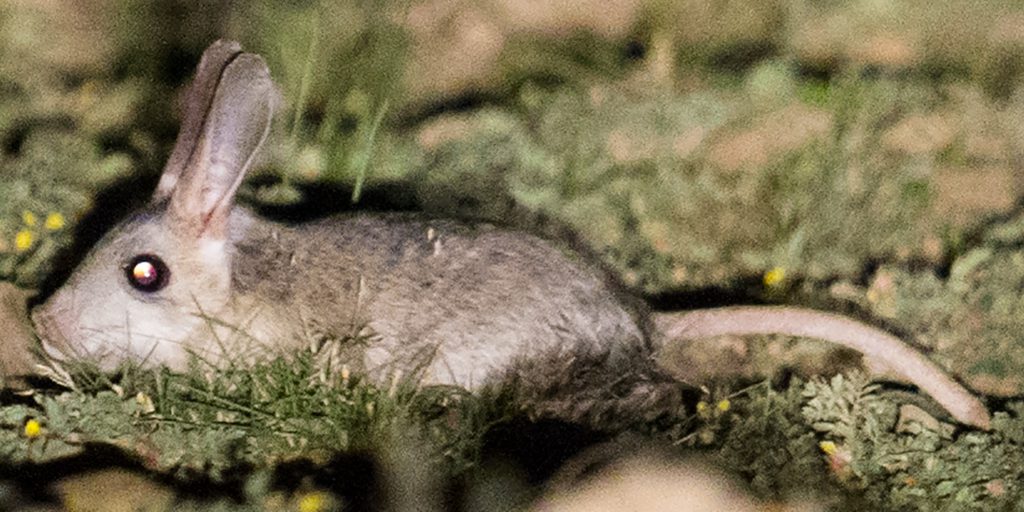 6 noted after dark 19 July at elev. 4250 m on steppe west of Maduo-Machali (34.911354, 98.211208). Although we found jerboas along paved roads, we had more success along dirt roads, where traffic was less. A particularly good dirt road is 13.8 km from Maduo-Machali on the X731. It can be accessed from the X731 at 34.976612, 98.100317. The dirt road is on the right-hand side of the X731 for drivers coming from Maduo-Machali.
Bactrian Camel Camelus bactrianus
ca. 1000 in rangeland west of Chaka. Presence of this huge herd on 23 July probably was the factor dooming Jan-Erik's chances of another look at Henderson's Ground Jay.
Tibetan Wild Ass Equus kiang
166 on 21 July around Gouhua, a site near the border of Guoluo and Haixi prefectures and first covered by Jan-Erik, Brian Ivon Jones, and me in July 2014. This site remains the single-richest spot for Tibetan Wild Ass that I have seen.
Red Fox Vulpes vulpes
3 (1 on 22 July at Przevalski's Site, 2 on 18 July near Maduo-Machali).
Tibetan Fox Vulpes ferrilata
7 (2 near Maduo 19 July, 5 [2 ads., 3 juvs.] 18 July near Maduo-Machali).
Featured image: Jan-Erik Nilsén scans a pond near the Yellow River in Guoluo Prefecture, Qinghai, 19 July 2016. Elev. 4240 m (13,910 ft.). (Craig Brelsford)
Keep
shanghaibirding.com

on the web.

Donate

today.