shanghaibirding.com is the creation of Craig Brelsford, an American birder who lived in Shanghai from 2007 to 2018. Craig and his wife, Elaine Du, regularly visited the major birding sites in Earth's Largest City.
When Craig departed China in January 2018, he was the top-ranked eBirder in that country, having noted 932 species. Craig was also the top-ranked eBirder in Shanghai, with 323 species noted, as well as Shanghai's Cape Nanhui, one of the best-known birding spots in China. Craig established the Cape Nanhui hot spot on eBird, coined the term "Cape Nanhui," and advocated for the conservation of the most southeasterly point in Shanghai.
A 1993 graduate of the University of Florida, Craig was an award-winning newspaper editor in the United States for 10 years. A fluent speaker of Dutch, Spanish, and French as well as Mandarin, Craig in 2002 earned a master's in business administration from the University of Liege in Belgium. Craig is the creator of the translation Web sites cv-engels.nl and cv-english.de.
Elaine is from Boli, Heilongjiang and has a master's degree in food science and engineering from the Harbin Institute of Technology. When Elaine departed China in February 2018, she was the highest-ranked woman eBirder in China, with 735 species on her list, and was second only to Craig on the all-time eBird lists for Shanghai, Cape Nanhui, and her home province of Heilongjiang. Elaine's Chinese name is Dù Lián Róng (杜连荣).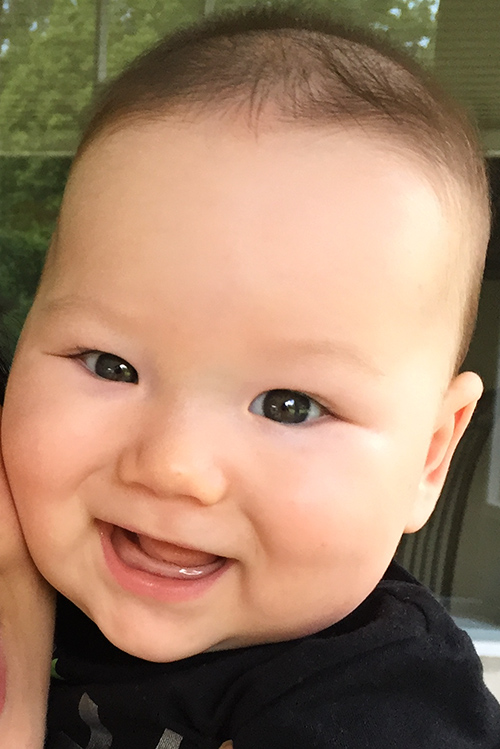 Craig and Elaine's son, "Tiny" Craig, was born 26 Oct. 2017 in Shanghai. Tiny's first life bird was Japanese Tit, calling outside the window of Changning Maternity Hospital moments after his birth.
Craig, Elaine, and Tiny live in Debary, Florida.
Though Elaine and Craig did most of their birding around Shanghai, they had a strong interest in discovering birding locations elsewhere in China. For more on Craig and Elaine's travels in China, please see our Explorations page.
Photo: Craig Brelsford and Elaine Du on Lesser Yangshan Island, an important birding location in the Shanghai region. (Craig Brelsford)