Highlights from our 72-species day at Hengsha, Sun. 25 Oct. 2015: a lone Black-faced Spoonbill associating with 2 Eurasian Spoonbill, Chinese Grey Shrike, Red-throated Thrush, 2 Common Starling among White-cheeked Starling, and Bull-headed Shrike dining on grasshopper. Ducks: Eastern Spot-billed Duck 270, Eurasian Teal 55, Northern Shoveler 3. Also Eurasian Coot 280, Common Snipe 28, Ruddy Turnstone 1, Chinese Penduline Tit 75, Richard's Pipit 25.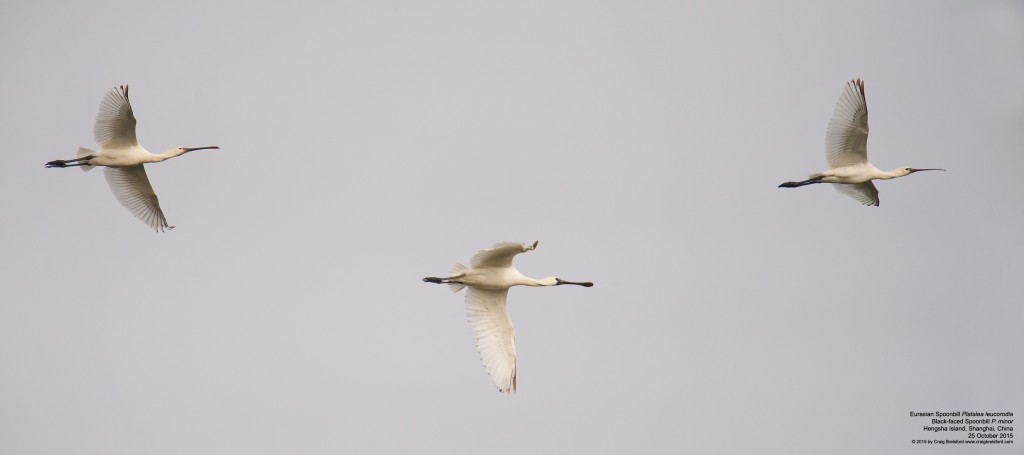 Elaine and I recorded only 1 bunting all day: a single Chestnut-eared Bunting. Hengsha was bunting central last autumn, and almost exactly a year ago Elaine and I had seven Emberiza species in a single morning on Temple Mount on Lesser Yangshan.
In the past year, Elaine and I have seen Common Starling with White-cheeked Starling on three occasions in three widely separated locations. On 8 Nov. 2014 at Sì Hé Cūn (四合村) near Lake Poyang in Jiangxi, we found 80 Common Starling among 160 White-cheeked Starling; on 23 July 2015 at Wūlánnuò'ěr (乌兰诺尔) near Hulun Lake in Hulunbeier, Inner Mongolia, we found 1 Common Starling among 15 White-cheeked Starling; and now this latest sighting. Common Starling is well-known to birders in Europe and North America (where it is an introduced species), and it is common in parts of western China, but in eastern China it is supposedly only a vagrant.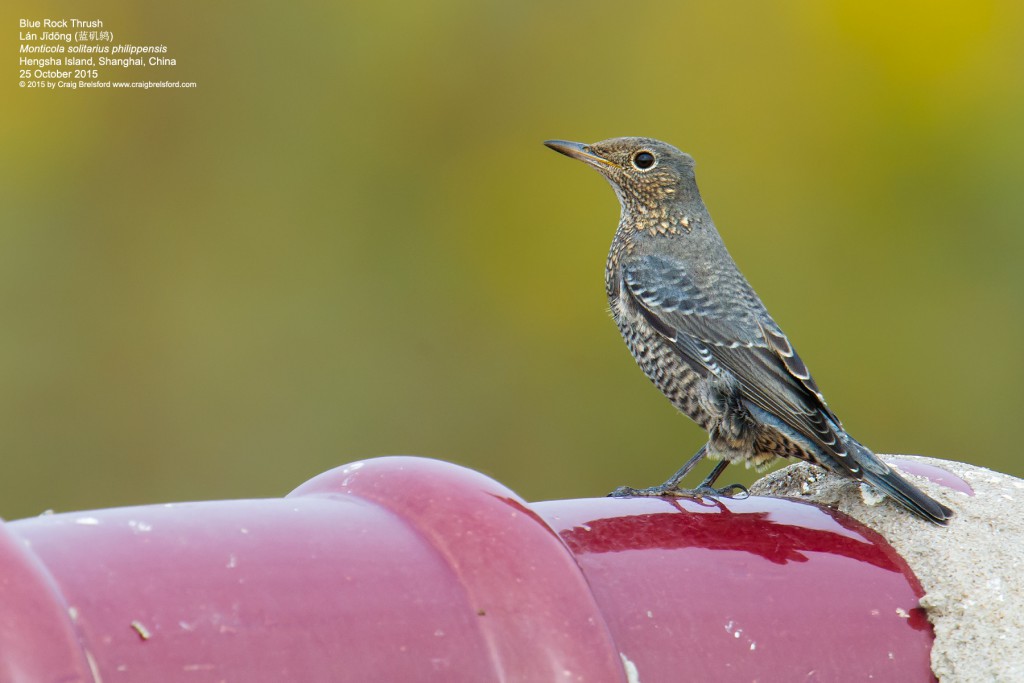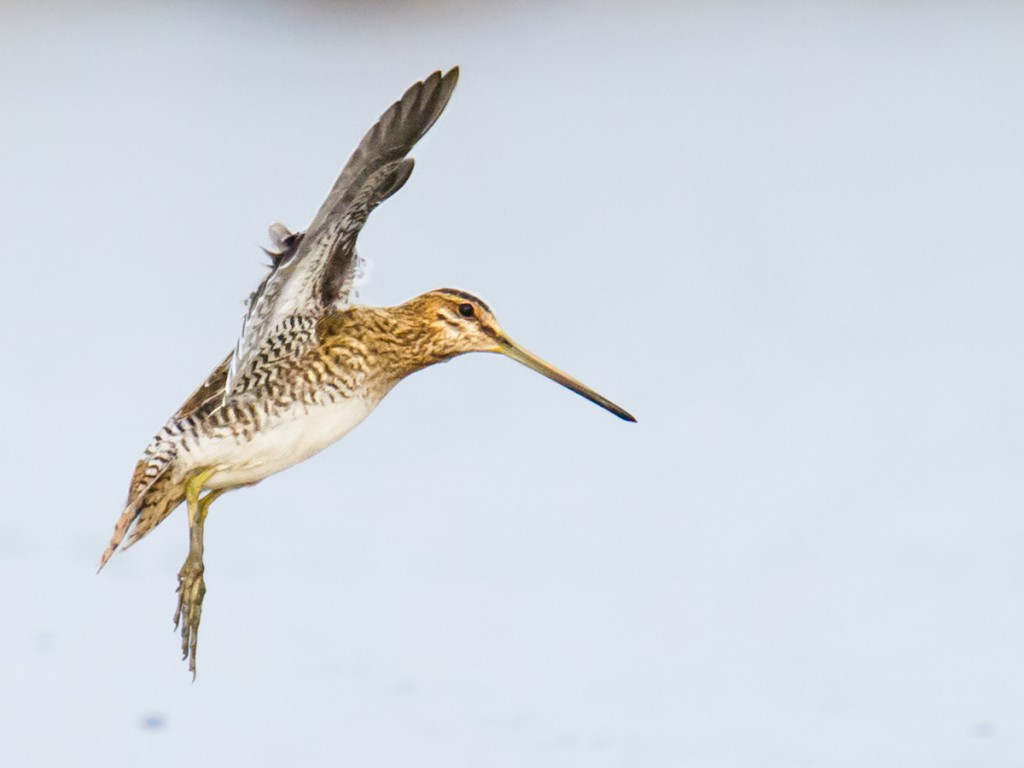 Hengsha is complicated to get to, and the reclaimed land where birders go lacks trees and thus forest birds. If it had even the microforests of Nanhui, then our total of 72 species might have been 80 to 90, and if in addition even a small part of the giant project were run as a nature reserve, then the list might have topped 100! Still, a day at Hengsha may be the single most interesting birding day available in Shanghai. The place has a remote, even wild feel, and the air is fresh.
Hengsha Island (Héngshā Dǎo [横沙岛]), a small alluvial island at mouth of Yangtze River in Shanghai, China. S gate to birding area at 31.297333, 121.859434. 07:10-17:10.
Eurasian Wigeon Anas penelope 3
Mallard A. platyrhynchos 40
Eastern Spot-billed Duck A. zonorhyncha ca. 270
Northern Shoveler A. clypeata 3
Eurasian Teal A. crecca 55
Common Pheasant Phasianus colchicus 1
Little Grebe Tachybaptus ruficollis 30
Great Crested Grebe Podiceps cristatus 7
Eurasian Spoonbill Platalea leucorodia 2
Black-faced Spoonbill P. minor 1
Eurasian Bittern Botaurus stellaris 2
Black-crowned Night Heron Nycticorax nycticorax 2
Eastern Cattle Egret Bubulcus coromandus 3
Grey Heron Ardea cinerea 11
Purple Heron A. purpurea 1
Great Egret A. alba 13
Intermediate Egret A. intermedia 8
Little Egret Egretta garzetta 14
Black-crowned Night Heron Nycticorax nycticorax 2
Western Osprey Pandion haliaetus 1
Hen Harrier Circus cyaneus 2
White-breasted Waterhen Amaurornis phoenicurus 1
Common Moorhen Gallinula chloropus 20
Eurasian Coot Fulica atra ca. 280
Northern Lapwing Vanellus vanellus 9
Little Ringed Plover Charadrius dubius 2
Common Snipe Gallinago gallinago 20
Eurasian Curlew Numenius arquata 2
Spotted Redshank Tringa erythropus 3
Marsh Sandpiper T. stagnatilis 2
Common Greenshank T. nebularia 7
Wood Sandpiper T. glareola 2
Ruddy Turnstone Arenaria interpres 1
Sanderling Calidris alba 1
Red-necked Stint C. ruficollis 1
Temminck's Stint C. temminckii 2
Long-toed Stint C. subminuta 4
Dunlin C. alpina 2
Oriental Turtle Dove Streptopelia orientalis 25
Spotted Dove Spilopelia chinensis 2
Common Kingfisher Alcedo atthis 5
Common Kestrel Falco tinnunculus 4
Bull-headed Shrike Lanius bucephalus 1
Long-tailed Shrike L. schach 15
Chinese Grey Shrike L. sphenocercus sphenocercus 1
Chinese Penduline Tit Remiz consobrinus ca. 75
Eurasian Skylark Alauda arvensis ca. 50
Light-vented Bulbul Pycnonotus sinensis 15
Barn Swallow Hirundo rustica 20
Asian House Martin Delichon dasypus 15
Red-rumped Swallow Cecropis daurica 2
Yellow-browed Warbler Phylloscopus inornatus 1
Plain Prinia Prinia inornata 6
Vinous-throated Parrotbill Sinosuthora webbiana 5
Reed Parrotbill Paradoxornis heudei 3
Crested Myna Acridotheres cristatellus 8
White-cheeked Starling Spodiopsar cineraceus 6
Common Starling Sturnus vulgaris 2
Grey-backed Thrush Turdus hortulorum 1
Pale Thrush T. pallidus 2
Red-throated Thrush T. ruficollis 1
Daurian Redstart Phoenicurus auroreus 12
Blue Rock Thrush Monticola solitarius philippensis 2
Eurasian Tree Sparrow Passer montanus 30
Eastern Yellow Wagtail Motacilla tschutschensis 8 (4 taivana, 4 tschutschensis)
Grey Wagtail M. cinerea 1
White Wagtail M. alba 10 leucopsis
Richard's Pipit Anthus richardi 25
Red-throated Pipit A. cervinus 1
Brambling Fringilla montifringilla 12
Grey-capped Greenfinch Chloris sinica 1
Chestnut-eared Bunting Emberiza fucata 1
Featured image: Elaine Du viewing birds on Hengsha Island. In the top-left corner of the image, the three white dots are 1 Black-faced Spoonbill Platalea minor associating with 2 Eurasian Spoonbill P. leucorodia.