Editor's note: With more and more birders operating in Shanghai, more and more vagrant birds are bound to be discovered. One possibility is Blyth's Pipit (photo above, L), a species similar to our familiar Richard's Pipit (R). In this post, I will teach you how to separate the two.

2016 has been an outstanding birding year in Earth's largest city. Paddyfield Warbler/Manchurian Reed Warbler, seen at Cape Nanhui on 18 Dec., was the latest in a parade of rare visitors seen in Shanghai in 2016. Our Sightings page has documented the discoveries.
The reason for the surge in good records, I am convinced, is more birders with better skills communicating more effectively. I am proud to say that shanghaibirding.com and the Shanghai Birding WeChat group have played a role.
In the Shanghai area, one species that has not yet been reported is Blyth's Pipit. Anthus godlewskii breeds mainly in Mongolia, occurs on passage in central China, and winters mainly in India, so any records here would be of extralimitals. It is just the sort of vagrant that a bigger and better birding community could discover here in Shanghai.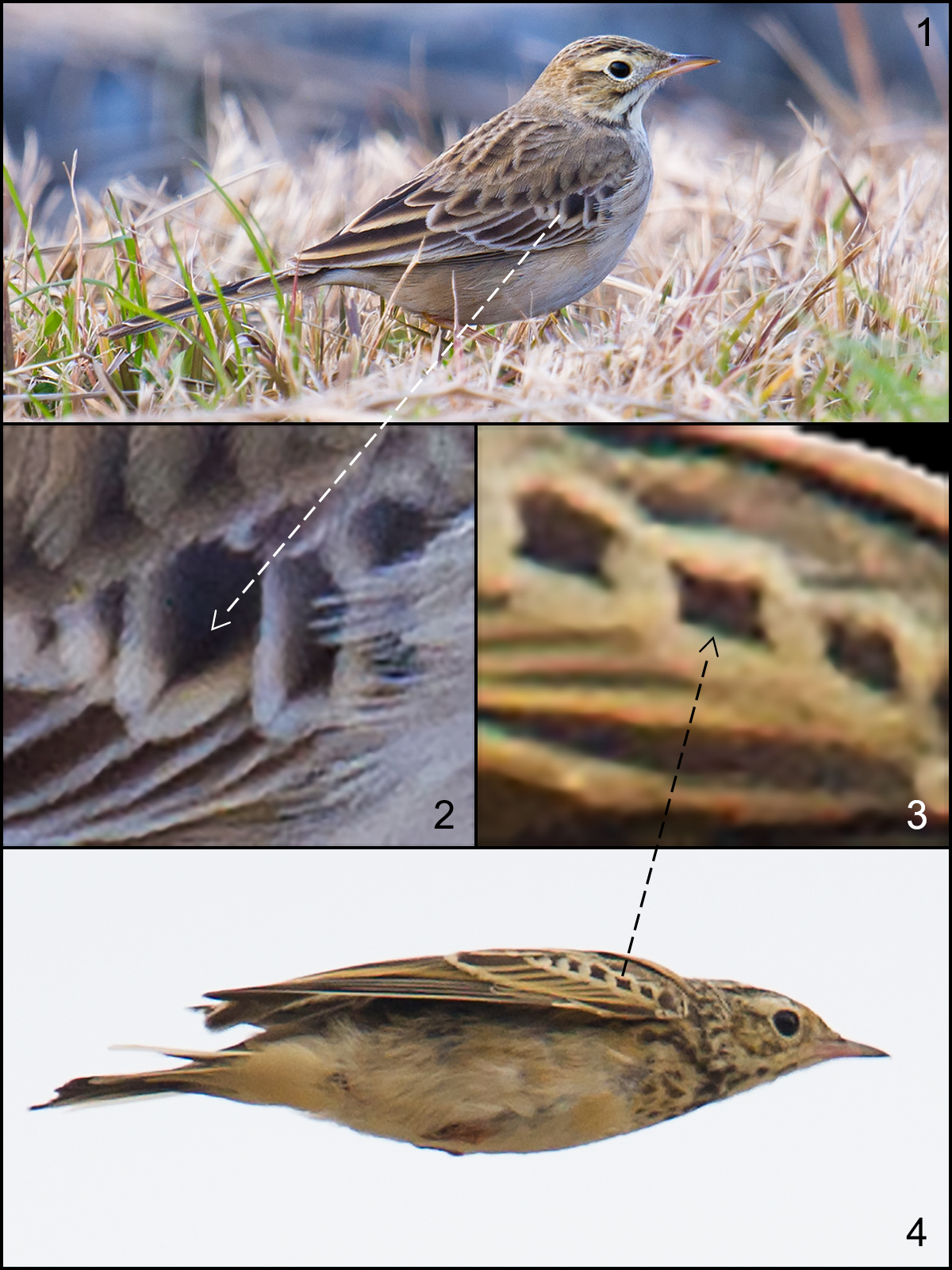 The key to getting a Blyth's in Shanghai is paying attention to the many Richard's Pipit that we see in the area. Anthus richardi is more or less a passage migrant in the Shanghai area and is recorded here regularly in spring and autumn. Some are present in winter; Elaine Du and I had a "sinensis" last week, the ID'ing of which led to this post.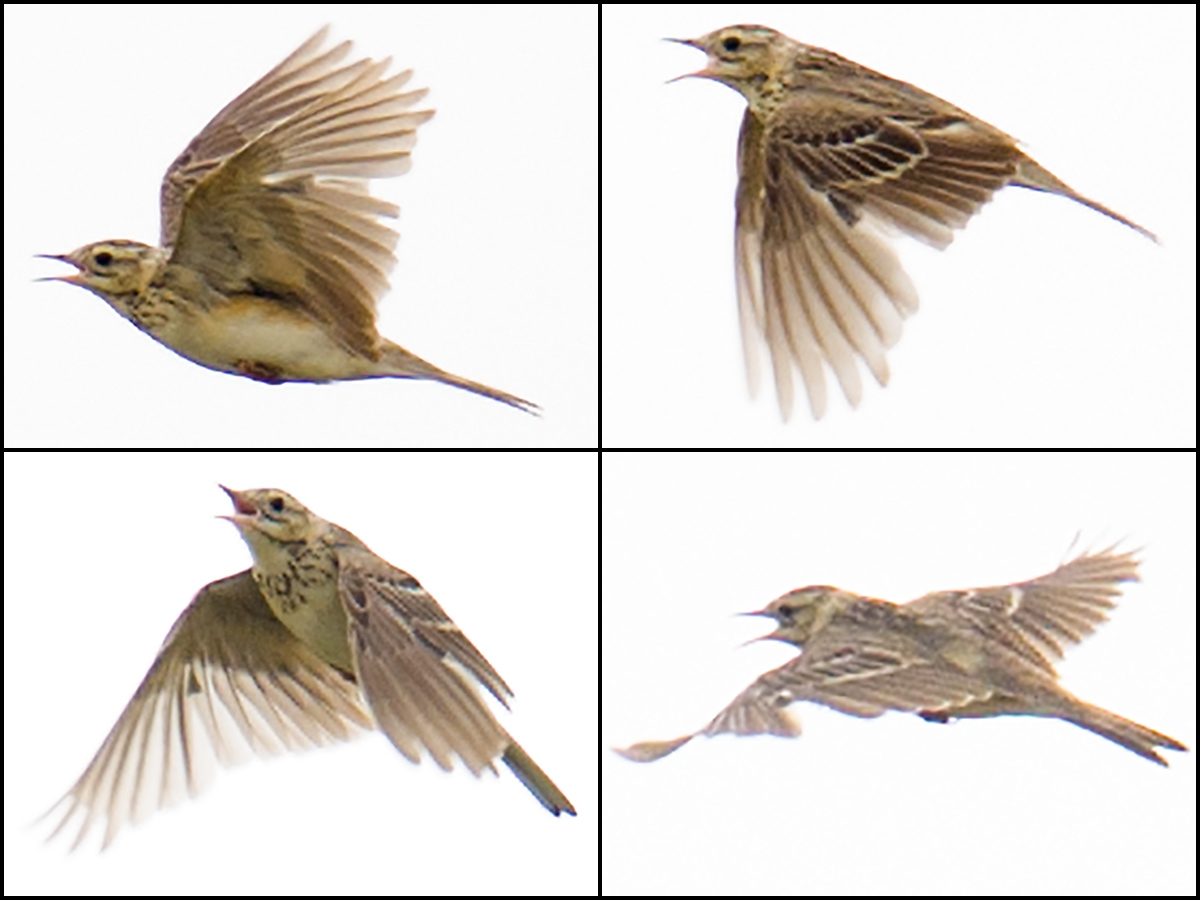 Richard's "sinensis" is very similar to Blyth's, being best told by song, which is rarely heard in the Shanghai area. According to Per Alström et al., whose book Pipits and Wagtails is the authority on Palearctic and Nearctic pipits, the song of Blyth's is "very characteristic and completely different from [that] of Richard's" (242). During a trip in July 2015 to the Inner Mongolian prefecture of Hulunbeier, one of the few places in China where Blyth's breeds, I recorded the song.
Blyth's Pipit, flight song, recorded 22 July 2015 at a point (48.767866, 116.834183) near Hulun Lake, Inner Mongolia (2.1 MB; 00:32)
The calls of the two species also differ, but less markedly. The flight call of Richard's is a common bird sound in Shanghai during migration season. The call of Blyth's is similar enough to "cause problems even for some veteran observers" (Alström et al. 244). For Shanghai birders, even those unfamiliar with Blyth's, a "Richard's" with a strange flight call is worth your attention. Listen for what Alström et al. describe as a call "less harsh, softer and more nasal" than Richard's (244). For reference, review the flight call of Richard's:
Richard's Pipit, flight call, Dishui Lake, Shanghai, 5 Feb. 2016 (00:01; 852 KB)
Regarding plumage, the most reliable differentiator of Richard's and Blyth's is the pattern of the median coverts. In Blyth's, a typical adult-type median covert will show well-defined, squarish black centers. In Richard's, the adult-type median coverts are less clear-cut, rufous-tinged, and triangular. Note that the fresher the plumage, the more reliable this differentiator is.
Another less reliable criterion is structure. Shanghai birders will agree that the first impression a non-"sinensis" Richard's usually gives is "large pipit." Other pipits, such as Buff-bellied Pipit, Red-throated Pipit, and Olive-backed Pipit, give a "small pipit" impression.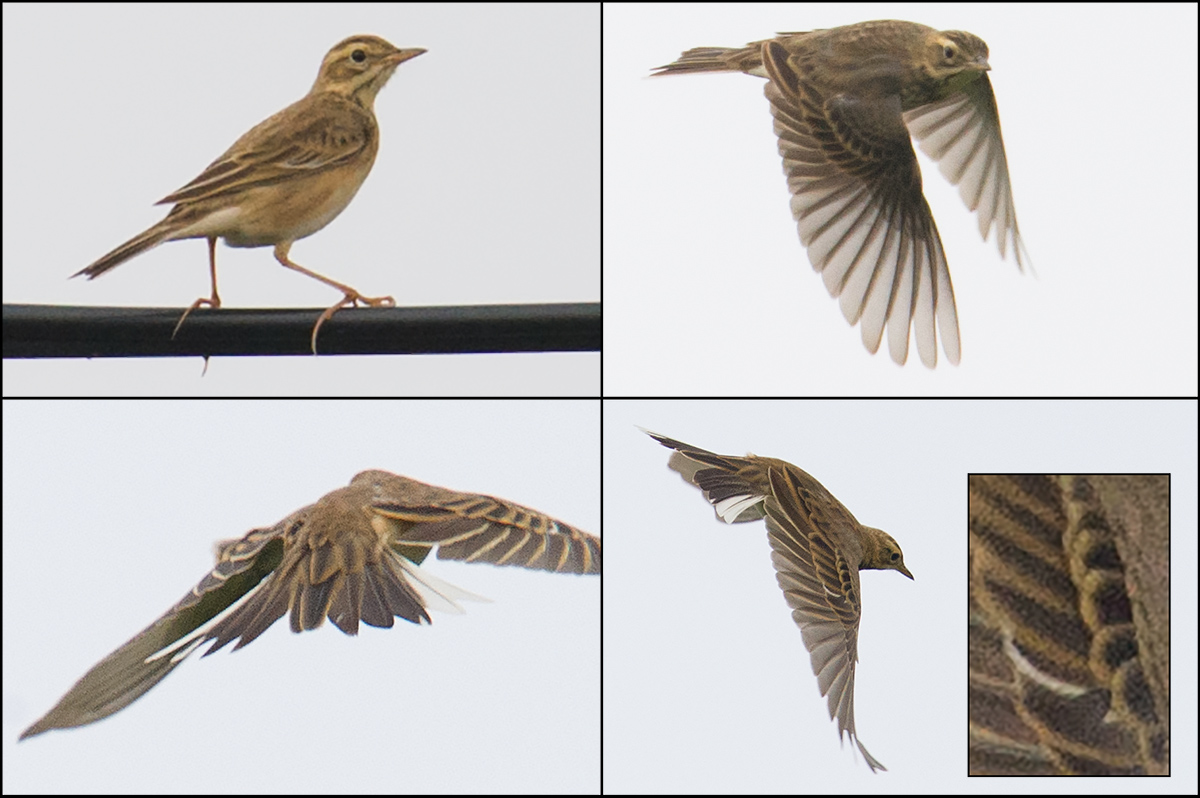 Alström et al. say, and I having seen Blyth's can concur, that a birder viewing Blyth's will get a "small pipit" impression: "The smaller size, lighter build and shorter tail," the authors write, "are often most apparent in flight, when [Blyth's] often recalls one of the smaller pipits rather than Richard's." Note also that the smaller size and shorter bill, tail, and hind claw of Blyth's give that species a "better proportioned" look than the larger and heavier Richard's (237).
The directions above should be seen as guidelines; individual Richard's and Blyth's may defy easy categorization, "sinensis" Richard's even more so. Alström et al. caution against jumping the gun with your ID: "It is crucial to realise that in both species (especially Richard's) appearance can vary considerably in one and the same individual depending on mood, weather, etc.," they write. "Also, some Richard's are structurally very like Blyth's; this is especially true of southern Chinese Richard's ('sinensis')" (237).
A record of Blyth's Pipit in Shanghai would shoot to the top of the "Year's Best" list. The stakes are high, so look diligently, and use caution. Good luck!
PADDYFIELD WARBLER/MANCHURIAN REED WARBLER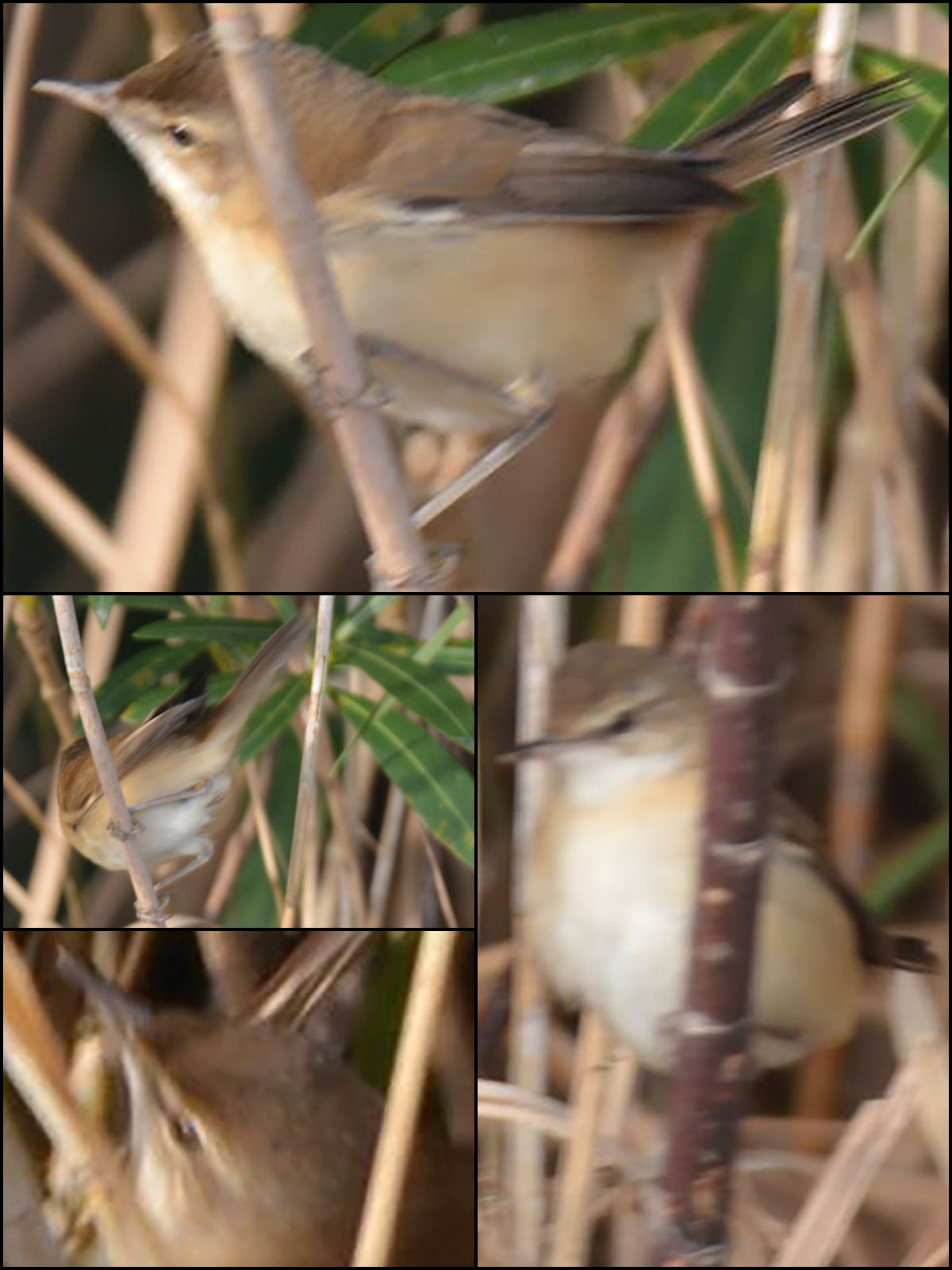 On 18 Dec. 2016, a quartet of teenage birders found an acrocephalid in the Magic Parking Lot at Cape Nanhui. The photos by Komatsu Yasuhiko provoked discussion on the WeChat group Shanghai Birding. The consensus is that the bird is either Paddyfield Warbler Acrocephalus agricola or Manchurian Reed Warbler A. tangorum.
In the images above, note the supercilium, which extends behind the eye; dark eye-line; bright white chin and throat; peach breast band and flanks; bill with black upper mandible and pink lower mandible; and peaked head. Those criteria most closely indicate Manchurian Reed Warbler and Paddyfield Warbler.
Paddyfield Warbler winters mainly in India and would be extralimital here; Manchurian Reed Warbler breeds in northeastern China, is listed as Vulnerable and is therefore scarce, and probably passes through Shanghai.
Congratulations to Andy Lee, Komatsu Yasuhiko, Larry Chen, and Archie Jiang for this great Shanghai record.
INTERVIEW WITH PUDONG TV
On Thurs. 15 Dec. at Cape Nanhui my wife Elaine Du and I did an interview with Pudong TV in Chinese. The segment will last five minutes and be aired later this month. (UPDATE, 24 DEC 2016: Segment available here.) In the interview I lamented the losses at Nanhui and spoke glowingly of the possibilities.
Meanwhile, John MacKinnon, co-author of the most famous bird guide in the history of China and author of a recent post for shanghaibirding.com, has expressed interest in the establishment of an easily accessible, world-class wetland reserve at Cape Nanhui.
MacKinnon asked me for the reasoning behind a wetland reserve at Cape Nanhui. I wrote the following:
THE CASE FOR AN EASILY ACCESSIBLE, WORLD-CLASS WETLAND RESERVE AT CAPE NANHUI, PUDONG, SHANGHAI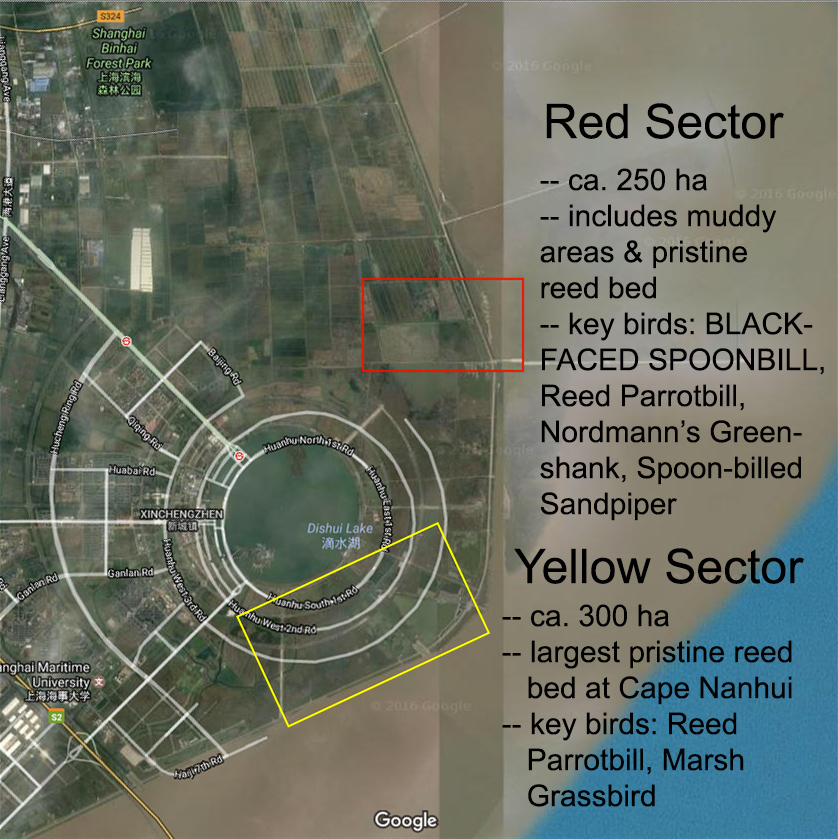 (1) Cape Nanhui is of extraordinary environmental importance. The tip of the Shanghai Peninsula between the Yangtze River and Hangzhou Bay, Cape Nanhui is a stepping stone for birds migrating across those bodies of water. Cape Nanhui also holds large reed beds, habitat critical to Reed Parrotbill, Marsh Grassbird, and other species at risk.
The largest component of the city-province of Shanghai is the Shanghai Peninsula, a projection of land between the Yangtze River and Hangzhou Bay. Cape Nanhui is the tip of the peninsula, is a critically important stop for migrating birds, and is completely unprotected. A nature reserve at Cape Nanhui would form a third stepping stone for birds crossing the mouth of the Yangtze, joining the reserves at Chongming Dongtan and Jiuduansha.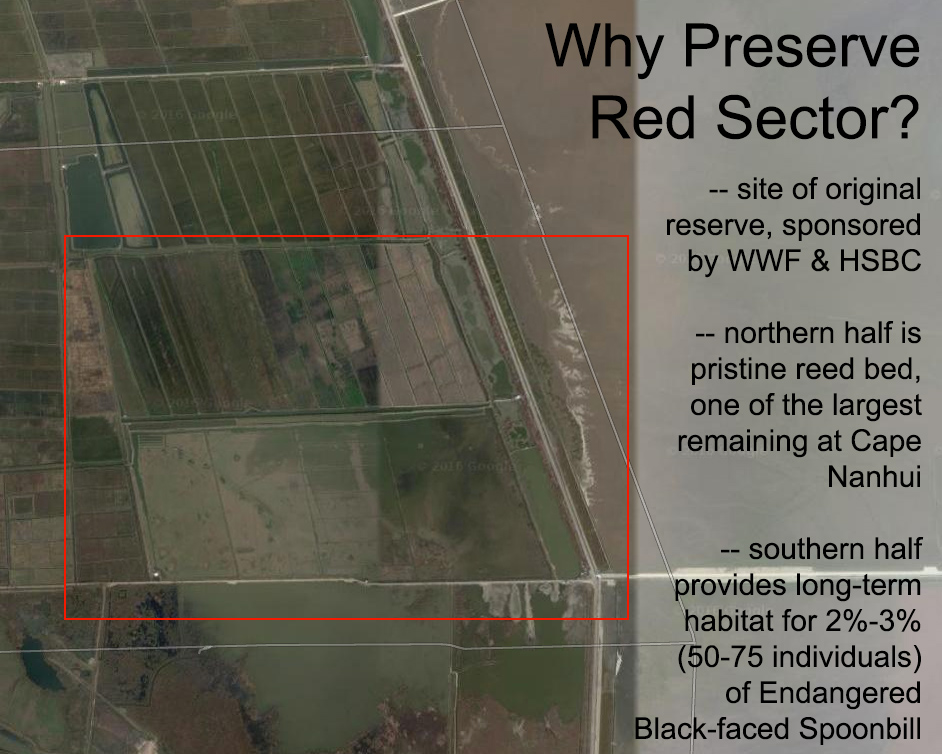 The 2 Red-crowned Crane seen on Sat. 10 Dec. 2016 were the latest in a parade of endangered birds that I and other birders have noted at the Cape over the years. Critically Endangered Spoon-billed Sandpiper uses Cape Nanhui, as does Endangered Nordmann's Greenshank. Around 2 percent of the world's Endangered Black-faced Spoonbill are dependent on Cape Nanhui for several months each year. Large reed beds remain at Cape Nanhui and are the final strongholds on the Shanghai Peninsula of Near Threatened Marsh Grassbird and Near Threatened Reed Parrotbill. The latter species, a candidate for Shanghai Provincial Bird, will virtually disappear from mainland Shanghai if the reed beds at Nanhui are destroyed.
(2) Shanghai is clearly under-performing on the conservationist front. More must be done, and a good place to begin is Cape Nanhui.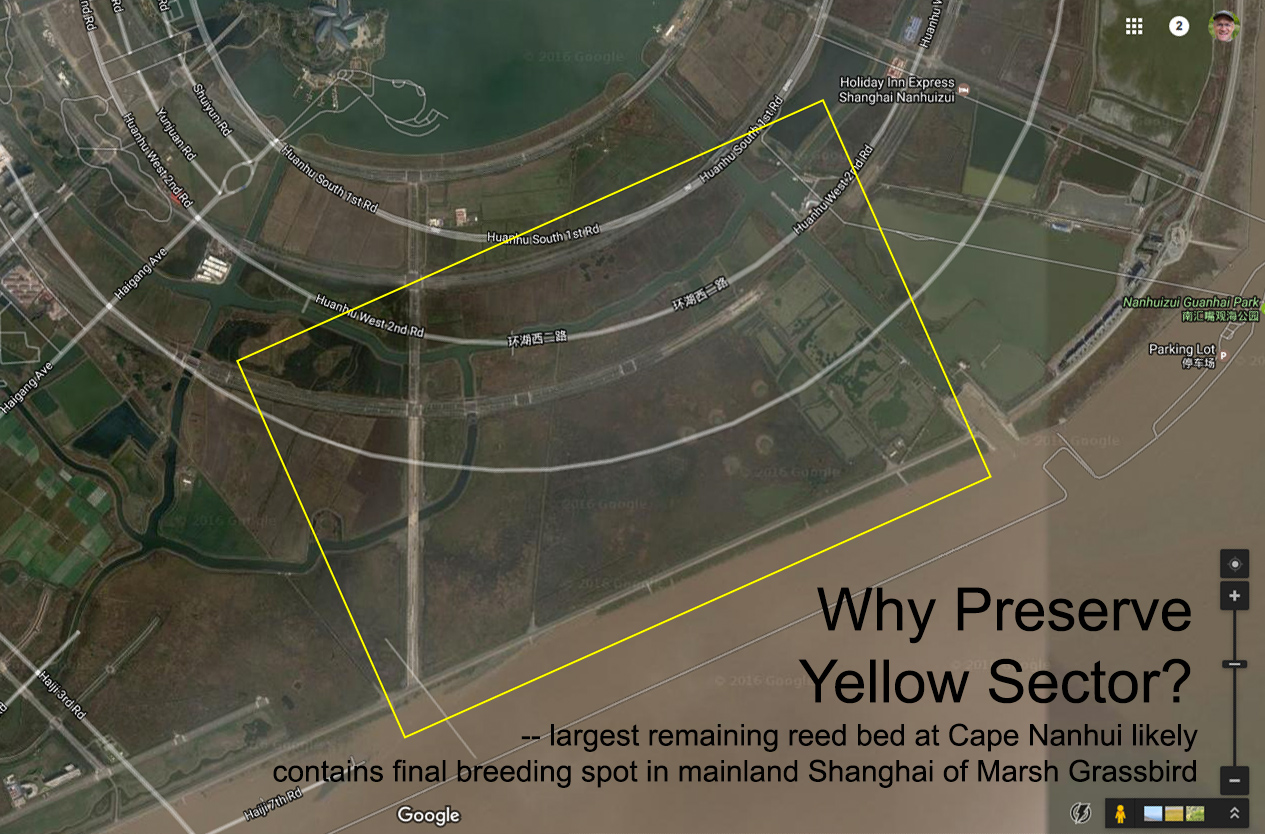 Nature reserves have been established only on the extreme fringes of the city-province (which is a third the size of Wales). There are no reserves in mainland Pudong, a giant coastal district nearly twice the size of Singapore. Nowhere in this megalopolis can residents without a car enjoy the natural side of Shanghai, a city with an extraordinarily rich natural heritage. There is no known plan to conserve any of the dozens of square kilometers of reclaimed land on Hengsha.
(3) Because it is in the back yard of Shanghai, a city-province of more than 25 million people, a well-run, easily accessible wetland reserve at Cape Nanhui could be the match to light the fire of conservation across all China.
Hundreds of thousands of middle-class children could visit the reserve with their parents using nothing more than the Metro and a quick taxi ride and be sleeping in their own bed that night, dreaming about the wild birds they had seen that day. For millions of parents and their kids, the weekend could be "Saturday, Disney; Sunday, Cape Nanhui Wetland." A day at a Cape Nanhui Wetland would be an early introduction to the glories of natural Shanghai and would foster an appreciation of the natural world.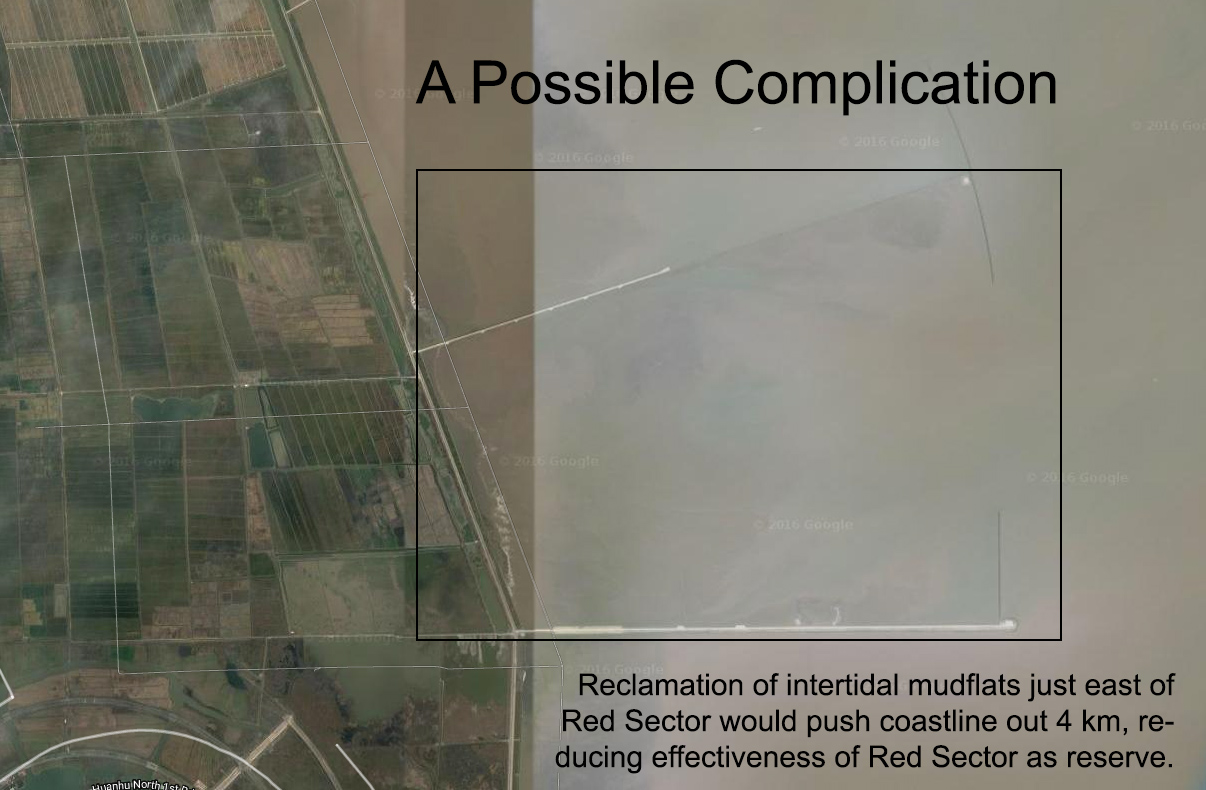 If Shanghai can be a world economic center and have world-class airports and a world-class skyline and world-class entertainment such as Disney, then it can and must have an easily accessible, world-class reserve protecting its priceless coastline, reed beds, and migratory birds.
A world-class, easily accessible, wetland nature reserve at Cape Nanhui would become a mecca for birders and achieve world renown, as has been the case with similar reserves such as Mai Po at Hong Kong and Sungei Buloh in Singapore.
INDEX TO POSTS ON SAVING NANHUI
— Messengers (recent records of endangered cranes in Shanghai show the need to protect more land in the city-province)
— The Case for Conserving Nanhui (foreigners can't do all the work; local Chinese need to step up, too)
— Save the Nanhui Wetland Reserve! (cri de coeur plus call to action)
— Remnants (preparation for probable demise of Cape Nanhui)
— Reed Parrotbill, Symbol of Shanghai (naming Reed Parrotbill Provincial Bird of Shanghai will send a message about the importance of the reed beds such as those at Cape Nanhui)
— Spoon-billed Sandpiper at Nanhui (proof of yet another endangered species using the defunct wetland reserve at Nanhui)
The Day Lists
Lists are generated on eBird then adjusted to comport with my first reference, the IOC World Bird List.
List 1 of 1 for Thurs. 15 Dec. 2016 (53 species)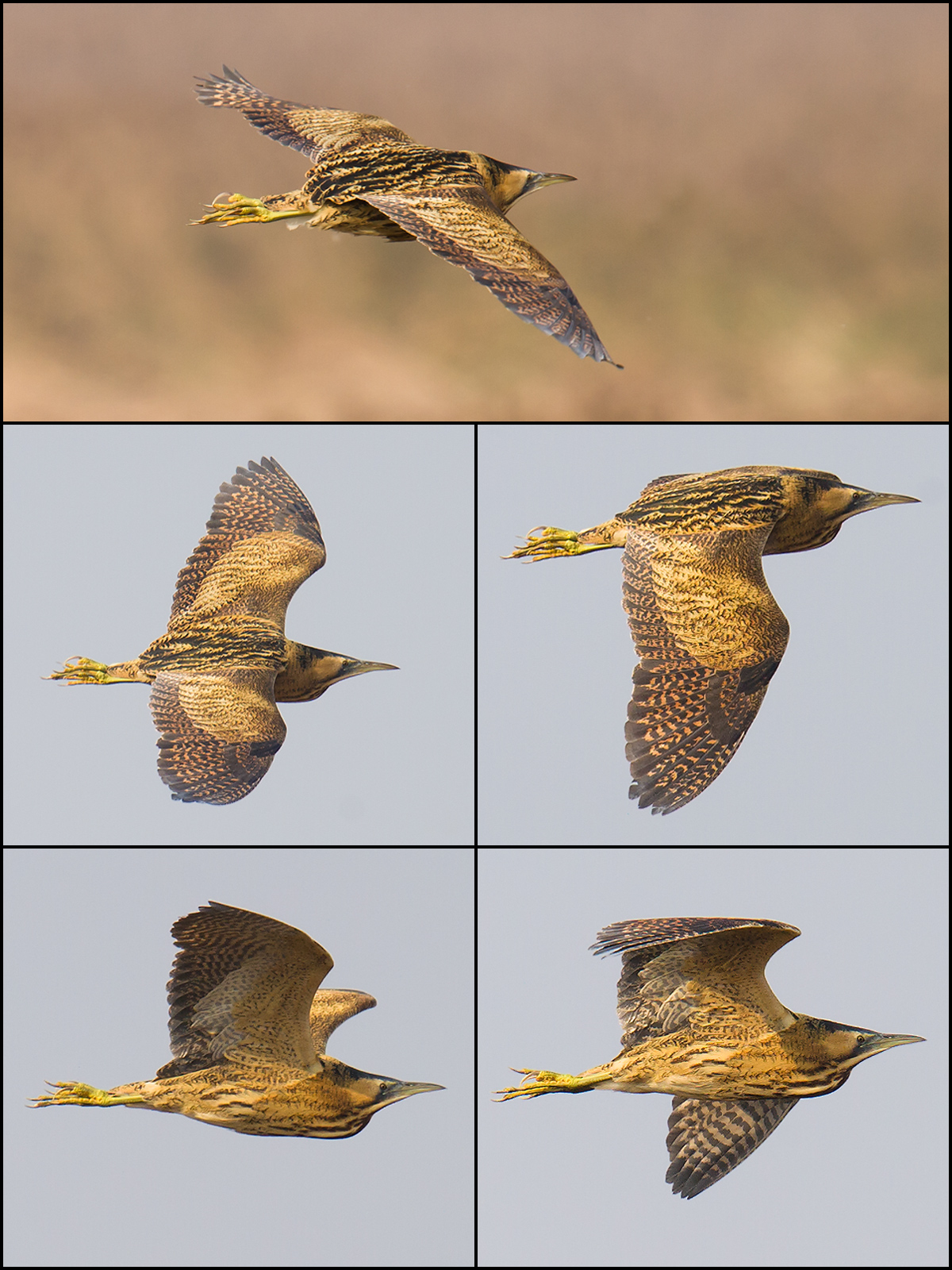 Birds noted around Pudong Nanhui Dongtan Wetland (Pǔdōng Nánhuì Dōngtān Shīdì [浦东南汇东滩湿地]; 30.920507, 121.973159), Pudong, Shanghai, China. We covered the coastal road from Binhai (Bīnhǎi Zhèn [滨海镇]; 31.006250, 121.885558) to Luchao (Lúcháo Gǎng [芦潮港]; 30.851109, 121.848455). Among the points along this 30 km stretch are Iron Track (31.003613, 121.907883), a site providing access to the reed beds at the mouth of the Dazhi River (Dàzhì Hé [大治河]); Big Bend (31.000321, 121.938074); Microforest 4 (30.953225, 121.959083); Microforest 1 (30.923889, 121.971635); Magic Parking Lot (30.884898, 121.968229); Magic GPS Point (30.880563, 121.964551); South Lock (30.860073, 121.909997); Eiffel Tower (30.850531, 121.878047); & the Marshy Agricultural Land (30.850707, 121.863662). List includes birds noted at Dishui Lake (30.908702, 121.945124). Sunny, breezy. Low 2° C, high 7° C. Humidity 66%. Visibility: 10 km. Wind NW 18 km/h. PM2.5 AQI: 160 (unhealthful). Sunrise 06:46, sunset 16:54. SAT 03 DEC 2016 08:20-17:00. Craig Brelsford & Elaine Du.
Tundra Bean Goose Anser serrirostris 20
Tundra Swan Cygnus columbianus bewickii 19
Common Shelduck Tadorna tadorna 550
Falcated Duck Anas falcata 400
Mallard A. platyrhynchos 80
Eastern Spot-billed Duck A. zonorhyncha 250
Northern Shoveler A. clypeata 300
Northern Pintail A. acuta 120
Eurasian Teal A. crecca 40
Tufted Duck Aythya fuligula 10
Greater Scaup A. marila 3
Common Pheasant Phasianus colchicus 2
Little Grebe Tachybaptus ruficollis 40
Great Crested Grebe Podiceps cristatus 2
Black-necked Grebe P. nigricollis 7
Great Cormorant Phalacrocorax carbo 80
Eurasian Bittern Botaurus stellaris 1
Grey Heron Ardea cinerea 60
Great Egret A. alba 8
Little Egret Egretta garzetta 50
Black-crowned Night Heron Nycticorax nycticorax 7
Eurasian Spoonbill Platalea leucorodia 72
Western Osprey Pandion haliaetus 1
Eastern Marsh Harrier Circus spilonotus 1
Eurasian Coot Fulica atra 50
Hooded Crane Grus monacha 1
Grey Plover Pluvialis squatarola 8
Kentish Plover Charadrius alexandrinus 30
Eurasian Curlew Numenius arquata 1
Dunlin Calidris alpina 70
Spotted Redshank Tringa erythropus 22
Common Greenshank T. nebularia 1
Vega Gull Larus vegae vegae/L. v. mongolicus 21
Spotted Dove Streptopelia chinensis 8
Eurasian Hoopoe Upupa epops 1
Peregrine Falcon Falco peregrinus 1
Long-tailed Shrike Lanius schach 10
Chinese Penduline Tit Remiz consobrinus 20
Light-vented Bulbul Pycnonotus sinensis 7
Dusky Warbler Phylloscopus fuscatus 1
Plain Prinia Prinia inornata 1
Vinous-throated Parrotbill Sinosuthora webbiana 10
Crested Myna Acridotheres cristatellus 50
Pale Thrush Turdus pallidus 2
Dusky Thrush T. eunomus 3
Daurian Redstart Phoenicurus auroreus 3
Eurasian Tree Sparrow Passer montanus 50
White Wagtail Motacilla alba 6
Richard's Pipit Anthus richardi 1
Buff-bellied Pipit A. rubescens japonicus 15
Chestnut-eared Bunting Emberiza fucata 7
Little Bunting E. pusilla 1
Pallas's Reed Bunting E. pallasi 1
WORKS CONSULTED
Alström, Per, Krister Mild & Bill Zetterström. Pipits and Wagtails. Princeton University Press, 2003. This landmark book, co-authored by Shanghai Birding member Per Alström, is my first reference on all things Motacillidae.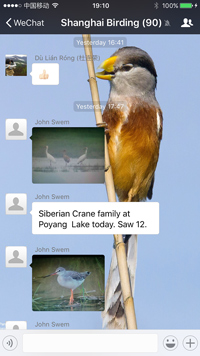 Brazil, Mark. Birds of East Asia. Princeton University Press, 2009. Serviceable descriptions of Blyth's Pipit and Richard's Pipit. Illustration of "sinensis." Good coverage of Paddyfield Warbler, Manchurian Reed Warbler.
Brelsford, Craig, moderator. Shanghai Birding, a WeChat chat group. Pipits and reed warblers discussed in detail. To join Shanghai Birding, fill out the form on our Sightings page.
Kennerley, Peter & David Pearson. Reed and Bush Warblers. Christopher Helm, 2010. The world standard on Acrocephalidae, Cettiidae, and Locustellidae.
Svensson, Lars & Killian Mullarney & Dan Zetterström. Collins Bird Guide, 2nd ed. HarperCollins, 1999-2009. Outstanding illustrations of Richard's Pipit and Blyth's Pipit by Mullarney.