The map below shows two of the better-known reserves in the Tianmu Mountains: West Tianmu Mountain Nature Reserve (Xī Tiānmùshān Zìrán Bǎohùqū [西天目山自然保护区]) and East Tianmu Mountain Scenic Area (Dōng Tiānmùshān Jǐngqū [东天目山景区]).
The Tianmu Mountains lie 270 km southwest of Shanghai and 80 km west of Hangzhou. With peaks reaching 1506 m, the range offers a refreshing contrast to the Shanghai region's coastal environments. Tianmu also shows the transitional nature of the Shanghai region, where north and south meet.
Bisected by the Yangtze River, the Shanghai region is on the border of Palearctica and Indo-Malaya and has characteristics of both eco-regions. On the coast, the transitional nature of the Shanghai region is less evident, but in places like the Tianmu Mountains, one can witness Indo-Malaya transitioning into Palearctica. At Tianmu, Eurasian Jay and Great Spotted Woodpecker, well-known, mainly Palearctic species, share the forests with Indo-Malayan species such as Buffy Laughingthrush and Streak-breasted Scimitar Babbler.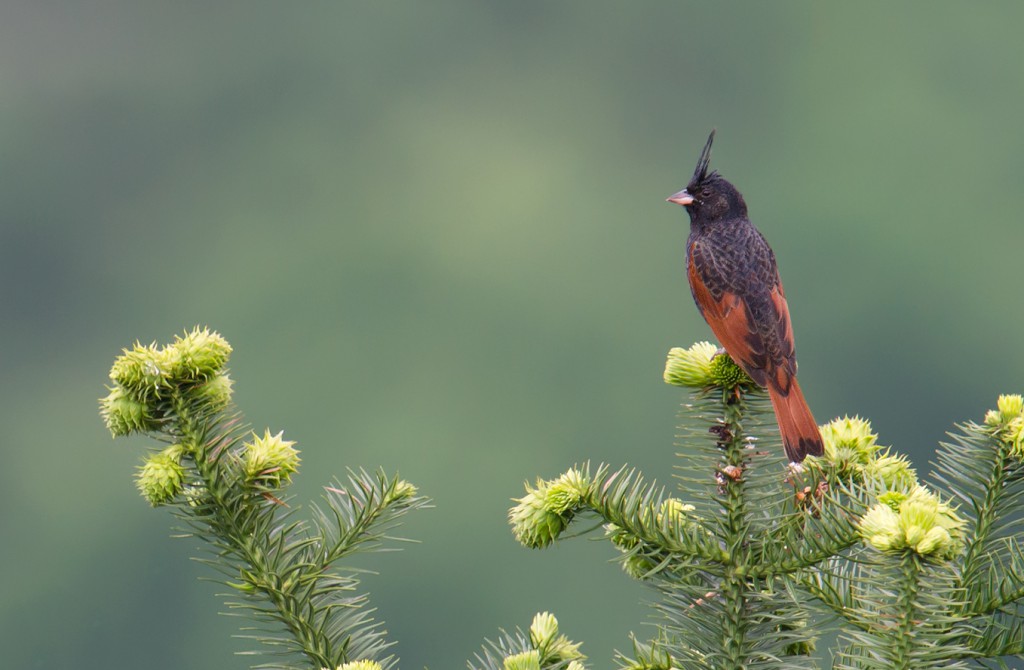 Grey Treepie, Indochinese Yuhina, Grey-headed Parrotbill, Rufous-capped Babbler, and White-crowned Forktail–all noted by us in the Tianmu Mountains–have distributions that extend not much farther north than that range. Short-tailed Parrotbill lives in stands of bamboo near the tops of the mountains. Slaty Bunting and Crested Bunting are also found at Tianmu. In some of the towns, Russet Sparrow outnumber Eurasian Tree Sparrow.
Several other species found in these mountains are difficult to find the closer one gets to Shanghai and the coast: Crested Serpent Eagle, Black Eagle, Collared Owlet, Crested Kingfisher, Great Barbet, Speckled Piculet, Grey-chinned Minivet, Hair-crested Drongo, Brown Dipper, Moustached Laughingthrush, Brown-chested Jungle Flycatcher, and Chestnut-bellied Rock Thrush.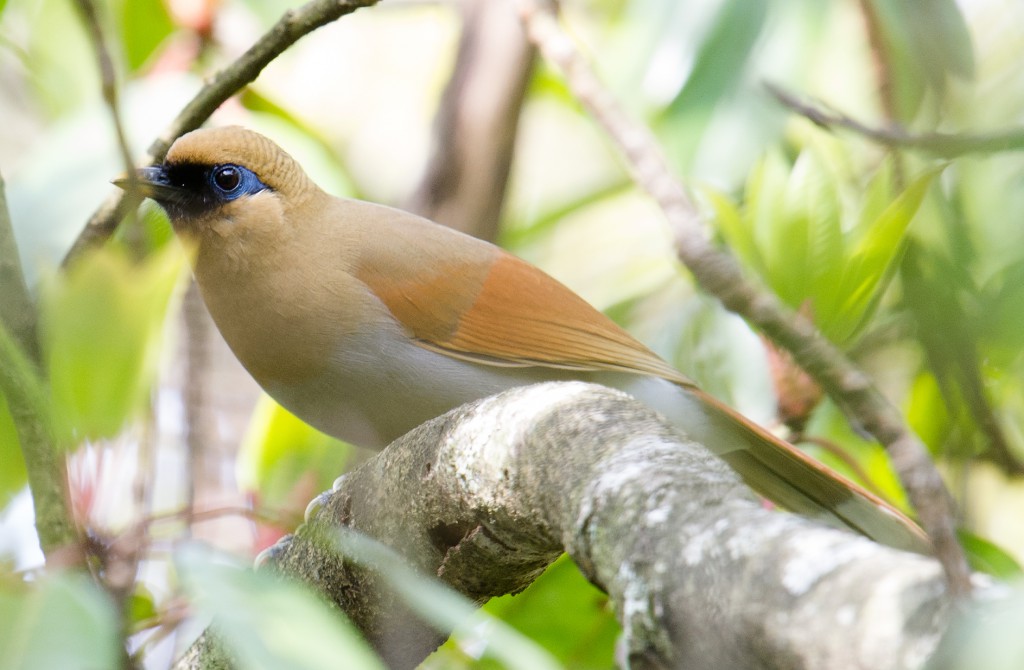 West Tianmu Mountain Nature Reserve is the best-known of the Tianmu sites. Among the good birding areas are the following:
– Japanese Cedar forest from Lóngfèngjiān (龙凤尖) to Xiānrén Dǐng (仙人顶): Here one can bird the highest country in the area (1120 m at Lóngfèngjiān to 1506 m at Xiānrén Dǐng). Look for Black Eagle, Chestnut-winged Cuckoo, Speckled Piculet, and Buffy Laughingthrush. A boardwalk trail leads through a land of giants–Japanese Cedar 25 m high and a thousand years old. What is claimed to be the only wild Ginkgo biloba trees in the world also grow in that dreamlike garden.
Note that cars are officially banned from driving to the parking lot at Lóngfèngjiān, the entrance fee to the forest is a hefty 140 yuan per person, noisy crowds flood the forest during busy season and on weekends, and leeches are abundant. Beat the crowds by arriving early, stymie the leeches by wearing long socks pulled over your pant legs, and avoid paying the full ticket price by negotiating with your hotelier; many will write you a 20 percent discount.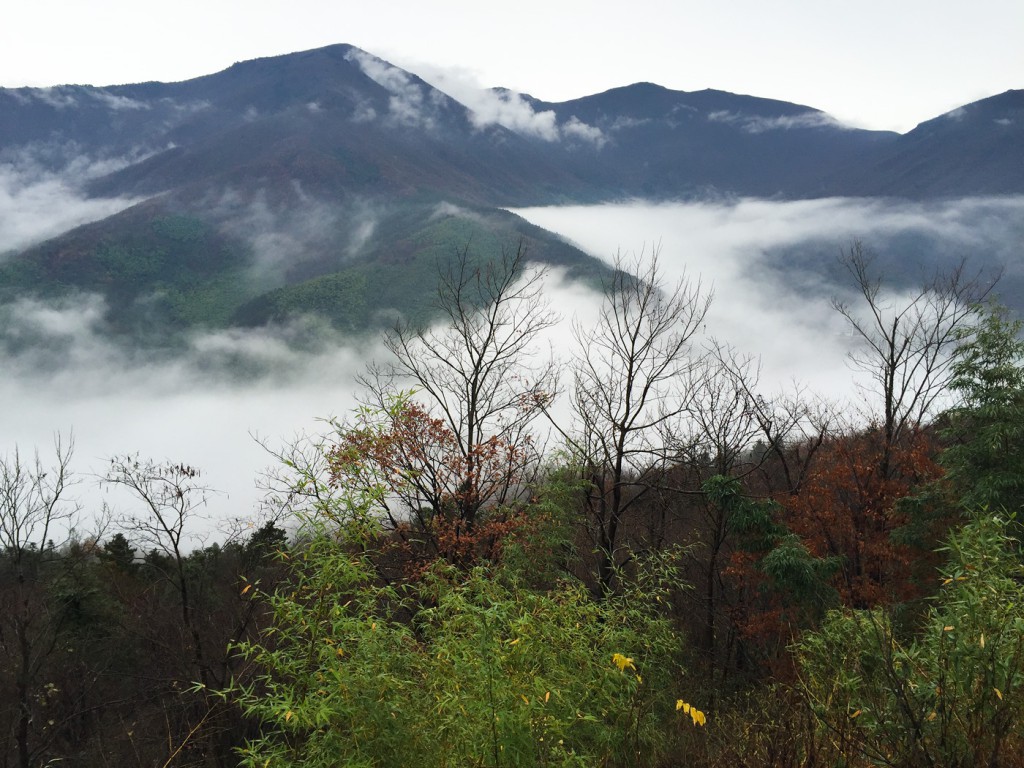 – 12.7 km road walk from Lóngfèngjiān to cluster of hotels around Hǎisēn Nóngzhuāng: Take the bus to Lóngfèngjiān and walk the road back. You'll descend about 700 m to the bottom of the valley around Hǎisēn Nóngzhuāng. Find Koklass Pheasant along the road, Little Forktail along the streams, and Short-tailed Parrotbill amid the bamboo. You could combine this walk with a visit to the Japanese Cedar forest and Xiānrén Dǐng and thereby cover more than 1000 m of altitude in a single day.
– Area around entrance to West Tianmu Mountain Nature Reserve: This is one of the broadest areas in the valley and offers streamside habitat as well as scrub, garden, and secondary-forest. Asian House Martin breed in the eaves of the ticket office and other buildings, the forest holds Great Spotted Woodpecker, Grey-chinned Minivet, and Brown-flanked Bush Warbler, and the streams are good for White-crowned Forktail. In winter look for Tristram's Bunting at forest edge and Eyebrowed Thrush in the gardens. Elev. 330 m.
With good weather and good traffic, one can have an early breakfast in Shanghai and be birding at Tianmu before lunch. For those without a car, buses run regularly to the area.
At West Tianmu, we had a good stay at Hǎisēn Nóngzhuāng (海森农庄, +86 [0] 571-63853315 or +86 135-0681-8151, 150 yuan for simple, clean room with bathroom, WiFi, home-cooked meals at restaurant across street from lodging, good central location within reserve). Ask the owners to issue you a discounted ticket to the Japanese Cedar forest.
At East Tianmu Mountain, we stayed at Yíjiājū Nóngjiālè (颐佳居农家乐, +86 152-5719-5909 or +86 159-6819-5059, 120 yuan for simple, clean room with bathroom, WiFi, home-cooked meals). The owner, Mr. Wáng, arranged entry for us into East Tianmu Mountain.
In the map above I have marked Hangzhou Nantianmu Forest Park (Hángzhōu Nántiānmù Sēnlín Gōngyuán [杭州南天目森林公园]). It's a small park, with much degraded forest, but we found some good birds there such as Swinhoe's Minivet.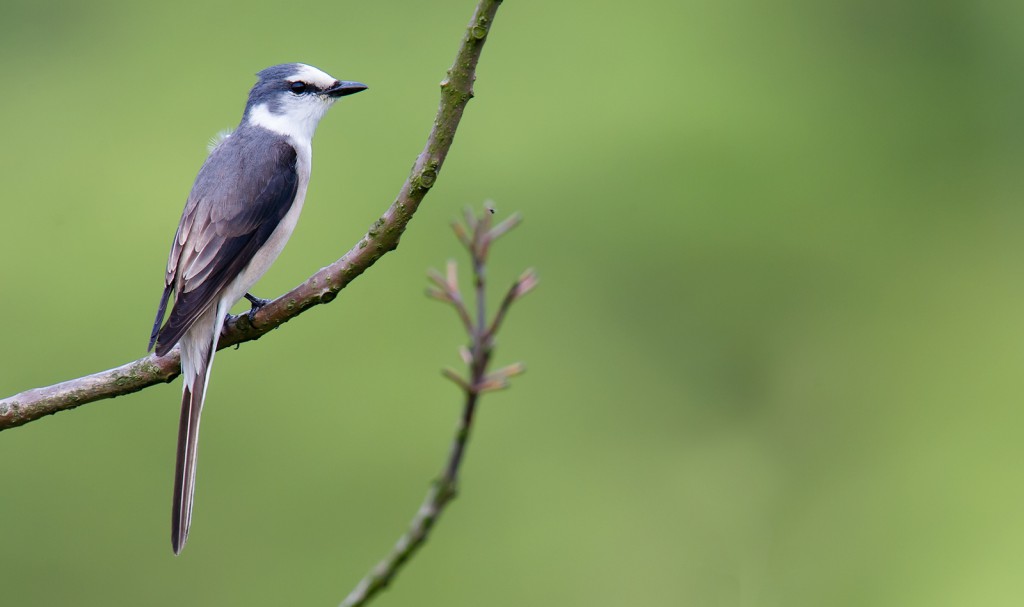 Featured image: Stand of Japanese Cedar Cryptomeria japonica at West Tianmu Mountain Nature Reserve, 10 May 2015.