On Thurs. 7 April, my wife Elaine Du and I noted 30 species at Century Park. For the first time in my life, I heard White's Thrush sing. Many of the wintering birds were still very much present, among them 40 Pale Thrush. Bird Island, the sanctuary within a sanctuary in the middle of the park, once again proved its worth, yielding 1 of our 2 Great Spotted Woodpecker as well as all our 18 Oriental Turtle Dove plus Chinese Pond Heron and Grey Heron. One of our Red-flanked Bluetail was a beautiful blue adult male, and we found migrating Stejneger's Stonechat. Dusky Thrush, 63 of which we found on our last visit on 15 March, have left the park, and we found no Grey-backed Thrush.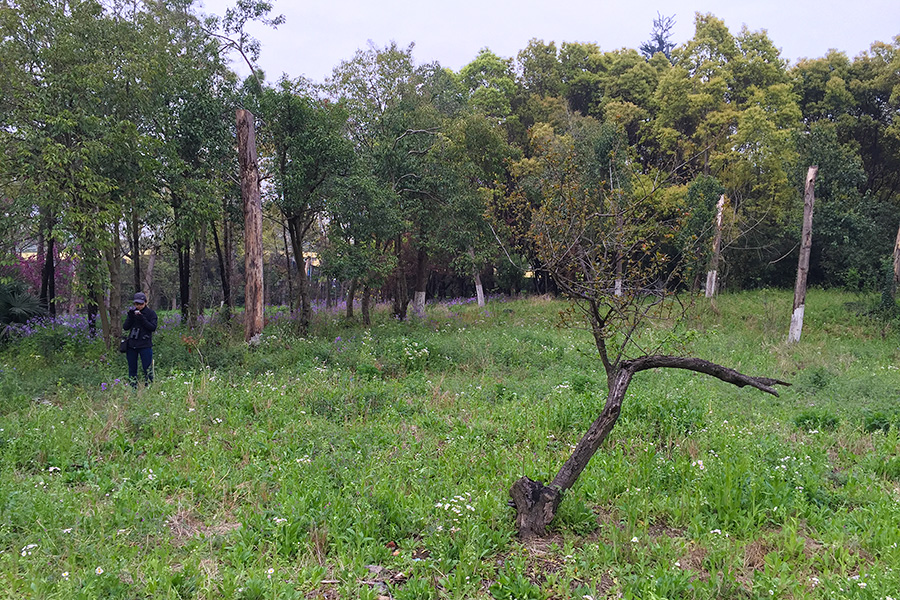 On an overcast, quiet weekday that according to the guards at Gate 7 saw the 140-hectare park attract only 2500 visitors, Elaine and I soaked in the peaceful atmosphere. The recent rains brought forth an earthy odor from the forest floor, some of the wildflowers were fragrant, and in one of the scrubby areas the herbs we trod on gave off spicy scents.
So quiet was the park that we actually were able to listen to birdsong for sustained amounts of time. Chinese Blackbird, Light-vented Bulbul, and Azure-winged Magpie, the Big 3 residents of Century, created a river of sound, supplemented by some Chinese Grosbeak. Amid that flow, and with the low rumble being made by the traffic on Huamu Road, I picked out a sound that was definitely being made by a bird but was unlike any I had heard before. It was a one-note, drawn-out, plaintive whistle, haunting and beautiful, with pauses of several seconds in between. Mesmerized, I walked toward the sound, which was coming from the canopy. The song suddenly stopped, and out flew a White's Thrush. The whole episode was over in a minute or two, and I had not made a recording. But while the memory of the song was still fresh, I played back recordings of the song of White's that I have on my iPhone. There was no doubt. The song Elaine and I heard and the song on my phone were the same.
We met a man who recently retired from China Customs and is familiar with Western culture; he picked me out as American without having to ask. This smart fellow says he exercises at Century every day and that so-called Bird Island (31.217405, 121.554936) is devoid of special birds. "鸟岛无鸟," he said. I knew he was wrong, but I let it go, because appreciating Bird Island requires more knowledge of birds than this gentleman was likely interested in acquiring. He could not see that while Spotted Dove, a "city" bird, are numerous throughout the park as well as in the deepest parts of the inner-city jungle, Oriental Turtle Dove, a more "country" bird, rely greatly on Bird Island. In winter, hundreds of White-cheeked Starling and Red-billed Starling roost on trees on and around the island, and I have seen Mandarin Duck on its shores. Great Spotted Woodpecker, rare in Shanghai, are found there regularly. I have not set foot on Bird Island since 2009, but that's fine with me because it is possible with binoculars to peer into its forest, and in any case I agree with the principle of Bird Island, which is to confine human beings and cats to the mainland side of its protective moat.
The ticket-takers at Gate 7 told us some interesting facts. Last Monday was Qingming, an important national holiday, and with the fine weather that day, Century received 50,000 visitors. On a typical Saturday or Sunday, they told us, 30,000 to 40,000 visitors pack the Pudong park.
Related Link: Have you viewed our recently created page, Birds Recorded at Century Park? There you can view all 129 species of bird recorded at urban Shanghai's most birdable park.
List 1 of 1 for Thurs. 7 April 2016 (30 species)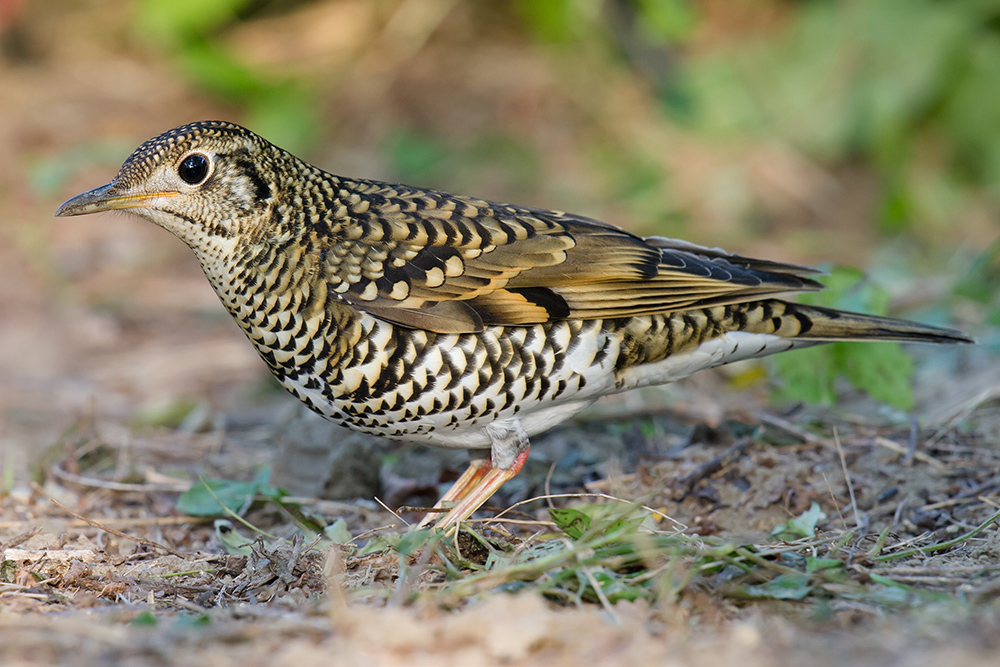 Century Park (Shìjì Gōngyuán [世纪公园]; 31.219361, 121.551900), Pudong New Area (Pǔdōng Xīn Qū [浦东新区]), Shanghai, China. Includes records from Bird Island (31.217405, 121.554936). Partly cloudy; low 12° C, high 19° C. Visibility 9 km. Wind NNW 15 km/h. PM2.5 AQI: 154 (unhealthful). Sunrise 05:34, sunset 18:18. THU 07 APR 2016 14:30-18:05. Craig Brelsford & Elaine Du.
Eastern Spot-billed Duck Anas zonorhyncha 1
Little Grebe Tachybaptus ruficollis 3
Black-crowned Night Heron Nycticorax nycticorax 13
Chinese Pond Heron Ardeola bacchus 1
Grey Heron Ardea cinerea 1
Little Egret Egretta garzetta 3
Common Moorhen Gallinula chloropus 23
Oriental Turtle Dove Streptopelia orientalis 18
Spotted Dove Spilopelia chinensis 70
Great Spotted Woodpecker Dendrocopos major 2
Long-tailed Shrike Lanius schach 6
Azure-winged Magpie Cyanopica cyanus 50
Yellow-bellied Tit Pardaliparus venustulus 6
Japanese Tit Parus minor 7
Light-vented Bulbul Pycnonotus sinensis 55
Chinese Hwamei Garrulax canorus 4
Vinous-throated Parrotbill Sinosuthora webbiana 4
Crested Myna Acridotheres cristatellus 4
Red-billed Starling Spodiopsar sericeus 10
White-cheeked Starling S. cineraceus 3
White's Thrush Zoothera aurea 1 singing
Chinese Blackbird Turdus mandarinus 120
Pale Thrush T. pallidus 40
Red-flanked Bluetail Tarsiger cyanurus 5
Daurian Redstart Phoenicurus auroreus 1
Stejneger's Stonechat Saxicola stejnegeri 1
Eurasian Tree Sparrow Passer montanus 25
White Wagtail Motacilla alba 3 leucopsis
Chinese Grosbeak Eophona migratoria 20
Black-faced Bunting Emberiza spodocephala 6
Featured image: Shanghai Birding's Elaine Du searches for Great Spotted Woodpecker on Bird Island, visible across the water. The miniature nature reserve in Century Park remains out of reach of cats (and humans) and teems with birds. Photo taken 7 April 2016.